10 Must-See Games on College Basketball's Opening Weekend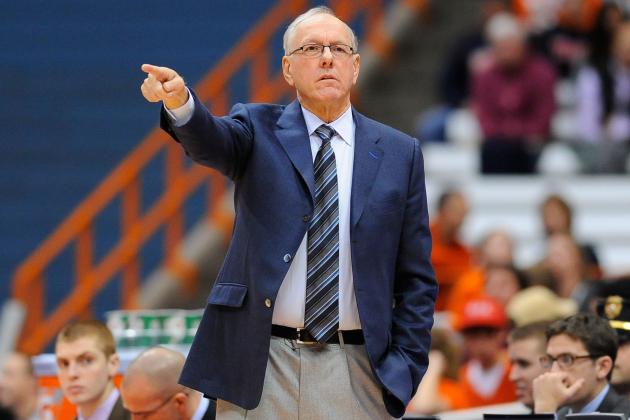 Rich Barnes-US PRESSWIRE

In case you haven't heard, we're now into the start of the 2012-13 college basketball season. The season officially tipped off with Eastern Michigan hosting NAIA school Rochester College at high noon, Eastern time.
Many teams return with multiple reasons to look forward to this campaign, while others come charging in with something to prove.
Early-season non-conference matchups can settle disputes about which All-American is a better player, decide arguments over which championship coach can more effectively prepare his team and put unheralded teams on the radar with wins that will still resonate in March.
Here are 10 games tipping off this weekend that every college hoop fan should make some effort to watch.
And we promise that none involve NAIA teams. Sorry, Rochester.
Begin Slideshow

»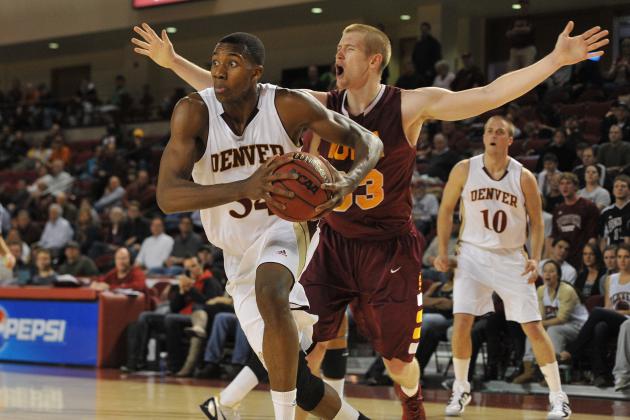 Andrew Fielding-US PRESSWIRE

Friday night's game between Denver and Iona is a rematch of last year's meeting, an 80-78 overtime win for Iona. That game saw the two teams combine for 55 percent shooting.
Denver has most of last year's nucleus back as it makes the transition from the Sun Belt to the WAC. Iona lost national assist leader Scott Machado and rugged forward Mike Glover from a surprising NCAA at-large team.
The run-and-gun Gaels and the Princeton-based Pioneers couldn't be more opposite in their approach, and the game should become a frenzied battle to dictate the tempo.
After the colossal egg that Iona laid in the second half against BYU last March, it's not likely that either of these teams can bank on an at-large bid. Still, don't be surprised if both these teams end up on national television in March, representing their leagues as conference champions.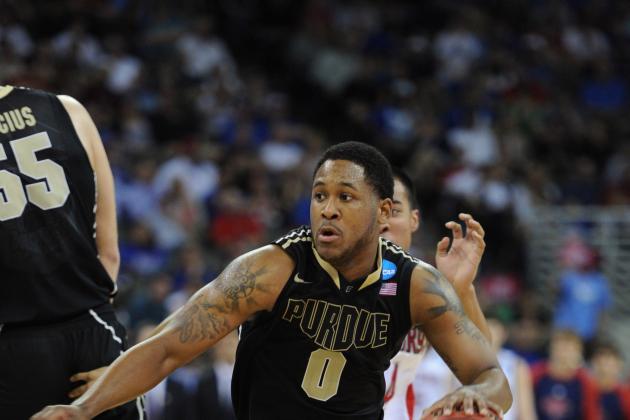 Peter G. Aiken-US PRESSWIRE

Terone Johnson (pictured) is one of the players Purdue coach Matt Painter is counting on to replace the scoring of Boilermaker icon Robbie Hummel. Johnson and teammates like D.J. Byrd and Anthony Johnson have to become leading men after being supporting cast members for their entire careers.
Bucknell, not March darling Lehigh, won the Patriot League regular-season title, and 6'11" center Mike Muscala beat out C.J. McCollum for the 2011 conference Player of the Year award.
Purdue has multiple post options, like touted freshman A.J. Hammons and veteran foul-givers Travis Carroll and Sandi Marcius, but simply hacking Muscala isn't an option. He shot 85 percent from the line last season.
Guard Cameron Ayers and forward Joe Willman also provide scoring options for the Bison, and Purdue's usual hard-nosed defense will need to be in full effect to escape an upset Friday night.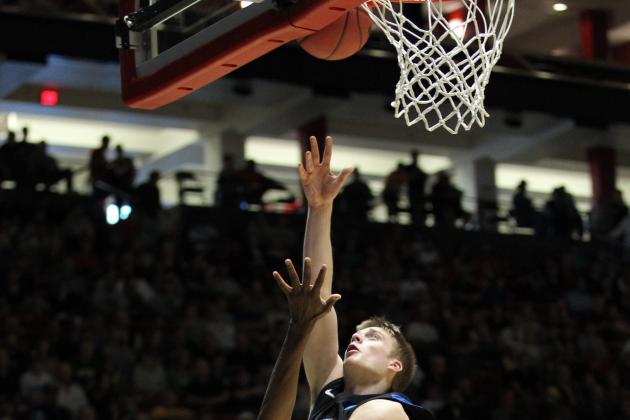 Nelson Chenault-US PRESSWIRE

South Dakota State lives and dies by the three-pointer, but the king Jackrabbit is also a man whose shooting stroke needs serious rehab.
Nate Wolters carded 21 points, five rebounds and almost six assists a night last season, and he somehow managed that while shooting an anemic 24 percent from long range. SDSU returns four players who drained at least 33 three-pointers last season.
Unfortunately for State, Alabama has become known for relentless perimeter defense under Anthony Grant. The Crimson Tide ranked fourth in America last year by allowing 29 percent shooting from deep. Nearly all the perimeter pieces return, and blue-chip recruit Devonta Pollard will be a major contributor, seeking to replace the production lost in departed forwards JaMychal Green and Tony Mitchell.
SDSU clowned Washington on the Huskies' home court last season, so Bama fans and players taking the game lightly could be in for a rude awakening. Alabama should have the talent to see off the challenge, but that defense will be in for a test.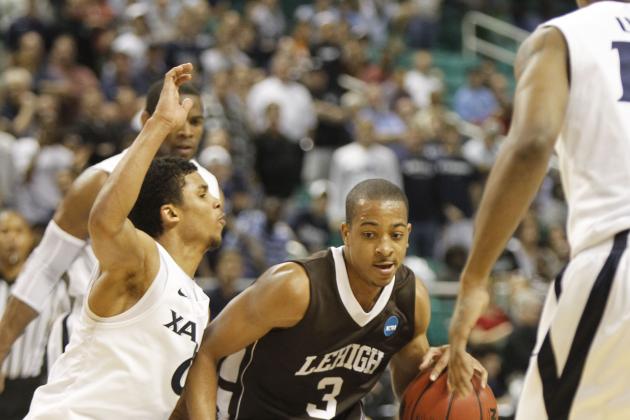 Bob Donnan-US PRESSWIRE

Is there a better backcourt matchup in America this weekend than C.J. McCollum vs. Pierre Jackson? The two will likely match up only occasionally, since McCollum has a good five inches on Jackson, but look for both to produce some highlight-reel work Friday afternoon.
The Mountain Hawks return a veteran lineup around McCollum, including senior forwards Gabe Knutson and Holden Greiner, but those frontcourt players have tall orders matching up against the massive Bears.
Cory Jefferson, J'Mison Morgan and freshmen Rico Gathers and Isaiah Austin give Baylor the kind of size Lehigh can only dream of. All standing 6'8" or taller, they'll force Lehigh's frontcourt to play the game of their lives to keep up. Yes, even bigger than that one last March.
Can McCollum strap the Hawks to his back and pull a similar upset, albeit one with slightly lesser stakes? Find out at 5 p.m. ET.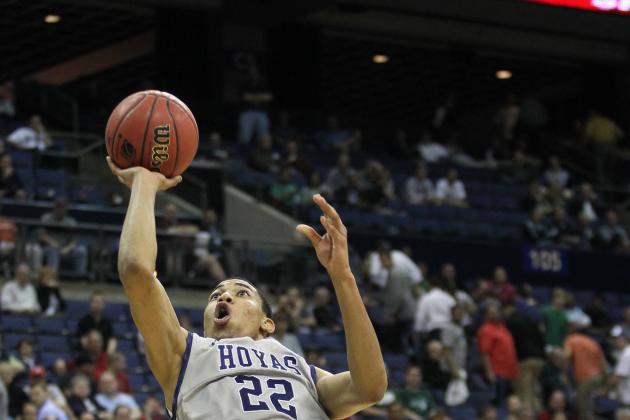 Greg Bartram-US PRESSWIRE

Say this for the ever-expanding fleet of boat games: They put together interesting matchups. Georgetown's gritty defense and methodical offense provide interesting contrasts to Florida's shot-happy offense.
The outdoor elements on the USS Bataan may affect perimeter shooting, which will present an advantage for the Hoyas.
Florida still lives and dies by the jumper, and it will as long as Kenny Boynton is wearing blue and orange. Boynton markedly improved his shooting efficiency last season while maintaining an impressive volume. With the suspension of point guard Scottie Wilbekin, Boynton will also have to run the offense himself.
Junior big man Patric Young will have to be a bigger part of the offense, and Mike Rosario's ability to get to the rim will also be important.
Georgetown will need offensive production from hyped freshman D'Vauntes Smith-Rivera and some additional scoring from all-around stud Otto Porter. Look for the Hoyas to try a little defensive pressure to force some turnovers out of Boynton, who's only been an occasional point guard in his career.
And of course, we know that the visuals on an aircraft carrier are sensational, so even focusing on the court will be a challenge. Try your hardest, because this will be a compelling game on its own.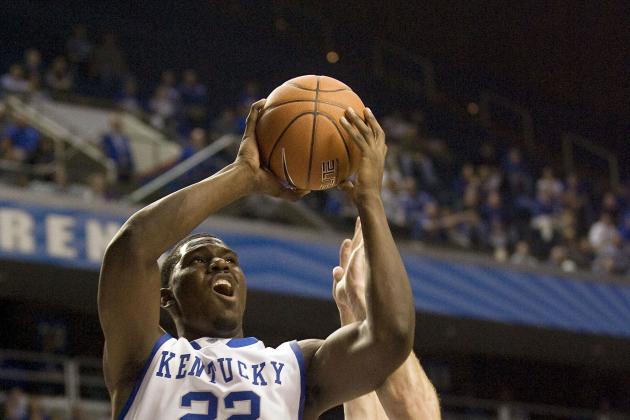 Mark Zerof-US PRESSWIRE

Wednesday's sudden reversal of field from the NCAA regarding Dezmine Wells' eligibility for Maryland makes the opener against Kentucky even more exciting than it already was.
While Kentucky's recruiting class got all the headlines, Maryland didn't slouch either. Four skilled freshmen will contribute for the Terps, while shooting guard Nick Faust and playmaker Pe'Shon Howard return for some veteran presence.
The pivotal matchup between Maryland's Alex Len and Kentucky phenom Nerlens Noel will get all the attention, but look for other young bigs to produce a few highlights themselves. UK's Willie Cauley-Stein and Maryland's Shaquille Cleare may both get a few seconds on Friday night's SportsCenter.
Kentucky beat out Maryland for the Harrison twins. Now it's time to see if Maryland's veterans have the talent to get revenge against the Wildcats rookies.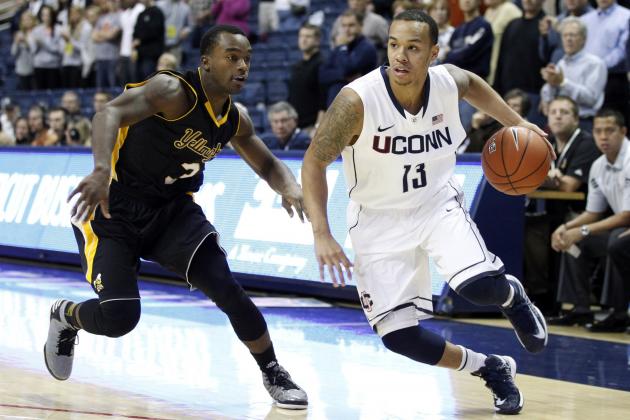 David Butler II-US PRESSWIRE

Michigan State helped launch the aircraft-carrier craze, and now the Spartans are seeking out the next scheduling trend in college basketball by completely leaving the country.
In Hangar 5 at Ramstein Air Base in Germany, Sparty faces a team nearly as versatile as itself, and one that can play with nothing to lose. UConn is not eligible for postseason play thanks to recurring APR violations, and new coach Kevin Ollie has to prove that he can lead a team under that kind of adverse circumstance.
Michigan State can play with a variety of looks, with two quality bigs, uber-athletic forward Branden Dawson and touted freshman Gary Harris all capable of playing multiple spots.
UConn's production will largely start with its backcourt. Veterans Shabazz Napier and Ryan Boatright are joined by freshman Omar Calhoun, and all three are capable of controlling the game offensively. All three are equally capable of turning the ball over and shooting the Huskies out of it, which is exactly what Ollie doesn't want to see.
Look for UConn to drop into an occasional zone defense, hoping to counteract Michigan State's size advantage. The Huskies will have to get and make good shots, since they don't have a lot of burly rebounders to fight off Derrick Nix and Adreian Payne.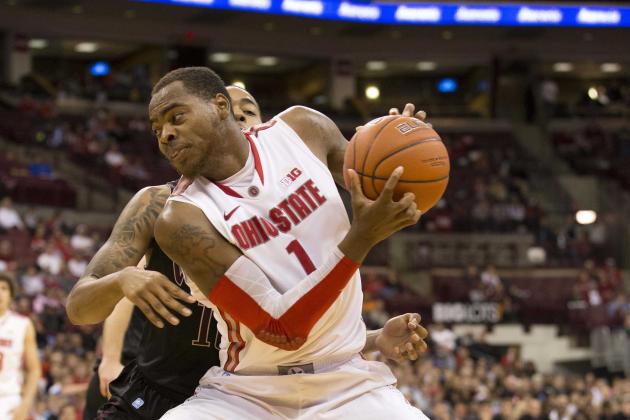 Greg Bartram-US PRESSWIRE

The second of the weekend's three aircraft carrier games, Ohio State and Marquette get a great stage on which to showcase their new looks. Both teams enter this season full of players with something to prove.
Marquette lost Darius Johnson-Odom and Jae Crowder. Ohio State sees those losses and raises a Jared Sullinger and a William Buford. Into the leadership and scoring void step players like Junior Cadougan and Trent Lockett for Marquette and Deshaun Thomas for OSU.
The point guard matchup between Cadougan and the Buckeyes' Aaron Craft will be a major key. Cadougan can be prone to turnovers under strong pressure, and "strong pressure" may as well be Craft's middle name. The Golden Eagles need to avoid turnovers and take advantage of big men Chris Otule and Davante Gardner inside.
Ohio State has talented-yet-unproven sophomore Amir Williams and lunch-pail banger Evan Ravenel inside, but they'll have a major load to handle in the near-600 pounds of Otule and Gardner. The Buckeye offense will still run through Craft and Thomas, with Thomas expected to use the lion's share of OSU's possessions.
Thomas is an All-America candidate if he can be both an efficient and prolific scorer. This will be his first major opportunity to show he can be "The Man" against a strong opponent.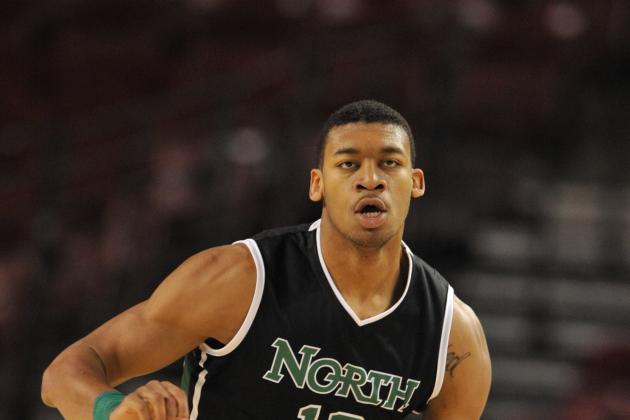 Andrew Fielding-US PRESSWIRE

This season's mid-major revolution will not be televised. At least, the first real mid-major heavyweight battle of the season won't.
North Texas vs. Creighton appears to only be available online through Creighton's website, for a nominal fee, of course. The shame of this is that it puts another hurdle in the path of fans seeking a look at North Texas stud Tony Mitchell, who was a criminal snub from our B/R All-America team.
Mitchell is a reliable double-double nearly every night, a possible triple-double waiting to happen. He has capable support from a deep backcourt and 6'10" JUCO center Keith Coleman.
The Mean Green get to prove themselves against a Creighton team that has already spent a year in the spotlight, thanks to last season's All-America performance from forward Doug McDermott. Another player who can put up a double-double any night of the week, McDermott should occasionally match up with Mitchell in what could be one of the five best one-on-one battles we see all season.
McDermott has a solid support system in his own right, with center Gregory Echenique and forward Grant Gibbs capable of making plays themselves.
A game that should have a lot more cameras on it could be one that the attendees will be talking about for a long, long time.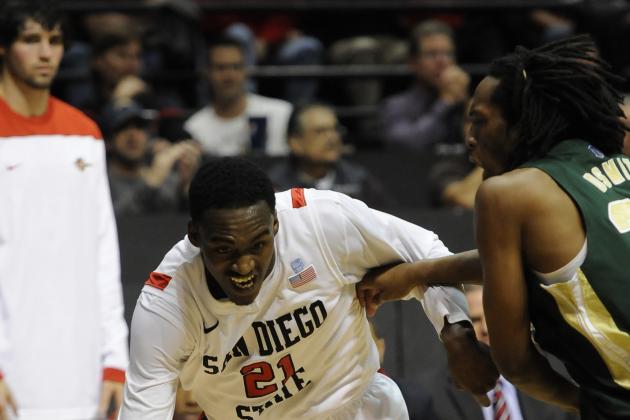 Christopher Hanewinckel-US PRESSWIRE

Weather concerns forced the third of our three boat games from Friday to Sunday. Syracuse vs. San Diego State, on the USS Midway off the coast of San Diego, may be the first college basketball game ever rained out.
Sadly, it's been forced back into a head-to-head matchup with the NFL, making it another game that won't get the eyeballs it deserves.
Syracuse may have several pronounced advantages, despite the fact that this is a de facto home game for the Aztecs. The 2-3 zone is often difficult to shoot over, and the outdoor elements and unusual shooting backdrop will give State gunners like Jamaal Franklin (pictured) and Chase Tapley even bigger hurdles to overcome.
The Orange also have a substantial size advantage over the Aztecs. Bigs DaJuan Coleman, Baye Keita and Rakeem Christmas all stand taller than 6'9", and San Diego State's best big man—Virginia transfer James Johnson—won't be eligible until December.
Experience is an advantage for SDSU, since Syracuse will lean on former reserves like Christmas, Keita and wing Michael Carter-Williams. Still, considering the likelihood that no one on either team has played in a setting like this one, that might turn out a wash as well.
Who adapts better to the venue will determine the winner of this game, and that winner will have a big scalp on its wall when seeds are being assigned in March.
For more from Scott on college basketball nationwide, check out The Back Iron.