College Basketball: 10 Players Who Left Last Season Fans Wish Could Come Back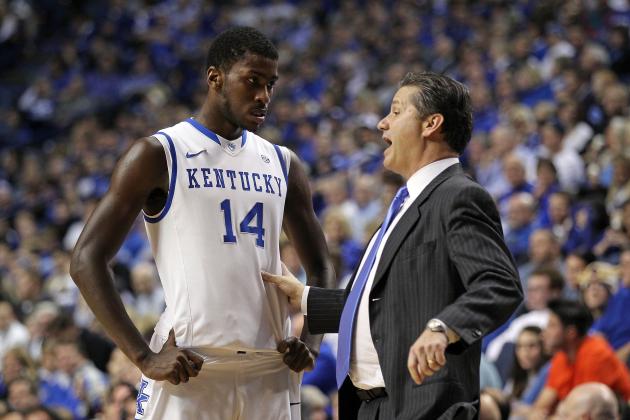 Andy Lyons/Getty Images

The new college basketball season is almost upon us, and there is plenty of optimism as fans begin to look ahead to future tip-offs and slam dunks.
But that doesn't mean there still can't be any nostalgic longing for the past.
After all, there are plenty of stars from just one season ago that would make their respective teams much more formidable in 2012-13.
So let's live in the past for a bit and recount 10 players that left after last season that fans wish would could come back. I put a limit on one player per program so I wasn't writing about the entire rosters of Kentucky and North Carolina.
Feel free to let me know in the comments section who you are going to miss this season.
Begin Slideshow

»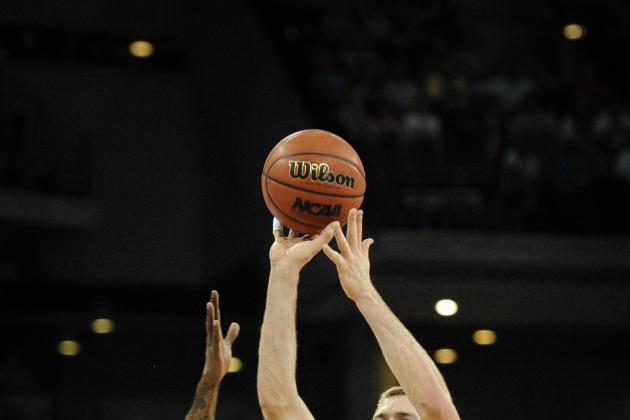 Eric Francis/Getty Images

Robbie Hummel may have been in college for approximately 15 seasons, but few players in the history of the program have meant more to Purdue or its fans.
Last season Hummel averaged 16.4 points, 7.2 rebounds, 1.9 assists, 1.2 blocks and .7 steals per contest, which was good enough to lead the Boilermakers in points, rebounds and blocks.
But it was Hummel's perseverance and leadership that meant more to Purdue than his numbers alone.
He was the heart and soul of a Boilers' squad that always seemed to be just on the edge of something great. Unfortunately, Purdue just couldn't catch much of a break during Hummel's career.
Injury problems plagued the team, many of which hampered Hummel himself, and the Boilers could never quite reach that Final Four that they seemed destined for.
Despite the injuries, Hummel's grit, determination and talent level will be remembered by Purdue fans for years to come.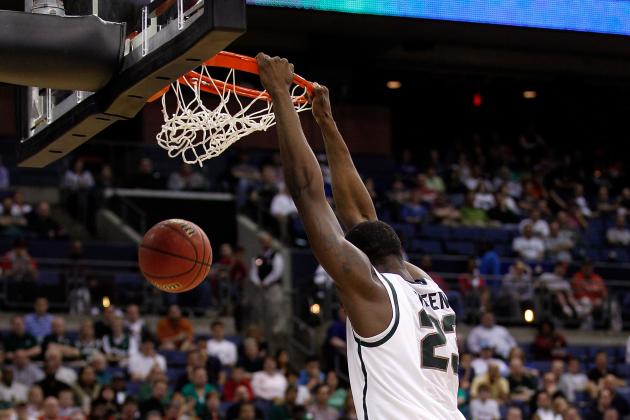 Rob Carr/Getty Images

Perhaps no player in the country meant more to their respective team last year than Draymond Green did to Michigan State.
Green led the Spartans in points per game (16.2), rebounds per game (10.6), steals per game (1.5) and trips to the free throw line. What's more, Green was also second on the team in assists (3.8) and blocks (.9) per contest.
But it wasn't just the statistical production that endeared Green to Spartan fans. He was the emotional leader of his squad and served as an extension of Tom Izzo on the floor.
Michigan State should be a conference contender in 2012-13, but it will be particularly difficult in the deep and treacherous Big Ten for the Spartans to defend their conference tournament crown and co-regular season title without Green.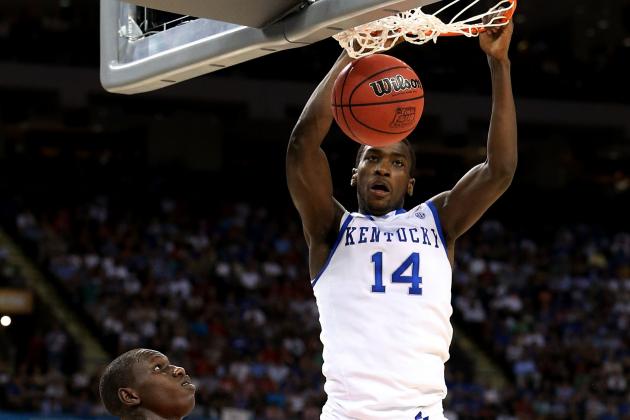 Ronald Martinez/Getty Images

I know Anthony Davis may have been a more popular Kentucky Wildcat to slide into this slot, but I think Big Blue Nation would be better off in 2012-13 if Michael Kidd-Gilchrist was the one returning.
That's not to say that Kidd-Gilchrist is a better player than Davis was or more important, but Nerlens Noel is more than capable of at least coming close to replicating Davis' numbers and impact.
Kentucky has talent everywhere you look, but Kidd-Gilchrist would give them an important ball handling presence that could help the freshmen adjust to the spotlight that will be on them every time they lace it up.
And it's not as if Kidd-Gilchrist wouldn't be providing this year's squad with a boatload of talent as well. He led all Wildcats not named Davis in rebounding last season (7.4) and had a double-digit scoring average.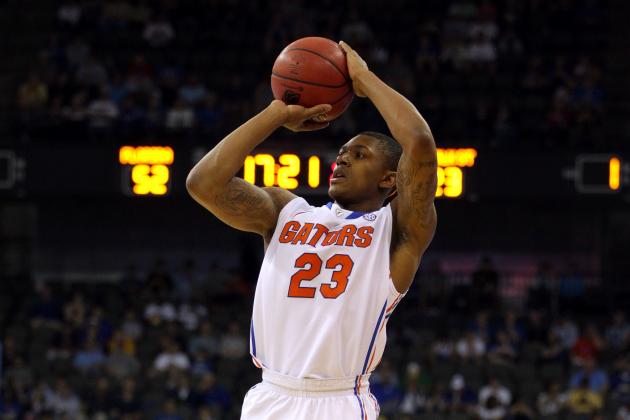 Doug Pensinger/Getty Images

Billy Donovan has had a number of talented players during his tenure as the head coach of the Florida Gators. After all, you don't win two national titles and find yourself among the best teams in the country every year without talent.
However, from a pure ability standpoint, Bradley Beal may have been one of the best that Donovan has ever coached in Gainesville.
Beal averaged 14.8 points and led the Gators with 6.7 rebounds per game as a freshman. He was also a force on defense and recorded better than a steal per contest.
The Washington Wizards rewarded Beal for his efforts by selecting him with the No. 3 pick in the NBA draft. The combination of Beal and John Wall in the backcourt should be exciting for years to come in the nation's capital.
But Florida fans certainly wish that they could have enjoyed Beal's talent for more than just one season.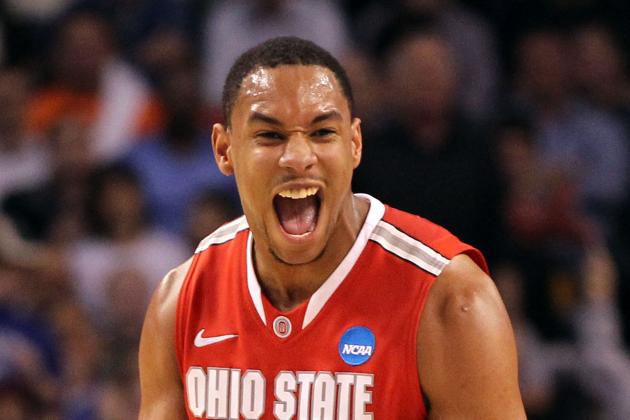 Jim Rogash/Getty Images

There is probably more uncertainty surrounding Ohio State than any other team ranked in the Top 10 of this year's USA Today preseason Top 25 poll.
That is largely due to the departure of two-time All-American Jared Sullinger.
The Buckeyes' big man was the best player on his team in both of his years in Columbus, one of which saw him reach a Final Four. He also led the Scarlet and Gray to two Big Ten titles and a conference tournament crown.
He was Ohio State's best scoring option and rebounder and even led the regulars in three-point percentage last year. What's more, he had excellent passing skills and touch from the free throw line for his size and could always be counted on to draw plenty of fouls.
Amir Williams will have his work cut out for him if he wants to replicate Sullinger's impact on the floor in 2012-13. I think Buckeye fans would be happy with half of that production.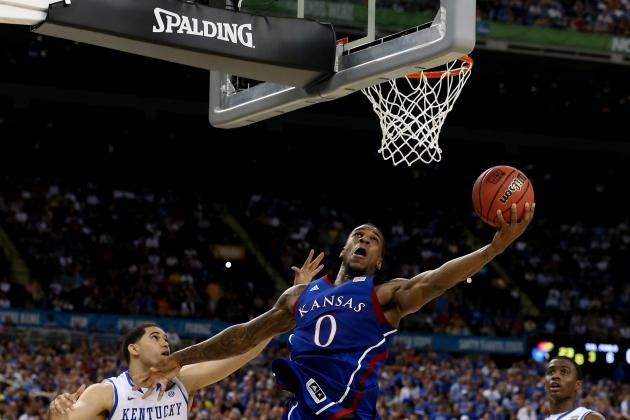 Jeff Gross/Getty Images

Kansas has become so dominant in the Big 12 that it's become almost boring to those outside the Jayhawk faithful. Bill Self's squad has taken home eight consecutive conference titles and has to be considered the conference favorites again in 2012-13.
But something happens when a fanbase becomes so accustomed to such a high level of success—they want more.
And after reaching the national championship in 2011-12, Kansas fans want more than another notch under their Big 12 belt. Unfortunately for the Jayhawks, they may not quite have enough talent to reach the Final Four again.
If they only had Thomas Robinson still, that story may be different. Robinson led the team in points per game (17.7) and rebounds per game (11.9) all while averaging better than a steal per contest last year.
That type of impact alongside the defensive presence of Jeff Withey would make Kansas a serious national title contender again for 2012-13.
Jonathan Daniel/Getty Images

There may not have been a more under the radar Big East Player of the Year in the history of the conference than Jae Crowder last season.
In fact, even his own teammate Darius Johnson-Odom probably drew more headlines than Crowder.
But you can bet Marquette fans wish Crowder was coming back to the Golden Eagles for the 2012-13 season.
He earned his conference player of the year by scoring 17.5 points per game and demonstrating a decent stroke from downtown and a reliable hand at the charity stripe.
With nonconference showdowns against Ohio State, Florida, Wisconsin and potentially North Carolina looming before the start of the always difficult Big East slate, Marquette could certainly use Crowder in 2012-13.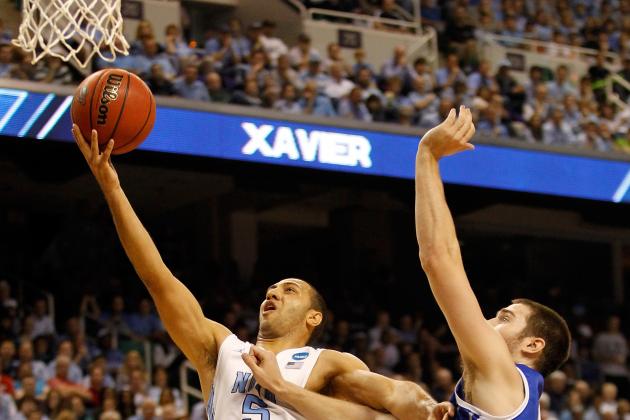 Streeter Lecka/Getty Images

North Carolina lost just about its entire roster of contributors from a year ago outside of James Michael McAdoo to the NBA.
Nothing would benefit this young Tar Heels squad more than a steady point guard to control the pace of the game and keep everyone's emotions in check. Unfortunately for Roy Williams, that point guard will be playing professionally this season.
Kendall Marshall averaged nearly 10 assists per contest in 2011-12 and still found a way to put in better than eight points a night. He was also a terrific force on the defensive side of the ball and could slow down the best the ACC had to offer from the point guard spot.
While John Henson, Tyler Zeller and Harrison Barnes were all stars at the collegiate level, Marshall would probably be the most beneficial to this year's North Carolina team.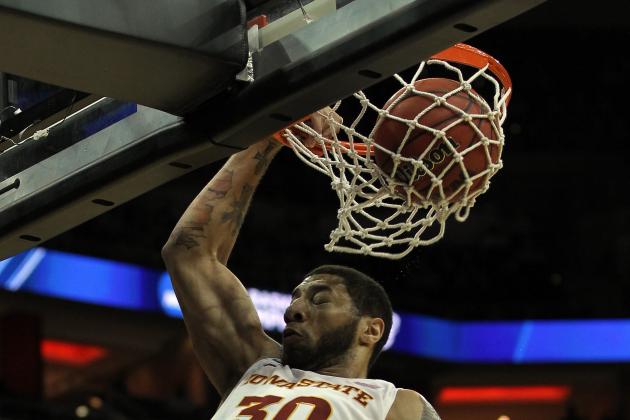 Jonathan Daniel/Getty Images

Iowa State is not supposed to be nationally relevant when it comes to college basketball.
However, thanks in large part to Royce White, that wasn't the case in 2011-12.
The Cyclones finished with an impressive 23-11 record last year, including a formidable 12-6 mark in Big 12 play, which was good enough for a third place finish.
Iowa State even managed to put quite a scare into the eventual national champion Kentucky Wildcats in its second game of the NCAA tournament.
Royce White was the on-court leader for the Cyclones and averaged 13.4 points, 9.3 rebounds, five assists, 1.2 steals and .9 blocks per night.
His all-around production on the court caught the eye of the Houston Rockets who eventually selected him in the NBA draft.
Unfortunately for Iowa State fans, the Cyclones may not be quite as formidable this season without the presence White in 2012-13.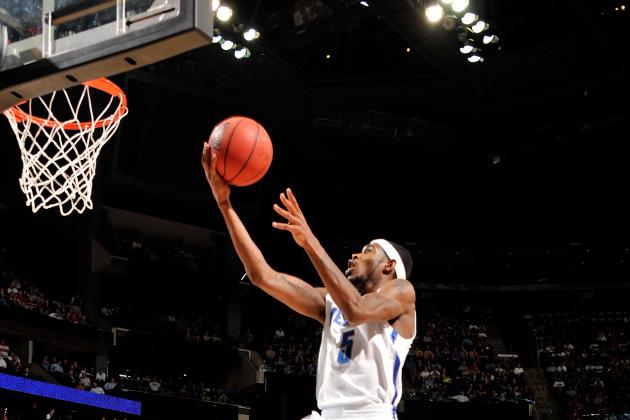 Jamie Sabau/Getty Images

It seems like Memphis always has that dynamic player on its roster that is clearly more talented than the Conference USA opponents he is going up against.
In the past that role has been filled by the likes of Derrick Rose, but in 2011-12 Will Barton was that man.
The Tigers' star poured in 18 points and grabbed eight rebounds per contest last year. He also managed to be a formidable defender with 1.4 steals and .7 blocks a night.
He was capable of shooting the three and had a reliable stroke from the free throw line.
Without Barton last season, Memphis may have struggled to qualify for the NCAA tournament. The Portland Trail Blazers recognized his talent and scooped him up with the 40th pick in the draft.
Memphis is still in the Conference USA so it could very well have a solid record by March, but a deep run in the tournament doesn't seem likely without Barton this year.