Big Ten Basketball: The Best Player on Every Team for 2012-13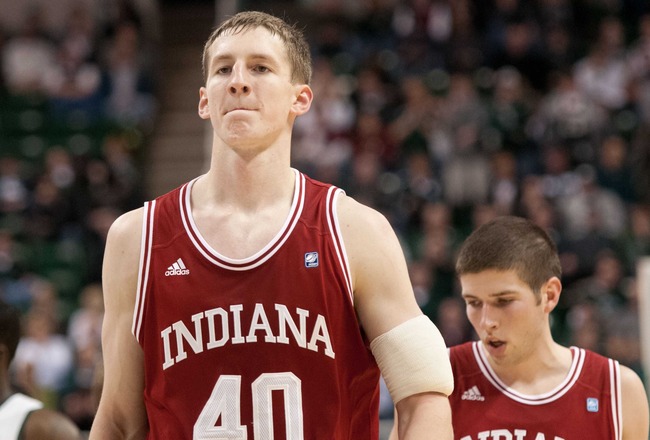 Tim Fuller-US PRESSWIRE
When a conference has three teams in the top five of the preseason coaches' poll, it's no surprise that there's plenty of star power on the rosters. The Big Ten is going to be the toughest, deepest league in the country this season, and it features plenty of All-America prospects among its elite players.
The best of that rarefied group is Indiana center Cody Zeller, a favorite for national Player of the Year recognition. The high-scoring seven-footer will help his case considerably if he can follow up on the Hoosiers' preseason hype by leading his team to its first Final Four in a decade.
Read on for more on Zeller and the rest of the best individual talents on each team in the Big Ten this year.
Illinois: Brandon Paul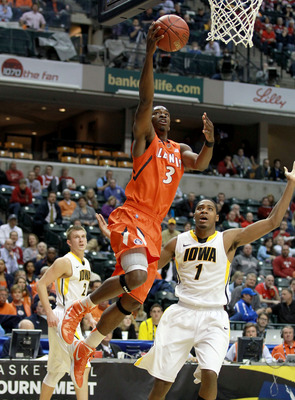 Andy Lyons/Getty Images
Even with star center Meyers Leonard getting his share of touches, Brandon Paul led Illinois in scoring a season ago. Now that Leonard is gone to the NBA, it's a safe bet that Paul will add appreciably to his average of 14.7 points per game.
Paul, a 6'4" senior, doubles as the Illini's top defensive weapon at 1.4 steals a night.
Much as new coach John Groce might wish otherwise, he's also the closest thing the team has to an established floor leader after dishing out a team-high 2.9 assists per contest a season ago.
Indiana: Cody Zeller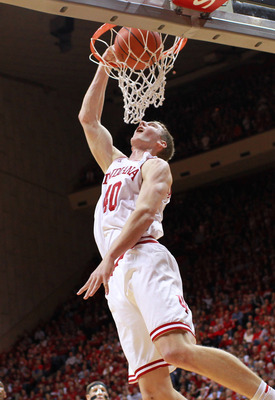 Michael Hickey-US PRESSWIRE
He's only a sophomore, but it's already awfully tough to find holes in Cody Zeller's game.
There's a case to be made that he isn't as dominant as a rebounder and shot-blocker as one might hope from a 7'0", 240-lb center…but he still averaged team highs of 6.6 boards and 1.2 blocks a night last year.
Of course, Zeller's greatest strength (and the key to his likely Wooden Award resume) is as a scorer, where he poured in 15.6 points per game.
With a year of experience under his belt and a major upgrade at point guard in the person of freshman Kevin "Yogi" Ferrell, Zeller should have little trouble surpassing that figure as he leads Indiana's bid for its first post-Bobby Knight national title.
Iowa: Adam Woodbury
Image from Rivals.com
Aaron White grabbed Freshman All-America honors last year for the Hawkeyes, but this year's top recruit should eclipse even his impressive performance.
Adam Woodbury is a 6'11", 230-lb center who should immediately become the focal point of the Iowa offense.
Woodbury is a classic back-to-the-basket scorer who has terrific hands in the post. He's also a wonderful passer for a big man, a trait that won't be overlooked in a Hawkeyes attack that doesn't have a proven point guard entering the season.
Michigan: Trey Burke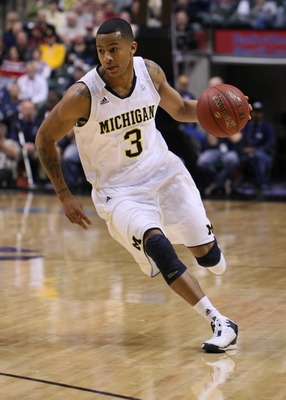 Brian Spurlock-US PRESSWIRE
In the space of a single offseason, Michigan needs Trey Burke to go from freshman sensation to veteran leader.
Either of the Wolverines' two brilliant recruits—Mitch McGary or Glenn Robinson III—would have a reasonable case for the top spot on this roster, but it's Burke who will pull the team together from his point guard spot.
In his first season (and with notably fewer elite scorers to feed), Burke dished out 4.6 assists a night.
He also served as the Wolverines' leading scorer, and while he may cede that role to one of the youngsters, he'll still be a serious threat to create his own shots after pouring in 14.8 points per game a season ago.
Michigan State: Gary Harris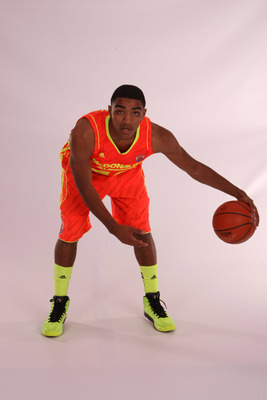 Brian Spurlock-US PRESSWIRE
The prize of Tom Izzo's freshman class, Gary Harris has a chance to be the best all-around shooting guard in college basketball this year.
He'll certainly fit right in with his Big Ten opponents, because he's an aggressive, physical defender who gets the most out of his long-armed, 6'4" frame.
Offensively, Harris is a solid three-point threat but a devastating weapon in the mid-range.
He has the muscle to finish at the rim, even in this physical conference, and he'll get loads of scoring opportunities as the go-to option for the Spartans in the half court.
Minnesota: Trevor Mbakwe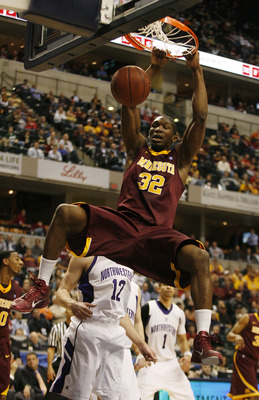 Brian Spurlock-US PRESSWIRE
Assuming his latest legal troubles don't cost him any playing time, Trevor Mbakwe is set to be one of the country's most dominating power forwards this season.
In his last full season of action—before an ACL tear cost him most of 2011-12—Mbakwe led the Big Ten with 10.5 rebounds per game.
At 6'8", 245 lbs, Mbakwe is one of the country's most explosive athletes, and his scoring punch (13.9 points per game) owes a lot to his dunking prowess. He's a force as a defender, too, having piled up 1.5 blocks a night in his last season of action.
Nebraska: Dylan Talley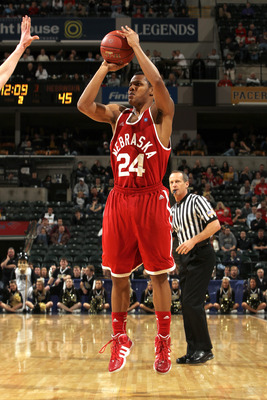 Jonathan Daniel/Getty Images
After losing a slew of seniors from a 12-18 squad, Nebraska isn't exactly overloaded with talent, but senior Dylan Talley will at least be in a position to provide some leadership.
The 6'5" SG is the team's leading returning scorer, albeit at an anemic 8.9 points per game.
Talley's stock in trade is the three-point shot, and he drained 38 of them (also tops among returning Cornhuskers) at a .369 clip last season.
He's also the last holdover from what had been a solid defensive backcourt, leading the returnees with 1.0 steals per game.
Northwestern: Drew Crawford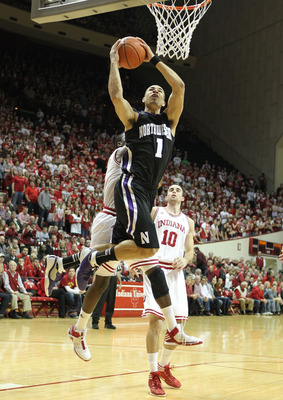 Andy Lyons/Getty Images
After three seasons as John Shurna's right-hand man, Drew Crawford gets to carry his own team in 2012-13. The 6'5" swingman is Northwestern's leading returning scorer at an eye-opening 16.1 points per game.
Crawford is particularly deadly from beyond the arc, having shot .412 from deep last year. In the absence of the long-armed Shurna, don't be surprised to see his rebounding numbers (already solid at 4.7 boards per contest) pick up as well.
Ohio State: Aaron Craft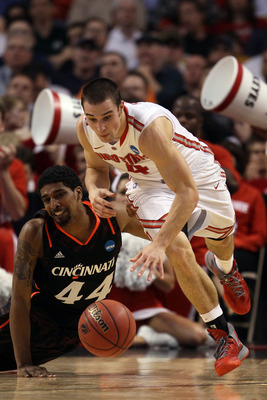 Elsa/Getty Images
Although there's obviously an argument to be made for high-scoring classmate Deshaun Thomas here, point guard Aaron Craft has one key edge in claiming the top spot on the Buckeyes' charts.
Craft is the single best perimeter defender in college basketball, a distinction Thomas can't match in any area of his game.
For all that Craft's 2.5 steals a night are his greatest asset, he's also a fine offensive player in his own right. He's a skilled (if reluctant) three-point shooter at 35.9 percent last year, and he dished out 4.6 assists a night as a sophomore.
Penn State: Tim Frazier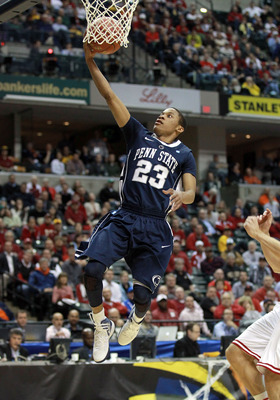 Andy Lyons/Getty Images
If Tim Frazier were on even a mediocre team, he'd be an All-America candidate this season.
Unfortunately for him, the woeful Nittany Lions don't look any more promising than last year's cellar-dwellers, meaning that he'll be spending his senior season in continued obscurity.
The 6'1" Frazier led last year's Penn State squad in points (18.8), rebounds (4.7), assists (6.2) and steals (2.4) per game.
He ranked in the top 15 nationally in both assists and steals, and it won't be any surprise to see him near the top of those charts again in his final collegiate season.
Purdue: A.J. Hammons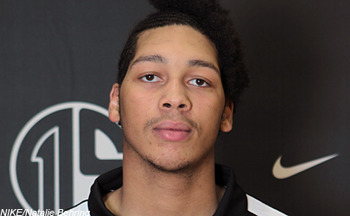 Image from Rivals.com
The headliner of a deep Purdue recruiting class, A.J. Hammons will immediately turn around what had been the smallest starting lineup in the Big Ten.
The 7'0", 280-lb freshman becomes the heart of a Boilermaker frontcourt depleted by the graduation of superstar Robbie Hummel.
Although Hammons is a solid defender, his biggest contribution (like Hummel's) will come on the offensive end. He has soft hands in the post, and his big body makes him a very dangerous finisher once he's carved out space down low.
Wisconsin: Jared Berggren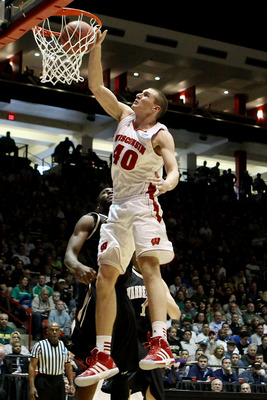 Christian Petersen/Getty Images
With star point guard Jordan Taylor graduated, Wisconsin's always-tenuous offense will need even more help than usual this season. Of several Badgers who will be sharing that burden, Jared Berggren will be the biggest key to success.
One of just two returnees who scored in double figures a season ago, the 6'10" Berggren is also the team's top returning three-point threat (45 treys on .372 shooting).
He'll play just as vital a role in Wisconsin's always-devastating defense, having led last year's stifling unit with 1.7 blocks per game.
Keep Reading