College Basketball: Winners and Losers from Preseason Coaches' Poll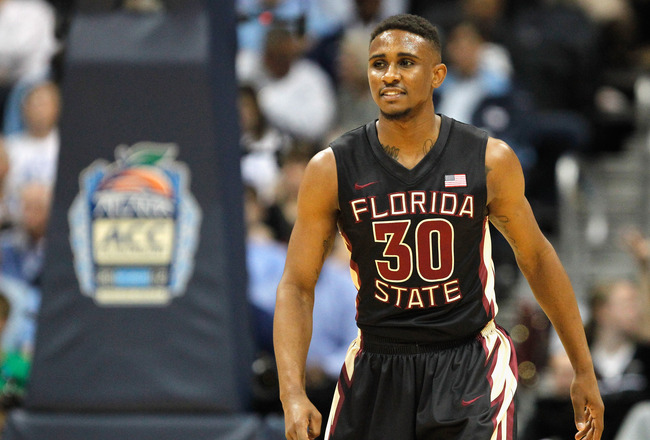 Ian Miller, Florida State
Streeter Lecka/Getty Images
The USA Today Preseason Coaches' Poll was released yesterday, spurring a mass outcry among college basketball fans who felt certain teams were either overrated or underappreciated.
These polls don't mean much in terms of predicting future outcomes, but they can easily damage the reputability of a coach or team.
Not only did some teams "win" or "lose" with their rankings, but some conferences did as well. Included in this slideshow are three teams and one conference that won, and three teams and one conference that lost.
Here are my reactions to the 2012-13 college basketball Preseason Coaches' Poll.
Winner: North Carolina State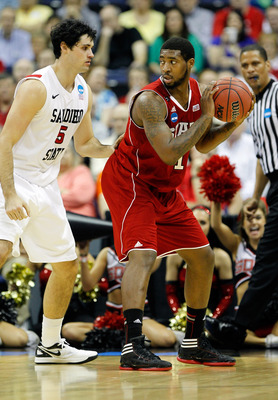 Rob Carr/Getty Images
Preseason Rank: 6 (581 votes)
Inevitably, a squad who returns the majority of its nucleus from a Sweet 16 appearance and hauls in three top-40 freshmen will see a significant boost in its preseason expectations.
But NC State at 6? The Wolfpack should be feeling quite fortunate to be receiving such lofty praise and commendation.
In fact, second-year coach Mark Gottfried has rejuvenated this program to a level that had previously seemed to be simply unobtainable. The Wolfpack are considered the ACC favorite, and the best basketball team located on Tobacco Road...ahead of college basketball blue-bloods North Carolina and Duke.
Even with the return of preseason first-team all-ACC selections CJ Leslie and Lorenzo Brown, being ranked sixth, ahead of more proven rosters such as Kansas and Michigan State seems a bit high.
The cast of talent in Raleigh is stupendous. Richard Howell is one of the league's top rebounders, while Scott Wood is one of the league's top outside shooters. Rodney Purvis is a walking highlight film, while Tyler Lewis provides depth at the point guard spot that others simply don't have.
However, I haven't seen enough from NC State yet that would warrant such incredible accolades. As the calendar approaches March, sure, the Wolfpack may be teetering around the top five.
But for now, NC State is a winner for receiving such flattery in the preseason polls.
Loser: Minnesota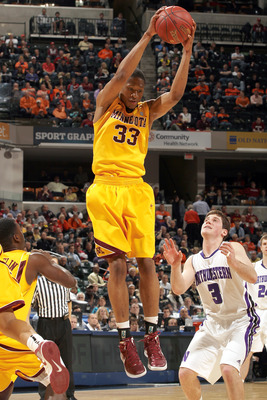 Jonathan Daniel/Getty Images
Preseason Rank: Not Ranked (9 votes)
The idea that not just 25, but 33 teams received more votes in the coaches poll than the Minnesota Golden Gophers is nothing short of an atrocity.
Minnesota's exclusion embodies the term "loser" in regards to preseason poll reactions. Tubby Smith is going to have an excellent season with the talent he carries in Minnesota.
Still rehabbing a knee injury that sidelined him for the majority of last season, Trevor Mbakwe will eventually return to the Gophers' lineup. When he does, Minnesota adds one of the nation's most skilled and fundamentally sound power forwards you'll see this season.
Small forward Rodney Williams receives notable recognition for slamming highlight reel-worthy dunks, but Minnesota's underappreciated backcourt is why Minnesota's exclusion is so alarming.
Julian Welch, Andre Hollins and Austin Hollins comprise what should be one of the most formidable Big Ten guard trios.
Leaving off the Gophers from the preseason top 25 can be interpreted as an accident, but for Minnesota to garner just nine votes, less than New Mexico and Saint Mary's, is just ridiculous.
Winner: Creighton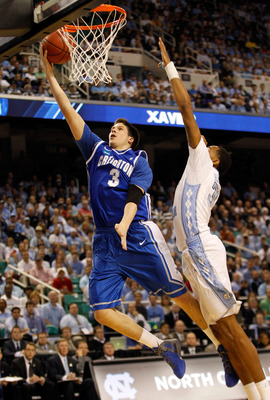 Streeter Lecka/Getty Images
Preseason Rank: 15 (325 votes)
Dubbing Creighton's Doug McDermott as a National Player of the Year candidate is justified. The kid is a stud who scores at will.
Aside from Gregory Echenique, Creighton's roster doesn't possess a sufficient amount of talent, especially on the defensive end, that would warrant a top-15 preseason ranking.
The Bluejays should feel like winners after hearing that they received such acclaim from the nation's coaches.
Understandably, it's easy to hop on the Bluejay bandwagon because McDermott is so productive on offense. That's terrific, but it doesn't negate the fact that Creighton showcased some abysmal defense last season.
Creighton has a gaping inability to slow down teams in transition. Factor in that they will be starting a completely unproven point guard in Austin Chatman following Antoine Young's graduation, and this squad looks awfully shaky.
The NCAA Tournament selection committee realized Creighton's weaknesses when they handed the Bluejays a modest eight-seed last season. That shouldn't translate into a top-15 ranking the following preseason, which is why Creighton is a winner.
Loser: UNLV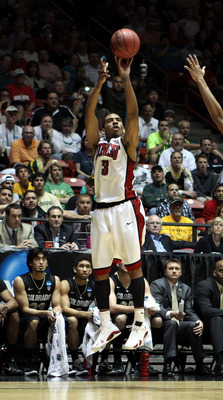 Christian Petersen/Getty Images
Preseason Rank: 19 (203 votes)
It would be difficult to make an argument that any team had a more productive offseason than the UNLV Runnin' Rebels.
Sure, Chace Stanback and Oscar Bellfield were significant losses, but neither are irreplaceable. Head coach Dave Rice hauled in five-star Anthony Bennett, four-stars Katin Reinhardt and Savon Goodman and Pittsburgh transfer Khem Birch, a former McDonald's All-American.
In addition, UNLV returns All-American candidate Mike Moser, and backcourt mates Justin Hawkins and Anthony Marshall from a team that was a six-seed in the 2012 NCAA tournament.
So the coaches are telling me that the Runnin' Rebels are going to receive a five-seed in March? That's insanity. UNLV is the epitome of a preseason poll "loser."
Moser, Bennett and Birch form a daunting frontcourt that the entire nation, not just mid-majors, will have trouble handling. The idea that UNLV, starring these three studs, should be ranked 19th is ludicrous.
In terms of gaining respect from preseason polls, UNLV lost big-time with the coaches poll. Don't be surprised if the Rebels shoot up 6-8 spots when the preseason AP Top 25 is unveiled.
Winner: Florida State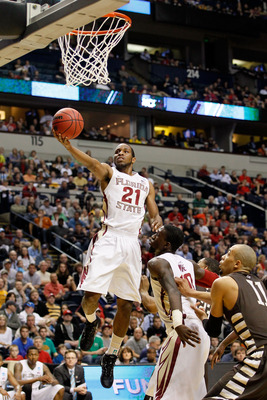 Kevin C. Cox/Getty Images
Preseason Rank: T-24 (61 votes)
Florida State cracking the top 25 was the biggest surprise of the poll in my opinion. I didn't expect the Seminoles to even smell the top 25...forget being included.
This praise is an indication that coaches are fearing Florida State shooting guard Michael Snaer, and that fear is completely reasonable.
But a team can't succeed without a capable frontcourt, and I'm not so sure that Okaro White and Terrance Shannon, who missed most of last season, are sufficient. In addition, Leonard Hamilton's squad will most likely be starting a freshman at point guard, whether it be Montay Brandon or Devon Bookert.
For a team carrying so many question marks, Florida State should feel elated to be included in the preseason top 25. In fact, FSU might be the biggest winner of all.
Snaer and Ian Miller will do their part in ensuring Florida State ends up on the right side of the bubble, but with so many holes and insecurities, the Seminoles should feel grateful that the coaches are building their reputation so positively.
Loser: Cincinnati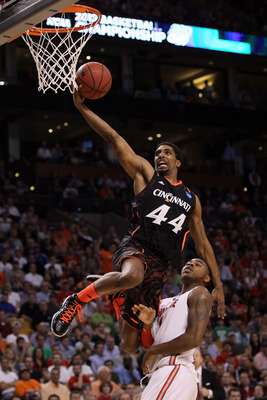 Elsa/Getty Images
Preseason Rank: Not Ranked (33 votes)
Well, unlike Minnesota, at least Cincinnati received a considerable amount of votes with 33. However, that number doesn't even begin to compensate for the fact that the Bearcats inexplicably failed to make the top 25.
Cincinnati is a legitimate Big East contender. Louisville and Syracuse may be one step above Cincinnati, but I would place Mick Cronin's squad third in line, ahead of Notre Dame.
The rankings don't reflect that statement, as Notre Dame finds itself ranked 23rd. Notre Dame is rightfully included, but Cincinnati should be higher.
Jaquon Parker, Cashmere Wright and preseason Big East all-first team selection Sean Kilpatrick comprise an incredibly talented backcourt. Yancy Gates' departure leaves an opening in the interior, but newcomers David Nyarsuk, Shaquille Thomas and Titus Rubles can adequately fill that void.
With all of that being said, Cincinnati was a major loser in the coaches' preseason poll. I believe the Bearcats are more talented than Florida State, Texas, Notre Dame, San Diego State and Creighton, all of whom were included in the top 25.
It's a mistake that Cincinnati was left outside the top 25. It's a disgrace that Florida State, who Cincinnati beat and lost more talent than the Bearcats, received 28 more votes.
Winner: Big Ten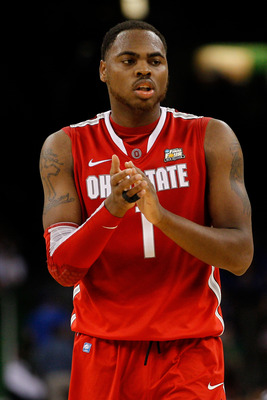 Chris Graythen/Getty Images
The Big Ten Conference most likely expected that one of their members, Indiana, would be ranked first in the coaches' poll. The fact that the top five of the rankings is comprised of three B1G teams was probably a pleasant surprise.
Michigan checks in at No. 5. The Wolverines lack depth, but their starting five will be able to compete with the likes of Indiana. I expected Michigan to be slotted a tad lower, but this isn't the major surprise.
Ohio State received an astounding 617 votes, which was good for fourth in the poll. Its not often that a team loses high-caliber players like Jared Sullinger and William Buford and retains such a high ranking.
In addition, Michigan State was ranked a very respectable 14th, considering Draymond Green and Brandon Wood, the two most integral pieces to their Sweet 16 run last season, graduated.
Wisconsin also lost a very important player in Jordan Taylor, but the Badgers appear at 21. It will be interesting to observe how Bo Ryan and Co. cope with the recent injury to forward Mike Breusewitz.
Minnesota was snubbed, but still received nine votes.
Any conference that can take up more than half of the poll's top five slots should be considered a winner, which is why the Big Ten Conference appears on this list.
Loser: Atlantic-10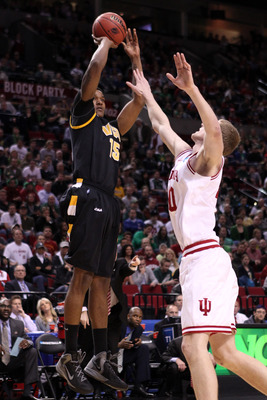 Jed Jacobsohn/Getty Images
The Atlantic-10 conference enhanced its quality by adding VCU and Butler in the offseason, but still managed to be excluded from the coaches' top 25.
St. Louis amassed 58 votes, but still failed to crack the top 25. The Billikens received the most votes for a team who was not included in the poll.
VCU, who returns star forward Juvonte Reddic, totaled 40 votes. The Rams received the second most votes for a team who was not included in the poll.
Butler received six votes. The Bulldogs dismissed one of their premier players, Crishawn Hopkins, last month, for violating team rules.
St. Joseph's, my preseason A-10 champion, received just two votes. Carl Jones, Langston Galloway and CJ Aiken form one of the most dynamic trios in the land.
Other quality teams such as Massachusetts, La Salle and Temple received no votes in the poll.
The Atlantic-10 conference might be the best non-power six league. For it to have no members in the top 25 is simply wrong, therefore making the conference a loser.
Keep Reading