Bracketology: Forecasting the NCAA Tournament Seeds of Big Ten Teams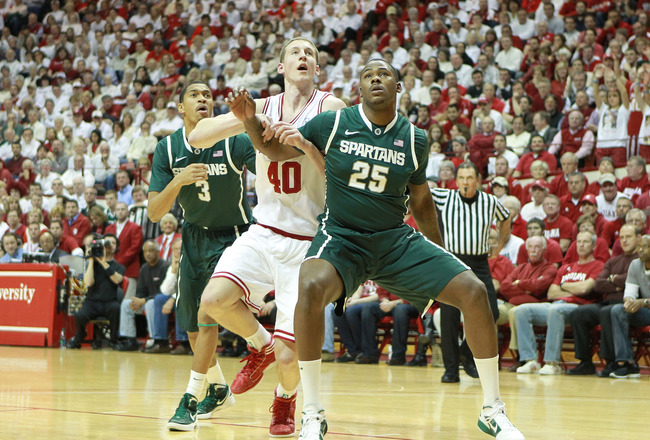 Andy Lyons/Getty Images
The college basketball season is about a month away, so naturally I would like to fast forward all the actual games and take a way too early look into my crystal ball and do some NCAA tournament projecting.
Because my crystal ball is located in the Midwest, it is only interested in giving me predictions about teams in the Big Ten for now, but stay tuned as it may expand its area of expertise in future months.
All joking aside, I envision the 2012-13 basketball season as being somewhat of a banner year for the Big Ten. It may not help the football faithful forget about this dreadful start to their season, but it won't hurt either.
Because the conference as a whole will be so strong, its teams on the bubble and near the top of the seeding line will ultimately be rewarded, even if they have a couple more losses than other teams in weaker conferences (you know, kind of how when SEC football teams lose and never fall more than five or six spots in the polls anyways).
Read on to see where your favorite school will find itself come March. I apologize in advance, Northwestern fans.
Not in Tournament: Nebraska, Penn State, Northwestern, Illinois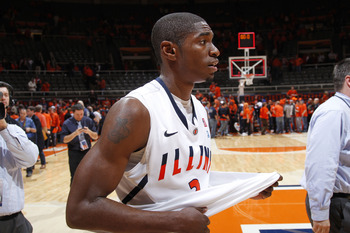 Joe Robbins/Getty Images
We will keep this summary brief for each team to minimize the pain, a la pulling off a Band-Aid.
Penn State has Tim Frazier, and he is one of the best point guards in the entire country, let alone the Big Ten. The problem is the Nittany Lions don't really have anyone to help him. Barring some unexpected contributions from the youngsters, Penn State will once again languish near the bottom of the conference, despite another great season from Frazier.
It's not exactly a secret that Nebraska was added for football. The Cornhuskers are closer to the very bottom of the Big Ten than they are from even the sixth or seventh spot. Bo Spencer was the lone bright spot last year, and he is gone. Expect another rough year for Nebraska's hoopsters.
Northwestern is Northwestern. The Wildcats have never made the NCAA tournament, and they probably aren't going to do so in their first year without Mr. Everything John Shurna, even though we would all like them to.
Illinois is definitely the closest team to the tournament on this list, and may even sneak in when it's all said and done (hey, I never promised my crystal ball would be perfect). There is talent there (Brandon Paul, D.J. Richardson), but it is just too inconsistent.
John Groce will have the Illini on the right track by the end of the year, but that track won't include a tournament berth this season.
Indiana: No. 1 Seed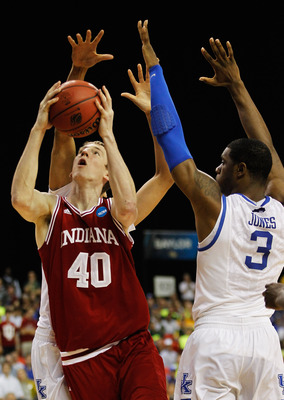 Streeter Lecka/Getty Images
I'm going to go out on a limb for a few of these projections, but it's not going to be for Indiana.
There is a reason the Hoosiers are the No. 1 team in the majority of preseason polls right now. They return the majority of their core from last year, including Cody Zeller, Victor Oladipo and Christian Watford, and Tom Crean has landed a solid recruiting class highlighted by Yogi Ferrell.
The fact that Crean has Indiana back on top of the college basketball world is even more impressive when you consider where the Hoosiers were just a few short years ago.
Indiana will have more talent than just about everyone it plays (if not everyone), but there are too many difficult challenges to go undefeated, including North Carolina, Ohio State twice, Michigan twice and Michigan State twice.
Nevertheless, the Hoosiers will cruise through the year with only a minor speed bump or two, easily earning a No. 1 seed in the NCAA tournament.
Ohio State: No. 1 Seed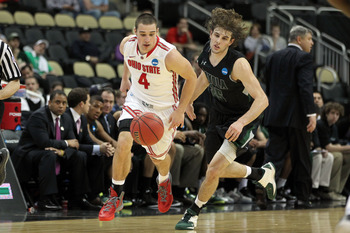 Gregory Shamus/Getty Images
This may be our first break from convention, although it's probably not drastic enough to start the slide pointing it out (my bad).
Ohio State lost Jared Sullinger and William Buford from its Final Four team a year ago, so naturally preseason expectations are somewhat tempered.
However, with Aaron Craft returning to spearhead the Buckeye defense and Deshaun Thomas still in the fold on the offensive side, the Scarlet and Gray will win plenty of games this year. Throw in the fact that Thad Matta's impressive 2011 recruiting class will finally get the chance to play, and Ohio State may surprise some people.
I am giving the Buckeyes a No. 1 seed because they will grab a number of impressive victories in the nonconference portion of their schedule that includes Marquette, Kansas and a trip to Duke.
Furthermore, Indiana could very well be 22-0 heading into its showdown with Ohio State in Columbus. I think the Buckeyes will lose at Assembly Hall, but a raucous home crowd will propel them to victory when they host the top-ranked Hoosiers.
If Matta and company consistently win games like that, the selection committee will take notice.
Michigan: No. 2 Seed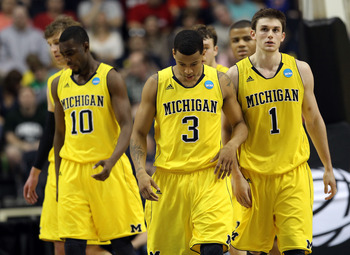 Jamie Squire/Getty Images
Trey Burke's decision to return to Ann Arbor, as surprising as it was for some people, was a huge boost for the Michigan basketball program.
The decision to skip the NBA draft was so huge in fact that the Wolverines may have their best squad since the days of the Fab Five.
Burke and Tim Hardaway Jr. create one of the most formidable backcourts in the entire Big Ten, but it is the highly-touted recruiting class that has Michigan fans buzzing.
Glenn Robinson III and Mitch McGary highlight that class, and each brings something completely different to the table.
McGary is a strong force down low who will use his grit and determination to wrestle rebounds from some of the Big Ten's best centers. And Robinson is one of the most athletic freshmen in the entire 2012 class who can post up smaller defenders and drive around bigger ones.
Behind the dynamic play of its returning guards and its impressive recruiting class, Michigan will challenge Ohio State and Indiana on the top of the conference standings all year.
Michigan State: No. 3 Seed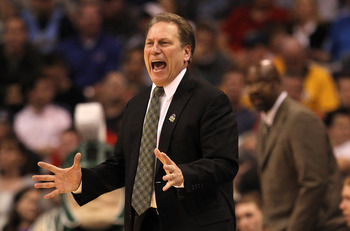 Jamie Squire/Getty Images
Draymond Green is an impactful loss for Michigan State. There's no getting around the fact that he was Mr. Everything for the Spartans last year.
But Tom Izzo is still in East Lansing, so that means the Green and White will be a formidable foe for the conference's best no matter what. And it's not like the Spartans are rolling out a bunch of scrubs either.
Keith Appling, a (hopefully) healthy Branden Dawson, Adreian Payne and Derrick Nix all return to lead Michigan State in 2012-13. But it is the addition of freshman sensation Gary Harris that will give the Spartans an edge over most of their opponents.
Harris is a lethal three-point shooter who will have plenty of opportunities with Appling penetrating and the big guys taking up space down low.
It's probably asking too much of the 5-star Harris to step in and replicate Green's all-around greatness in his first season, but a solid freshman year should set the stage for better things to come.
It should also set the stage for a No. 3 seed in the NCAA tournament.
Minnesota: No. 5 Seed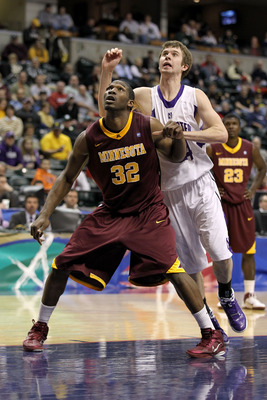 Andy Lyons/Getty Images
I may be higher on the Gophers than others are, but I think Minnesota is a dark-horse Sweet 16 team.
However, the key to the entire season for Tubby Smith's squad is to stay healthy. Trevor Mbakwe is entering his sixth year of eligibility and is coming off of a torn ACL.
When I slot them as a No. 5 seed for the NCAA tournament, I am assuming that Mbakwe is going to return to the dynamic athlete he was before the injury when he was the best shot-blocker and rebounder in the Big Ten.
But there is much more to Minnesota's team than Mbakwe. Rodney Williams, Austin Hollins and Andre Hollins make a formidable core that should be able to compete with the majority of teams in the conference.
Even if the Gophers aren't quite on the same level as Indiana or Ohio State, they should surprise some people in the deep Big Ten, which will be good enough to earn a solid seed come March.
Wisconsin: No. 6 Seed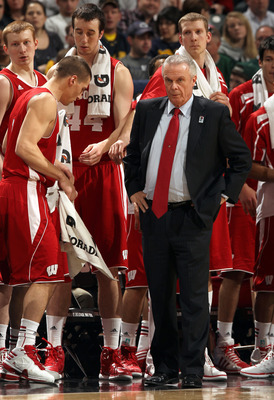 Jonathan Daniel/Getty Images
A No. 6 seed might appear a bit low for Wisconsin at first glance, but Jordan Taylor is just too big of a loss for the Badgers to match last season's No. 4 seed in the NCAA tournament.
He took every big shot for Wisconsin, handled the ball more than anyone, played solid defense and often bailed out the Badgers when their grind-it-out offense began to stall or the shot clock was about to expire.
But all is not lost for Bo Ryan's squad. With the exception of Taylor, much of last season's core returns and the highly-regarded Sam Dekker will be taking the floor as a freshman.
Dekker is a 6'7" forward who will be difficult to match up with for any opponent thanks to his length, athleticism and perimeter touch.
He may not be Taylor yet, but Dekker will join forces with Ryan Evans and Josh Gasser to lead the Badgers into the NCAA tournament as a No. 6 seed.
Purdue: No. 9 Seed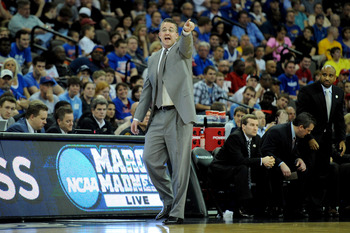 Eric Francis/Getty Images
Purdue will look a bit unfamiliar to Big Ten fans this season.
Gone is the core that included Robbie Hummel, E'Twaun Moore, JaJuan Johnson and even Lewis Jackson. It's really hard to not envision the Boilermakers taking a noticeable step backwards in what has to be considered somewhat of a rebuilding year.
However, I still think head coach Matt Painter will find a way to lead Purdue to the NCAA tournament. He signed a number of highly-regarded prospects as part of his 2012 class, including guards Raphael Davis and Ronnie Johnson and center A.J. Hammons.
It would not be a surprise if all of them saw significant playing time in 2012-13, especially Hammons.
Throw in D.J. Byrd and Terone Johnson to that mix, and Purdue could find itself somewhere in the middle of the conference standings, which would be good enough for a No. 9 seed come March.
Iowa: No. 11 Seed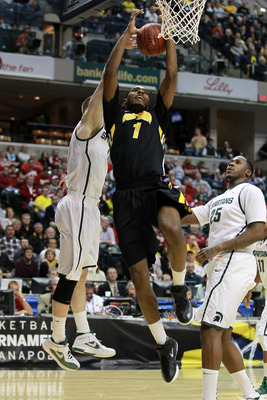 Andy Lyons/Getty Images
This may be the biggest surprise on this entire list.
However, Iowa has the potential to be a dangerous team in the 2012-13 season. The Hawkeyes upset Wisconsin and Indiana a year ago and were surprisingly efficient on the offensive side of the ball.
The one thing that was really holding Iowa back was its putrid effort on the defensive end. But freshman Adam Woodbury might have something to say about that this year.
The big man turned down scholarship offers from North Carolina and Ohio State to stay close to home and help the Hawkeyes try to improve their defense in the paint. He should be a rebounding and shot-blocking force down low, which is almost necessary to compete in the physical Big Ten.
Iowa is always good for a major upset or two every season, but it should win a few more of its games against lower-tier competition with Woodbury anchoring the defense.
Keep Reading