5 Best College Basketball Fanbases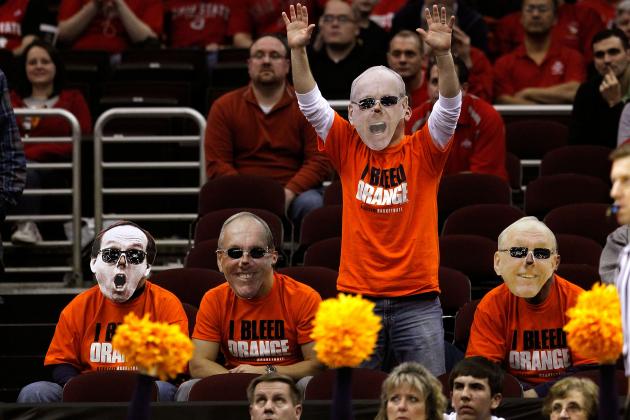 Gregory Shamus/Getty Images

What exactly is the criteria a college basketball fanbase must meet in order to join the ranks of the elite?
Rowdiness is a must, of course. Loyalty, confidence and perhaps even borderline insanity. A small dash of creativity can sometimes be what sets you apart from the rest.
Above all, though, is tradition. You simply cannot identify yourself as a great fanbase unless you've been at it for a long, long time.
Let's take a look at the best fanbases college basketball has to offer.
Begin Slideshow

»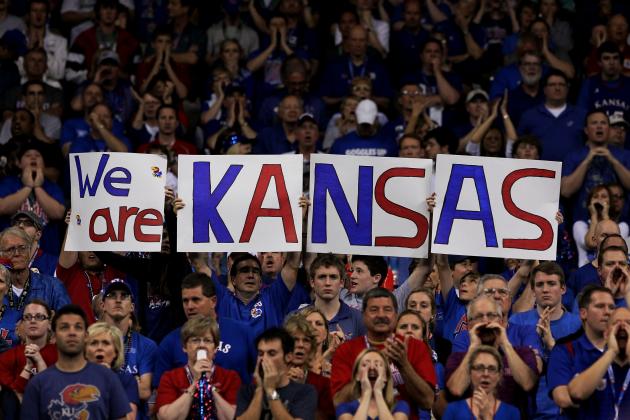 Jeff Gross/Getty Images

Kansas' men's basketball team has a deep and successful history, so it's no surprise to see that the program has built up its fair share of die-hard followers.
The Jayhawks have a ridiculous record of 683-107 at Allen Fieldhouse, which has been home to Kansas basketball since 1955.
Their 2,070 total wins in Division I basketball ranks second in NCAA history and they've made an astonishing 28 consecutive NCAA Tournament appearances.
The Jayhawks' "Rock Chalk" chant is undoubtedly one of the better known traditions in college basketball. I'm not quite sure it makes a whole lot of sense, but it's a long-time tradition and clearly a big deal.
Especially if you live in Kansas.
The Indiana Hoosiers basketball program dropped off the map for a handful of years, but they've bounced back in a big way.
Few times has one play been able to rejuvenate a sports program the way Christian Watford's buzzer-beating three-pointer did when it sank the No. 1 ranked Kentucky Wildcats last season.
Led by head coach Tom Crean, Indiana fed off the win and went on to make a surprise run to the Sweet 16 in the NCAA Tournament. In 2012, they project to be one of the top teams in the country.
The fans, though, never take a year off.
Indiana has ranked in the top 15 in attendance for men's basketball each year since Assembly Hall opened in 1972. Hoosier Nation bring the noise one year after another, partly because basketball is the only college sport the state truly cares to follow.
Nonetheless, the Hoosiers are back to their winning ways, and the team's fanbase is going to let you hear about it every chance it gets.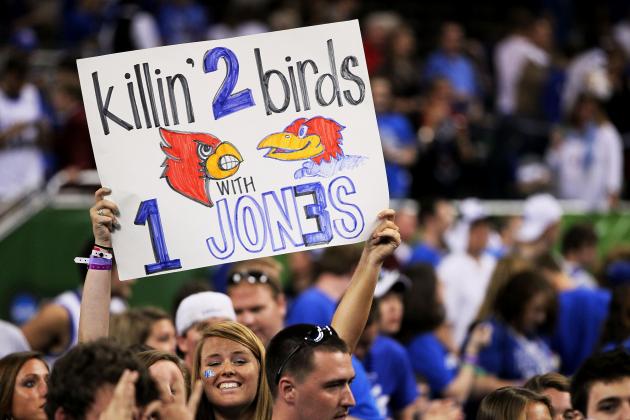 Jeff Gross/Getty Images

It helps when one of the largest fanbases in college basketball has the largest non-multi-sport college basketball arena in the United States to call home.
Rupp Arena, which opened in 1976, holds a capacity of 23,500—an astonishing number when you consider that most college basketball arenas hold between 10,000 and 15,000 fans. Needless to say, Kentucky leads the nation in attendance nearly every year.
The Wildcats can also claim a storied tradition of success that few programs can match. Kentucky is second all-time with eight National Championships under their belt, including one this past season.
At home, Kentucky is nearly unbeatable. They've won their last 52 home games and head coach John Calipari hasn't lost in Rupp Arena since he first arrived in Lexington in 2009.
They do call themselves the 'Crazies" for a reason.
It isn't out of the norm to catch a Duke fan rooting for the Blue Devils at a basketball game they aren't even playing in (see video above), as loony as that may sound.
If nothing else, the Dukies deserve an A+ for living up to the standards of their self-appointed name.
Kidding aside, Duke's fan base deserves recognition for a number of reasons. Tradition, loyalty and an unmistakable level of confidence are among them.
Going into Cameron Indoor Stadium and coming away victorious is no easy feat for any opponent, and the home crowd isn't shy about turning it up a notch to make you feel as uninvited as possible.
That said, the Crazies haven't been filling up the seats the way they once were (per NY Times), and last year's opening-round loss to No. 15 seeded Lehigh did nothing to help restore the enthusiasm.
Still, it's unlikely that they'll be unseated as one of the top fanbases in the country anytime soon.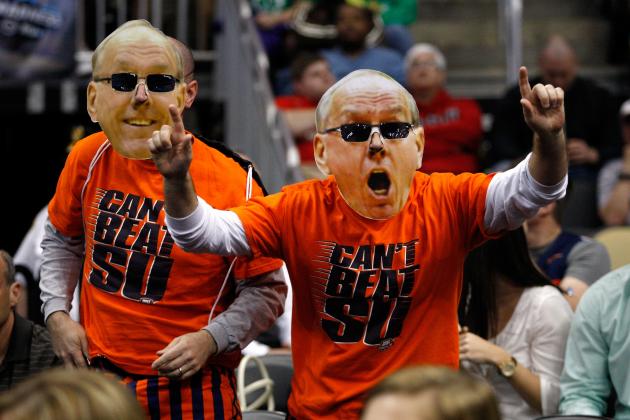 Jared Wickerham/Getty Images

Jim Boeheim is entering his 37th season as the head coach of the Orange, and that alone should hint that Syracuse's basketball program has a pretty solid following.
In the 2002-2003 season, the Orange took home their first ever NCAA Tournament championship, a feat that launched the program to new heights. Syracuse has qualified for the big dance seven out of the last nine years, and finished the 2011-2012 season atop the Big East with a 34-3 record.
This will be the basketball team's final season in the Big East as Syracuse moves to the ACC in 2013.
You can expect the Orange's raucous fanbase to make it a seamless transition.
Sometime you deserve credit just for being extraordinarily obnoxious.
The Aggies' fanbase isn't the best in college basketball, but it's perhaps the most underrated.
Dee Glenn Smith Spectrum isn't the biggest arena, either, but the 10,270 occupants that fill it on game days have no problem making themselves heard.
The Aggies' "Winning Team, Losing Team" chant is a clever tradition that has to be despised greatly by Utah State's Western Athletic Conference opponents. They won four straight conference titles from 2007-2008 to 2010-2011, boasting a home record of 66-1 in that span.
There are tons of college basketball programs around the country with overpowering fanbases. North Carolina, Louisville, Maryland and Illinois are a handful of storied basketball programs that narrowly missed the cut.
But the few that we've just covered are simply the best of the best.