SEC Basketball: Top 12 Newcomers for 2012-13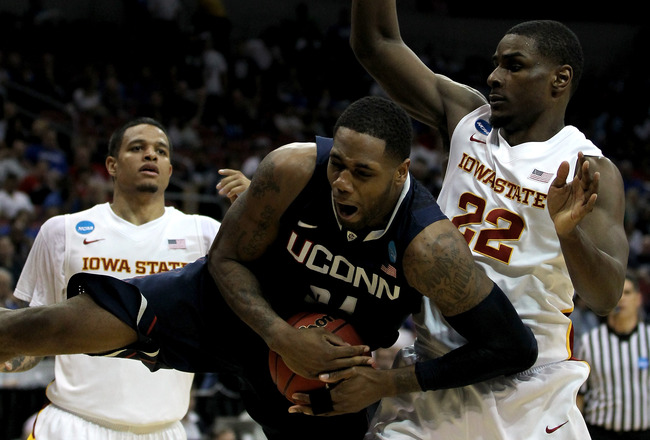 Jonathan Daniel/Getty Images
John Calipari has left no doubt that he's the country's best recruiter, so it should come as no surprise that Kentucky's freshman class is bringing some serious new talent to the 2012-13 SEC. Of course, the Wildcats' conference foes will also bring in their share of outstanding freshmen and transfers.
One of the best of the latter is former UConn defensive specialist Alex Oriakhi. One of the most physical post players from the black-and-blue Big East, Oriakhi will bring an edge to SEC newcomer Missouri that was sorely lacking a season ago.
Read on for more on Oriakhi and the rest of the dozen best new arrivals in the SEC for next season.
12. Jordan Price, Auburn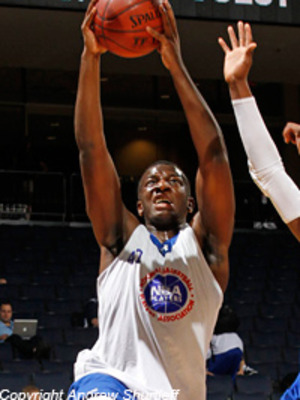 Image from Rivals.com
Auburn basketball has two winning records and zero NCAA Tournament appearances in the last nine years. One player isn't going to turn around that kind of negative momentum, but landing freshman Jordan Price is certainly a fine start.
At 6'5", 220 lbs, Price has enormous power for a swingman, allowing him to finish at the rim even against bigger defenders.
He's a streaky shooter, but when he's on he'll pour in more than enough points to take over as the leading scorer of an anemic Tigers offense.
11. Braxton Ogbueze, Florida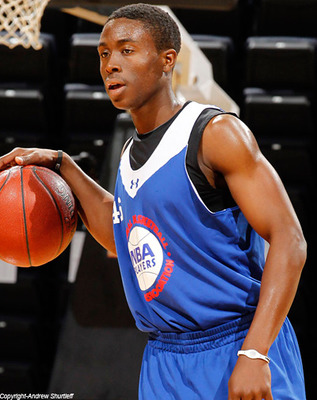 Image from Rivals.com
At 6'1", 185 lbs, Florida freshman Braxton Ogbueze is solidly built for a point guard, but he'll look even bigger to Gator fans. That'll happen when you replace a three-year starter—the graduated Erving Walker—who stands 5'8".
Like Walker, Ogbueze is a potent scorer who will look for his own shot (especially from beyond the arc) with regularity.
His size makes him a dangerous defender, and though he's not a top-notch distributor yet, having veteran Kenny Boynton to feed can only help him in that regard.
10. Jabari Brown, Missouri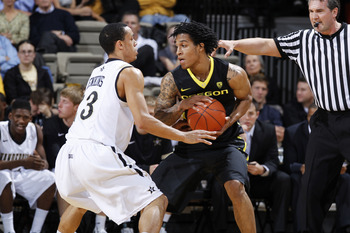 Joe Robbins/Getty Images
Transfer players always bring an element of the unknown, but few more so than former Oregon recruit Jabari Brown.
Assuming that he's moved past whatever problems caused him to leave the Ducks two games into his freshman season, the 6'5" SG has the talent to shine in coach Frank Haith's offense.
As a high-schooler, Brown showed devastating shooting ability—including three-point range to spare—and impressive power.
He's not the defender you'd like from a player with his physical attributes, but Haith has time to work on that concern while Brown's scoring punch keeps him in the Tigers' rebuilt rotation.
9. Ryan Harrow, Kentucky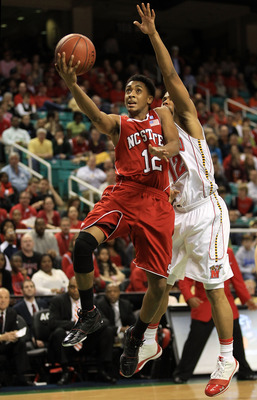 Streeter Lecka/Getty Images
As a sophomore transfer, it's entirely possible that Ryan Harrow will be the most experienced member of Kentucky's starting five next season.
Given that John Calipari finds himself in that position, it's just as well for him that Harrow is playing the position where experience will serve him best.
The former N.C. State recruit is a 6'2" point guard who turned in a solid showing as a freshman reserve in the ACC.
Although he averaged just 9.3 points and 3.3 assists a game, he did it while playing only 23 minutes a night, so now that he'll be the main man at the point he's sure to see a serious uptick in those numbers.
8. Earnest Ross, Missouri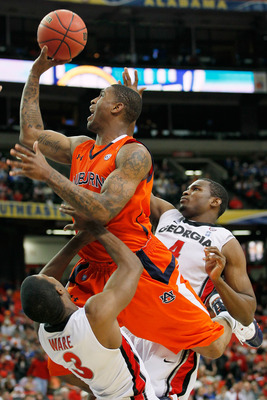 Kevin C. Cox/Getty Images
One of the keys to Missouri's guard-heavy approach is having perimeter players with some muscle.
Among Frank Haith's slew of transfers, 6'5", 222-lb Earnest Ross looks like the best bet to fill the pseudo-power forward role in the Tigers' four-guard lineup.
Ross is no stranger to Missouri's new conference, having played his first two seasons at Auburn.
He led those Tigers in scoring as a sophomore (13.1 points a game), but his 6.6 rebounds and 1.4 steals a game will likely reflect the most valuable contributions he can make in his first year with Missouri.
7. Willie Cauley-Stein, Kentucky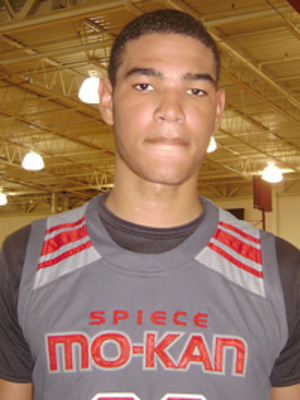 Image from Rivals.com
Although he's the freshman least likely to start on John Calipari's loaded roster, Willie Cauley-Stein is far too talented to overlook.
A 6'10" center with the athleticism to play wide receiver in high school, Cauley-Stein will be a terrifying transition matchup for slower-footed big men.
Cauley-Stein is also an effective low-post scorer, though he'll need to broaden his back-to-the-basket repertoire for SEC defenses.
His own defense is far from being a concern, and the only reason his high-powered shot-blocking will get overlooked is that he's on the same team as Nerlens Noel.
6. Keion Bell, Missouri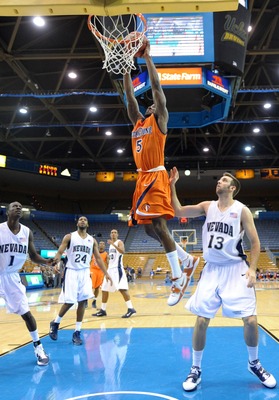 US PRESSWIRE
After three seasons at Pepperdine, Keion Bell has left no doubt about his ability to put points on the scoreboard. He topped 18 points per game in each of his last two seasons before transferring to Mizzou.
Bell doesn't have the three-point touch of graduated Tigers Kim English or Marcus Denmon, but he's a 6'4" slasher who can get to the rim, and to the free-throw line.
He's also shown flashes of potential on defense, averaging as many as 1.5 steals per game with the Waves.
5. Devonta Pollard, Alabama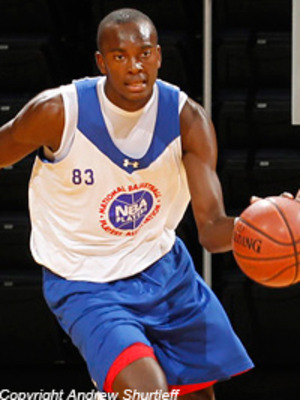 Image from Rivals.com
A two-man team that graduated both of its stars, Alabama needs a new identity for 2012-13. They may well have found it in star freshman Devonta Pollard.
Pollard is the only member of coach Anthony Grant's recruiting class, but the 6'7" SF has the devastating athleticism to stand on his own.
He's a sensational shot-blocker for a player his size, but he'll make the biggest impression on fans in Tuscaloosa with his transition dunks.
4. Alex Poythress, Kentucky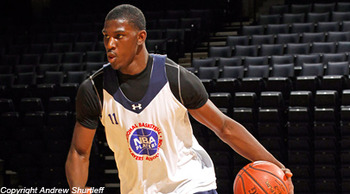 Image from Rivals.com
Terrence Jones is off to the NBA, but Kentucky fans may not notice he ever left. Jones' presumptive replacement, freshman Alex Poythress, is also a 6'8" combo forward with a shoot-first attitude.
Also like Jones, Poythress will be a big-time finisher at the rim. The freshman's long arms will make him a force as both a rebounder and defender, though his ball-handling will need some work if he's going to see much time at SF.
3. Alex Oriakhi, Missouri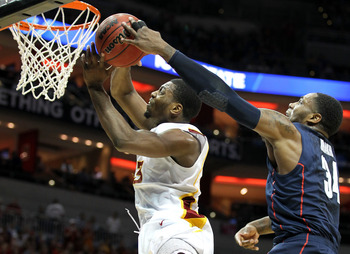 Andy Lyons/Getty Images
He's not the only transfer who fled postseason-banned UConn, but Alex Oriakhi is a good bet to be the best of the bunch.
The 6'9", 255-lb senior will be one of the staunchest defenders in the SEC, and no team needed that interior toughness more than Missouri.
After getting bounced from last season's Big Dance by their inability to stop Norfolk State's 6'10" Kyle O'Quinn, the Tigers will welcome the punishing Oriakhi with open arms.
He's never scored more than 9.6 points per game as a collegian, but his 8.7 rebounds and 1.6 blocks per game as a sophomore give a good indication of how much he brings to Mizzou's low post.
2. Archie Goodwin, Kentucky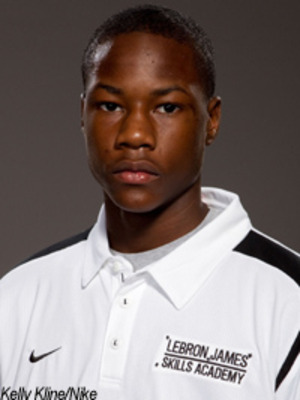 Image from Rivals.com
A shooting guard with outstanding size at 6'5", Archie Goodwin has a great chance to be the top offensive option for loaded Kentucky next season.
The freshman has outstanding shooting range, but he's even more dangerous breaking down defenders off the dribble.
With his impressive length, Goodwin is a productive rebounder and defender as well, much like the guard he's replacing, NBA-bound Doron Lamb. In the best-case scenario, Goodwin might be good enough to challenge Kenny Boynton for the SEC scoring title.
1. Nerlens Noel, Kentucky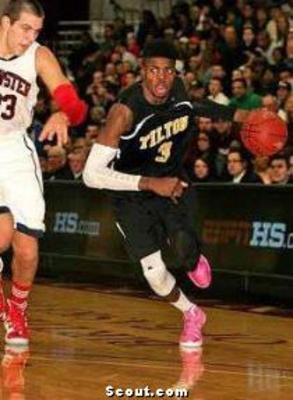 Image from Scout.com
It's bad enough for Kentucky's opponents that Nerlens Noel is likely to become the second straight Wildcat to win National Freshman of the Year honors.
Even worse, though, is that Noel has an outside chance to reprise Anthony Davis' national Player of the Year performance, too.
A 6'10" center with world-class shot-blocking ability, Noel is more polished offensively and more graceful physically than Davis was when he arrived in Lexington. As if all that weren't scary enough, he's even a plus as a passer out of the low post.
Keep Reading