10 College Basketball Players Who Should Be Playing Football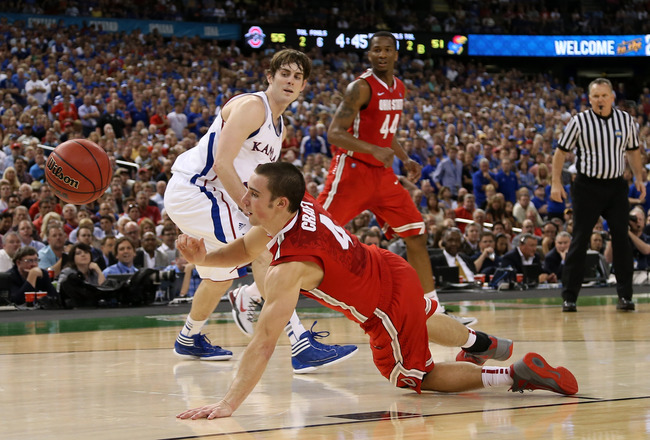 The talented Aaron Craft could succeed in whatever sport he desires
Chris Graythen/Getty Images
College basketball has recently become a feeder for football, and there are few debates more fun than rattling off X many players who would excel in America's greatest sport.
The most natural basketball-to-football transitions have historically involved undersized forwards. There are multiple players who appear in the coming slides that fit this description, but I wanted to be more creative than rattling off 10 different 6'7" power forwards who would make excellent tight ends and pass rushers.
Here are 10 college basketball players (in no particular order) who have the physical traits that translate well on the gridiron.
Just for fun, check out the two non-football-player football teams I have previously created (The New NFL Offseason and The Second Edition).
1. Lamar Patterson (Pittsburgh): 6'5", 221 Lbs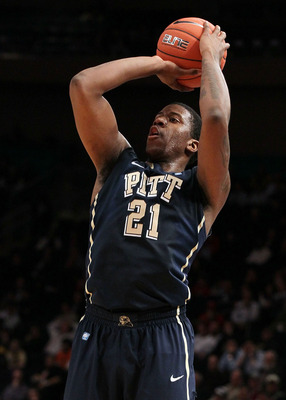 Lamar Patterson has ideal QB size
Jim McIsaac/Getty Images
Ideal Position: Quarterback
I was originally going to refrain from projecting someone to be a quarterback, but (A) I realized any football article without the word "quarterback" is inadequate and (B) I recalled this commercial. Lamar Patterson is almost the same as Peyton Manning (at least in size).
Both of these points convinced me to scout a QB.
So, aside from the size, what right does Patterson have to play the most important position in all of sports? Well, he is a good shooter (41 percent from three), so I guess that helps.
Moving on…
2. Phil Pressey (Missouri): 5'11", 175 Lbs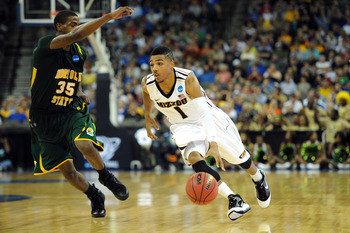 Phil Pressey showing off his running back form
Eric Francis/Getty Images
Ideal Position: Running back
Phil Pressey led all Big 12 players in assists per game last year with 6.4.
The correlation is far from direct, but good court vision must have something in common with a running back's ability to identify holes through which to run.
Pressey's strength may not jump out in his measurements, but he plays with confidence and rarely turns down contact with larger players.
According to ESPN scouts, Pressey can "work off of ball screens…finish above the rim on much taller players…[and] has a motor that runs at high RPM's non stop with many gears."
Is it too early to bench Shonn Greene?
3. Tim Frazier (Penn State): 6'1", 170 Lbs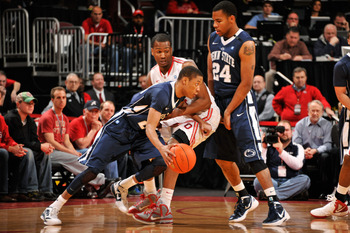 Tim Frazier can do it all
Jamie Sabau/Getty Images
Ideal Position: Running back
Tim Frazier is the college basketball equivalent of a "five tool" baseball talent (18.8 PTS, 6.2 AST, 4.7 REB, 2.4 STL, 6.3 FTA).
Running backs must have a complete set of skills and Frazier has shown strong hands, great lateral movement and deceptive strength during his time at State college.
By Week 10, most fantasy football owners across the country share a collective groan when it comes to the health of their backfield. Durability is rarely achieved but always desired. Frazier was able to withstand playing an average 37 minutes a game last year.
4. Victor Oladipo (Indiana): 6'5", 214 Lbs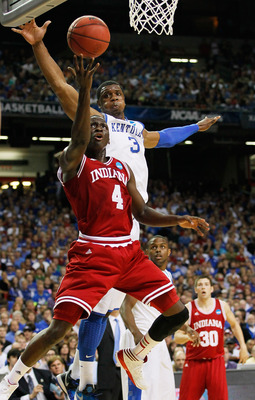 I love Victor Oladipo at the receiver spot
Kevin C. Cox/Getty Images
Ideal Position: Wide Receiver
Indiana's guard makes the list because he is an outstanding rebounder for someone of his size and who plays in the Big 10. Oladipo averaged 5.3 REB last year, which was the ninth most in the conference and the highest total for any pure guard.
What Oladipo lacks in speed, he covers with his ability to grab balls at their highest points. He uses his body well and would make an especially lethal wide receiver in red-zone situations.
5. Jamaal Franklin (SDSU): 6'5", 195 Lbs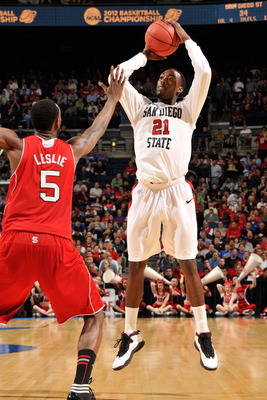 Jamaal Franklin elevates
Jamie Sabau/Getty Images
Ideal Position: Wide Receiver
Jamaal Franklin averaged 17.4 points and 7.9 boards for the 2011-12 season. He also took nearly 6.5 free throws per game.
Franklin is long, super athletic and equally comfortable driving to the hoop as he is stepping back for a three.
He could probably add 15 more pounds, but we have seen countless toothpick-esque wideouts dominate defenses for many years.
6. Murphy Holloway (Ole Miss): 6'7", 240 Lbs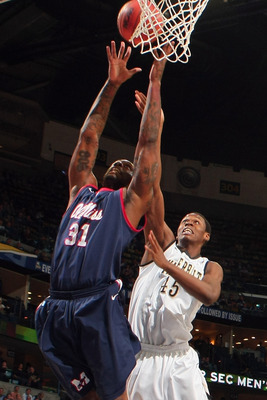 Murphy Holloway looks like a tight end
Chris Graythen/Getty Images
Ideal Position: Tight End
Murphy Holloway is the only player selected whose ideal position is tight end.
The reason for this is simple: He has the perfect combination of size, strength, and quickness. Holloway averaged nine rebounds last year to go along with 1.6 steals.
Almost every player to appear in this list comes with the "add a few extra pounds" stipulation. For the most part, I'm giving everyone an equal opportunity to achieve this, but I was especially drawn to Holloway for his already-exhibited ability to bulk-up. He has added 25 pounds since the beginning of his freshman season.
7. Jeronne Maymon (Tennesse): 6'7", 265 Lbs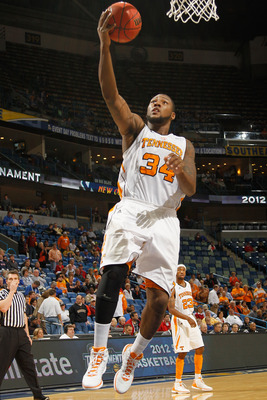 Jeronne Maymon might knock someone's ear off if he gets the chance
Chris Graythen/Getty Images
Ideal Position: D-Line/Pass-rusher
My only real hesitation in including Maymon on the list is the fact that defensive linemen (DT, DE—it does not matter) seem to be getting leaner and leaner every year. Maymon may need to cut fat, although he does show the capacity to drive past larger defenders.
There is no doubting his strength and dedication in the weight room, however. Maymon has packed on 35 pounds over the last three years.
We saw the results in 2012. Maymon's 12.7 PPG were almost double his combined game averages from his freshman and rookie seasons. His 8.1 rebounds were a career-best as well.
8. Richard Howell (NC State): 6'8", 250 Lbs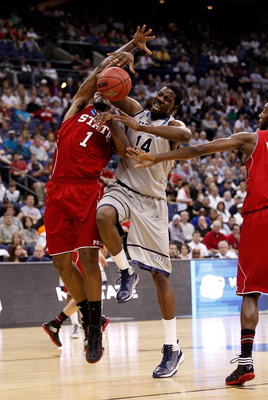 Richard Howell is TOO good to be true at linebacker
Rob Carr/Getty Images
Ideal Position: Linebacker
Honestly, why is Richard Howell not playing football?
He is absolutely enormous. Many large basketball players need to lose some weight once they get to the pro game, but Howell packs on his 250 big ones with muscle and an especially wide-yet-athletic frame.
According to his ESPN recruiting report, "Howell has very wide shoulders and resembles a linebacker more than a basketball player on the court."
Boom.
9. Russ Smith (Louisville): 6'0", 160 Lbs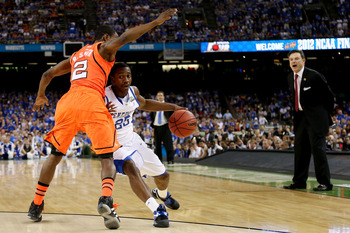 Russ Smith is not big, but he can cover
Chris Graythen/Getty Images
Ideal Position: PURE Cover Corner
Okay, Russ Smith will probably do about as much as an Achilles-torn Darrelle Revis in run support, but many cornerbacks have made a career on simply shutting down opposing receivers.
Smith is quick and, at six feet tall, ideal height for the position. He managed 2.5 rebounds over only 21.5 minutes per game last year, which leads me to believe that Smith has the ability to make up the weight differential in time.
10. Aaron Craft (Ohio State): 6'2", 190 Lbs
Aaron Craft might as well be the captain of this ficticious team
Jim Rogash/Getty Images
Ideal Position: Safety
You had to know Aaron Craft would find his way onto the defensive side of the ball considering he is (basically un-arguably) the best one-on-one, perimeter defender in the country.
I originally considered Craft as a corner, but ultimately decided he was a bit too tall. Safety is a better match for his skill set anyway.
Craft is aggressive and decisive. He plays fast without ever losing control and seems to have a full understanding of his opponents' game plans. When things are moving too quickly, Thad Matta calls on Craft to reset the Buckeyes.
These are all equally valuable abilities and responsibilities at the safety position.
Keep Reading