College Basketball: 5 Hottest Prospects to Pay Attention to This Season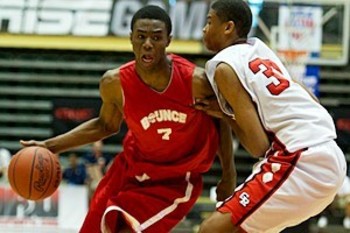 Andrew Wiggins (7) is the biggest name to watch this fall. Image via ESPN.com
The recruiting trail is heating up. In-home visits are now a common occurrence. Top high school prospects are cutting their lists, making official visits and making commitments.
And one prospect from 2014 could reshape the top of the 2013 class if he decides to reclassify.
Yes, the 2012-13 college basketball season is right around the corner. But keeping track of these high school studs is important for the future of your team and college basketball as a whole.
Here are the next set of college basketball superstars that you should keep your eye on this season.
5. Kennedy Meeks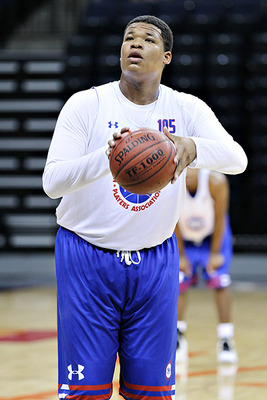 Image via ESPN.com
If you quickly scroll through this list, you'll notice that Kennedy Meeks stands out.
He's not ranked in the top 10 for any major recruiting service, but he's widely considered to be one of the top centers in the 2013 class.
That combination makes his signature an important one.
Meeks' game is one that is more suited for the college game, not the NBA. Chances are he won't bounce to the NBA after one or two years in college. He may not make as big of an impact as the other players on this list, but his impact will last longer.
His short list consists of Georgetown, Indiana, Kentucky, North Carolina, North Carolina State and Ohio State. Other top schools showing interest include Florida, Louisville and Maryland.
Keep your eye on this top center prospect.
4. Julius Randle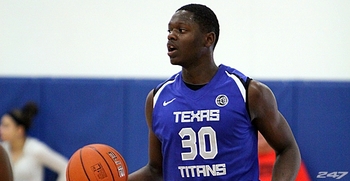 Image via 24/7 Sports.
The best post player in the 2013 class is, without a doubt, Julius Randle.
His recruiting rankings range from the No. 1 to No. 5 player in the class. In the aforelinked article, I outlined his dominant summer and how it is so difficult to distinguish between the top five prospects.
Randle, however, has separated himself from the other big men in the class. It should come as no surprise that his list includes the best programs in the country: Duke, Florida, Kansas, Kentucky, North Carolina and Texas are all on his list.
With official visits incoming, we'll be hearing more and more about who is in good shape for Randle's services.
He plans to commit in the spring.
3. Jabari Parker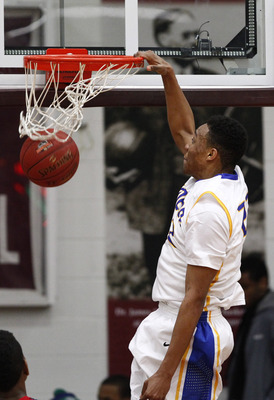 Mark L. Baer-US PRESSWIRE
The best wing player in the 2013 class?
Probably Jabari Parker.
His quiet summer led to other players like Andrew Harrison and Julius Randle taking over his spot atop recruiting rankings. Make no mistake, Parker is a top-three player in the 2014 class.
Versatile best describes Parker's playstyle, and "subdued" is the best way to describe his recruitment. In July, he narrowed his list to 10 via Twitter:
UK, Stanford, michigan state, Kansas, Florida, Duke, BYU, Georgetown, Depaul, UNC. No order.

— Jabari Parker (@JabariParker22) July 11, 2012
His list now includes Connecticut, a surprise to some in the post-Calhoun era. The ESPN Chicago article also says Parker will "narrow his list to five schools in the near future and then set up official visits."
Keeping track of Parker is simple with the amount of media coverage he receives. Who doesn't want this guy?
2. Aaron and Andrew Harrison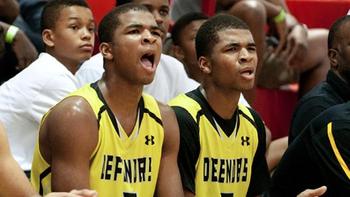 Image via SportingNews.com
Two for the price of one never sounded so good.
Aaron and Andrew Harrison are two consensus top-10 prospects. They'll go to the same school, which will be either Kentucky or Maryland (sorry, Southern Methodist fans).
They will announce their collegiate choice on Oct. 29, one day after their birthday.
Mark it down. Their commitment will give the Wildcats or Terps one of the best backcourts in the country for 2013-14.
1. Andrew Wiggins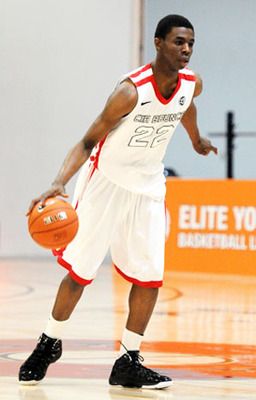 Image via SI.com
Andrew Wiggins could reclassify to the 2013 class, and the decision could come within weeks.
On Sept. 18, Wiggins' high school coach Rob Fulford told Adam Zagoria of SNY.tv that "his (Wiggins) parents are supposed to come down this week or next," meaning a decision could be made in that time.
Fulford also told Zagoria that "...several NBA GMs were on record saying that had he come out this year he would've been the No. 2 pick in the NBA Draft."
NBA draft expert Jonathan Givony tweeted Wiggins would "most likely" be the projected No. 1 pick in 2013 if he reclassified.
His short list of college includes Florida State, Kentucky, North Carolina, Syracuse and West Virginia. He's one of the best players in the world, and his reclassification decision will have a lasting impact on the 2013 and 2014 classes.
Keep Reading