Jordan Hulls and the Big Ten's Top 3-Point Shooters with Video Highlights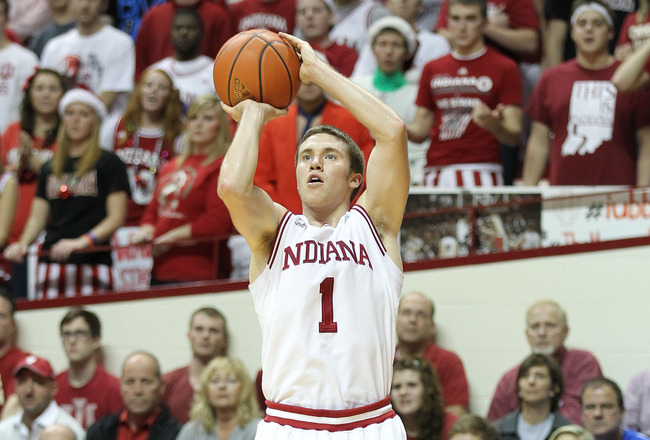 Andy Lyons/Getty Images
While plenty of the top outside shooters from last year in the Big Ten have graduated, there are still plenty of players that can stroke it from deep as well as incoming freshmen that can launch from behind the arc.
John Shurna, Matt Gatens, Matt Roth, and Ryne Smith were just a few graduated seniors that shot it at a high rate from deep, but Jordan Hulls and the five players in this article are no slouches themselves.
On each slide, I decided to include a clip of either a clutch three-point shot that these players have hit during their careers or another cool video showcasing their skilled outside shooting. While there were some close calls, here's the list I came up with.
Josh Gasser, Wisconsin
While this buzzer-beating bank shot that Gasser flicked in from behind the arc may have taken more luck than skill, this kid can certainly shoot the rock from the outside. This video came during Gasser's freshman year, where he only shot three-pointers at a 30.2 percent success rate.
As a sophomore, however, Gasser connected on 45.2 percent of his long-range bombs. While Gasser shot better from deep during nonconference play as opposed to league games, it should be noted that he started the season 14-17 from three-point range in the Badgers' first five games.
Although Gasser shot at a high rate from behind the arc, he also doesn't force shots that aren't there. In fact, he's only once attempted more than five three-pointers in a single game. Despite having the highest three-point percentage on the roster, Jordan Taylor, Jared Berggren and Ben Brust all attempted more shots from three last year.
With Taylor's graduation, Gasser will need to take on more of the ball-handling as a junior but should also get more shot attempts with the ball in his hands late in shot clocks.
Josh Oglesby, Iowa
Matt Gatens was really the only key losses for the Hawkeyes this offseason, and who better to replace the former four-year starter than Oglesby? While Gatens converted on 41 percent of his long-range attempts in 2011-12, Oglesby was only slightly lower at 37.2 percent.
Oglesby came off coach Fran McCaffery's bench as a freshman, and although he may again as a sophomore, his minutes, shots attempts and importance to Iowa's success in 2012-13 will all be increased from a year ago.
The video above is a high school highlight video of Oglesby, who lacked any real footage shooting behind the arc during his lone collegiate season. While watching the nearly six-minute video of Oglesby may be a bit much, previewing it to see what this kid can do is worthwhile for viewers.
Oglesby had a chance to knock off Northwestern last March at Carver Hawkeye Arena, only to see his wide open last-second three-pointer rim out, leaving the Wildcats victorious. Oglesby did knock down 6-of-8 three-point attempts in a 103-89 loss at Indiana last season.
D.J. Byrd, Purdue
Although I gave credit to former Boilermaker Ryne Smith for his ability to knock down three-pointers in the opening slide, Byrd was actually Purdue's best long-range bomber last season, even if the two players' three-point percentages were equal.
In Purdue's final 14 games last season, Byrd hit multiple three-pointers in all but one game. This included a 7-for-9 three-point performance during an 87-84 loss at Ohio State. Byrd also knocked down five three-pointers twice.
The above video shows Byrd and his fellow Purdue teammates shooting trick shots, which may or may not directly correlate to their three-point percentages. If anything though, it's certainly entertaining and wouldn't be a waste of three minutes and 43 seconds if you decide to click that play button.
Not only did Smith graduate, but five-year player Robbie Hummel did as well. Byrd's role will change from sixth man to potentially go-to guy for this young and inexperienced Boilermaker squad that Matt Painter has assembled.
Alex Marcotullio, Northwestern
Although Northwestern did lose to Ohio State on Jared Sullinger's last-second bucket, Marcotullio shot some ice in his veins with that deep and heavily contested three-pointer that tied this contest up late in the game.
Marcotullio has been a shooter off the bench ever since he arrived in Evanston, and although he has started at times, I believe he's an ideal sixth man because of his ability to stretch the defense as well as pester the other team defensively at the top of the Wildcats' 1-3-1 zone.
Marcotullio shot 41.3 percent from long range as a junior, which included a 4-for-6 shooting display in a one-point win at Penn State in late February. Marcotullio also happens to be a left-handed shooter and has one of the smoother strokes around.
With JerShon Cobb unable to play in 2012-13, Marcotullio may have seen his role increase immediately. As a senior, Marcotullio will be an important player for Bill Carmody and the 'Cats, whether he starts or continues to come off the bench.
Jordan Hulls, Indiana
If you just watched the highlight of Hulls' clutch three-pointer in a win over Illinois during his sophomore year, you'll notice a few things. Most importantly, Gus Johnson was calling that game, as he was in the Marcotullio clip before. Somehow, every game that Johnson calls comes down to the wire.
You also notice the enthusiasm that the Hoosier crowd has, and that was during a year that IU finished last in the Big Ten. With expectations immensely higher now, Hulls should up the occasion for this his senior season.
Hulls shot 49.3 percent from deep last year and 89.9 percent from the charity stripe, so you could say that this Indiana native knows how to shoot. In fact, Hulls went 7-for-9 from long range in a win over Penn State last year.
While pure shooter Matt Roth graduated, Hulls becomes the clear choice as the Hoosiers' top outside shooter. Whether Hulls sees more time at point guard or shooting guard is still unknown. What is known, however, is that Hulls will play a vital role in the team's quest to win a national championship.
Keep Reading