Ranking College Basketball's Top 25 Head Coaches Heading into 2012-13
Andy Lyons/Getty Images
College Basketball has many famous head coaches. In the 2012-2013 NCAA season, hundreds of coaches will attempt to lead their teams into the NCAA Tournament.
Since Hall of Famer Jim Calhoun will no longer be coaching this season, it opens up the floor for other coaches to steal the spotlight.
Connecticut's beloved coach had 873 career wins, which, believe it or not, is still not the greatest among active coaches.
There are many great coaches left at the NCAA level. Here is a list of the top 25.
25. Chris Mack: Xavier
Kevin C. Cox/Getty Images
Although he is young, Chris Mack has made a name for himself already with Xavier.
In only three years of coaching, Mack has a 73-30 record and won the Times Rookie Coach of the Year award in 2009-2010. In that rookie year, he tied the school record for wins in a season with 26.
24. Steve Prohm: Murray State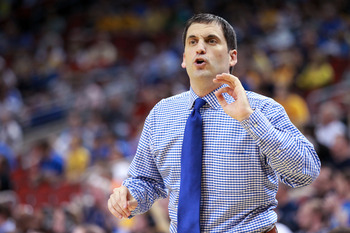 Andy Lyons/Getty Images
The Murray State Racers had a season to remember last year. They were the last team in the NCAA to lose a game after starting 23-0.
Afterwards, they only lost one more game and finished with a final record of 31-2.
Head coach Steve Prohm deserves much praise for keeping his team on pace with the best in the nation.
He also just recently signed a one-year extension, which means Murray State will see more phenomenal seasons in the future with him as a coach.
23. John Beilein: Michigan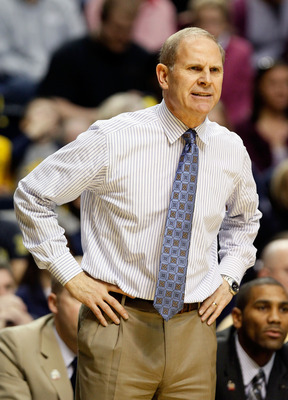 Kevin C. Cox/Getty Images
Last year was a special season for John Beilein and the Michigan Wolverines.
He produced a 24-10 record and earned them a No. 4 seed in the NCAA Tournament.
It was also the first time in 26 years that the Wolverines finished on top of the Big Ten conference in the regular season.
22. Shaka Smart: VCU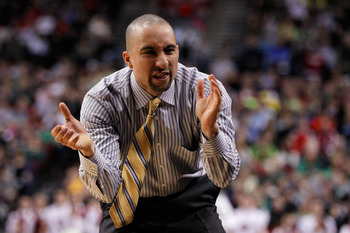 Jonathan Ferrey/Getty Images
Shaka Smart owns the rights to say that he led one of the best Cinderella stories in NCAA history.
He led an 11th-seeded VCU past Georgetown, Purdue, Florida State and Kansas to reach the school's only Final Four birth.
Since then, the young coach has gotten offers from various schools begging him to bring over some of his success.
21. Matt Painter: Purdue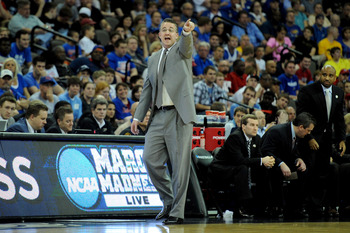 Eric Francis/Getty Images
Going into his ninth year as head coach, Matt Painter has led the Purdue Boilmakers to the NCAA Tournament in each of their last six seasons.
Painter has averaged 23 wins per season with the Boilmakers and is still relatively young. He has a bright future ahead of him.
20. Tom Crean: Indiana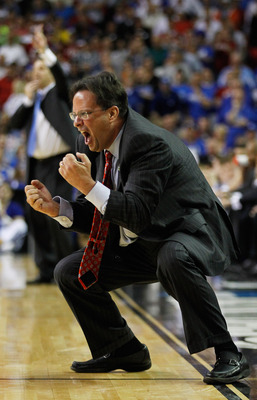 Streeter Lecka/Getty Images
Tom Crean has been a good fit for the Indiana Hoosiers since being hired about five years ago.
The most memorable feat that he and the Hoosiers accomplished was their upset victory over the No. 1-ranked Kentucky Wildcats last season.
19. Fran Dunphy: Temple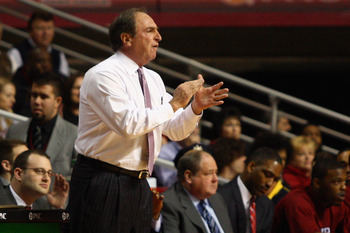 Chris Chambers/Getty Images
Since following in John Chaney's footsteps as head coach, Fran Dunphy has brought over 100 wins to the Temple Owls.
Dunphy made his transition in 2006 from Penn, where he won 310 games and received nine NCAA Tournament bids.
18. Mark Few: Gonzaga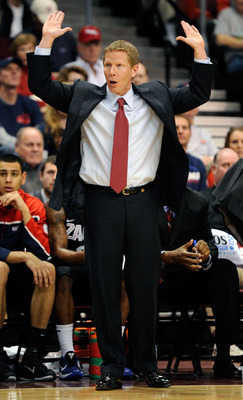 Ethan Miller/Getty Images
Last season, Mark Few led the Gonzaga Bulldogs to their 13th straight NCAA Tournament. He also coached the Bulldogs to their 15th straight appearance in the WCC championship.
The Bulldogs have consistently been a competitive team in the NCAA thanks to the coaching of Few.
17. Scott Drew: Baylor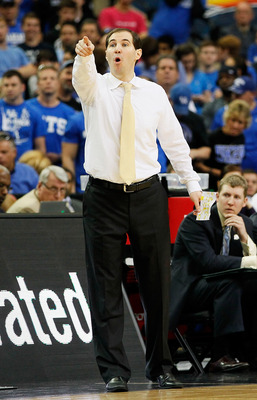 Kevin C. Cox/Getty Images
Since 2003, Scott Drew has been mentoring the Baylor Bears.
He achieved 20-win seasons three consecutive times from 2007-2010 and lead the Bears to a school-high 28 wins in 2009-2010.
The 42-year-old coach has only had 10 years experience coaching, but he's already accomplished goals that some veteran coaches have not.
16. Thad Matta: Ohio State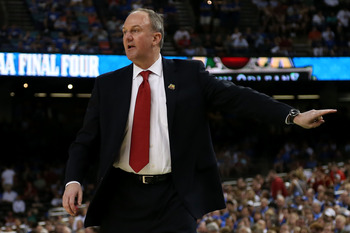 Chris Graythen/Getty Images
Thad Matta led the Ohio State Buckeyes to two points within the NCAA championship last season.
Since he took over in 2004-2005, Matta has produced eight NBA draft picks, seven of which were drafted in the first round.
With 221 wins as the Buckeye's head coach, Matta will look to mimic his success from last season.
15. Kevin Stallings: Vanderbilt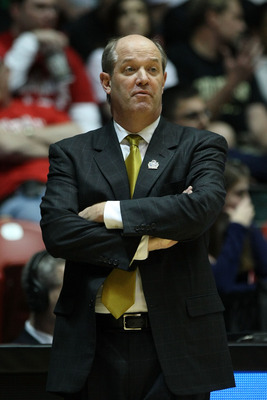 Christian Petersen/Getty Images
The Vanderbilt Commodores have been pretty successful over the past couple of years under Kevin Stallings.
Stallings has won the SEC coach of the year twice, once in 2007, and once in 2010.
His 14 seasons as head coach for the Commodores has seen him total 384 wins.
14. John Thompson III: Georgetown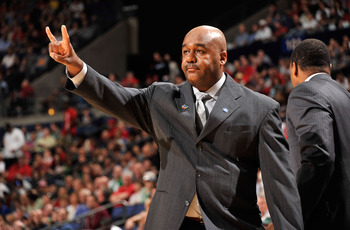 Jamie Sabau/Getty Images
The Big East coach, John Thompson III, has been working with the Georgetown Hoyas for eight seasons now.
He owns a 184-82 record and has reached the NCAA Tournament six times since becoming head coach.
Thompson III also led the Hoyas to two straight Big East regular-season titles in 2006-2007 and 2007-2008.
13. Frank Haith: Missouri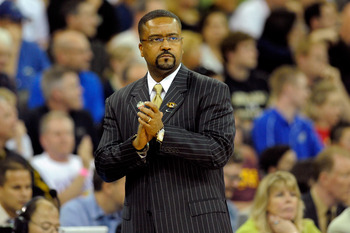 Eric Francis/Getty Images
Frank Haith and the Missouri Tigers had one of the best records in school history last season.
They went 30-5 while winning a school-record 14 conference games.
The most impressive thing about last season, though, was that it was Haith's first year with the team, and he still led them to such an amazing record.
12. Rick Barnes: Texas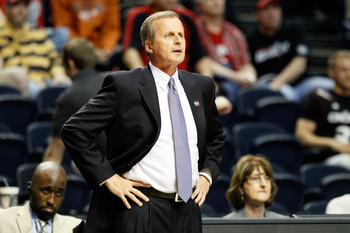 Kevin C. Cox/Getty Images
Rick Barnes and the Texas Longhorns have recorded 20 or more wins for 13 straight seasons.
He has also led the team to three Big 12 conference titles in only 14 years as head coach.
The Longhorns have been a powerhouse in the NCAA for sometime now, mostly due to his coaching.
11. Billy Donovan: Florida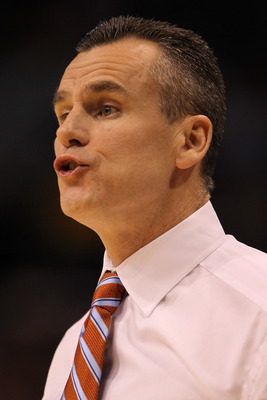 Jamie Squire/Getty Images
Billy Donovan is most well known for leading the Florida Gators to two consecutive NCAA championships.
In 2006 and 2007, the Gators were the best college basketball team in the nation. He also led them to the championship game in 2000, when the Gators lost to the Michigan State Spartans.
10. Tom Izzo: Michigan State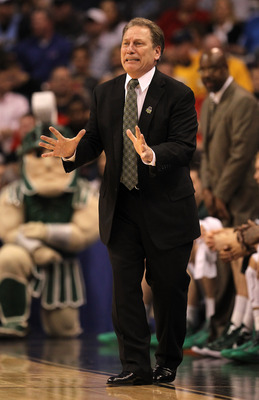 Jamie Squire/Getty Images
Tom Izzo, Michigan State's all-time winningest coach, has led the Michigan State Spartans to a total of six Final Four appearances.
He enters his 18th year as head coach of the Spartans, looking to keep their streak of 15 straight NCAA Tournament appearances alive.
9. Buzz Williams: Marquette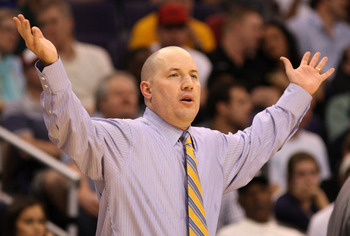 Christian Petersen/Getty Images
After being hired on April 8, 2008, Buzz Williams did not waste any time. He led the Marquette Golden Eagles to a 24-9 overall record in his first year as head coach.
Since then, the Golden Eagles have been a very competitive team in the NCAA.
In the past two seasons, Williams has led the Golden Eagles to two straight Sweet 16 appearances.
8. Bill Self: Kansas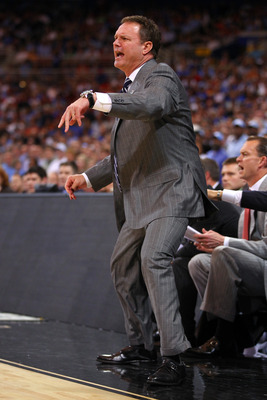 Dilip Vishwanat/Getty Images
The Kansas Jayhawks' NCAA title run last season was thanks to head coach Bill Self.
Self has been coaching the Jayhawks for nine years now and has won 83 percent of the games he has coached. Over the last six seasons, he and the Jayhawks are the winningest program in NCAA basketball.
7. Rick Pitino: Louisville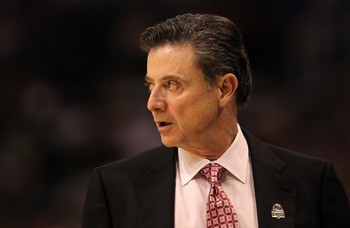 Jamie Squire/Getty Images
Rick Pitino's claim to fame is that he is the only coach in NCAA history to lead three different teams into a national championship game.
He now resides at Louisville, where he has coached for 11 years, and he has lead the Cardinals to 275 wins.
Last year, the Cardinals won the Big East Championship under Pitino for the second time in the past four seasons.
6. Bob Huggins: West Virginia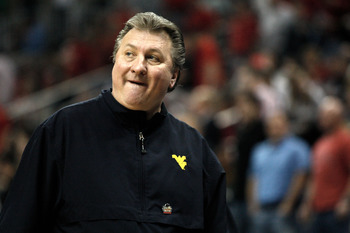 Jared Wickerham/Getty Images
The West Virginia Mountaineers, who reached the Final Four in 2010, are lucky to have Bob Huggins as a coach.
Huggins has 710 career wins and is a graduate of West Virginia himself.
5. Bo Ryan: Wisconsin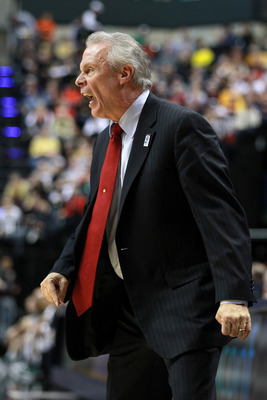 Andy Lyons/Getty Images
Bo Ryan has coached the Wisconsin Badgers for 12 straight seasons and has recorded a 268-101 record.
He has yet to reach the Final Four with the Badgers, but he has qualified for the Sweet 16 five times.
4. Roy Williams: North Carolina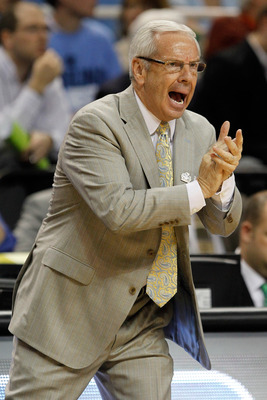 Streeter Lecka/Getty Images
Roy Williams recently underwent surgery to remove a tumor from his right kidney.
It shouldn't hold the 62-year-old back from coaching one of the best schools in the nation, though.
Williams enters his 10th year as the North Carolina Tar Heels head coach, in which he has won two national championships during that span.
3. John Calipari: Kentucky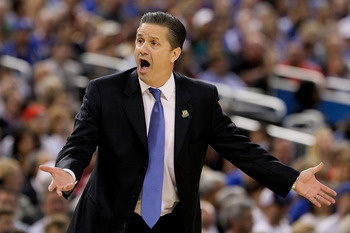 Jeff Gross/Getty Images
The defending national champions are home to one of the best coaches to ever coach in the NCAA.
John Calipari not only has led the Kentucky Wildcats to an NCAA championship, but he also did the same with the University of Massachusetts and Memphis.
Calipari and the Wildcats are most well known for their ability to bring in phenomenal recruiting classes.
2. Jim Boeheim: Syracuse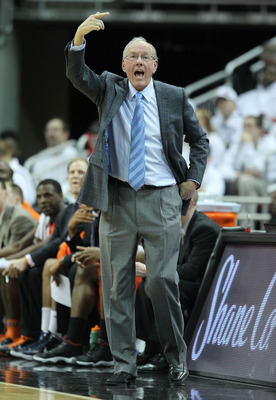 Andy Lyons/Getty Images
The Syracuse Orange have been one of the most successful basketball teams over the past 50 years.
This is thanks to head coach Jim Boeheim, who is entering his 37th year as head coach. He has an overall record of 890-305 and has led the Orange to three Final Four appearances.
His famous 2-3 zone defense is what separates the Orange as one of the powerhouses of the NCAA.
1.Mike Kryzewski: Duke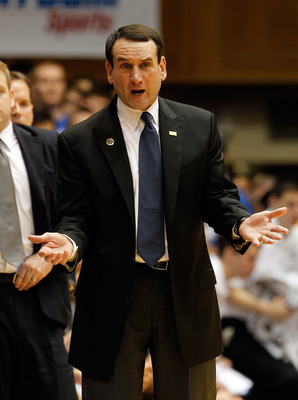 Streeter Lecka/Getty Images
Mike Kryzewski, otherwise known as Coach K, is the best coach in the business.
Coach K, and one of the best schools in the NCAA for some time now, the Duke Blue Devils, have won four national championships together.
In 31 years as the head coach of Duke, Coach K has recorded 79 NCAA tournament victories, which is the most of all time. He also has 927 total victories under his belt, which is also the most of all time.
Keep Reading