College Basketball: Power Ranking the Best Upperclassmen in the Country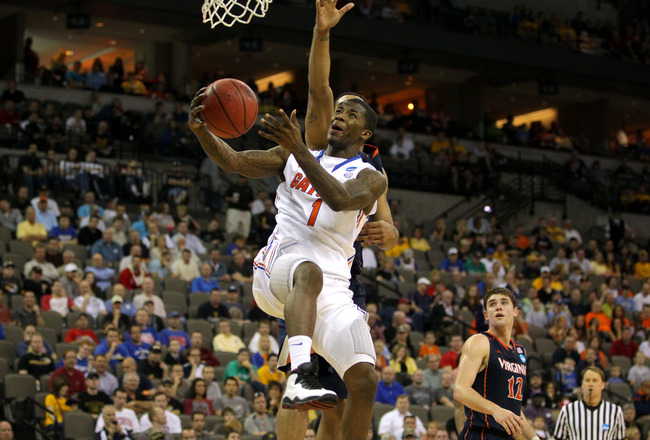 Doug Pensinger/Getty Images
The rise of the one-and-done freshman has made veteran leadership a thing of the past at many college hoops programs, but some of the country's top teams will still be relying heavily on experienced stars.
From elite defenders to high-powered scorers, college basketball's upper-class standouts will bring talent to rival even the most dazzling members of the 2012 freshman class.
One of the most accomplished of this year's veterans is Florida shooting guard Kenny Boynton. The senior is already the seventh-leading scorer in Gator history, with the inside track on the school record in that category by the time his season is done.
Read on for more on Boynton and the rest of the top juniors and seniors in the nation for 2012-13.
20. Mason Plumlee, Duke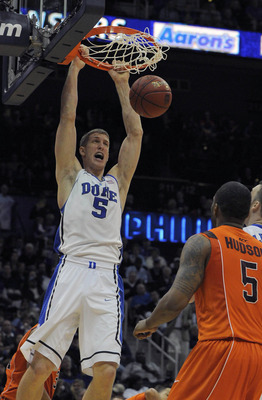 Bob Donnan-US PRESSWIRE
A blue-collar forward thrust into a marquee role in Durham, Mason Plumlee is the top low-post threat on the perimeter-oriented Blue Devils. His 6'10", 235-pound frame has more than enough muscle to tangle with any post player in the ACC.
Plumlee powered his way to 9.2 rebounds and 1.6 blocks per game as a junior, though his scoring left something to be desired. As a senior, though, he's in a fine position to raise his 11.1 point-per-game average to a much more respectable figure.
19. C.J. McCollum, Lehigh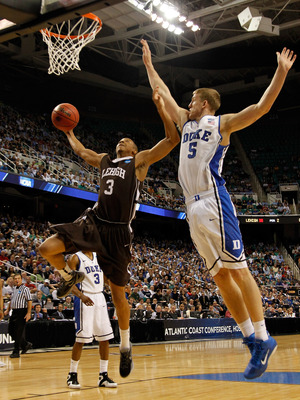 Mike Ehrmann/Getty Images
The hero of Lehigh's epic upset over Duke last March, C.J. McCollum is a 6'3" shooting guard with an all-around game to put most power-conference guards to shame.
Lehigh's leader with 6.5 rebounds a night, he also poured in 21.9 points per game to finish sixth in the nation.
McCollum is just as deadly on the defensive end, recording the fifth-most steals (2.6 per contest) of any player in the country.
Look for him to earn a few more upsets for the Mountain Hawks—and maybe even a spot in the NBA Draft—in his final season of college ball.
18. Andre Roberson, Colorado
Christian Petersen/Getty Images
At just 6'7", Andre Roberson is an astonishing rebounder who placed fifth in the country a year ago with 11.1 boards per game. He's also the heart of Colorado's hard-working defense, averaging 1.9 blocks and 1.3 steals a night.
After two seasons in Boulder, what Roberson doesn't do all that well is put points on the board. If he could ratchet up his unimpressive 11.6 points per contest, he'd be in for a lot more recognition on the national scene.
17. Rodney Williams, Minnesota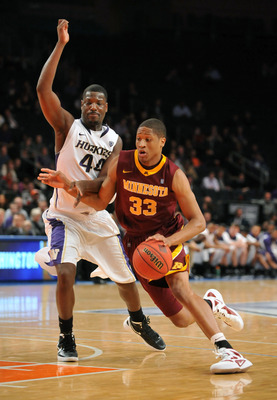 Jason Szenes/Getty Images
When it comes to pure athletic ability, Rodney Williams tops this list in a big way. The 6'7" small forward is a sensational finisher whose quickness, power and leaping ability place him among the Big Ten's best.
As a junior, Williams finally started translating those physical assets into on-court production, averaging 12.2 points and 5.6 rebounds a night while leading the Gophers to the NIT title game.
He's also a dedicated defender who racked up 1.4 blocks and 1.3 steals per contest in 2011-12.
16. Rotnei Clarke, Butler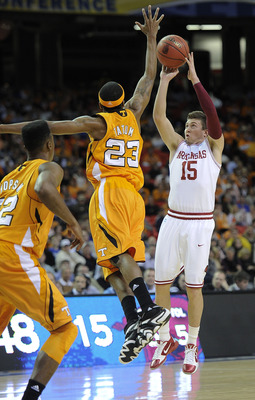 Paul Abell-US PRESSWIRE
A three-year starter at Arkansas, Rotnei Clarke transferred to Butler prior to his senior season. He's completed his year of sitting out, and he's going to be the most dangerous scorer in the Atlantic 10…and one of the best in the nation.
The 6'0" Clarke is as pure a shooter as any player in the country. He drained 43.8 percent of his three-point tries and led the Razorbacks with 15.2 points per game as a junior.
As the only outside shooting threat the Bulldogs have, Clarke will have no shortage of chances, and even against the stout defenses of the A-10 he'll convert an awful lot of them.
15. Jack Cooley, Notre Dame
Chris Trotman/Getty Images
One of the most unexpected stars of 2011-12, Jack Cooley went from a two-year stint as a benchwarmer to being the best player on the Notre Dame roster. The 6'9", 248-pound bruiser led the Irish with 12.5 points, 8.9 rebounds and 1.6 blocks per game.
In addition to giving Notre Dame a physical presence to compete with anyone in the country, Cooley draws defensive attention away from his high-scoring teammates on the perimeter.
With Jerian Grant and Eric Atkins back for another year in the Irish backcourt, look for Cooley to turn in another monster performance as a senior.
14. Jamaal Franklin, San Diego State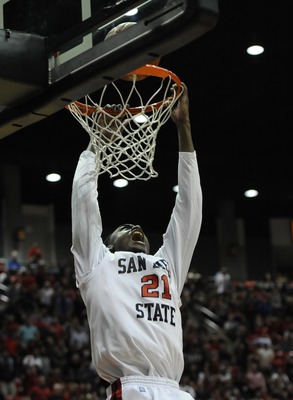 Christopher Hanewinckel-US PRESSWIRE
Losing first-round NBA draft pick Kawhi Leonard would've been a blow to any roster, but San Diego State found one heck of a replacement.
6'5" swingman Jamaal Franklin stepped into Leonard's starting role and immediately became the leading scorer and rebounder on the Aztec roster.
Franklin's junior year could bring even gaudier numbers than the 17.4 points and 7.9 rebounds a night he posted in 2011-12.
Not only does he have a year of starting experience under his belt, but he's got Chase Tapley and Xavier Thames (25.9 points and 6.4 assists per game combined) returning in the backcourt alongside him.
13. Kenny Boynton, Florida
Jamie Squire/Getty Images
Even while sharing a backcourt with Bradley Beal and Erving Walker, Kenny Boynton was the top scoring threat on the Florida roster. Now that his competition for touches is gone, he has a great chance to lead the SEC in scoring.
The 6'2" Boynton poured in a career-high 15.9 points per game as a junior, shooting 40.7 percent from beyond the arc in the process. With stalwart Patric Young keeping defenses honest on the inside, Boynton should be in for a show-stopping finale to his college career.
12. Vincent Council, Providence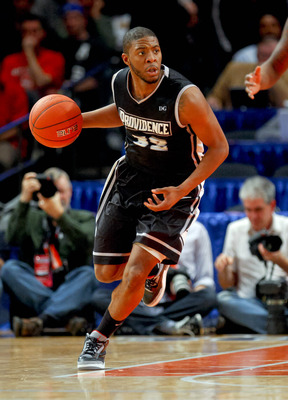 Jim O'Connor-US PRESSWIRE
If he weren't stuck on one of the worst teams in the Big East, Vincent Council would be a leading All-America candidate by now.
Even with a woeful 15-17 team around him, Council dished out more assists (7.5 a night) than any returning player in the nation.
Council's hopes of improving his squad's 4-14 conference record took a devastating blow with the news that prize freshman Ricky Ledo is ineligible to play this season.
Without Ledo's scoring, Council's own offensive punch (15.9 points a night) will continue to be the Friars' best weapon, though standout sophomore LaDontae Henton (14.3 points and 8.6 rebounds per game as a freshman) will give him plenty of help.
11. Isaiah Canaan, Murray State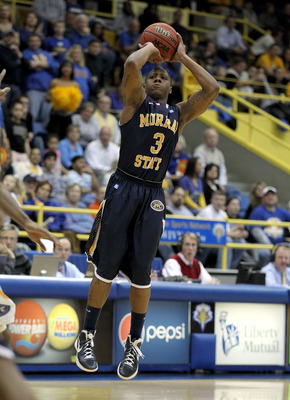 Andy Lyons/Getty Images
The hero of last year's most surprising team, Isaiah Canaan now faces the very different challenge of showing that 2011-12 was no fluke.
The Murray State senior may not lead his team to another 23-0 start, but he'll have the Racers back on top of the Ohio Valley and in position to threaten the major-conference powers for the second year in a row.
Canaan is a 6'0" combo guard who led the Racers with 3.6 assists a game while still scoring 19 points per contest.
His lethal long range shot (45.6 percent from deep a season ago) will be the best offensive weapon for a Murray State squad that must replace three starters from last year's fleet-footed lineup.
10. Peyton Siva, Louisville
Jamie Squire/Getty Images
As a junior, Peyton Siva led a Louisville team that finished seventh in its conference to a Big East Tournament title and a spot in the Final Four. Now he just has to come up with an encore.
The 6'0" Siva dished out 5.6 assists per game while providing the only reliable half-court offense Louisville had in 2011-12.
With an influx of new offensive weapons highlighted by a healthy Wayne Blackshear in the backcourt, look for Siva—also a terrific defender who grabbed 1.7 steals a night—to put up even more impressive passing numbers in his swan song as a Cardinal.
9. Gorgui Dieng, Louisville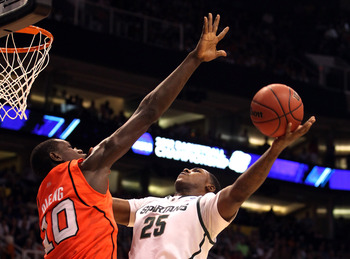 Christian Petersen/Getty Images
The 2-3 matchup zone isn't usually Rick Pitino's first choice for a defense, but having a talent like Gorgui Dieng can convince even a veteran coach to modify his typical approach.
The 6'11" Dieng ranked eighth in the nation last season with 3.2 blocks per game for the Final Four-bound Cardinals.
Dieng also proved to be an imposing rebounder, grabbing 9.1 boards a night at the heart of Louisville's stifling defense.
As a junior, the best thing he can do for the Cardinals is to add some back-to-the-basket moves to a raw offensive game that produced just 9.1 points per contest last year.
8. Deshaun Thomas, Ohio State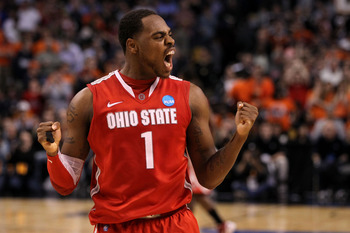 Michael Heiman/Getty Images
After two years in Jared Sullinger's shadow, Deshaun Thomas gets his own shot at the spotlight as a junior.
The 6'7" combo forward established his offensive game with 15.9 points a game as Sullinger's right-hand man on last season's Final Four squad.
Thomas' greatest strength is his ability to take bigger forwards outside (34.5 percent three-point shooting) and overpower smaller ones (5.4 rebounds a night).
He'll be just as tough a matchup problem in Sullinger's absence, and as the primary scoring threat on a defense-oriented roster, he should put up some scary numbers in 2012-13.
7. Phil Pressey, Missouri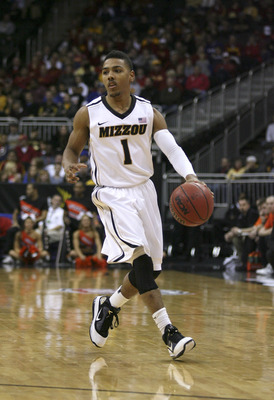 Ed Zurga/Getty Images
As the lone returning starter from last season's 30-win Tigers, Phil Pressey has quite a standard to live up to. Fortunately, the 5'10" junior can stand with the best in the country as a pure point guard.
Pressey's 6.4 assists per game were tops in the Big 12, and he racked up 2.1 steals a night to go with the dimes.
As the Tigers join the SEC, look for Pressey—a fine jump shooter who hit 36.5 percent of his treys a season ago—to become more of a scorer after posting just 10.3 points per contest last year.
6. Jeff Withey, Kansas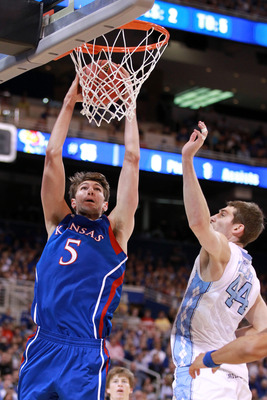 Andy Lyons/Getty Images
Jeff Withey's first chance in the spotlight came when he locked down Jared Sullinger to help send the Jayhawks to the national title game. It may not be the last time the seven-foot center finds himself in the Final Four.
Withey's superb defense, including 6.3 rebounds and a Big 12-best 3.6 blocks per game, will be vital to Kansas' defense of its conference title.
The senior will get a lot more chances to show off his offensive game with Thomas Robinson gone, so don't be surprised if he easily eclipses the 9.0 points per game he scored last season.
5. Trevor Mbakwe, Minnesota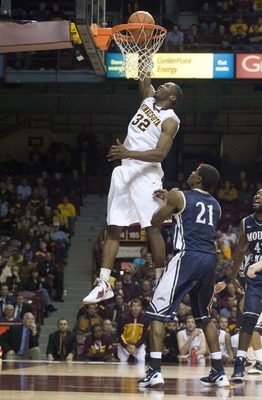 Marilyn Indahl-US PRESSWIRE
Seven games into what should have been his senior year in 2011-12, Trevor Mbakwe blew out his ACL. Given another shot to put a bow on his college career, the veteran power forward will be one of the Big Ten's most imposing big men.
In his last full season in 2010-11, Mbakwe averaged 13.9 points a game while winning the Big Ten rebounding title at 10.5 boards a night.
His 6'8", 245-pound frame makes him a load for any opposing forward, and he also had the instincts (not to mention the leaping ability) to rack up 1.5 blocks a night as a junior.
4. Aaron Craft, Ohio State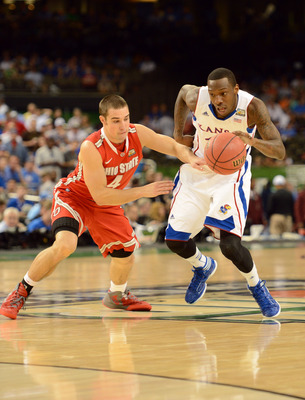 Bob Donnan-US PRESSWIRE
A peerless defensive stopper on the outside, Aaron Craft changes the game plan of every Ohio State opponent.
His 2.5 steals per contest were the biggest single weapon for a Buckeye defense that tied for 18th in the nation a year ago with 59.8 points allowed per game.
Craft's extraordinary defense tends to obscure his other assets, but those are considerable as well.
A skilled passer who dished out 4.6 assists per game as a sophomore, he's established some impressive leadership credentials in running the floor for the back-to-back Big Ten champions.
3. Mike Moser, UNLV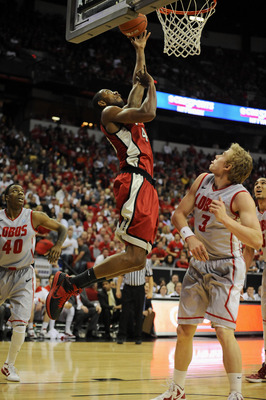 Ron Chenoy-US PRESSWIRE
2012-13 may turn out to be the Year of the Transfer, but don't tell that to Mike Moser. The former UCLA forward made his UNLV debut a season ago and turned out to be one of the best additions to any roster in the nation.
The 6'8" Moser averaged 14 points and 10.5 boards a night last year, with the latter figure placing him 10th in the country.
Even with stud freshman Anthony Bennett arriving, Moser is still the best offensive weapon the Rebels have, and he'll put up the numbers to match that status in his junior campaign.
2. Doug McDermott, Creighton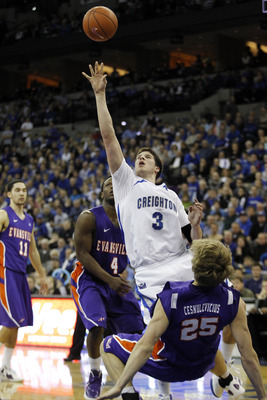 Matt Ryerson-US PRESSWIRE
Doug McDermott is such a devastating offensive weapon that it'll be a surprise if anyone else leads the nation in scoring in 2012-13. The only returning first-team All-American, McDermott ranked third in the country with 22.9 points per game last season.
The 6'7" McDermott is an absurdly gifted three-point shooter, having drained 48.6 percent of his long-range attempts last season. He has some toughness to go with his finesse game, though,as he led the Blue Jays with 8.2 rebounds a night as a sophomore.
1. Lorenzo Brown, N.C. State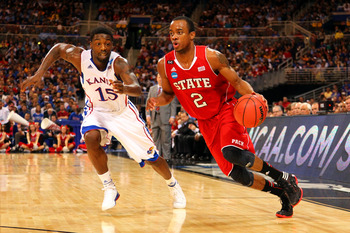 Dilip Vishwanat/Getty Images
Lorenzo Brown is the best all-around player at the most important position in college basketball. The N.C. State point guard keyed a surprise Sweet 16 run a season ago, and now he's got a real chance to lead his team to an ACC title.
The 6'5" Brown placed in the top three on the Wolfpack roster in points (12.7), rebounds (4.5), assists (6.3, 12th-best nationally) and steals (1.8) per game.
Now a junior, he'll have the privilege of running one of the nation's deepest offenses—sparked by a top-five recruiting class—in 2012-13.
Keep Reading