Power Ranking the Top Non-Freshmen to Compete for the Naismith Award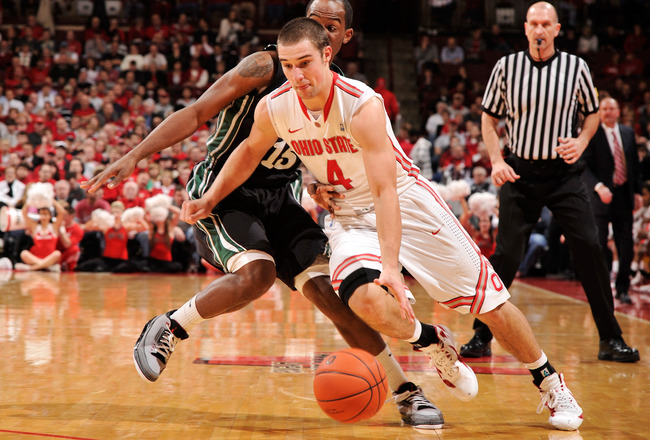 Jamie Sabau/Getty Images
Anthony Davis' transcendent season put the college basketball spotlight squarely on the next crop of superstar recruits, but not all of next year's game-changing talents will be found in the freshman class. The returning headliners in the college game will give the Nerlens Noels and Shabazz Muhammads a run for their money in the national Player of the Year race.
After two seasons of superlative performances from Jared Sullinger, Ohio State has a different All-America candidate in point guard Aaron Craft. Craft is as dangerous a perimeter defender as Anthony Davis was in the low post, and with Sullinger gone, he'll get the chance to show what he can really do as an offensive weapon.
Herein, a closer look at Craft and the rest of the 10 most promising Naismith Award candidates to be found in the sophomore, junior and senior classes for 2012-13.
10. Michael Carter-Williams, Syracuse
Jim McIsaac/Getty Images
Michael Carter-Williams is very much a dark horse in the Naismith discussion, but if Syracuse has a monster year, Carter-Williams will be right at the heart of it.
The freshman played very sparingly behind senior Scoop Jardine a season ago, but now he becomes the floor leader, and one of the primary scoring options, of Jim Boeheim's offense.
Carter-Williams is a combo guard with great length at 6'5", and the former McDonald's All-American will bring more of a scorer's mentality than Jardine did.
Considering that Carter-Williams posted 2.1 assists in just 10.3 minutes a night last season, it's hard to fault his potential (especially with standout freshman DaJuan Coleman to feed in the low post).
9. Isaiah Canaan, Murray State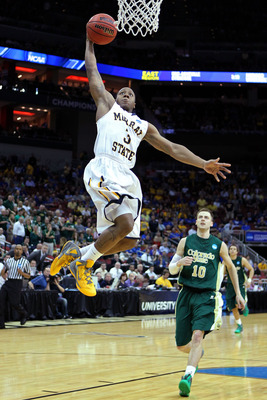 Andy Lyons/Getty Images
Under normal circumstances, no player from the Ohio Valley Conference would have any business appearing on a list like this one, but Isaiah Canaan already has plenty of experience defying convention.
As a junior, the 6'0" combo guard led unheralded Murray State to a 30-1 start and a No. 6 seed in the Big Dance.
Second-team All-American Canaan scored 19 points a game (including a staggering .456 shooting performance from beyond the arc) while still leading the Racers with 3.6 assists per contest.
It's a foregone conclusion that he'll put up impressive individual numbers as a senior, but if he can keep Murray State relevant despite the loss of three of his fellow starters, he'll have more than earned consideration for Player of the Year honors.
8. Peyton Siva, Louisville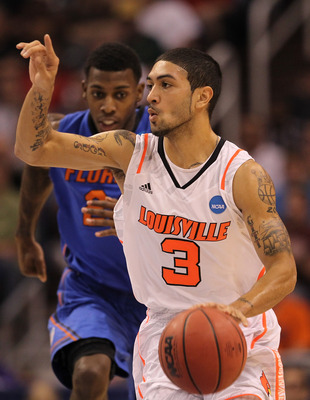 Jamie Squire/Getty Images
Louisville is one of the leading preseason contenders for the national title, and point guard Peyton Siva will have more to say than anyone about how well they fulfill those expectations.
Siva established his leadership bona fides in a big way when he propelled last year's Cardinals—a seventh-place team in the Big East regular-season standings—to the conference tournament title and the Final Four.
Siva's shot at national recognition will depend heavily on Louisville's performance as a team, but he's also going to put up some strong numbers of his own.
He averaged 5.6 assists and 1.7 steals a night last season, and with more offensive talent around him, he's certainly capable of exceeding those numbers in his senior year.
7. Kenny Boynton, Florida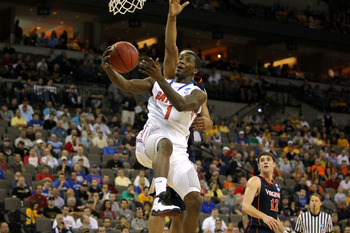 Doug Pensinger/Getty Images
Kenny Boynton is already the SEC's leading returning scorer at 15.9 points per game, and he'll have a far bigger role in the Florida offense next season.
The departures of backcourt mates Bradley Beal and Erving Walker leave Boynton as the Gators' best perimeter weapon by leaps and bounds.
Patric Young's low-post game will keep opponents from double-teaming Boynton with impunity, meaning that the 6'2" senior should be among the nation's top offensive threats next year.
Expect Boynton—already the seventh-leading scorer in program history—to run away with the Gators' career points record by season's end.
6. Aaron Craft, Ohio State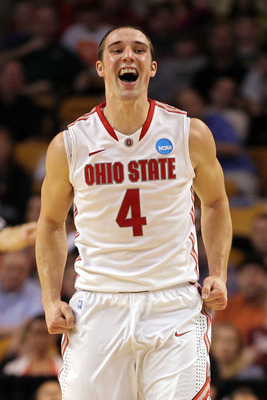 Jim Rogash/Getty Images
The 6'2" Aaron Craft doesn't have much in common with 6'10" Anthony Davis, but after Davis, he was the most overpowering defender in the college game a year ago.
Even his lofty average of 2.5 steals per game isn't enough to do justice to his ability to force opposing offenses out of their game plans.
Offensively, Craft is already a fine distributor (4.6 assists per game last season) but has yet to show much as a scorer.
With Jared Sullinger out of the picture, though, Craft—a very efficient shooter at .500 overall and .359 from long range—has an opportunity to step up and become a star on that end of the floor as well.
5. Mike Moser, UNLV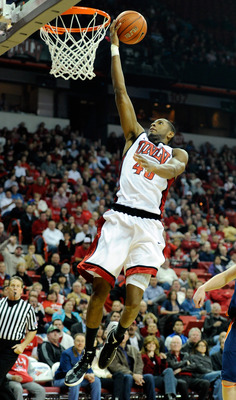 Ethan Miller/Getty Images
One of the breakout stars of 2011-12, UCLA transfer Mike Moser exploded in his first season in the UNLV frontcourt.
Moser's 14 points and 10.5 rebounds a night put him just a notch below such luminaries as Michigan State's Draymond Green (16.2 and 10.6) and Ohio State's Jared Sullinger (17.6 and 9.3).
Obviously, playing against Mountain West competition means Moser will need even loftier stats to rise to an All-America level, but he's certainly capable of bigger things in his second year in Vegas.
The only thing that's likely to hold him back is that the Rebels have so much new talent in the frontcourt—led by freshman star Anthony Bennett—that there may not be enough minutes (or rebounds) to go around.
4. Lorenzo Brown, N.C. State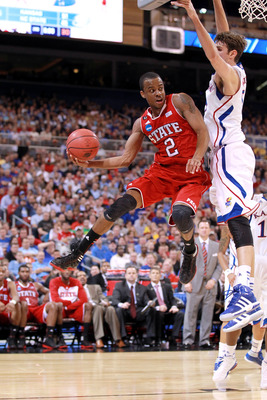 Andy Lyons/Getty Images
North Carolina State is in the unfamiliar position of being the ACC favorite heading into the season, and Lorenzo Brown is the primary reason.
The junior PG excelled in all phases of the game while leading the Wolfpack to a 24-13 record and a Sweet 16 finish a year ago.
Brown's 6.4 assists per game were the nation's 12th-best figure, and he also ranked as his team's second-leading scorer at 12.7 points a night.
His 6'5" frame makes him a major factor on the glass (4.5 rebounds per contest), and he's also one of the ACC's toughest defenders (1.8 steals a game).
3. James Michael McAdoo, North Carolina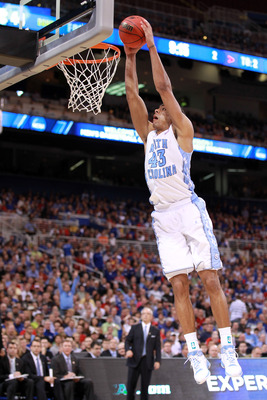 Andy Lyons/Getty Images
No player in the country is in a better position for a breakout 2012-13 season than James Michael McAdoo.
The Tar Heel sophomore is one of the most athletic forwards in college basketball, and the only reason he wasn't one of last year's top freshmen was that the UNC frontcourt had three first-round NBA draft picks ahead of him.
Even stuck behind John Henson et al., the 6'9", 220-pound McAdoo managed respectable averages of 6.1 points and 3.9 rebounds in a mere 15.6 minutes per game.
A year after Thomas Robinson made the transition from sixth man to All-American, look for McAdoo to do the same—and almost certainly become an NBA lottery pick in the process.
2. Doug McDermott, Creighton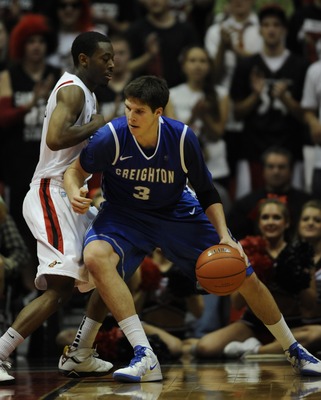 Christopher Hanewinckel-US PRESSWIRE
When the nation's third-leading scorer actually returns to campus for his junior year, it's a safe bet he'll wind up on plenty of lists like this one.
Doug McDermott is the only first-team All-American to return for 2012-13, and after posting 22.9 points a night last season, he has to be considered the decisive favorite to lead the country in scoring.
The 6'7" McDermott is a force both inside (8.2 rebounds per game) and out (.486 shooting from beyond the arc).
He doesn't have much impact on the defensive end, but that didn't stop mid-major scoring machine Jimmer Fredette from claiming the Naismith hardware two seasons ago.
1. Cody Zeller, Indiana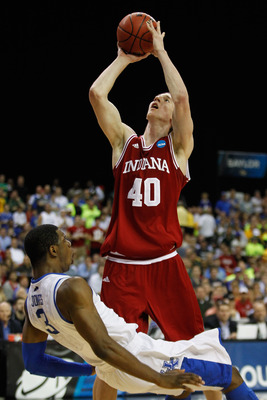 Streeter Lecka/Getty Images
Being the best player on the nation's best team will put anyone on the fast track to Naismith Award consideration. Cody Zeller was already a superior college center as a freshman, and he's only going to be better with a year of experience behind him.
The 6'11" Zeller—whose brother Tyler was a first-round draft pick of the Mavs—averaged 15.6 points, 6.6 rebounds and 1.2 blocks a night for last season's Hoosiers.
With a loaded lineup around him and a true point guard in freshman Kevin "Yogi" Ferrell, Zeller will have every opportunity to dominate (even in the talent-laden Big Ten) and lead IU to a national title.
Keep Reading