College Basketball: 10 of the Worst College Basketball Floors in Recent History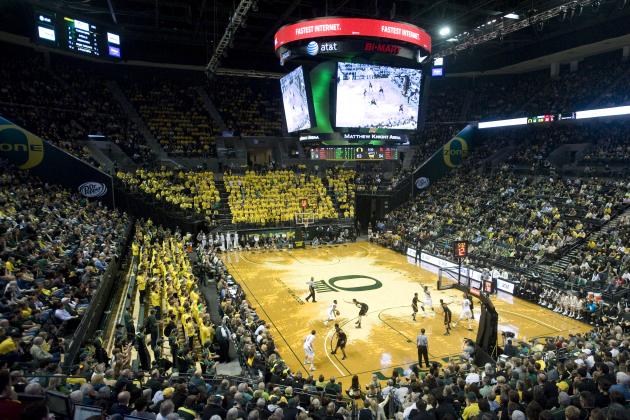 Steve Dykes/Getty Images

Blame Boise State's smurf turf if you must, but for some reason there has been a recent trend in collegiate athletics where traditional is not good enough.
Whether it is Oregon dressing up like Granny Smith apples that a kid drew on with a highlighter on Saturday, Maryland draping its state flag all over every jersey it can find or Eastern Washington using red field turf, the days of classic jerseys and regular playing surfaces are gradually becoming a thing of the past.
While it is not as guilty of a perpetrator as college football, college basketball is not innocent when it comes to these transgressions against convention.
With that in mind, here are some of the worst court designs in the recent history of college hoops. I'm sure many of you will disagree with me, so feel free to let me know in the comments.
Begin Slideshow

»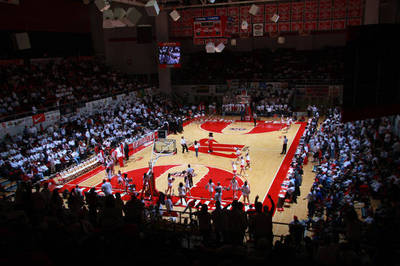 photo courtesy of apsugovenors.com
In something that will quickly become a theme in this slide show, less is often more when it comes to college basketball court designs.
Austin Peay's red all over floor reminds me of a game we all seemed to play when we were kids—don't step in the lava. While it may not actually burn you like real lava, it could do a number on your retinas.
Throw in a borderline creepy, borderline area 51ish AP logo at center court, and you have our first entry in the worst college basketball floor design contest.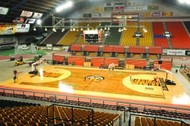 photo courtesy of magicvalley.com
Before you feast your eyes on the general "orangeness" of the actual floor, look around it.
Sure, there are four or five different colors that make up the seats, but the fact that Idaho State appears to play basketball in a giant garage is a bit more concerning.
Top it off with the tiger stripe design in the paint, and it feels more like the location of a traveling petting zoo convention than a place for major college basketball.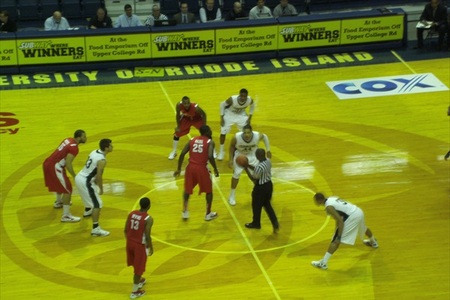 photo courtesy of midmajorhoopsbb.blogspot.com
When I said less is more, I didn't mean forgetting to paint the mid-court logo Rhode Island.
Other than that, there's not really anything wrong with the Rams' home floor, but it's a bit too much for me to overlook. In fact, the stencil outline of what should be the main logo distracts me from the actual game.
Or maybe I just have a short attention span.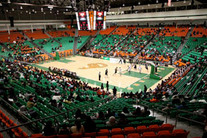 photo courtesy of onnidan1.com
To be fair, Florida A&M never really had much of a chance if we are going by my subjective standards.
The green and orange color combination is too much 7-eleven Slurpee and not enough appealing sports uniforms.
The rattlesnake logo isn't too atrocious, but it's not exactly enough to overcome the overall ambiance of this court.
photo courtesy of stadiumjourney.com
I'm sorry Colorado State, but if I am going to include Rhode Island on my list, then I absolutely have to include you too.
Frankly speaking, Colorado State basically took the Rhode Island ram horn logo I had an objection with and put two of them on the floor.
If you look really hard, there is actually some uncovered hardwood on that court.
Less is more guys. Less is more.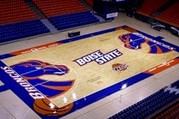 photo courtesy of boisestate.scout.com
Ah, Boise State. As if there was any doubt that the institution that attempted to turn its football field into something resembling the sixth Great Lake (Lake Boise? Maybe Lake Chris Petersen?) would be on this list.
The great thing about Boise is that it has had two different court designs in the past few years that are almost equally as bad.
Take your pick: the floor with two giant decapitated horse heads passing as the paint (pictured) or the floor that has two smaller horse heads in the paint with a Gymboree-style orange and blue color combination surrounding the lane.
Oh, and the facility is named the Taco Bell Arena.
Of course it is.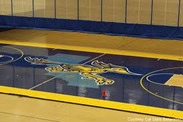 photo courtesy of rivals.yahoo.com
Finally we have a basketball floor that has absolutely no visible unpainted hardwood anywhere.
That is, except in the paint. Because that makes sense.
If we are going with the less is more theme, than it doesn't get much worse than an all blue court with a cartoon-ish roadrunner and the state of California gracing its middle section.
I don't really have to say anything else. Just look at the picture.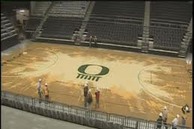 photo courtesy of forum.sbrforum.com
Oregon is the cream of the crop when it comes to ugly court designs.
I mean, sure other basketball floors may not appeal to the visual senses of fans, but only the University of Nike can roll out a design that actually induces headaches for some viewers.
The forest of trees almost provides camouflage for parts of the three-point line because, you know, we wouldn't want the players or fans to know where that was.
Oregon has been refreshingly innovating with some (some) of its uniform choices in football, but the basketball court design is a swing and a miss.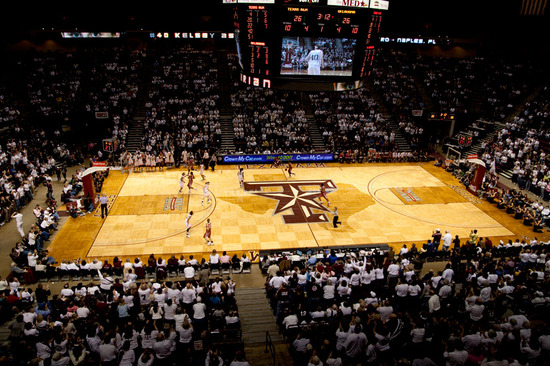 photo courtesy of texags.com
First of all, Tennessee basically has a monopoly on the checkerboard design at this point, right?
Secondly, for a school that arguably has somewhat of an inferiority syndrome when it comes to athletics and the University of Texas, it may not be the best idea to have a giant outline of the state of Texas as Texas A&M's midcourt logo.
When I see an outline of Texas and I am watching college sports, I immediately think of the Longhorns. Sorry, but it's true.
Reminding fans of its chief rival may not have been Texas A&M's intention with this court, but it is the result.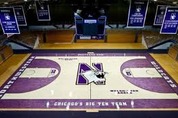 photo courtesy of hawkeyenation.com
It's almost unfair that Northwestern hasn't made the NCAA tournament in its entire history.
But it's also unfair that fans have to watch basketball games played on this floor.
First of all, the purple isn't quite solid all the way through, making it look more like a half colored-in kid's menu at the Olive Garden than a basketball court.
Secondly, is Northwestern, which is actually located in Evanston, really Chicago's Big Ten team?
Having returned to Chicago (my birthplace) numerous times, I would venture to say there are more Wolverine or Buckeye fans there than Northwestern ones. But that's just my opinion.
As a side note to end this slideshow, I know Vanderbilt's strange court design isn't on here. I guess I like it more than others do and it's my list. Sorry.