Power Ranking Michigan State and Other Big Ten Teams' Conference Schedules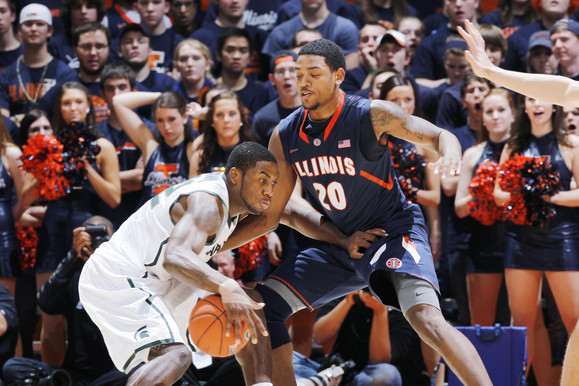 The Big Ten Conference basketball schedule has now been officially released, giving teams an early look at their conference schedule. While there should be no surprises within the schedule itself, it's interesting to see when you will play every team and to figure out which stretch of the season will be toughest.
With a 12-team conference and 18-game league schedule, there are four opponents which each team only plays once, while they face off with the remaining seven teams twice. The schedule is exactly the same as last year, except you host the teams that you only played on the road last year and visit the teams that you only played at home.
For example, Michigan State lost 42-41 at Illinois in 2012 but did not play Illinois in East Lansing. This year, the two teams will only meet at Michigan State and not in Champaign. Because of this uneven scheduling, some teams make out better than others.
In college basketball, one game can make or break a season, so I believe that the scheduling issue is bigger than it appears. While nothing can be done to change it, except switching the teams that you only play once every two years, it's interesting to see who is helped by the scheduling and who is hurt by it. I will highlight which four teams each squad will only play once as the basis for these power rankings.
Begin Slideshow

»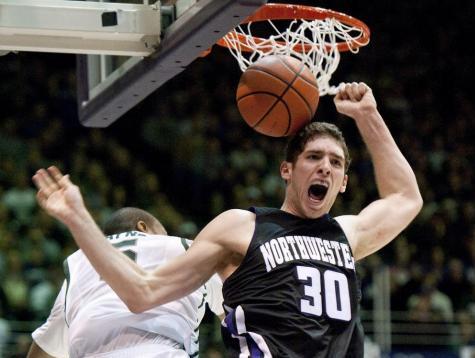 @ Michigan State
@ Nebraska
vs. Indiana
vs. Wisconsin
Record vs. Teams Above in 2012: 2-2
The Wildcats will avoid three of the conference's top tier teams by only having to play Michigan State on the road and Indiana and Wisconsin at home. Going 2-2 again during this stretch this year would be ideal for Northwestern, with wins at Nebraska and against Wisconsin being the most likely to happen.
The Wildcats defeated Michigan State at home last season and took the Spartans to overtime in East Lansing two seasons ago. They will also host Indiana, who they nearly knocked off in Bloomington back in February, giving them a chance to knock off one of the nation's best.
If Northwestern wants to get over the hump and get into the NCAA tournament, this may be the year to do it. While the top half of the Big Ten is loaded, the Wildcats could get themselves into the 68-team field if they emerge as the best team in the lower half of the conference.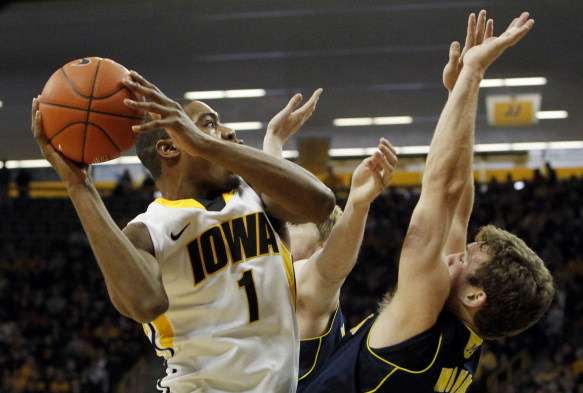 @ Michigan
@ Ohio State
vs. Illinois
vs. Michigan State
Record vs. Teams Above in 2012: 1-3
The Hawkeyes also miss out on having to play three of the Big Ten's elite twice, in this case Michigan, Ohio State and Michigan State. Like Northwestern, going 2-2 against these opponents would be a win for Iowa.
While upsets in Ann Arbor and Columbus would be tough to pull off, the Hawkeyes bring back enough talent to handle both Illinois and Michigan State at home. Iowa's only victory against these four squads came at home against Michigan last January.
Also like Northwestern, Iowa is trying to be the top team in the bottom half of the conference, which would give them a great chance at getting back to March Madness. The Hawkeyes need a better non-conference record than they had a year ago to achieve this goal though.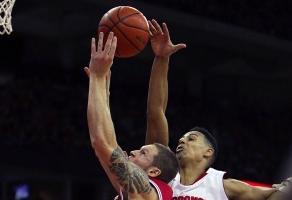 @ Indiana
@ Northwestern
vs. Michigan
vs. Purdue
Record vs. Teams Above in 2012: 3-1
The Badgers have the most favorable schedule among the top teams in the conference, as they only have to face Indiana and Michigan once. Michigan was the only one of these teams to defeat Wisconsin last year, but that could change as the game will be in Madison this season.
Wisconsin has a great chance at going 3-1 against this group again, with the toughest game, of course, being at Indiana. The Badgers are nearly untouchable at home, so it may be safe to pencil in wins over Michigan and Purdue, although it may be too early for that.
Although it might not match up with Indiana, Michigan, Ohio State or Michigan State athletically, Wisconsin's conference schedule gives the team a big advantage over those other four. Because of this and having Bo Ryan on its bench, expect another top four Big Ten finish for UW.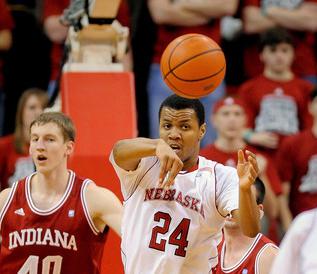 @ Indiana
@ Michigan
vs. Northwestern
vs. Purdue
Record vs. Teams Above in 2012: 1-3
Nebraska and Wisconsin play the same four teams only once, although Nebraska must host Northwestern and play at Michigan, while the Badgers have the opposite. If the Cornhuskers can sneak out with even just one win here, they should be happy.
Nebraska defeated Indiana at home, in one of the more exciting games during last year's Big Ten season. Neither of the two road games mentioned here should be close, but Nebraska should remain competitive in both home contests.
Tim Miles will be a first-year head coach in Lincoln, but he only returns one starter from a team that tied for last place in the Big Ten during Doc Sadler's final season. Anything other than a repeat finish of last place would surprise me.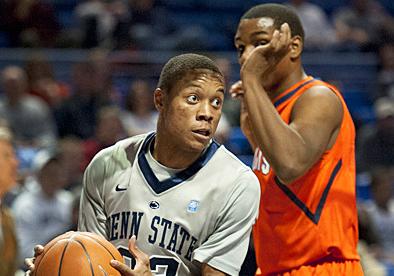 @ Illinois
@ Minnesota
vs. Ohio State
vs. Michigan State
Record vs. Teams Above in 2012: 1-3
Penn State, which Nebraska tied for last place in the conference last season, brings back everyone from last year's squad. Second-year coach Pat Chambers was able to grab one win against this group last year, that being a thriller over Illinois.
The Nittany Lions may still struggle this year, although they should be a little improved. Like Nebraska, Penn State should be happy to snag even just win one from this group. Winning at Illinois or possibly stealing a home win over a young Michigan State squad is plausible.
Playing in the postseason may still be a year or two away for the Lions, although Tim Frazier, who is Mr. Everything for Penn State, is a senior this upcoming season. If anything, there should at least be more excitement around PSU basketball than football for the time being.
@ Iowa
@ Michigan State
vs. Indiana
vs. Penn State
Record vs. Teams Above in 2012: 2-2
In 2012, Illinois was able to defeat both Iowa and Michigan State at home but fell to Indiana and Penn State on the road. John Groce enters his first season at U of I, but you shouldn't expect the team to win any more than one of these games.
This sometimes immature Illini squad will need to buy into Groce's system, which may take time or for some of these players to graduate. Illinois struggles mightily on the road, so the only win that I can see happening here is at home over Penn State.
Illinois missed out on the postseason in 2011-12 despite a red-hot start out of the gates. This team has talent, but I wouldn't be surprised if it didn't play in either the NCAA tournament or the NIT again this year.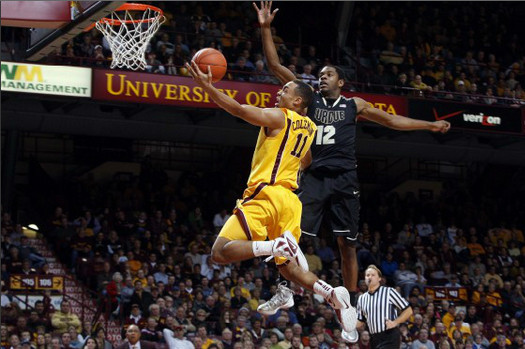 @ Nebraska
@ Wisconsin
vs. Ohio State
vs. Minnesota
Record vs. Teams Above in 2012: 2-2
Purdue's 2-2 mark against these four in last year's Big Ten season seems fitting, given their overall 9-9 mark in conference play. This year's Purdue team might not be as fortunate to steal nine conference wins, although it could reach 2-2 in this group again.
Beating Wisconsin on the road or Ohio State at home seems hopeless for a Purdue team that lacks a true scorer, but games at Nebraska and against Minnesota could be pulled off. Either one of those latter two could end up being losses as well though.
Purdue may have more questions surrounding its roster than any other team in the league this year, but as long as Matt Painter is there it should at least remain competitive against the more experienced and athletic teams.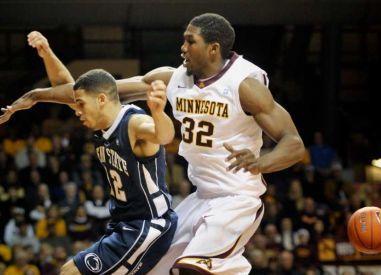 @ Ohio State
@ Purdue
vs. Michigan
vs. Penn State
Record vs. Teams Above in 2012: 1-3
The Gophers struggled against this quadrant a year ago and only defeated Penn State in Happy Valley. The Barn hasn't been as tough of a place for opposing teams to come into and win the past two seasons, but this year's squad hopes to change that.
I see Minnesota going 2-2 in these games this year—definitely beating Penn State and definitely losing to Ohio State. From there I see a split between its game in West Lafayette and its home game against the Wolverines.
Minnesota may have as much raw talent as any team in the league, but it just has not been able to fully put it together under Tubby Smith. With seniors Trevor Mbakwe and Rodney Williams, I expect this year's Minnesota to achieve appropriately and be NCAA tournament bound once again.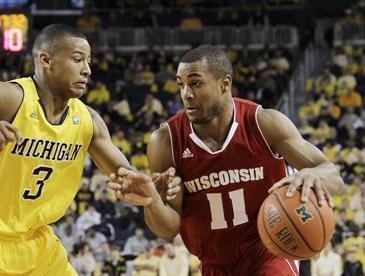 @ Wisconsin
@ Minnesota
vs. Iowa
vs. Nebraska
Record vs. Teams Above in 2012: 3-1
Last season, the Wolverines took a huge step forward by becoming part of a trifecta of Big Ten regular season champions, along with rivals Ohio State and Michigan State. Although I predict a second place finish from UM this season, reaching 3-1 against these opponents may be tougher than a year ago.
Count on Michigan to beat both Iowa and Nebraska at home. But stealing even one game up north over Wisconsin or Minnesota may be too much to ask for with this young squad, although Minnesota appears to be the more viable option.
Michigan should be even better than it was a year ago. As long as everyone from this year's team decides to come back, this could be a Final Four squad in 2013-14 if it doesn't reach that milestone this coming season.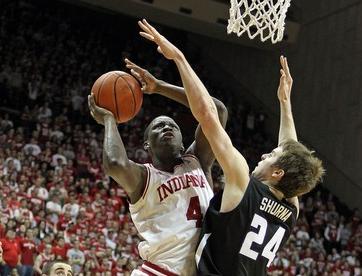 @ Illinois
@ Northwestern
vs. Wisconsin
vs. Nebraska
Record vs. Teams Above in 2012: 2-2
Indiana struggled mightily on the road last season, faring only 3-6 in Big Ten's opponents' home stadiums. Both Wisconsin and Nebraska were part of those six teams that the Hoosiers fell to on the road, although home wins over both squads seem likely this year.
Indiana defeated both Illinois schools, Illinois and Northwestern, at home during the 2011-12 season. Although IU is the heavy favorite to win the Big Ten and maybe the national championship, I speculate an upset in either Champaign or Evanston this year.
Despite bringing back more talent than almost any team in the land, I don't foresee the Hoosiers cutting down the nets in April. With this much preseason talk and hype surrounding the program, anything less than a being a part of the Final Four this year may be a disappointment.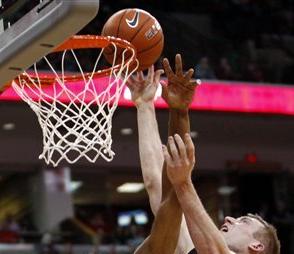 @ Purdue
@ Penn State
vs. Iowa
vs. Minnesota
Record vs. Teams Above in 2012: 4-0
The Buckeyes knocked off all four of the above teams in 2012, so expecting anything different in 2013 would seem unfair, despite losing Jared Sullinger and William Buford. OSU is too tough to beat at home, but it also has the ability to defeat the Boilermakers and Nittany Lions on the road.
Of these four teams, only Purdue made the 2012 NCAA Tournament. Ohio State, having the second toughest Big Ten schedule in my eyes, may make Thad Matta decide to utilize his bench more than he has in the past, although I doubt it.
Deshaun Thomas and Aaron Craft should be quite the duo in Columbus, but this schedule, coupled with a young Buckeye roster, leads me to believe that they won't be wearing the Big Ten crown for the first time since 2009.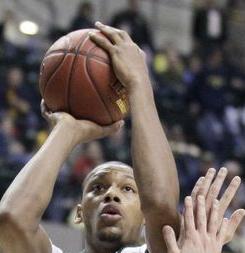 @ Penn State
@ Iowa
vs. Illinois
vs. Northwestern
Record vs. Teams Above in 2012: 2-2
Out of the four teams that Michigan State only gets the chance to play once this season, exactly zero of them made the NCAA tournament a year ago. Michigan State must play all the big boys in the league twice, which could be tough for a team mourning the graduation of Draymond Green.
Although going 4-0 against these teams seem very likely on paper, my expectations for MSU are lower than most people's for this coming season. In that case, I'll predict a 3-1 mark here with a loss occurring either at Iowa or with a slip-up at home against NU.
I have Michigan State slotted in the fifth position in my preseason rankings, which I have gotten criticized for, but what I'm describing on this slide is part of the reason why. Until any team, not just Michigan State, pushes Wisconsin out of the Big Ten's top four, it seems silly to predict that the Badgers won't continue that streak.