College Basketball Preseason: 2012-13 Summit League Preview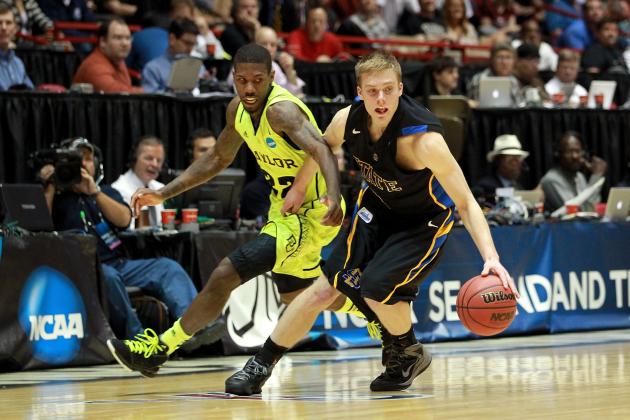 Ronald Martinez/Getty Images

The Summit League has a different look after Oral Roberts departed for the Southland.
This season, the top dog is undoubtedly South Dakota State. The Jackrabbits won the conference tournament last season and return with four starters.
Its main challengers for the crown will be North Dakota State and Oakland, and maybe Western Illinois can once again pull a surprise and make some noise in February and early March.
Here is a 2012-13 season preview for the Summit League, with team-by-team breakdowns, a preseason all-conference team, and predictions for how the final standings will shape up.
Begin Slideshow

»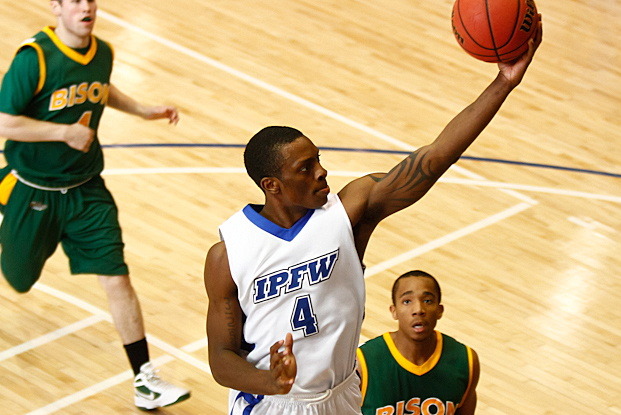 (Photo from valleynewslive.com)
Lost: Jason Smeathers, John Peckinpaugh, Antwaun Boyd, Trey McCorkle, Johnny Marlin, Hichem Benayad-Cherif, Logan Shipley
Gains: Pierre Bland, Luis Jacobo, Kevin Harden, Will Dunn, Joe Reed, Brent Calhoun, Steve Forbes
Indiana University–Purdue University Fort Wayne (IPFW) returns one of the top scorers in the conference in Frank Gaines.
Gaines averaged 21.2 points last year, good for No. 3 in the conference and No. 2 among returning players. He also grabbed 5.9 boards per game, swiped 1.4 steals and shot a solid 34.5 percent from beyond the arc.
To complement Gaines, the Mastodons have 5'9" guard Justin Jordan and forwards Mario Hines and Michael Kibiloski.
Jordan was No. 4 on the team in scoring with 6.5 points per game, but he struggled from the field, shooting 37.9 percent.
Hines averaged 7.1 points and 4.5 rebounds while shooting 55 percent from the field. He also led the Mastodons in blocks with 20 swats for the season.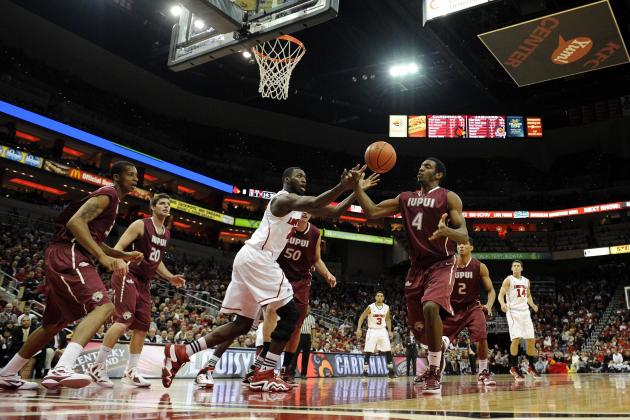 Jamie Rhodes-US PRESSWIRE

Lost: Alex Young, Stephen Thomas, Christian Siakam, Nick Achille
Gains: John Hart, Cortell Busby, Elijah Ray, Linwood Ross Jr.
Indiana University–Purdue University Indianapolis (IUPUI) was not good to begin with, going 14-18 last season, but to make matters worse the Jaguars graduated three of their top four scorers, including the conference's No. 4 scorer, Alex Young, who averaged 20.4 points.
The Jaguars return two starters in Ian Chiles and Lyonell Gaines.
Chiles averaged 10.5 points and 1.2 steals last year while shooting 41.5 percent from the field, and Gaines started in the front court, posting 6.3 points per game and 4.3 rebounds.
IUPUI also returns a bunch of role players that will have to take on the bigger roles in the upcoming season.
Sean Esposito looks most ready to join Chiles in the backcourt. Esposito, a senior, averaged 4.5 points in 14 minutes last season and shot 40 percent from beyond the arc.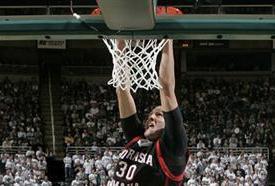 (Photo from thesmallmarket.com)
Lost: Mitch Albers, John Ring, Robby Allmand, Isiah Gandy, Bill Freeman, Mitchell Farr
Gains: Marcus Tyus, Koang Doluony, Jalen Bradley, Justin Simmons
Nebraska Omaha will play a Summit League schedule, but the Mavericks will not be eligible for a championship and postseason berth until the 2015-16 season, when they gain full Division I membership.
The Mavericks lost their leading scorer from last year, Mitch Albers, who averaged 18.3 points per game and 3.1 assists.
But they do return three players who also averaged in double figures: C.J. Carter in the backcourt and Alex Wellhouse and John Karhoff in the frontcourt.
Carter posted 10.4 points and 2.6 assists last year while shooting 36.4 percent from beyond the arc.
Wellhouse averaged 10.4 points and 6.7 rebounds and made 39.1 percent of his three-point attempts.
Karhoff is the top returning scorer for the Mavericks after averaging 12.9 points during the 2011-12 season.
Nebraska Omaha is challenging itself after playing a relatively easy schedule last year while making the transition. This year, the Mavericks have Nebraska, Wisconsin, Iowa State and Denver on their list.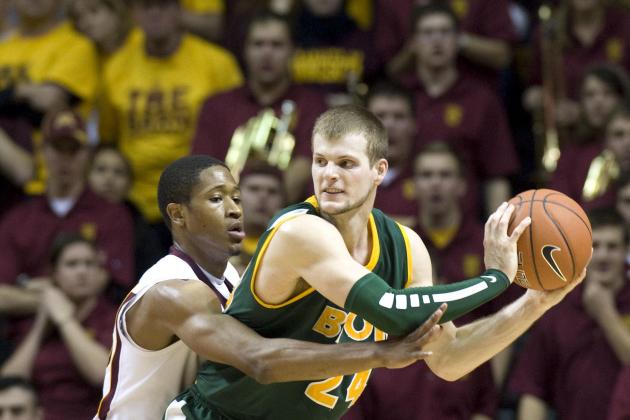 Marilyn Indahl-US PRESSWIRE

Lost: Dylan Hale, Drew Lundberg, Eric Carlson, Andy Nagel
Gains: Kory Brown, Brett VandenBergh, Dexter Werner
North Dakota State has the best chance of challenging South Dakota State for the conference title. The Bison lost a pair of bench players in Eric Carlson and Dylan Hale, but all five starters from last year's fourth place team are back.
Taylor Braun, who was an all-conference first team selection last season, could challenge South Dakota State's Nate Wolters for conference player of the year.
Braun averaged 15.4 points, 6.6 rebounds and 2.5 assists while shooting 45 percent from beyond the arc during his sophomore season. He posted six double-doubles and had seven games with 20 or more points. At 6'7", he can cause a mismatch for every team in this league.
Lawrence Alexander will return as the starting point guard. Alexander, as a freshman, averaged 12.8 points, four rebounds and 4.6 assists. He is one of the top up-and-coming players in the Summit League and had eight games with six or more assists last year.
Marshall Bjorklund, TrayVonn Wright and Mike Felt, fill out the rest of the Bison's starting lineup. Bjorklund and Wright combined for about two blocks per game, and Felt was deadly from three-point range at 43.1 percent.
Tom Pennington/Getty Images

Lost: Reggie Hamilton, Laval Lucas-Perry, Blake Cushingberry, Kyle Sikora
Gains: Duke Mondy, Lloyd Neely, Mike Lewis Jr., Viktoras Merkevicius, Mitch Baenziger, Tommie McCune
Oakland lost plenty of scoring with the graduation of Reggie Hamilton. Hamilton led NCAA Division I in scoring last year with 26.2 points per game and averaged 30.3 points during Oakland's four CIT games.
But the Golden Grizzlies have a young scorer that will pick up some of the slack.
Travis Bader, a junior, averaged 15.9 points per game as a sophomore. Last year, he made 39.5 percent of his three-point shots, and as a freshman he was even better at 44.3 percent. Against South Dakota State he posted 37 points on 12-of-18 shooting, and during the CIT he averaged 16.5 points per game.
To help him out, the Golden Grizzlies also return Drew Valentine and Corey Petros in the frontcourt.
Valentine averaged 11.4 points and 7.1 rebounds last year while shooting 38.1 percent from deep and also dishing out 2.6 dimes per game.
Petros put together a great freshman campaign with 8.7 points per game and 7.2 rebounds per game while shooting 55.4 percent from the field.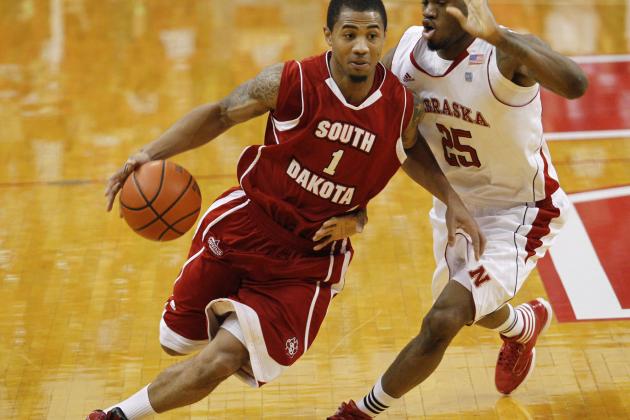 Bruce Thorson-US PRESSWIRE

Lost: Charlie Westbrook, Nick Mabbutt, Louie Krogman, Ricardo Andreotti, Nimrod Hilliard, Allen Saint-Gelais
Gains: Casey Kasperbauer, Tyler Flack, Karim Rowson, Eric Robertson, Tyler Larson, Juevol Myles
South Dakota played a Summit League schedule last season and finished in ninth place, ahead of UMKC, but this will be the first year that the Coyotes are eligible for the conference tournament and the league's automatic bid to the NCAA tournament.
Unfortunately, the postseason won't be happening this year for them.
The Coyotes lost their two leading scorers, Charlie Westbrook (18.7 points per game) and Louie Krogman (16.8 points per game). They were also their two best defensive players with 1.7 steals and 1.5 steals, respectively.
The only returning player who showed the ability to put the ball in the basket last year is Trevor Gruis, who averaged 11.3 points and 6.7 rebounds.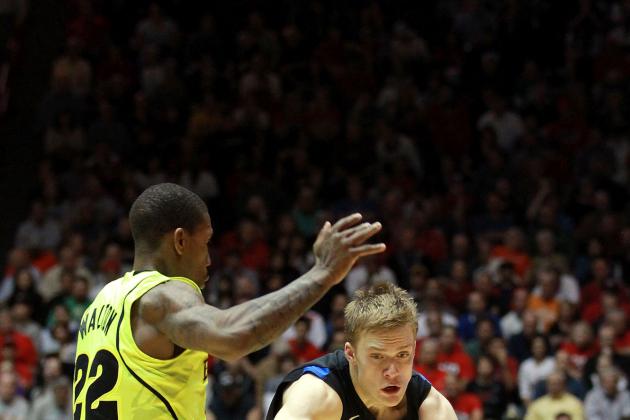 Ronald Martinez/Getty Images

Lost: Griffin Callahan, Zach Monaghan
Gains: Matt Donlan, Jake Bittle, Cory Jacobson, Joey Feilmeier, Connor Devine
South Dakota State, which finished No. 2 in the regular season last year and then won the conference tournament, is the clear front-runner in the Summit League for the 2012-13 season.
The Jackrabbits return all-conference first team selection Nate Wolters and second team selection Jordan Dykstra in addition to most of the other players from last year's NCAA tournament team.
Wolters is easily the most talented player in the league. He was the only player in Division I last year to average 20 points, five rebounds and five assists. He also had 1.7 steals per game. He flirted with a triple-double against Oakland in January, where he fell two rebounds shy of the rare feat.
Dykstra was No. 2 on the team in scoring and rebounding with 11.3 points per game and 4.9 rebounds. The 6'8" forward's range extends to beyond the arc. As a freshman, he shot 51.5 percent from three-point range, and last year he shot 47.3 percent. After struggling in the first four games of the season, he averaged 12.4 points per game the rest of the way.
The Jackrabbits return another pair of sharpshooters in forward Chad White (47.2 percent) and guard Brayden Carlson (46.1 percent). Carlson also spent some time as the backup point guard and averaged 2.5 assists.
Lastly, South Dakota State has a pair of incoming forwards that could do some damage as freshman: Matt Donlan and Connor Devine. Donlan averaged 17.4 points and 5.5 rebounds as a high school senior, and Devine averaged 20.1 points, 14.6 rebounds and eight blocks.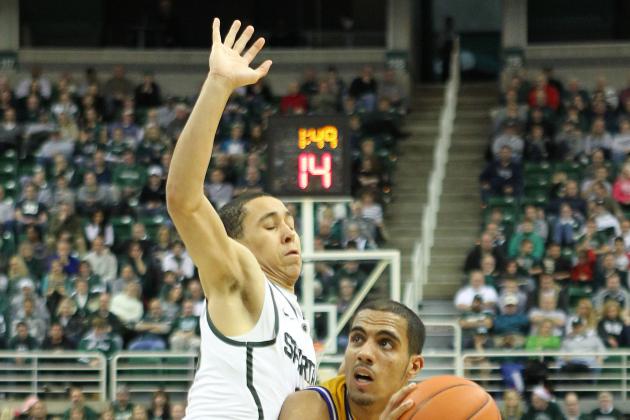 Mike Carter-US PRESSWIRE

Lost: Jordan Payton, Michael Gholston Jr., Bernard Kamwa, Reggie Chamberlain, Trevor Mason, Dustin Dibble
Gains: Nelson Kirksey, John Burke, Mason Wendel, Alston Tanner, Caleb Johnson
University of Missouri–Kansas City (UMKC) finished in last place in the Summit League in the 2011-12 season, and the Kangaroos then graduated leading scorer Reggie Chamberlain, who posted 17.3 points per contest and shot 47.1 percent on three-pointers.
But the Kangaroos do return their four other starters.
Senior Thomas Staton and juniors Trinity Hall and Kirk Korver (yes, he is Kyle Korver's brother) should start in the frontcourt. All three had competent 2011-12 seasons and should give the Kangaroos a solid core inside.
Junior Nate Rogers and sophomore Estan Tyler will most likely start on the perimeter. Rogers averaged six points per game last year after transferring from DePaul, and Tyler posted 5.3 points and three assists during his rookie season.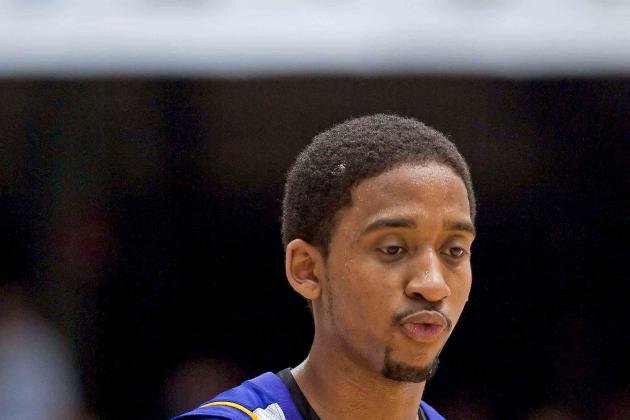 Greg Smith-US PRESSWIRE

Lost: David Gebru, Jeremy McDonald, Tommie Tyler, Antwan Watson, Jalen Packer, Obi Emegano
Gains: Jordan Foster, Adam Link, Michael Ochereobia, John Schneider
Western Illinois only finished tied for fourth place in the Summit League last season, but the Leathernecks pulled off a semifinal upset over Oral Roberts before falling to South Dakota State by two points in overtime in the championship game.
The Leathernecks lost a pair of key players in Obi Emegano and Tommie Tyler, but they return leading scorer Ceola Clark and leading rebounder Terrell Parks.
Clark was an all-conference second team selection last year after averaging 13.3 points and 4.7 assists.
Parks will likely average a double-double this year after scoring 11.9 points per game and 9.1 boards per game last season in addition to his 1.4 blocks and 1.2 steals.
They also add a solid freshman guard in Jordan Foster from Chicago. Foster averaged 18.5 points and 6.5 assists as a high school senior and has the potential to make an impact as a backup point guard.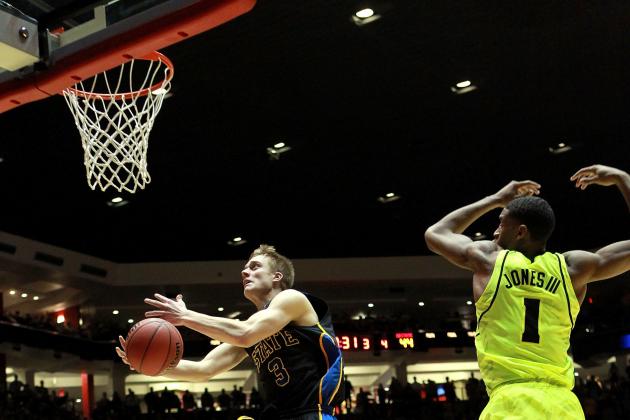 Ronald Martinez/Getty Images

All-Conference Team
Taylor Braun, North Dakota State
Nate Wolters, South Dakota State
Ceola Clark, Western Illinois
Frank Gaines, IPFW
Jordan Dykstra, South Dakota State
Preseason Player of the Year—Nate Wolters, South Dakota State
Defensive Player of the Year—Terell Parks, Western Illinois
Newcomer of the Year— Lloyd Neely, Oakland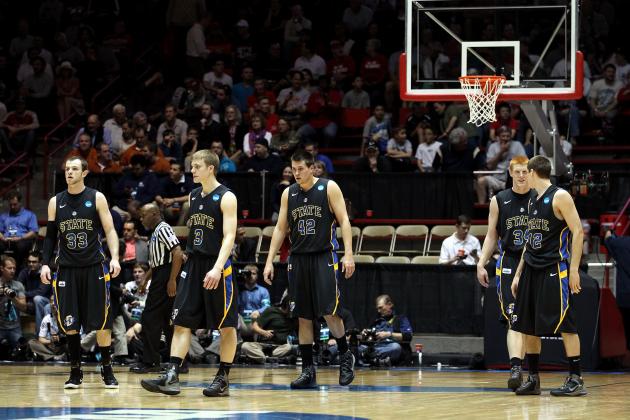 Christian Petersen/Getty Images

1. South Dakota State
2. North Dakota State
3. Oakland
4. Western Illinois
5. IPFW
6. IUPUI
7. UMKC
8. Nebraska Omaha
9. South Dakota