College Basketball: 10 Rowdiest Fanbases in College Hoops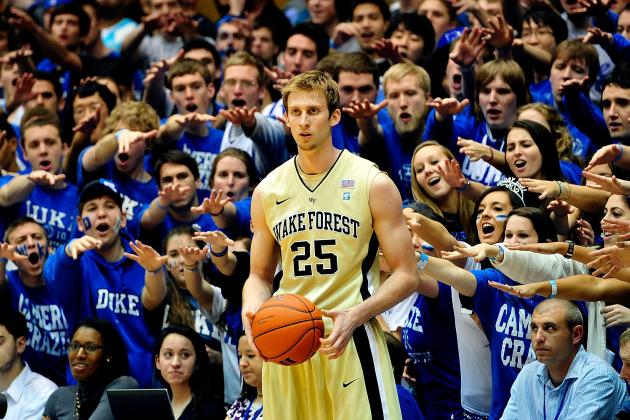 Grant Halverson/Getty Images

College basketball is followed by fans like a cult. There will always be some semblance of a following wherever you go. The sheer intensity and unpredictability of it leads even the most humble scholars to scream their heads off for their team. This, along with the time and devotion it takes to have such a connection with the team, makes college basketball unlike any other sport.
No other sport shows the amount of dedication and allegiance as college basketball does. The rowdiness of the fans can change the face of the game in seconds, for in no other sport are there 10,000 shrilling men and women hovering over the top of one defenseless in-bounder. No matter the score or ranking, the home team always has a sixth man on the court with them.
The fans make college basketball what it is today. The passion, commitment and emotion elevate college basketball fans above that of any other fan in the world.
Ah, college basketball is back!
Begin Slideshow

»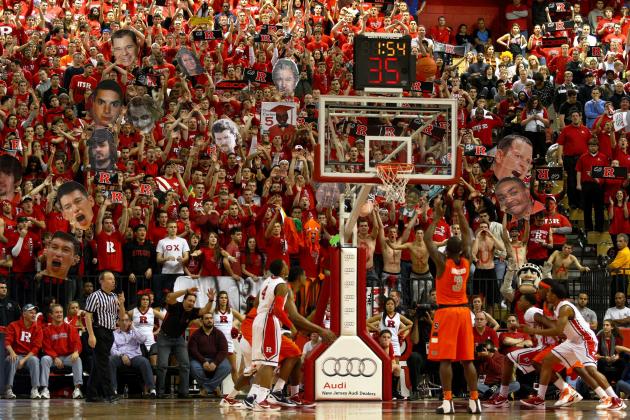 Chris Chambers/Getty Images
The RAC
The RAC.
It is known as one of the steepest arenas in all of college basketball. The sound seems to resonate throughout the building no matter how big the crowd.
During Big East games, the Scarlet Knights fans come to the Rutgers Athletic Center donned in red garb, giving the illusion of a big red tidal wave surrounding the court. Also, due to the steepness of the court, the 8,000 fans that encompass the RAC make it feel as though they are atop of the opposing players.
With Syracuse and Pittsburgh leaving for greener pastures in 2013, the RAC may be rockin' a little bit more than usual.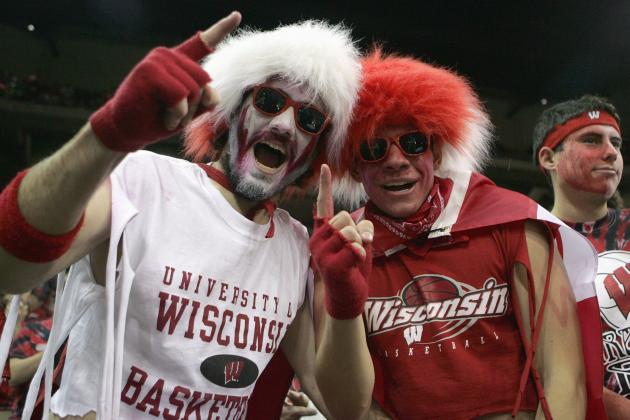 Jonathan Daniel/Getty Images
The Grateful Red
The student section at the Kohl Center in Wisconsin is home to a fanbase cleverly known as "The Grateful Red."
These students come clad in tie-dyed T-shirts and cheer as loud as possible, using hilarious chants like, "left, right, left, right" as opposing players warily walk back to the bench.
Tickets for Wisconsin games are in such high demand that a lottery system has been enforced to keep the masses happy. The Kohl Center only holds 2,100 students, strategically located at the southern end of the court, with seats reaching from the ceiling all the way to courtside.
This rowdy bunch also keeps the older Wisconsin fans going by frequently chanting, "Old people stand up!"
If that isn't dedication, I don't know what is.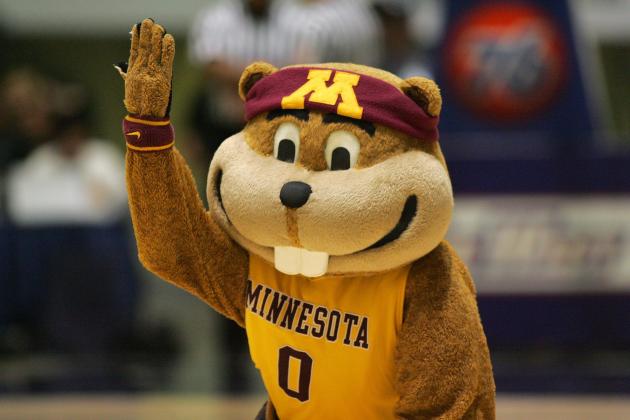 Victor Decolongon/Getty Images
The Barnyard
The name says it all: The Barnyard.
Gopher fans have always been known as some of the rowdiest fans in all of college basketball. Not only do they pack 'The Barn', but they also travel well, showing up in swarms at road games throughout the season.
At The Barn, it is almost jeered upon if a fan isn't wearing some sort of costume as he or she cheers on the Golden Gophers.
Although known as more of a hockey school, the Gophers' basketball fanbase is about as crazy as any other school in the nation.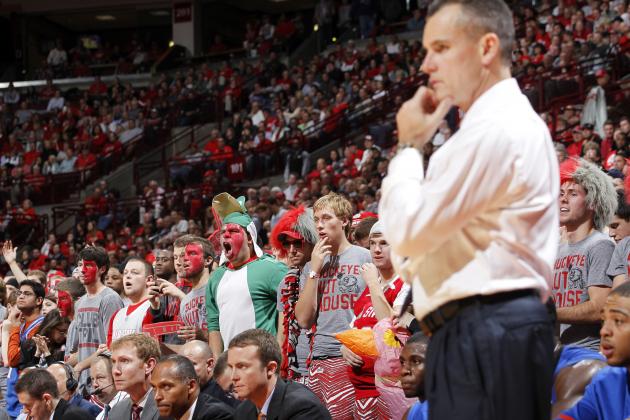 Joe Robbins/Getty Images
Buckeyes Fans
The Value City Arena is the home of the Ohio State Buckeyes and its incredible fans.
Often referred to as the most loyal fanbase in the country, this group of fans travels well, treats every game as though it is its last and provides an environment tough to find anywhere else.
Known more for football, Ohio State has seen its basketball program and its fans have transformed what it is to be a fan. Thad Matta turned the program around and it looks to continue its astronomical success.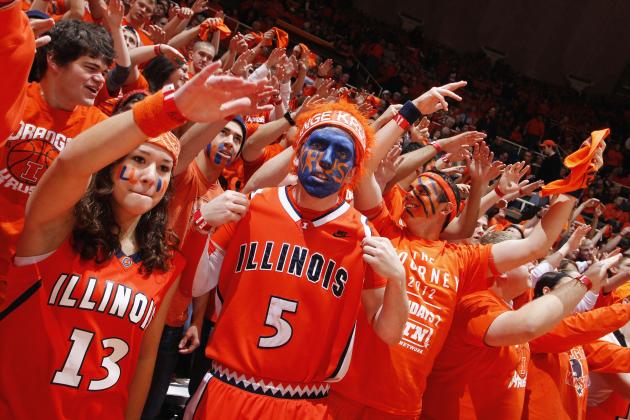 Joe Robbins/Getty Images
Orange Krush
Illinois offers one of the toughest venues to play at in all of college sports.
It is as if every single fan in Assembly Hall was born to become an Illini fan. The Orange Krush brings intimidation, knowledge and outright powerful demeanor to each and every game.
Sometimes referred to as downright rude, the Orange Krush became part of fanbase folklore by lambasting the crap out of Eric Gordon and his parents.
Some say rude, I say dedicated. That is exactly what student sections should be.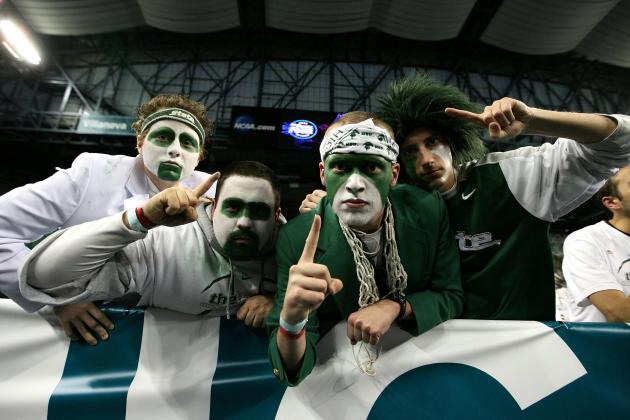 Andy Lyons/Getty Images
The Izzone
Was there any question that the student section of Michigan State, affectionately named, the "Izzone" would be on this list?
The Breslin Center, which holds about 15,000 people, is possibly the toughest place to play in the Big Ten.
And talk about dedication? It is said that students must attend games on a regular basis for three years in order to have any chance of obtaining seats in the lower bowl section of the Breslin Center.
I think after three years of crappy seats, Michigan State fans have to let out bottled-up emotions and go absolutely bonkers when their squad is on the court.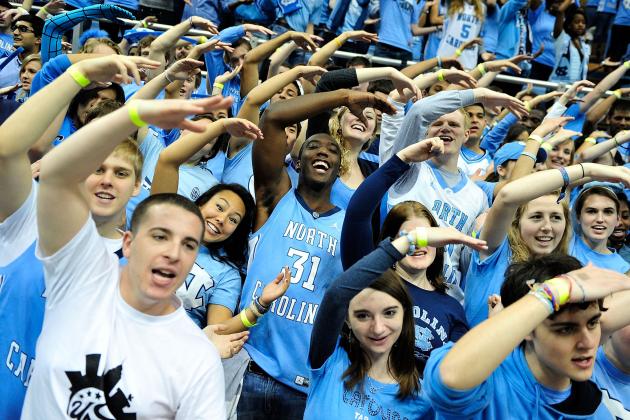 Grant Halverson/Getty Images
Fans at the Dean Dome
Tar Heels fans are like Yankees fans. They are freakin' everywhere!
But where do most of them reside? At the Dean Dome.
It offers one of the best home-court advantages in all of collegiate sports due to its consistent success and the program's penchant for getting top talent.
They also believe in tradition, playing "Jump Around" before each home game and having approximately 6,000 students outfitted in powder blue, suffocating the opponents as they try to inbound the ball.
The Dean Dome is also home to one of the bigger fanbases in college basketball, holding over 21,000 people per game.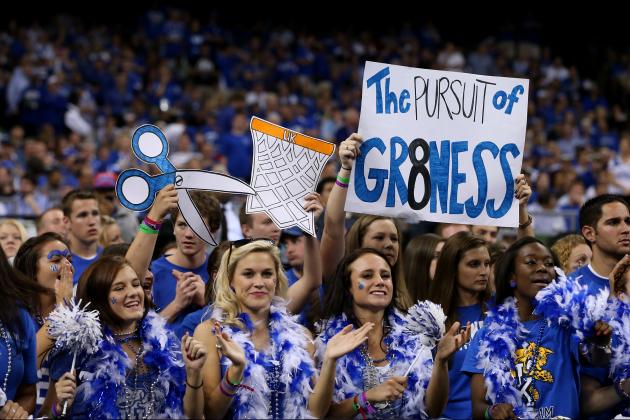 Jeff Gross/Getty Images
eRUPPtion Zone
Rupp Arena's "eRUPPtion Zone" is home to one of the largest fanbases in all of college sports. Known for its large size, holding over 23,000 people, the Rupp Arena has become a thing of legend.
Kentucky has consistently led the nation in average home attendance over the years and looks to continue that mark as its program keeps nabbing top recruits.
Usually donning blue kilts and face-paint, the Kentucky fans show great dedication and rowdiness in each and every home game.
Camping out is nothing new to the Kentucky faithful, often doing so to get tickets to the next day's game. No hail, sleet, rain or snow will keep these fans away from watching their Wildcats. Or Ashley Judd.
Jamie Squire/Getty Images
Rock Chalk Jayhawk
Kansas is one of the most historic programs in all of college basketball. Kansas ranks second all-time in wins and first in winning seasons.
Along with that dominance comes one of the hardest venues to play at, Allen Fieldhouse.
Students sit behind the southern basket, poking fun at anything they can at the expense of their opponents. Try making a free throw with a couple thousand fans swaying their hands to and fro, in an attempt to distract the other team. Not easy.
Kansas is known nationwide for its cult-like signature chant of "Rock Chalk Jayhawk." A chant which starts low and slow and progressively grows louder as time builds up.
This camping crew has no problem traveling and is at every game ready to go, making the Kansas fanbase one of the rowdiest in collegiate sports.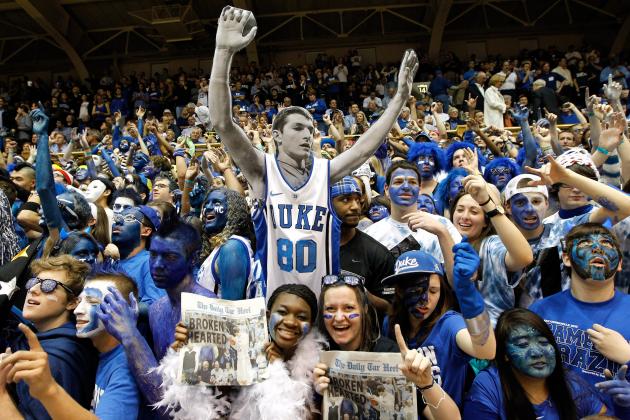 Streeter Lecka/Getty Images
Cameron Crazies
Camping out is just part of the fun if you are a Cameron Crazie.
Cameron Indoor Stadium is rather small compared to other arenas in college basketball, but what it lacks in size it makes up for in heart and sound.
There is no comparison when it comes to rowdy fans, as seas of blue shroud the entire arena.
Duke fans are clever, relentless and just plain funny. They use their smarts (and track record) to dishearten the opposing team and then allow the Blue Devils to dismantle them systematically.
Often seen pointing, yelling, shaking and intimidating opponents trying to inbound a pass, the Cameron Crazies easily topped this list. There is no questioning the advantageous ways of Cameron Indoor, knowing that a few thousand wait outside the arena each game just to get a spot inside, there must be some craziness involved.
The way the student fanbase of Duke carries itself, using a certain level of understanding, helps to strengthen it team as a whole, making it virtually impossible to win a game there.
Rowdy, dedicated, passionate and obnoxious, those are the keys to becoming a great fanbase and those aforementioned fans did it all.