Louisville Basketball: 7 Bold Predictions for Rick Pitino's Team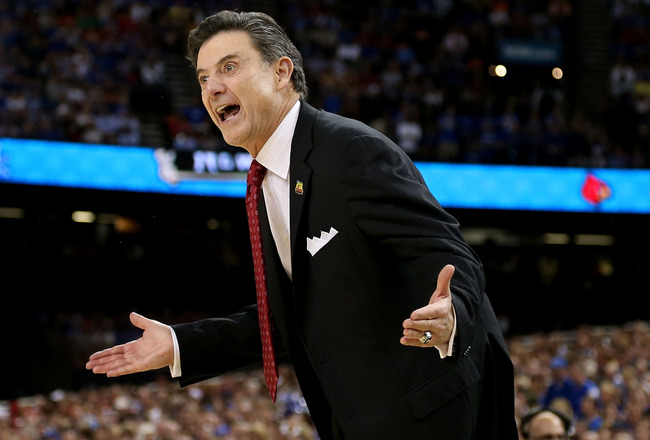 Rick Pitino guided his team to surprising Final Four run last season. This year, he has a veteran squad that's expected to make it to Atlanta for the Final Four.
Chris Graythen/Getty Images
We're less than two months away from Midnight Madness, the official start to college basketball season.
While many University of Louisville fans are gearing up for the upcoming football season, there's a lot to like about Rick Pitino's team as well.
The Cardinals basketball team returned several key contributors from last year's squad, which shocked many with their Final Four run. As one of the deepest and most veteran teams in college basketball, the Cardinals find themselves perched at or near the top of many preseason polls.
But will they have what it takes to get to Atlanta and back to the Final Four? Here are seven bold predictions for the Louisville Cardinals this season.
1. The Cards Will Win the 'Battle 4 Atlantis'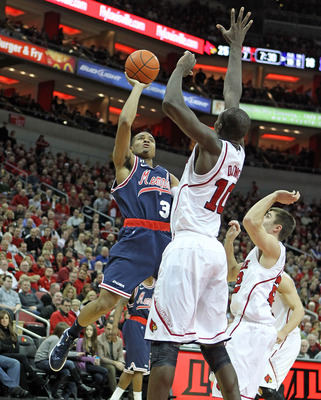 The Memphis Tigers, one of Louisville's biggest rivals, could be waiting for the Cardinals in the 'Battle 4 Atlantis' championship.
Andy Lyons/Getty Images
Louisville will face several tough tests in this ridiculously loaded tournament. Once the Cards get past a scrappy Northern Iowa, they likely will face Missouri and then either Duke or Memphis. All three will almost certainly start the season in the Top 25 rankings. And the Cards will get them in consecutive days.
This is where the Cardinals' quality depth will come into play, as it has in recent Big East Tournaments. Louisville has reached the tournament final the last two years.
Russ Smith and Mike Marra will spell Peyton Siva and Wayne Blackshear in the backcourt, and Pitino can call on Stephan Van Treese or newcomer Montrezl Harrell in case either Gorgui Dieng or Chane Behanan get in foul trouble. In the waning minutes, the Cardinals will still have their legs underneath them and be able to wear down their opponents.
2. Injuries Won't Hinder UofL as They Have in Past Seasons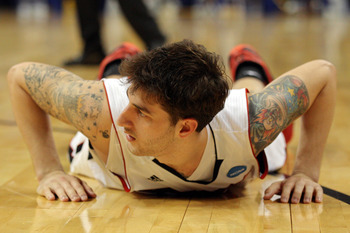 Mike Marra tore the ACL in his left knee last November and missed the rest of the season. Rick Pitino will rely on the senior guard for his perimeter shooting.
Justin Edmonds/Getty Images
During Pitino's tenure at Louisville, the Cardinals' Achilles' heel hasn't been an Achilles' tendon.
Rather, it's been concussions, torn ACLs and various other injuries that have kept starters on the pine and forced others into redshirt seasons. Last season alone, eight Cardinals missed at least one game due to an injury.
This offseason started ominously as team co-captain Luke Hancock, who sat out last season after transferring from George Mason, needed surgery after injuring his shoulder in a spring pick-up game.
While they have the depth to withstand some injuries, certainly the Cardinals are due to escape the injury bug.
3. Gorgui Dieng Will Post a Triple-Double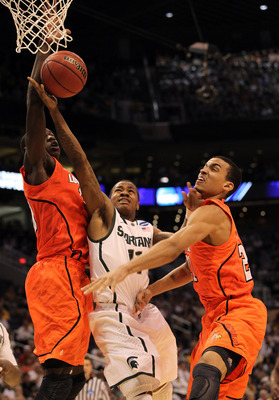 Gorgui Dieng (left) with one of his season-high seven blocks against Michigan State in the 2012 Sweet Sixteen.
Jamie Squire/Getty Images
Last season the 6'10" center was one of the most improved players in major college hoops. He posted 16 double-doubles and swatted a school record 128 blocked shots. Against Michigan State in the Sweet Sixteen, Dieng dominated the paint by blocking a season-high seven shots.
Louisville will not announce its non-conference schedule until next month. But there's a good chance Dieng will find himself on the good end of a mismatch. If you have courtside seats at the KFC Yum! Center, you've been warned. Expect Dieng to send a few your way.
4. The Cardinals Will Stumble Early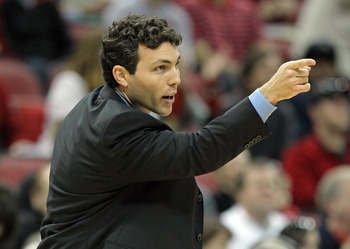 Memphis coach Josh Pastner will have his Tigers ready for the Cardinals when they play Dec. 15.
Andy Lyons/Getty Images
Since Rick Pitino took over in 2001, the Cardinals have not rung in the New Year with a perfect record. And even with the depth of this squad, it will be hard to do this year as well.
After Atlantis, Louisville's non-conference schedule includes a road trip to rival Memphis on Dec. 15, a game against Western Kentucky in Nashville and the annual game against Kentucky on Dec. 29.
Memphis poses the biggest threat to the Cardinals, especially since the Tigers are tough at the FedEx Forum. If the Cardinals finish December with a perfect record, they'll start 2013 as the consensus' top-ranked team in the polls.
5. Wayne Blackshear Will Lead Louisville in Scoring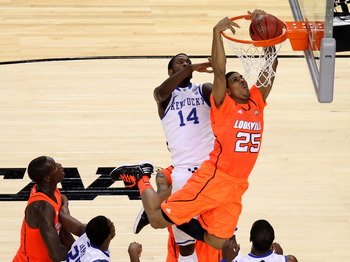 Wayne Blackshear missed most of his freshman season due to a shoulder injury. He'll look to make up for lost time this season.
Jeff Gross/Getty Images
Siva, Behanan and Dieng are all returning starters and averaged nine points per game each. Smith was the spark plug off the bench and averaged 11.5 ppg. While all four will be expected to contribute, the top scorer will be the 6'5" sophomore swingman, who averaged 32.6 ppg as a high school senior.
The McDonald's High School All-American missed 25 games last season due to early season eligibility issues and a torn labrum. When he finally made his debut at West Virginia, he scored 13 points. Against Kentucky in the Final Four, he kept the Cardinals in the game, scoring nine points in just 14 minutes.
6. The Cards Beat Kentucky in the Elite Eight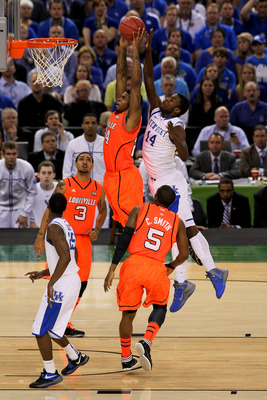 Sophomore forward Chane Behanan is one of three returning starters for the Cardinals.
Jeff Gross/Getty Images
It seems too good to be true. But 30 years after the original Dream Game and a year after their Final Four tilt, UofL will play UK for the right to go to Atlanta. This time, there's no Anthony Davis for Kentucky and no stopping Behanan and Blackshear for Louisville.
The Cardinals will cut down the nets at Cowboys Stadium, giving Rick Pitino back-to-back Final Four berths for the first time in 16 years.
7. The Cards Will Stay in the Big East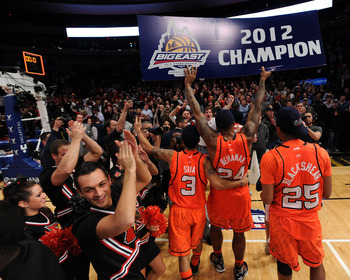 Michael Heiman/Getty Images
Conference realignment will continue to rear its ugly head for the time being. And after reaching two Final Fours and a (likely) BCS appearance in a 12 month period, the Cardinals will be considered (or, as some UofL fans think, entitled) to join the Atlantic Coast or Big 12 conferences.
But new Big East Commissioner Mike Aresco will do what it takes to keep the Cards in tow and make Louisville the standard bearer in the new Big East for 2013 and beyond.
Keep Reading

Louisville Cardinals Basketball: Like this team?