Duke Basketball: Why Recruit Rasheed Sulaimon Will Have a Breakout Season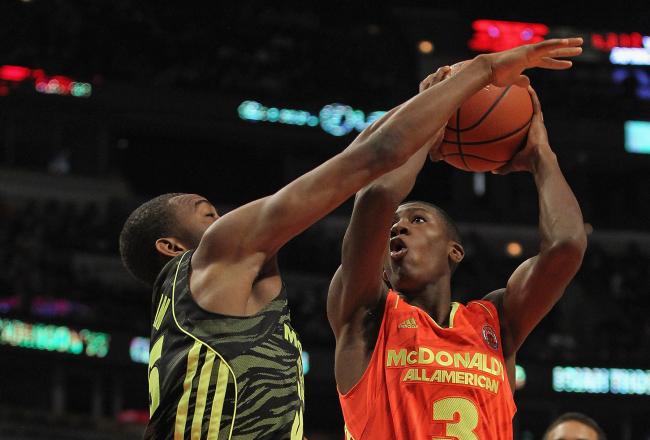 Jonathan Daniel/Getty Images
Last season Blue Devil fans were treated to a love-hate relationship with their best player, Austin Rivers.
While Rivers had amazing talent, his tendency to shoot far too much frustrated even his biggest supporters. Although he hit the game-winning three in the face of Tyler Zeller against UNC (immortalizing him in Duke History), he also shot the team out of several games.
This year, the Dukes' talented shooting guard is Rasheed Sulaimon, and although he is ranked lower than Rivers was on ESPN Top 100 at No. 12, he will be a much better player for this Duke team than Rivers.
Sulaimon's biggest talent is his ball handling: finishing at the rim, and pulling up mid-range jumpshots. Rivers had a similar talent, but opted far too many times to pull up from way beyond the three-point line. Rasheed's ball handling skill will allow him to play both point guard and shooting guard. He is 6'3 so he will likely be guarding the shooting guards.
The most important thing that Sulaimon can do for the team is break down defenses and allow space for the teams numerous three-point shooters.
Next year's team will feature Ryan Kelly and Seth Curry, both of whom can shoot the three well. Curry shot the long ball at 38.5% last season and 43.5% the season before, when he was used as more of a spot-up shooter. Kelly also shot it well, making 40.8% of his threes.
Sulaimon can still shoot the ball well enough that he will be able to play shooting guard or small forward in a very small lineup, while playing alongside one of their numerous ball handlers.
He has the makings of a ball-dominating guard like Rivers was, but also shows good passing skills. He is a player who constantly drives the ball, which is much better than one who jacks up jump shots.
The worrisome thing about Sulaimon is that he is a bit small, especially for a shooting guard. He is only 6'3 and 175 pounds, which is much smaller than he should be. He seems to have very little muscle (especially on his upper body), which is worrisome for a basket-attacking guard. Rasheed will likely take a bit of a beating going to the hole against college opponents. He should wise up and start gaining weight.
During his college career, Sulaimon will likely be a key player for Duke. He will allow the three-point shooters open looks, he will score, and he'll snag a few rebounds. He definitely fits into the Duke scheme if he plays unselfishly.
Long term, it is hard to tell with this player. On the one hand, he has a decent shot, has defensive potential and has good ball-handling skills. On the other, he is really small. If Sulaimon is able to gain weight in college and remain successful with his attacking style against much bigger opponents, then there is no reason he won't be a good pro.
Rasheed Sulaimon may not be talented enough to go to the NBA after one year, but will have a huge impact on Duke and may eventually become a very successful pro player with the multiple gifts that he has.
This article is
What is the duplicate article?
Why is this article offensive?
Where is this article plagiarized from?
Why is this article poorly edited?

Duke Basketball: Like this team?