Power Ranking Trey Burke and the Big Ten Point Guards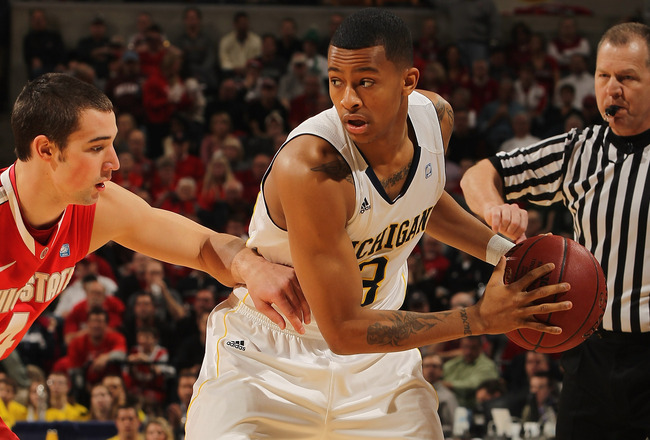 Jonathan Daniel/Getty Images
The Big Ten has an eclectic mix of point guards lining up for the 2012-13 season.
Some are their team's primary scoring option. A few will need to step up and become viable scoring options, as they have lost dominant teammates. There are also a few teams that could be relying on newcomers to pilot their offenses.
Two of the Big Ten's top floor generals enter next season as potential All-American candidates, and another should. Trey Burke and Aaron Craft (pictured) lead the class, but where does your team's floor general rank?
12. Tracy Abrams, Illinois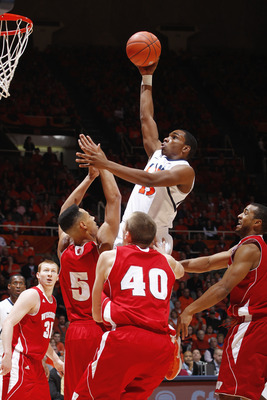 Joe Robbins/Getty Images
A top-100 recruit out of high school, Tracy Abrams certainly got a chance to make an impact as a freshman.
If effort alone resulted in wins, the gritty Abrams would have led his team to the NCAA tournament by himself. Alas, things like making shots and scoring points are also important.
Abrams started 19 games and averaged 20 minutes a night, but was frequently invisible in the shadow of backcourt mates Brandon Paul and D.J. Richardson. Abrams only shot 40.8 percent from the floor last season, but that figure was still better than either Paul or Richardson's percentage.
There was the two-point, two-rebound, two-assist night against Ohio State. Then there was one point in 31 minutes against Michigan.
By contrast, Abrams did show flashes of productivity, most prominently his 22-point outburst against Purdue. His gritty play resulted in him being named team MVP at the season-ending award banquet.
With Paul and Richardson returning, Abrams' performance this season will largely depend on how new Illini coach John Groce allocates the responsibility between his guards. If Abrams is truly allowed to command the offense, his statistical output may begin to approach his level of effort.
11. Deverell Biggs, Nebraska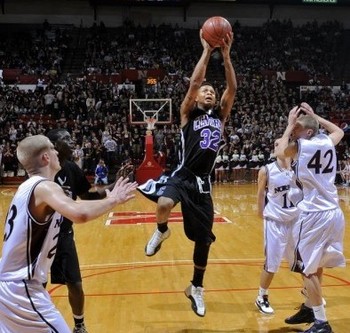 Photo courtesy Lincoln Journal Star
Deverell Biggs was the first prospect signed by new Cornhusker coach Tim Miles. Biggs is an Omaha native who was named a first-team NJCAA All-American last season after averaging approximately 15 points, three assists and three steals.
The Nebraska program has not pulled in an in-state scholarship recruit in a decade, and the timing on this one is impeccable. Nebraska returns only one guard who saw significant minutes last season.
Biggs will need to hit the ground running, but even if he does, it will be difficult to pull a new-look Nebraska program very far up the standings in 2012-13.
10. Ronnie Johnson, Purdue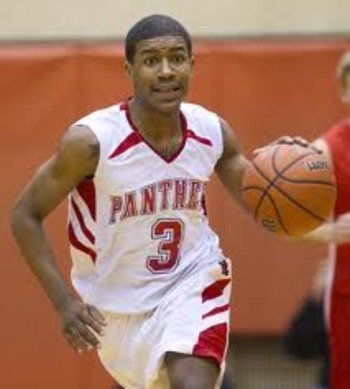 Courtesy Indianapolis Star
At 5'10" and 160 pounds, Ronnie Johnson suffers in comparison to many other Big Ten point guards, at least in the eye test. Not many other players, though, get to walk into a situation with a better support system.
It's likely that Johnson's backcourt mate will be his older brother, Terone. Ronnie told the Lafayette Journal and Courier, "Terone tells me how things are, like in practice what I will need to do ... get stronger and work on certain stuff."
Walking in with the answers before one takes the test is all well and good, but Ronnie will need to prove his skills in an unforgiving league. His shot can be shaky at times, but he's got the speed to penetrate against aggressive defenses.
Purdue's outgoing point guard, Lewis Jackson, is even smaller than Ronnie, and did fairly well for himself. Johnson comes in as a better shooter than Jackson, both from the perimeter and the foul line.
Johnson has played against nearly every great player in the state of Indiana over his career, including fellow Big Ten commits Gary Harris, Yogi Ferrell and Jeremy Hollowell, so he won't be intimidated by the competition. Provided he can play defense up to Matt Painter's demanding standards, Ronnie should be able to bring out the best in his brother, and vice versa.
9. Mike Gesell, Iowa
Courtesy Lincoln Journal Star
The Iowa Hawkeyes aren't on anyone's radar as Final Four candidates, but they do bring in two players with experience playing on Final Four weekend.
Guard Mike Gesell and center Adam Woodbury played in the All-American Championship All-Star game in New Orleans the day before the national championship game. Gesell dished out a game-high five assists and drew some lavish praise from ESPN analyst Miles Simon, who compared Gesell to likely NBA first-round pick Kendall Marshall of North Carolina.
Gesell has experience playing either guard spot, since he was a travel teammate of Marshall's Tar Heel successor Marcus Paige. A Parade All-American, Gesell is capable of effectively finding the open man and is a dangerous shooter if the defense cheats off of him.
Defensively, Gesell (6'2", 185) has the size and strength to defend any point guard and many two-guards. A three-steal per game man in high school, he may struggle early with overaggressiveness and occasional foul trouble, as many freshmen do.
8. Dave Sobolewski, Northwestern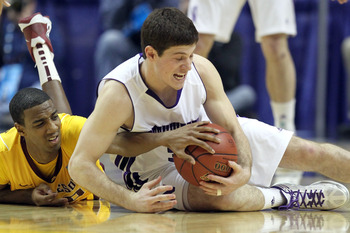 Andy Lyons/Getty Images
Dave Sobolewski giveth, Dave Sobolewski taketh away.
As a freshman point guard in the Big Ten, Sobolewski's command of the ball was quite impressive. He committed only 1.4 turnovers per game, compiling an assist/turnover ratio of 2.6. The latter figure ranked in the top 30 nationwide.
Now for the bad news.
To say Sobolewski couldn't always shoot straight would be a mild understatement. Even with John Shurna and Drew Crawford around to draw defenders, Sobolewski ended the season shooting less than 40 percent from the floor. He suffered through a seven-game stretch in which he shot 11-for-45, then ended the season in a 9-for-36 funk over his final seven games.
With Shurna gone, that kind of offensive impotence will not be acceptable. He can shoot when he's got open looks, as a 14-for-28 stretch of three-point shooting in February indicates, but if he couldn't get enough of those looks running alongside the Wildcats' all-time scoring leader, will he get them this season?
7. Julian Welch, Minnesota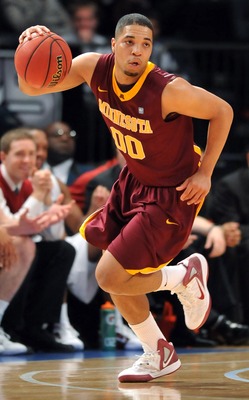 Jason Szenes/Getty Images
NIT runner-up Minnesota is an intriguing sleeper in next year's Big Ten race, losing only disappointing big man Ralph Sampson III and regaining medical casualty Trevor Mbakwe for a sixth season of eligibility. Rising senior point guard Julian Welch will have no shortage of talented and experienced teammates to set up.
Welch started 20 of 36 games last season as Tubby Smith tried to settle on a rotation following Mbakwe's injury. At times, Welch functioned as more of a scoring option than a distributor, scoring in double figures 21 times.
The Gophers had a 13-8 record in Welch's nights of 10-plus points, but they went only 2-5 in games where Welch recorded five or more assists.
His season was still a strong one, according to the Minnesota record books. His .438 three-point percentage ranks third in school history, and he became only the seventh Gopher ever to record 300 points and 100 assists in the same season.
With Mbakwe returning as a focal point of the offense and the breakthrough of forward Rodney Williams, Welch should be able to raise his assist numbers while still finding his share of shots. He may rank at season's end with the likes of Trey Burke and Tim Frazier in terms of point guard scoring.
6. Josh Gasser, Wisconsin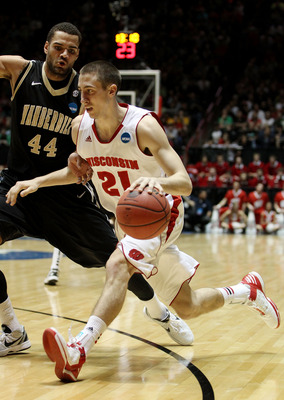 Christian Petersen/Getty Images
Replacing a player who was an icon to his program the way Jordan Taylor was to Wisconsin is a daunting task. Luckily, the Badgers have the opportunity to turn to a player with two years of starting experience.
Josh Gasser would usually run the point when Taylor took his rare moments of rest, and now, he may have the chance to do so full-time.
Gasser was a high school point guard, albeit one who found the time to drop in 24 points per game. At only 6'3", he's tenacious enough to compete on the boards, averaging around four rebounds per game so far in his career. On January 23, 2011, he became the first Badger ever to card a triple-double, the first Big Ten freshman to do so since Magic Johnson.
His time as a shooting guard has allowed him to hone his stroke, improving to 45 percent from deep after shooting 30 percent as a freshman.
Gasser would rank much higher on this list except for the fact that he hasn't been in charge of the offense often in his past two seasons. If he moves to the point ahead of redshirt freshman George Marshall, don't be surprised if Gasser's a dark-horse candidate for All-Big Ten honors by season's end.
5. Yogi Ferrell, Indiana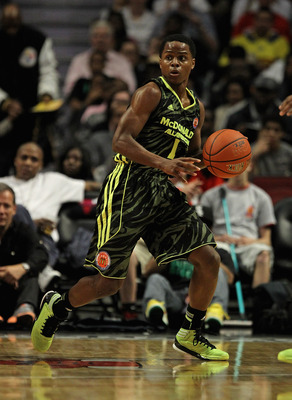 Jonathan Daniel/Getty Images
Purdue and Iowa are expected to feature freshman point guards and are projected for middle-of-the-pack finishes in the Big Ten next season. Indiana's likely to start a freshman floor general and is a preseason Final Four favorite.
Therein lies the difference between good players and McDonald's All-Americans like Kevin "Yogi" Ferrell.
Yogi enters college expected to fill what may have been Indiana's major weakness last season, the lack of a truly dynamic playmaker to run the offense. Verdell Jones, Jordan Hulls and others did their best, but none were threats for the Cousy Award.
Ferrell acknowledges that there is work to be done, such as improving his strength and finishing around the rim. The more often he can break down defenses, the easier shots he'll create for teammates like Hulls, Christian Watford and Cody Zeller.
Considering the amount of offensive talent that will be running alongside Ferrell, it's not a stretch to predict that he'll lead the Big Ten in assists as a freshman.
4. Keith Appling, Michigan State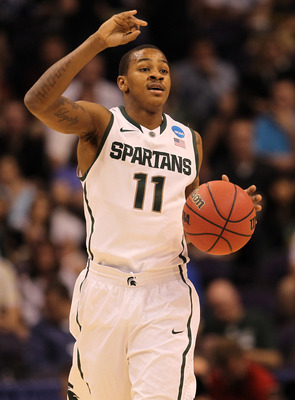 Jamie Squire/Getty Images
With the ultimate Spartan, Draymond Green, headed to the NBA, next year's Michigan State team is Keith Appling's to lead. For a player entering only his second season as a point guard, that sounds like a tall order.
As a freshman, Appling was a gunner off the bench, making more than half of his shots from behind the arc. Last season, pushed into a new role in the face of Tom Izzo's typically brutal non-conference schedule, Appling predictably struggled.
His distributing numbers never did heat up, but that can be written up to Green's ability to set up others, leaving Appling with a lot of what hockey fans call "secondary assists." Unfortunately, basketball scorekeepers only credit one guy with an assist on any given play.
Appling always has the potential for a game like last season's conference opener against Indiana in which he recorded 25 points and seven assists. With four heralded freshmen, as well as returnees like Derrick Nix and Branden Dawson, joining him on the Breslin Center court, Appling may not need to score 25, but the seven assists could become routine.
If Appling can set that kind of table, the Spartans could find themselves booking Final Four reservations one of the next two seasons.
3. Aaron Craft, Ohio State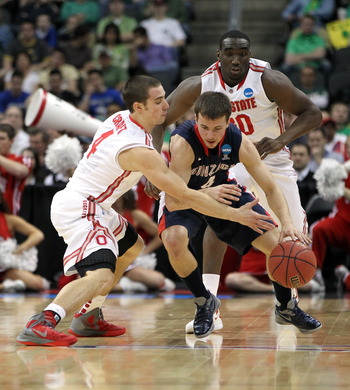 Gregory Shamus/Getty Images
For two seasons, Aaron Craft has established himself as a vicious defender who hasn't had to expend a lot of energy looking for his own shot.
Next season, that may have to change.
William Buford and Jared Sullinger were responsible for 32 points per game and a total of 928 shot attempts. While Deshaun Thomas has never met a shot he didn't like, he can't make up for all 928, so players like Craft, Lenzelle Smith and Amir Williams will have to make up the slack.
Craft has been a decent shooter, recording an effective percentage of 55.0 last season and a career mark of 36.8 percent on his three-point attempts. He'll need to prove that he can maintain those percentages as a second or third option as opposed to the fourth or fifth option that he was with Sullinger and Buford around.
Even if he can't, his distributing and defense alone will keep him in the All-Big Ten conversation, as they have in his first two years in Columbus.
2. Trey Burke, Michigan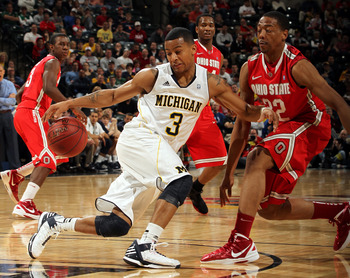 Jonathan Daniel/Getty Images
Trey Burke's numbers in his freshman season were solid: 14.8 points, 4.6 assists and 3.5 rebounds per game. One number was a real eyebrow-raiser, though.
That's 36.1, the number of minutes per game Burke played.
Michigan coach John Beilein enters next season in the unusual position of trying to cut his star player's minutes. With Michigan harboring Final Four aspirations next season, Beilein wants to make sure Burke doesn't echo last season's closing fade.
Burke shot a combined 6-for-26 from the floor in Michigan's Big Ten and NCAA tournament losses, 2-of-16 from long range. He'll need to keep his legs under him in March.
Freshmen Mitch McGary, Nik Stauskas and Glenn Robinson will help with the scoring load, as will Burke's returning backcourt mate Tim Hardaway. Still, freshman Spike Albrecht may be more important than anyone, as he's in line to be Burke's primary relief.
The need to save Burke's legs may be the one thing that keeps him from being the Big Ten's most productive point guard. He's still by far the best pro prospect of the group, though.
1. Tim Frazier, Penn State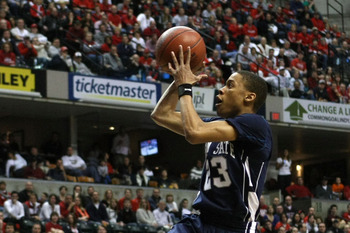 Chris Chambers/Getty Images
Tim Frazier has none of the problems facing Trey Burke this season. There's no need for Penn State coach Pat Chambers to save him for March because a tournament berth would be a major stunner.
A first-team All-Big Ten selection on a team that was 4-14 in conference play tells the unbiased observer all they need to know about how Frazier played for the Nittany Lions last year. He led the team in scoring, rebounds, assists and steals, ranking first or second in the league in all but boards.
Frazier made more field goals than any two of his teammates, only two of whom shot better than 45 percent. He made more free throws than the next three Lions combined.
His game was certainly more about volume than efficiency, but averaging six assists per game with an absolutely pathetic collection of shooters around him is the mark of a true playmaker.
His three-point shooting, never great, became absolutely lethargic last season at 31.4 percent, a function of shooting a lot with hands in his face. Occasionally, turnovers could plague Frazier when he tried to do too much with the ball, being the only one who could.
If anyone else can contribute offensively, Frazier should be able to take fewer contested jumpers and be forced into fewer wild mistakes. A more efficient offense could help Penn State exceed all expectations.
Six conference wins, anyone?
Keep Reading