From Teammate to Coach: Dickerson's Resilience Helps Shape Len Bias's Legacy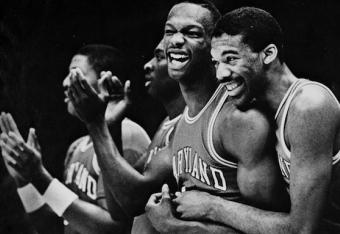 Len Bias shares a happy moment with his Maryland teammates.

Of all the people derailed by the death of Len Bias—friends, family and fans, who knew of his skills but little about his life—few confronted the seemingly immovable force that was the aftermath of Bias' death as intimately and incessantly as teammates who were rising sophomores when he died in 1986.
They endured the worst of the wrath and confusion that followed, from taunts by opposing fans to a lack of support and the quick passing of judgement by schoolmates who thought they were all drug abusers and cheats.
For three years they played for a new coach, Bob Wade, who by the time they were seniors, left the team in tatters. Wade's teams finished 36-50 and soon after the next coach, Gary Williams, took over the program, the NCAA imposed sanctions as punishment for violations by Wade.
As a testament to their resolve, four of them earned undergraduate degrees.
When one of the players, Dave Dickerson, entered Maryland, he wanted to be mayor of his hometown of Olar, S.C. Instead, he has become a prominent college coach. Now entering his third year as a men's assistant at Ohio State, Dickerson was an assistant at Maryland for nine years, helping the Terrapins win the national title in 2002.
Dickerson's story is perhaps the most enduring of the team when Bias died, and he used his experiences as a Maryland player to help deal with a rare predicament as a head coach at Tulane.
Dickerson took over a Tulane team that finished 10-18 its previous season. The task was made more formidable after Hurricane Katrina overwhelmed New Orleans and rendered the Tulane campus unusable, sending the men's basketball squad and five other school teams to the campus of Texas A&M University in College Station.
Dickerson and his staff worked out of their apartments in College Station until they could set up an office in an old room in the football stadium. Dickerson had to think of ways to keep his players focused on basketball rather than on personal hardships. He told them about Len Bias.
"I told them the story about sticking with the University of Maryland and not transferring and weathering the storm, and look where it got me," he told me when I wrote my recent book Born Ready: The Mixed Legacy of Len Bias. "Without that story, I think I would have lost half my team. They had to remain loyal to a coach who hadn't recruited anyone on that team. I told them what happened and what type of player Bias was. I told them, to this day, he was the best player I played with or against, or saw during my coaching career. The Len Bias story was the catch to get their attention, to get guys to be loyal, maintaining the course and yes, there will be some ups and downs, tragedies here and there. We needed to continue to work and stick together."
Tulane finished 12-17 in that dislocated season, followed by records of 17-13 and17-15—the team's first consecutive winning seasons in 11 years. But the program struggled with losing records the next two years, and after the 2010 season, Dickerson resigned, never having led Tulane to a postseason tournament.
Dickerson considers Bias a role model.
"Role models don't always make the right decisions," he says. I'm surprised the Len Bias story is not being told on a yearly basis when new athletes come into college, or in high school. The Len Bias story is one of the better stories you can use to get an individual or team to do the right thing."
Bias died 26 years ago on June 19. The lessons from his death linger, in the lives of Dickerson and others.
This article is
What is the duplicate article?
Why is this article offensive?
Where is this article plagiarized from?
Why is this article poorly edited?