8 Mid-Majors Destined for Big Runs in 2013 NCAA Men's Basketball Tournament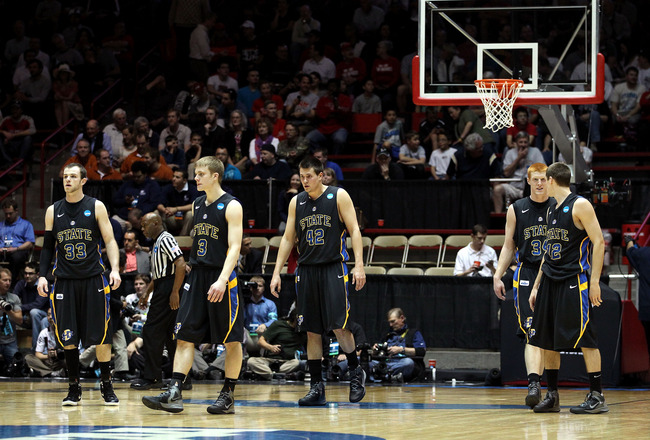 Christian Petersen/Getty Images
When it comes to the 2013 NCAA Tournament, mid-majors may be the most intriguing teams in the field.
Yes, we are in June and it is a long way until next March, but considering the success that a number of the smaller schools had in the 2011-2012 season, an early look never hurt anybody.
Schools such as Ohio, Saint Louis, Lehigh and Norfolk State all made their mark in the 2012 tournament. Sometimes it's knocking off a No. 2 seed, which both Lehigh and Norfolk State did by beating Duke and Missouri, respectively. Other times, it's giving a perennial power a scare like Saint Louis giving Michigan State a run for their money. Or it could be a team making it to the Sweet 16 when it wasn't expected to get out of the first round—Ohio took out Michigan and South Florida before eventually falling to North Carolina last year.
Mid-majors are the teams that should be feared and respected when it comes time to battle for the national championship in April.
Given the past success of mid-majors such as George Mason, VCU and Butler, picking smaller teams to upset larger, big name schools has become the interesting thing to do. In 2013, it will be no different.
With a number of small schools starting to come along, a few stand out as teams that can and will give America something special to watch in the 2013 NCAA tournament.
Here are eight mid-majors that are poised to make a run in next year's tournament.
Davidson Wildcats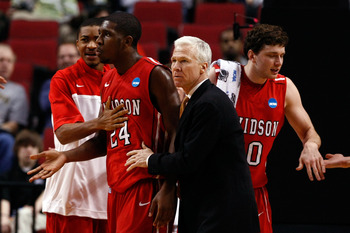 Jonathan Ferrey/Getty Images
2012 Tournament Finish: No. 13 seed; lost to No. 4 seed Louisville 69-62 in second Round
Key Losses: None
Key Returners: De'Mon Brooks - 15.7 points, 6.2 rebounds, 50 percent field goals, 37 percent three-pointers
Jake Cohen - 14.3 points, 6.1 rebounds, 87 percent free throws, 36 percent three-pointers
Nik Cochran - 10.9 points, 2.8 rebounds, 3.6 assists, 88 percent free throws, 37 percent three-pointers
2012-13 Outlook:
For the Davidson Wildcats, next season will be about not letting last season's success get to their heads. With a 25-8 overall record and a 16-2 conference record, the Wildcats are poised to return to the NCAA Tournament in 2013 with an identical record.
Coach Bob McKillop returns his top three players in Brooks, Cohen and Cochran. Brooks' athleticism and scoring presence is crucial for the Wildcats as they look to come off of their loss to Louisville in the second round and pull off a few wins in a row, something they haven't done since the days of Stephen Curry.
With the firepower that Davidson has returning, not only should they be right back into the tournament, but they could also make some noise once they arrive.
UNLV Runnin' Rebels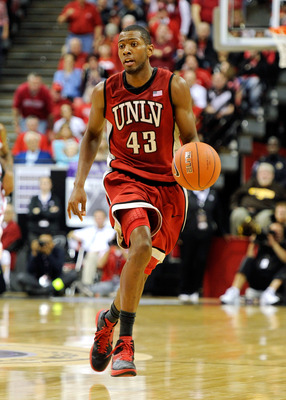 Ethan Miller/Getty Images
2012 Tournament: No. 6 seed; lost to Colorado 68-64 in second Round
Key Losses: Chace Stanback - 12.5 points, 45 percent three-pointers
Key Returners: Mike Moser- 14 points, 10.5 rebounds, 45 percent field goals
2012-13 Outlook:
Luckily for UNLV, Mike Moser decided to return to school when many thought he would leave after the terrific season he had in 2012. Moser's production carried the Rebels to a 26-9 record in the tough Mountain West that saw New Mexico make an amazing run at the tail-end of the season to capture the conference championship.
Along with Moser, UNLV brings in a loaded recruiting class headlined by Anthony Bennett out of Findlay Prep and Katin Reinhardt out of Mater Dei High School, two powerhouse high school basketball programs.
With the season they had last year combined with the very slim possibility they see a team as hot as New Mexico was last season, UNLV has reloaded and is looking to overcome their early exit in the 2012 tournament against Colorado.
Look for Moser and the Rebels to make some waves.
Saint Louis Billikens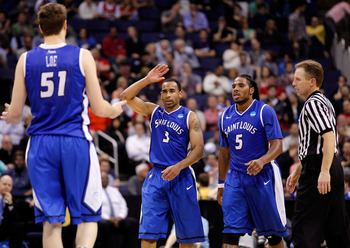 Rob Carr/Getty Images
2012 Tournament Recap: No. 9 seed; lost to No. 1 seed Michigan State 65-61 in third Round
Key Losses: Brian Conklin - 13 points, 50 percent three-pointers
Key Returners: Kwamain Mitchell - 12.4 points, 44 percent field goals
2012-13 Outlook:
For Saint Louis under Rick Majerus, it's a matter of finding a team identity. During their run in the 2012 tournament, they became known as the young team that prided themselves on defense.
In their second round game against Memphis, the Billikins held the Tigers to 54 points, a season low. They even held down the powerful Michigan State team to 61 points, causing a panic in Spartan Nation for most of the third round game. Eventually, Michigan State did pull off the win, but Saint Louis earned the respect from Tom Izzo's squad by the end of it.

Saint Louis loses veteran leader Brian Conklin to graduation this season, but they retain Kwamain Mitchell to provide the scoring punch on offense. On the defensive side, Jordair Jett returns to help pressure opposing guards along the perimeter, something he showed America that he can do in last year's tournament.
Saint Louis has learned last year that they have the tools to be successful and now look to duplicate that success again in 2013.
Creighton Bluejays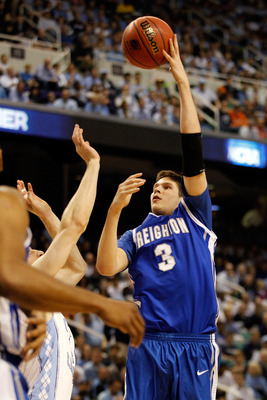 Streeter Lecka/Getty Images
2012 Tournament: No. 8 seed; lost to No. 1 seed North Carolina 87-73 in third round
Key Losses: Antoine Young - 12.1 points, 4.5 assists
Key Returners: Doug McDermott - 22.9 points, 8.2 rebounds
2012-13 Outlook:
Creighton was an early-season favorite to take home the Missouri Valley Conference Championship in 2011 and the Bluejays didn't disappoint.
Even though there were a few stumbles along the way, Creighton, led by All-American Doug McDermott, ran through most of their competition on their way to the NCAA tournament where they engaged in two of the most exciting games of the tournament.
First, they survived a nail-biter against Alabama in a game that came down to the final seconds. Then Creighton and opponent North Carolina put on offensive clinics only for the Bluejays' efforts come up short as the Tar Heels' loaded roster was just too much to handle in the end.
McDermott returns for his junior season for Creighton, meaning that they already have an All-American in their back pocket. Losing Young does hurt, but this gives other players a chance to step up into the spotlight.
If those players do step up in a big way, Creighton will be a dangerous team in the NCAA Tournament once again in 2013.
Murray State Racers
Andy Lyons/Getty Images
2012 Tournament: No. 6 seed; lost to No. 3 seed Marquette 62-53 in third round
Key Losses: Donte Poole - 14.0 points, 3.6 rebounds, 85 percent free throws
Ivan Aska - 10.6 points, 6.0 rebounds, 46 percent field goals
Key Returners: Isaiah Canaan - 19.0 points, 3.5 rebounds, 3.6 assists
2012-13 Outlook:
Murray State was college basketball's surprise team of the 2012-13 season. Not only did the Racers come out with an amazing 30-2 record, but Canaan also made a name for himself, exploding onto the scene averaging 19 points per game.
Aside from Canaan, Poole and Aska provided most of the offensive punch. However, Poole and Aska are now gone, leaving Canaan with little options for help.
With the absence of Poole and Aska, players such as Edward Daniel and Jewuan Long will be asked to step up for the Racers if they want to repeat the miracles season they had last year. If those two can come up with their potential offensive output, add Canaan's emerging play and the Racers will be tournament-bound once again, where they will potentially race to a Sweet 16 berth.
Drexel Dragons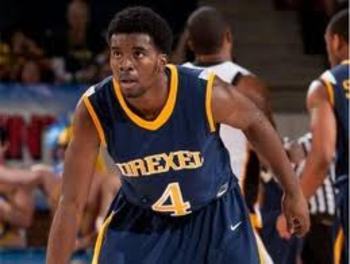 2012 Tournament: Missed tournament. Lost in NIT Quarterfinals against Massachusetts 72-70
Key Losses: Samme Givens - 11.6 points, 7.9 rebounds, 52 percent field goals

Key Returners: Frantz Massenat - 13.7 points, 4.8 assists, 45 percent three-pointers
Damion Lee - 12.0 points, 4.4 rebounds, 45 percent field goals
2012-13 Outlook:
Drexel fell to the stigma of "if you don't win your conference tournament, you are not guaranteed a spot in the NCAA Tournament no matter how good your record is" that the NCAA Selection Committee likes to apply to mid-major schools in lesser-appreciated conferences.
Touted with a top-tier player in Massenat and a 29-7 record, including a 16-2 Colonial Conference record, the Dragons saw their marvelous season end in the NIT as opposed to the NCAA Tournament, something many felt was one of the biggest omissions from this season's selections.
2013 should be a different story for Drexel as they return most of their 2012 squad, including Lee and Massenat.
Drexel will be looking to avenge the shaft they were given last season, meaning that come tournament time, any team scheduled to play them should beware of the fire that burns inside the Dragons.
Ohio Bobcats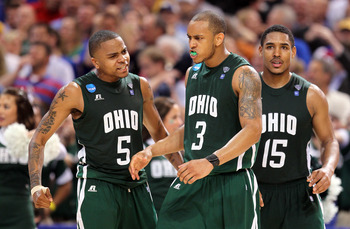 Andy Lyons/Getty Images
2012 Tournament: No. 13 seed; lost to No. 1 seed North Carolina 73-65 in Sweet 16

Key Losses: None
Key Returners: DJ Cooper - 14.7 points, 3.7 rebounds, 5.7 assists
Walter Offutt - 12.4 points, 3.6 rebounds, 38 percent three-pointers
2012-13 Outlook:
Watching the Ohio Bobcats make it to the Sweet 16 and give North Carolina a run for their money to possibly sneak into the Elite Eight was a nice story for college basketball fans all over the country.
However, this season's Bobcats team has a chance to do so much more with the talent they return. Along with Cooper and Offutt, Ohio also returns outstanding role players in Nick Kellogg and Reggie Keely helping to solidify their starting rotation against the best.
Ohio shocked everyone by making it as far as they did in the 2012 tournament. Imagine how far they can get when they will likely be favored in most of their games now.
South Dakota State Jackrabbits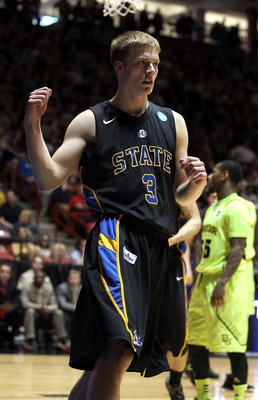 Christian Petersen/Getty Images
2012 Tournament: No. 14 seed; lost to No. 3 seed Baylor 68-60 in the second round
Key Losses: Griffan Callahan - 10.4 points, 4.7 rebounds, 40 percent three-pointers
Key Returners: Nate Wolters - 21.2 points, 5.1 rebounds, 5.9 assists
Jordan Dykstra - 11.3 points, 4.9 rebounds, 47 percent three-pointers
2012-13 Outlook:
The South Dakota State men's basketball team earned a trip to the NCAA Tournament for the first time in program history. Led by a magical run in the Summit League Conference Tournament and stellar play from soon-to-be national phenomenon, Nate Wolters, the Jackrabbits had a fantastic 2011-12 campaign that saw them post a 27-8 record.
The loss of Callahan will be felt as his leadership and production were relied upon heavily throughout his entire career. However, the rest of the roster has all the tools to not only duplicate their success from last season, but potentially see even more of it in 2012-13.
What SDSU was able to do against the heavily favored, highly athletic Baylor Bears in the second round was nothing short of remarkable. They came out of the gates firing on all cylinders and kept with Baylor until the final seconds.
In Wolters, the Jackrabbits have a player who is slowly developing a sort of cult-type following that resembles the flock of Jeremy Lin and Tim Tebow fans. By the end of the year, the whole country could be clamoring to see more of this young man and the team he plays for.
Summit League competition will be without conference power Oral Roberts as they leave for the Southland Conference beginning next season. With their departure, SDSU will be the heavy favorites to win the conference and return to the NCAA Tournament. Regardless of what the conference RPI may say at the end of the season, the Jackrabbits have the roster to play with the best of them and will get their chance in the 2K Sports Classic tournament in November.
If there is one team that has the potential to be one of the top mid-majors in the entire country next season, it's the South Dakota State Jackrabbits.
Keep Reading