Where in the World Did College Basketball's 2009 Recruiting Class Go?
Jim McIsaac/Getty Images

The recruiting game in college basketball has changed.
Not too many years ago, recruiting was about securing a group of players who would work together, play together and grow up together.
Recruiting now is more about assembling a core of elite players who can jell quickly before some of the individuals starting heading on to play at the next level.
The recruiting class of 2009 should be the collection of experienced seniors who are getting ready to lead their team to success in the 2012-13.
It doesn't take long to see that a overwhelming portion of the best recruiting classes of four years ago are nowhere to be found in college hoops.
Let's take a quick look at what is left of ESPN.com's top 10 recruiting classes of 2009.
Like me, you might be shocked at what remains.
Begin Slideshow

»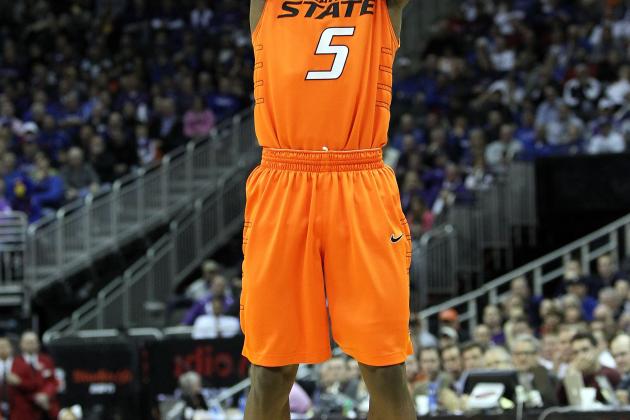 Jamie Squire/Getty Images

OSU's 2009 Recruiting Class
Raymond Penn - PG
Roger Franklin - SF
Torin Walker - C
Reger Dowell - PG
Jarred Shaw - C
Fred Gulley - PG
When a school secures a large class like this, it's easy to envision them being the future core of a championship team.
As of this past season, only two of Oklahoma State's Class of 2009 were on the Cowboys roster.
Of the two, Reger Dowell (pictured) played 11 games in the 2011-12 season before transferring.
Fred Gulley played eight games before he transferred to Arkansas.
Travis Ford, OSU's head coach, has to be saying, "What in the world happened?"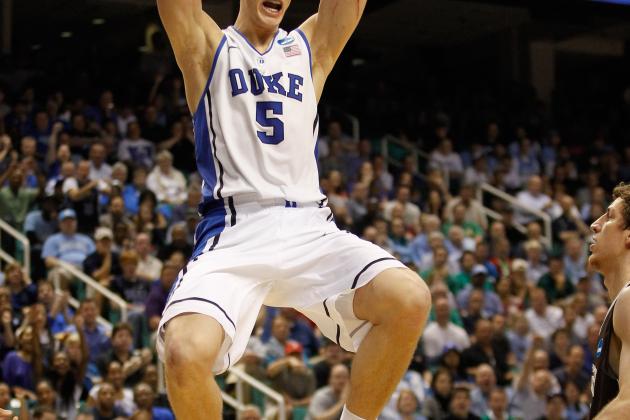 Streeter Lecka/Getty Images

Duke's 2009 Recruiting Class
Mason Plumlee - C
Ryan Kelly - PF
Seth Curry - SG
Andre Dawkins - SG
In complete contrast with Oklahoma State, Duke's Class of 2009 is 100 percent intact.
Mason Plumlee considered entering the 2012 NBA draft, but later decided to come back to Durham for his senior year.
Seth Curry was not a high school commitment to Duke in 2009. He transferred from Liberty.
While this group may lack a genuine star player, they may be one of the best overall senior classes in the nation.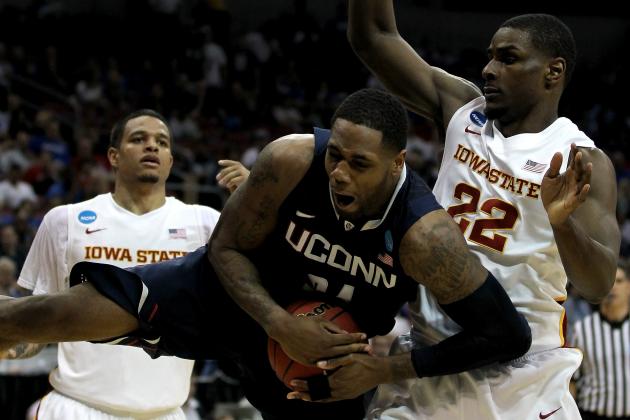 Jonathan Daniel/Getty Images

UConn's 2009 Recruiting Class
Alex Oriakhi - C
Jamal Coombs-McDaniel - SF
Darius Smith - PG
Jamaal Trice - SG
Another story of a scattering class.
Coombs-McDaniel is now playing for Hofstra.
Jamaal Trice moved on to Midland College and is now at Appalachian State.
Alex Oriakhi (pictured) was a key part of UConn's 2011 national championship team. He was the only player of this recruiting class still playing for Jim Calhoun this past year.
Shortly after the conclusion of the 2011-12 season, Oriakhi decided to transfer and will be playing his senior season at Missouri.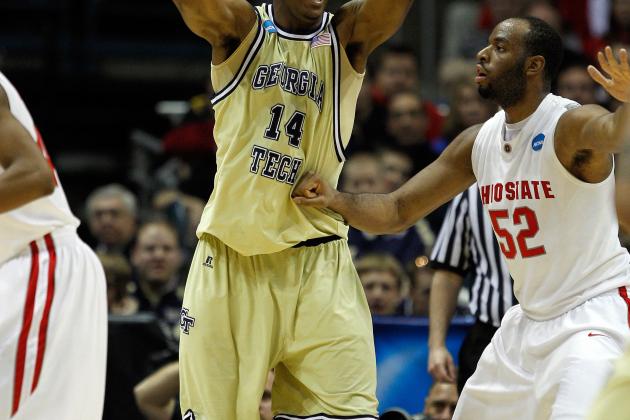 Jonathan Daniel/Getty Images

Georgia Tech's 2009 Recruiting Class
Derrick Favors - PF
Mfon Udofia - PG
Kammeon Holsey - PF
Daniel Miller - C
Glen Rice, Jr - SG
Brian Oliver - SF
After an exceptional freshman season, Derrick Favors (pictured) was named the ACC Rookie of the Year and then entered the 2010 NBA draft after playing one year for GT.
Brian Oliver, after two solid seasons at Tech, transferred to Seton Hall.
Rice, Udofia, Holsey and Miller were the Yellow Jackets' top four scorers this past season.
But, after a rocky junior season, Rice has decided to transfer.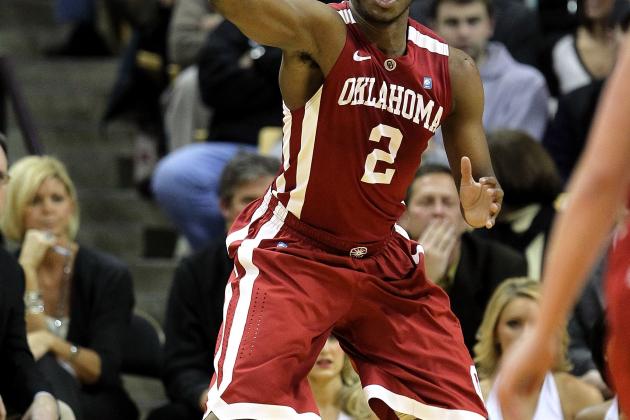 Jamie Squire/Getty Images

Oklahoma's 2009 Recruiting Class
Keith Gallon - C
Tommy Mason-Griffin - PG
Andrew Fitzgerald - PF
Steve Pledger - SG
Kyle Hardrick - PF
After the success that the Sooners had during the Blake Griffin era, this class was supposed to sustain the momentum.
Unfortunately, three of the five (Gallon, Mason-Griffin and Hardrick) left the program. Gallon's departure was connected with NCAA infractions relating to taking money.
Pledger (pictured; leading scorer in 2011-12 with 16.2 ppg) and Fitzgerald (12.1 ppg) are not only still in the program, but they are part of a solid core that returns for Lon Kruger.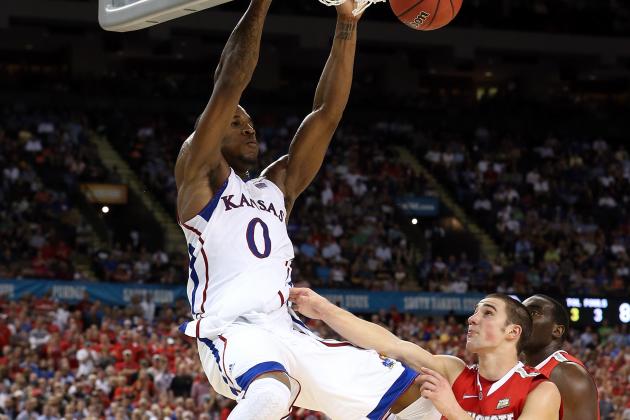 Jeff Gross/Getty Images

Kansas' 2009 Recruiting Class
Xavier Henry - SG
Jeff Withey - C
Elijah Johnson - PG
Thomas Robinson - PF
C.J. Henry - PG
Very nice class.
Xavier Henry played one year and moved onto to the NBA. His brother C.J. left the program to play at Southern Nazarene University.
Even with the Henry brothers' departures, this recruiting class played a big role in the Jayhawks making their run to the 2012 NCAA championship game.
Thomas Robinson was a unanimous All-American selection. Jeff Withey provided tough interior defense, rebounding and shot-blocking.
Johnson was an effective slasher who stepped up his game during March Madness.
Out of the three, only Robinson is leaving school to enter the NBA draft.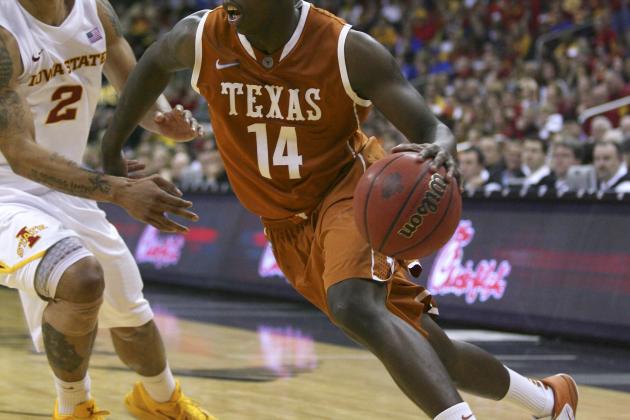 Ed Zurga/Getty Images

Texas' 2009 Recruiting Class
Avery Bradley - SG
Jordan Hamilton - SF
Shawn Williams - SF
J'Covan Brown - SG
Jai Lucas - PG
This was an ultra-talented group of recruits that inspired Final Four dreams among Longhorn Nation.
Avery Bradley had an outstanding freshman season and then moved on to play in the NBA.
After two solid seasons in Austin, Jordan Hamilton was a late first-round draft pick.
Shawn Williams never got on track at Texas, and transferred.
J'Covan Brown was the Big 12 leading scorer (20.1 ppg) this past season. He is leaving school to enter the 2012 NBA draft.
Jai Lucas had transferred from Florida, played two years at UT and is now playing in Europe.
Bottom line: All of these players are gone.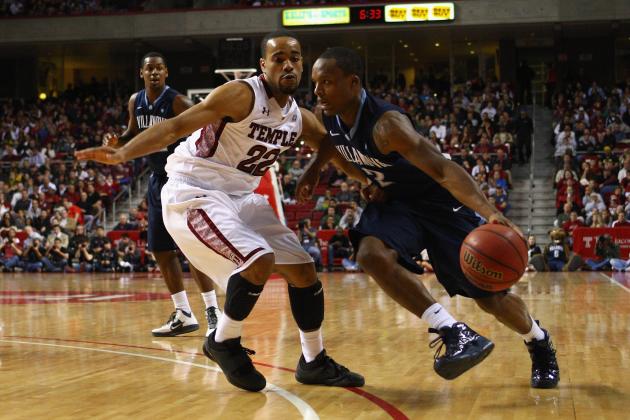 Chris Chambers/Getty Images

Villanova's 2009 Recruiting Class
Mouphtaou Yarou - PF
Dominic Cheek - SG
Maalik Wayns - PG
Isaiah Armwood - PF
Expectations were high when Jay Wright put this outstanding class together.
They all played nice roles off the bench immediately.
This past season was a disappointing one for Nova (13-19; 14th place in the Big East).
Maalik Wayns (pictured) was the Wildcats' leading scorer (17.6 ppg) and assists man (4.6 apg). He is leaving school and entering the 2012 NBA draft.
Yarou (11.3 ppg; 8.2 rpg) and Cheek (12.5 ppg) return to provide senior leadership to a team that has the talent to be much improved in 2012-13.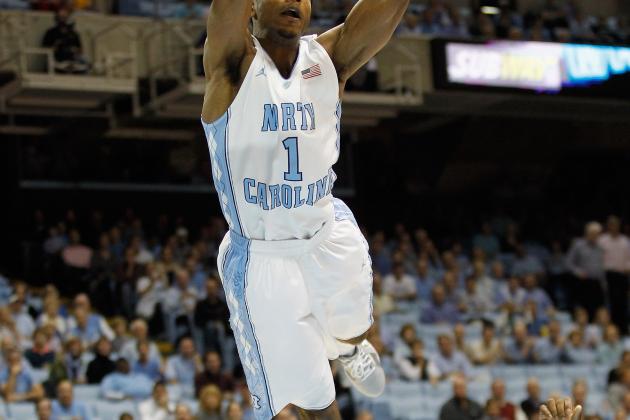 Streeter Lecka/Getty Images

North Carolina's 2009 Recruiting Class
John Henson - PF
Dexter Strickland - SG
Leslie McDonald - SG
David Wear - PF
Travis Wear- PF
Roy Williams pulled in lots of length and size in this class.
John Henson has had three super seasons in Chapel Hill. Following this past season, Henson declared that he is leaving school and entering the 2012 NBA draft.
Strickland and McDonald were supposed to play key roles on the 2011-12 Tar Heels team that was selected as the preseason No. 1 by ESPN.com.
However, McDonald got hurt last summer and was out for the entire season.
Strickland started the first half of 2011-12 before blowing out his knee, which sidelined him for the rest of the year.
The Wear twins never caught on at UNC. They both transferred to UCLA.
Williams hopes that Strickland and McDonald return to 100 percent for the upcoming season so that they can provide leadership to what will be an inexperienced team.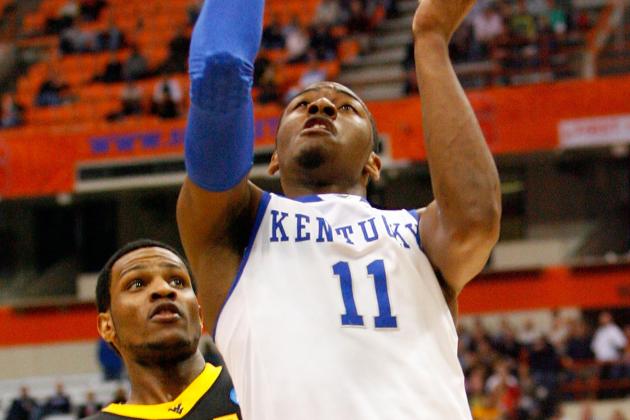 Chris Chambers/Getty Images

Kentucky's 2009 Recruiting Class
John Wall - PG
DeMarcus Cousins - C
Daniel Orton - C
Darnell Dodson - SF
Jon Hood - SF
Eric Bledsoe - PG
John Calipari took the UK head coaching job at the conclusion of the 2008-09 season and still put together this No. 1 recruiting class.
Wall, Cousins, Orton and Bledsoe each played a single season in Lexington, and then left school and were drafted in the first round of the 2010 NBA draft. Impressive.
JUCO transfer Dodson left Kentucky and landed at Southern Mississippi.
Jon Hood played minimally during his first two seasons at Kentucky before missing all of last year because of injury.