NBA Draft 2012: 5 Reasons Jared Sullinger Will Be a Bust as a Pro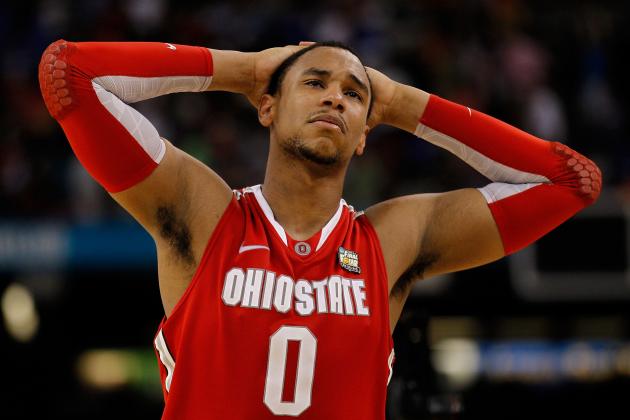 Chris Graythen/Getty Images

Jared Sullinger was a stud freshman who burst onto the scene with the Ohio State Buckeyes and became an instant star.
But when he surprised everyone and returned to Ohio State for his sophomore season, Sullinger's star began to dim.
He will still likely be a Top 10 pick in this year's NBA Draft, but an uninspiring sophomore season raises questions about how effective Sullinger will be at the next level.
And those questions are more than valid.
The skills that Sullinger displayed in college will not translate to a successful professional career.
Sullinger was great at Ohio State, but it takes a different level of playmaking to succeed in the NBA. So far, Sullinger has not proved that he has what it takes.
His lack of size, poor athleticism and continued conditioning issues indicate that Sullinger will not reach the heights many predicted after his stellar first year campaign.
Begin Slideshow

»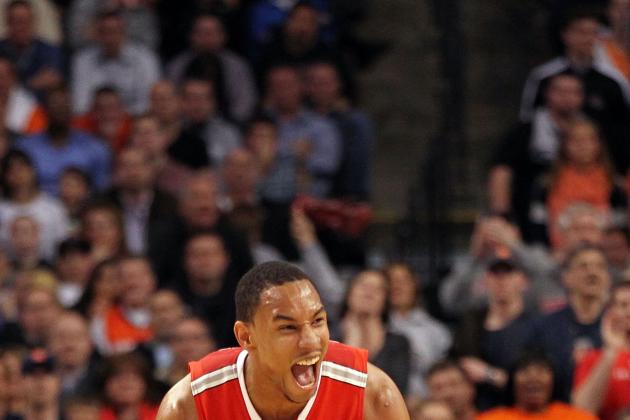 Jim Rogash/Getty Images

At 6'9" and somewhere between 265 and 280 pounds, Jared Sullinger has the height of a small forward or a power forward in the NBA, but the body of a burly center.
Truth be told, he really does not fit into any position with his body type.
Sullinger is great at backing down defenders and has a solid low post game, but when matched up with long, tall big men, he struggles with his shot.
In Sullinger's last college game for the Ohio State Buckeyes, Jeff Withey of the Kansas Jayhawks harassed him into a 5-for-19 shooting performance. Sullinger was bothered by Withey's length the entire game.
He is simply not tall enough to be able to shoot over bigger defenders. When matched up with someone of Withey's size, Sullinger is forced to use his hook shot or turnaround jumper more frequently, which are simply not as effective shots.
If placed out on the perimeter, Sullinger is able to be effective facing the basket, but simply is not quick enough to get by smaller defenders.
Unless Sullinger can figure out how to use his strength to get good position while still finishing over taller defenders, he will have limited skills as a pro.
True centers have proven valuable in the NBA in recent years, but unfortunately, Sullinger does not fit the mold.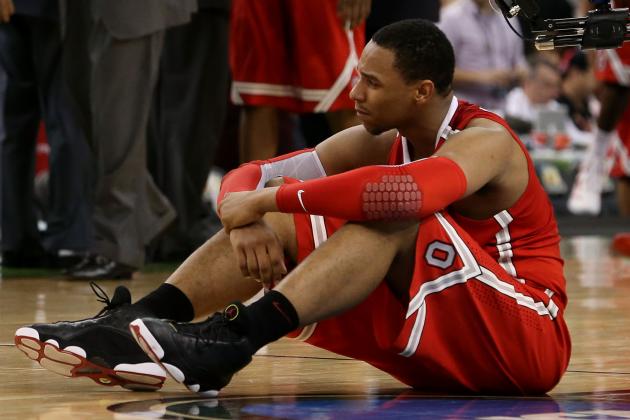 Jeff Gross/Getty Images

If a player wants to show that he can overcome physical disadvantages and be dominant no matter what, he must truly show that he is a force to be reckoned with in college.
Jared Sullinger did just that in his freshman season, and his play resulted in his being projected as a solid Top 3 pick, if not first overall.
But in returning for his sophomore season, Sullinger basically set himself up for a letdown. For Sullinger to prove that he would be a great player in the pros, he needed to continue the domination that he displayed last year.
While his stats were virtually identical in his two seasons of college, Sullinger was simply not the do-everything, take-over-games player that he was in his first year.
The reason for his slide is that teams learned how to defend him. If after just one season, teams have found a way to successfully defend Sullinger, that does not bode well for his professional future.
Teams continually harassed Sullinger in the post, slapping at the ball and forcing him to shoot over multiple defenders. As a result, Sullinger would get frustrated, turn the ball over and become a much less effective offensive player.
Sullinger scored 17.2 points per game his freshman season and 17.5 his sophomore year, but his shooting percentage declined by almost four percent. Sullinger was shooting just a shade over 50 percent, which, for a center, is not great.
Instead of proving to the college basketball world that his freshman campaign was not a fluke, Sullinger instead indicated that he would not be the same productive player at the next level.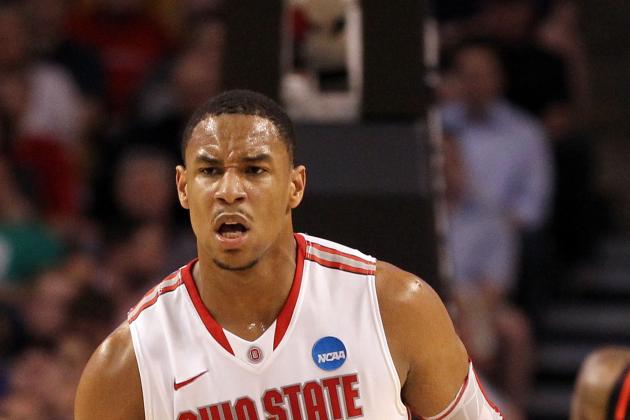 Jim Rogash/Getty Images

Throughout his time with the Ohio State Buckeyes, Jared Sullinger struggled with conditioning.
In his freshman season, his doughy frame caused him to get tired more quickly in games and limited his explosiveness.
In the offseason, Sullinger responded by losing 15 pounds, but still could not consistently stay in shape.
A back injury caused Sullinger to miss two games at the beginning of the season. If he does not get himself in shape for an NBA training camp, he could risk injuring himself again. The games and season are both longer at the next level, and if Sullinger is not physically ready, his body will not hold up.
At Ohio State, Sullinger undoubtedly had specific coaches who worked with him individually on his diet and conditioning. But what will happen at the next level?
Yes, the NBA has tons of nutrition and conditioning specialists as well, but Sullinger will be left much more to his own devices. This time around he must seek out help instead of getting it automatically.
Sullinger will also be on his own for the first time, and with that comes duties like grocery shopping, cooking dinner and eating meals alone.
Will Sullinger have the discipline to eschew McDonald's in favor of steamed vegetables? All past indications point to no.
And if Sullinger is not in shape enough to stay on the court for long stretches of time, it will be that much harder for him to impress NBA coaches.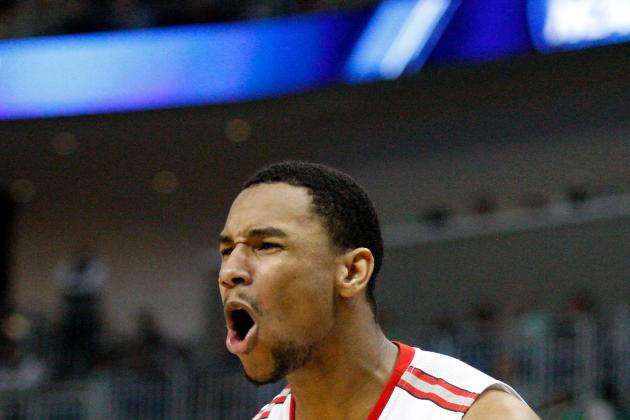 Jared Wickerham/Getty Images

Jared Sullinger is a strong, big-bodied guy who uses his strength and bulk to get in good scoring position and block out defenders for rebounds.
What he does not do well is play above the rim and explode past defenders.
Sullinger is not a very athletic big man, which would not be a problem if he weren't so undersized.
If Sullinger were like Shaquille O'Neal and could camp out in the post while muscling past the opposition for easy baskets, there would be no problem.
But Sullinger will struggle to out-muscle bigger NBA centers like Dwight Howard and Andrew Bynum. He will even have trouble with power forwards like Zach Randolph and Kevin Love.
If Sullinger had ridiculous athleticism to rely on in order to blow past bigger defenders or out-jump players for rebounds and dunks, his lack of size would not be as much of an issue.
As it stands now, however, Sullinger must do something to make up for his height and right now, he has nothing.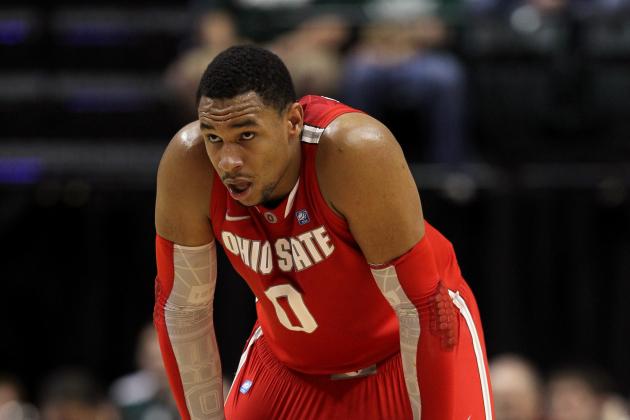 Andy Lyons/Getty Images

Jared Sullinger was a solid defensive player in college, but still, his game does not translate well to the NBA.
Most of his weaknesses can again be attributed to size.
Sullinger will obviously not be playing his natural position of center in the NBA, but even thinking about him matching up against Dwight Howard is laughable.
The question then becomes whether Sullinger will be able to defend power forwards in the league. Unfortunately for the Ohio State Buckeyes star, the short answer is "no."
Sullinger is not quick enough to stay with someone like Lamar Odom and cannot play far enough away from the basket to guard a player like Dirk Nowitzki.
Even against players like Draymond Green and Robbie Hummel in college, Sullinger struggled to defend them away from the basket.
Sullinger averaged over a block per game last season, but will not be able to replicate that feat at the next level. Players will be quicker and taller and not allow Sullinger to swat their shots.