College Basketball: The 25 Greatest Teams Not to Win the National Championship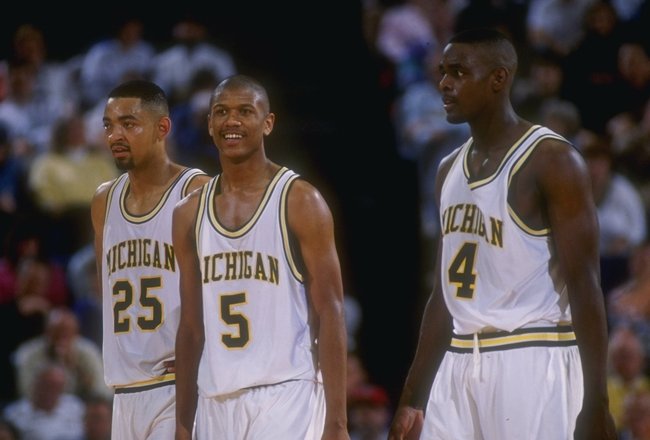 Duane Burleson/Getty Images
The six-round, single-elimination marathon that is the NCAA college basketball tournament offers special significance for a list of the best teams not to win the national championship. Many of these teams were led by some of the game's greatest players and coaches, and many of them make legitimate claims to have been the best team in a particular year. In several cases, those claims are unambiguous.
The majority of the teams on this list represent the sport's traditional powerhouse programs, for whom appearances on this list are a mark of their consistently high level of success. Continually building great teams year to year, in addition to winning national titles, is a part of what creates their identity as blue bloods.
Yet every appearance is also a lingering symbol of disappointment. Each of the teams on this list could have dramatically improved the stature of its program with a title it had the talent to achieve.
For this reason, writers and fans could spin their perspective a variety of ways for each team to answer the simple question of whether it is good or bad to hold a spot on this list.
More than anything, this list evokes thoughts of what could have been. It's a reminder of how a couple of missed shots, a couple of close calls, and in some cases, injuries can dramatically alter the trajectory of college basketball. This list illustrates that decades of history are decided in short spans of 40 minutes.
25. 1988 Oklahoma Sooners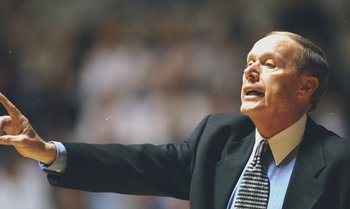 Oklahoma Head Coach Billy Tubbs
Stephen Dunn/Getty Images
Harvey Grant, Stacey King and Mookie Blaylock—three future NBA first-round draft picks—led the 1988 Oklahoma squad.
They were helped by 280 assists from distributor Ricky Grace on the way to a startling 102.5 points per game.
Finishing 35-4 and 12-2 in the Big Eight, the Sooners defeated all five ranked teams they faced during the season, all of which were in the top 15 at the time.
The conclusion that follows, of course, is that Oklahoma fell to an unranked foe in the national title game, a Kansas team that entered the tournament with 11 losses. The Jayhawks are one of college basketball's blue bloods, but that particular team finds itself near the bottom of most lists ranking the national championships of the past 30 years.
For a program that has had much success but never won a national title, this is the one it should have had, playing with a talented roster in the title game against an inferior opponent.
24. 2007 Ohio State Buckeyes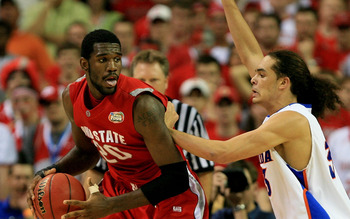 Streeter Lecka/Getty Images
The 2007 Ohio State Buckeyes may be remembered most as the first truly great one-and-done team, led by a star-studded freshman class of Greg Oden, Mike Conley and Daequan Cook.
Before there were the 2012 Kentucky Wildcats, there was this group of Buckeyes, who, unlike this year's champs, did not return players of the caliber of Terrence Jones and Doron Lamb.
Nonetheless, the freshmen, with the help of veterans Ron Lewis and Jamar Butler, spent the entire season among the nation's top teams, steamrolling the Big Ten to a 15-1 conference record, 35-4 overall.
They had the misfortune of meeting one of the decade's most experienced and balanced title teams in Florida, or else the misgivings about a freshmen-laden roster winning a national title might have been put to rest much sooner.
At the very least, it should caution against drawing sweeping conclusions about the fate of the sport after Kentucky's success in 2012.
This Buckeye team was incredible and could have won the national championship; college basketball had one of its best seasons ever the following year.
23. 2008 UCLA Bruins
Streeter Lecka/Getty Images
As mentioned in the previous slide, 2008 was one of college basketball's banner years; it was no coincidence that the Final Four included all four No. 1 seeds.
Each of those teams was talented and deep, and all three of the teams that fell short to Kansas find themselves on this list.
UCLA was as talented as any of them, and its players' success in the NBA has dramatically outpaced that of the other squads, with Russell Westbrook and Kevin Love among the league's best players and Darren Collison leading an upstart Indiana Pacers team.
At the time, the Bruins' talent was young and raw, which makes them the first of the 2008 squads to appear.
In terms of sheer depth of talent, however, there are few teams on the list that can compare. Love, Westbrook and Collison were joined by Luc Richard Mbah a Moute, Josh Shipp and Lorenzo Mata-Real on a loaded roster.
22. 2005 Illinois Fighting Illini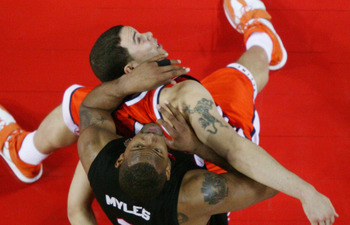 Elsa/Getty Images
The 2005 Illinois Fighting Illini came as close as anyone in recent memory to finishing the season undefeated, with their only losses coming on the final day of the regular season and to North Carolina in the national title game. They were well balanced with top talent at every position, and Deron Williams, Dee Brown and Luther Head formed one of the greatest back courts in college basketball history.
Fate placed their success in the wrong season, as they met a Tar Heels team that included four NBA lottery picks and was on a mission to restore the program to greatness. Few expected the Illini to win the game, and Carolina's halftime lead seemed to validate the perception that Illinois was over-matched.
However, the game remained close in the final minutes and turned on a couple of plays, leaving Illinois as one of the many teams on this list that must cringe when thinking of how a few minutes altered their legacy.
21. 2008 Memphis Tigers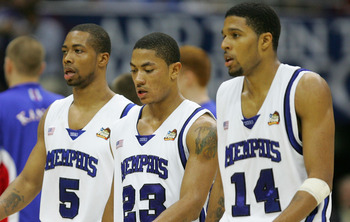 Streeter Lecka/Getty Images
The most recent of John Calipari's subsequently vacated Final Four teams, the 2008 Memphis Tigers officially show a record of 0-2. History will never know how the NCAA would have handled the situation had the team not crumbled in the final minutes of a title game it should have won.
Calipari had recruited point guard Derrick Rose to join an already experienced and talented squad led by Chris Douglas-Roberts and Joey Dorsey, and the team coasted through the Conference USA to finish 38-2. Missed foul shots and a historic three-pointer by Mario Chalmers doomed their title hopes after they controlled the game with just a couple of minutes remaining.
The result was perhaps the best national champion for a proud Kansas Jayhawks program.
The veteran toughness and superstar play of Rose place this team ahead of the comparably talented teams behind it on this list.
20. 1981 North Carolina Tar Heels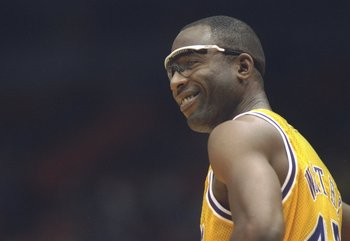 James Worthy
J.D. Cuban/Getty Images
The 1981 North Carolina team is one of the more forgotten teams on this list, largely because most of the same players avenged their disappointment with a national title the following season. The team played in an ACC dominated by Virginia and Ralph Sampson, and it endured some disappointments on the way to a 29-8 season.
The team's overall talent showed, however, when the Tar Heels defeated Virginia in the Final Four before losing to Isiah Thomas and Indiana in the title game. This Carolina squad can make a claim of talent that few teams in history can make, possessing three players who would eventually be picked in the top four of the NBA draft. James Worthy and Sam Perkins would comprise one of the game's best teams ever in 1982, but in 1981 they played second fiddle to veteran Al Wood on a loaded roster.
This team is the first of what will be five North Carolina squads on this list, the most of any program. Such should be expected for a team that leads the nation in Final Four appearances but is tied for third in national titles, converting only five of its 18 trips to the tournament's last weekend into championships.
More than any program, the Tar Heels represent the best and worst aspects of recurring on this list; they are regarded as perhaps the most consistently successful program of the blue bloods, but missed opportunities prevent them from attaining the title count of UCLA and Kentucky.
19. 1957 Kansas Jayhawks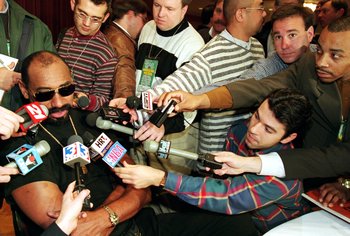 Brian Bahr/Getty Images
The improvement of the caliber of play and the increase in size and athleticism of today's teams skews this list in favor of the modern era, but it had to reach back into the 1950s and mention this historic team led by the anachronistic Wilt Chamberlain.
Chamberlain was, for his time, a literal giant, and he would eventually become one of the game's greatest players. He averaged over the course of the season an astounding 29.6 points per game and 18.9 rebounds, leading the Jayhawks to a 24-3 record.
The team unquestionably ranks as one of the best of its era and perhaps one of the best of all-time, but it ran into a North Carolina team in the midst of its own historic year. The Heels defeated Kansas in the title game in triple overtime to finish an undefeated 32-0.
In a mythical matchup with a team ranked lower on this list, only Memphis could have prayerfully attempted to defend Wilt effectively.
18. 1968 North Carolina Tar Heels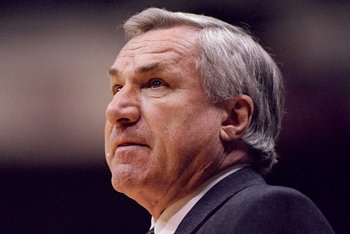 Doug Pensinger/Getty Images
The next two on the list represent the unfortunate band of great teams that happened to exist during the unprecedented dominance by John Wooden and UCLA. From 1964 to 1975, the Bruins won 10 national titles in 12 seasons and deprived several programs, especially North Carolina under Dean Smith and Kentucky under Adolph Rupp, of adding to their title count.
The best of those Tar Heel teams was the 1968 group, led by ACC Player of the Year and First Team All-America Larry Miller and freshman superstar Charlie Scott. The two were accompanied by veteran starters Dick Grubar and Rusty Clark.
Though it failed to give Lew Alcindor and UCLA a competitive game in the national title, the team finished the year 28-4 and would have had an excellent shot at a national title in any other decade.
17. 1966 Kentucky Wildcats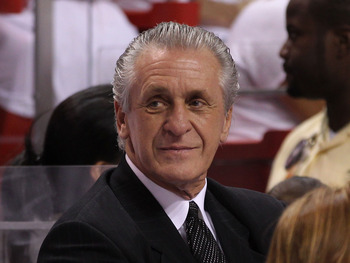 Mike Ehrmann/Getty Images
Like North Carolina, Kentucky had several teams in this period that would have contended for titles in another era. While this particular group did not lose to UCLA—it is famous for losing to Texas Western in the title game, an event featured in the movie Glory Road—it was the best of the Wildcat teams from that time.
The team spent nearly the entire year ranked atop the polls, cruising to a 27-2 overall record including the title game loss and a 15-1 conference showing. Led by future Hall of Fame coach and executive Pat Riley, the squad was short on star power, but its proven record of success is nearly unmatched.
Had it defeated Texas Western in a final game that virtually no one outside of Lexington wishes it had won, it nonetheless would be remembered as one of history's greatest teams.
16. 2001 Arizona Wildcats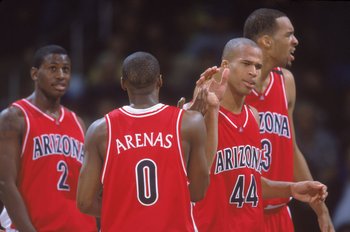 Donald Miralle/Getty Images
This Arizona team has as much balance and talent at all five positions as almost any college basketball team in recent memory, but unfortunately ran into a Duke team that possessed a little more of both in the national title game.
Future NBA stars Gilbert Arenas and Richard Jefferson joined terrific college players Loren Woods, Michael Wright and Jason Gardner to comprise a formidable lineup. The team underachieved in the regular season, ceding the Pac-10 title to Stanford with a 15-3 conference record, but its run to the title game and the later success of Arenas and Jefferson validated this team's talent.
15. 1979 Indiana State Sycamores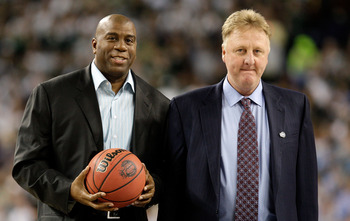 Andy Lyons/Getty Images
The 1979 title game is remembered most for the NBA careers of the game's two stars, featuring a preview of a later professional rivalry between Magic Johnson of Michigan State and Larry Bird of Indiana State.
Simply by virtue of having one of the five greatest basketball players the world has ever known, either of these teams ranks among college basketball's best, and Indiana State's loss to the Spartans certainly leaves it a spot on this list.
Beyond the subtext of Bird versus Magic, though, the Sycamores were not a middling team driven by the heroic tournament performance of one player. Carl Nicks added 19.3 points per game to Bird's absurd season-long stat line of 29 points, 14.8 rebounds and six assists. They entered the national title game undefeated and ranked No. 1 in the country, boasting a victory over the Soviet National team in November.
14. 1981 Virginia Cavaliers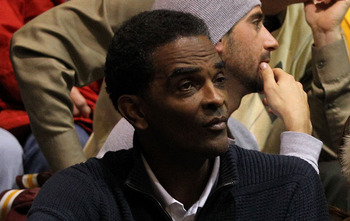 Chris Chambers/Getty Images
This was the best of the great Ralph Sampson Virginia teams that achieved regular season dominance but postseason disappointment. Sampson won three consecutive National Player of the Year awards and three straight ACC regular season titles, beginning with this season's 13-1 campaign in which he had the assistance of All-American and future NBA first-round pick Jeff Lamp.
But the Cavaliers never won what would have been the program's only national title, and only reached the Final Four in this season. The team fell to ACC rival North Carolina in the national semifinal, who ranks lower on this list because over the course of the season, Virginia showed themselves to be the superior team. The Tar Heels were great, but remained a year away from their peak.
13. 2002 Kansas Jayhawks
Andy Lyons/Getty Images
Roy Williams became famous for his many near-misses at national titles while at Kansas, none more famous than the 2003 miss that preceded his departure to North Carolina. It was his 2002 team that represented his best shot with this group of players.
The Jayhawks were loaded with both veteran and young future NBA talent, remarkably deep and capable of blowing a game open against nearly anyone. Their impressive 104-86 win over a talented Oregon team in the regional final put that on full display, but they fell to a stocked Maryland team in the national semifinal.
The team was led by future lottery picks Drew Gooden, Kirk Hinrich and Nick Collison, and it boasted three other future professionals as freshmen in Wayne Simien, Keith Langford and Aaron Miles. This Jayhawk team begins a new tier on this list of teams that were several players deep with big-time NBA talent.
12. 1997 Kentucky Wildcats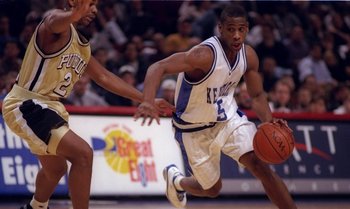 Kentucky's Wayne Turner
Jonathan Daniel/Getty Images
This is one of those teams that Kentucky's detractors will hate seeing on this list; The 1997 Wildcats are sandwiched by two of the program's national championships, in 1996 and 1998. The 1996 team in particular is already regarded as one of the best teams in college basketball history, so they will wonder whether the 1997 squad needs recognizing here.
Based on the criteria set forth at the outset, they certainly do. This squad was better than the team that won the national title the following season, and it nearly missed filling in the hole that would have given Kentucky three straight national titles. It was led by three future first-round NBA draft picks, two of them lottery picks, Ron Mercer and Derek Anderson.
Like Georgetown, Kentucky's loss to Arizona was to a team it should have beat, but that Arizona team's talent gave it potential it never met during the season, with three future first-round draft picks on their own roster in Mike Bibby, Michael Dickerson and Jason Terry.
11. 1993 Michigan Wolverines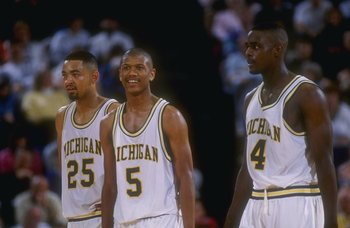 Duane Burleson/Getty Images
Even with all of the hype surrounding Michigan's Fab Five recruiting class, the group backed it up in most aspects. The team was among the best teams in the country in 1993 and reached its second consecutive national title game, and Chris Webber, Jalen Rose and Juwan Howard all enjoyed long, successful NBA careers.
The talent of the team's core three players ranks among the best in college history, but youth and inexperience ultimately doomed them against Duke and North Carolina teams with veteran college stars. Nonetheless, in a mythical tournament of these teams, Michigan would be a popular bet for a deep run.
10. 1977 North Tar Heels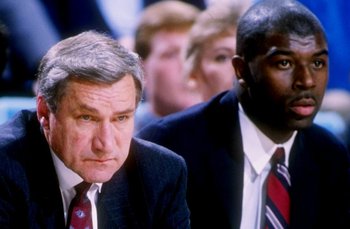 Dean Smith and Phil Ford
Allen Steele/Getty Images
Of the North Carolina teams on this list, the one Carolina fans most wish had won the title is mostly likely this 1977 squad. Unless he was eclipsed by Tyler Hansbrough, Phil Ford is the program's most beloved player in a large collection of greats, the homegrown, four-year superstar who was, until Hansbrough, the all-time leading scorer in team history.
His 1977 team was the best of his four seasons and the one that came the closest to earning what would have been Dean Smith's first national title after many trips to the Final Four. With Ford, Walter Davis, Mike O'Koren and Tommy LaGarde, the team featured a well-balanced group of four players who would eventually have their jerseys honored in the rafters at North Carolina. Loaded with talent and experience, the team finished 28-5 before falling to Marquette in the national title game.
The 1977 team is one of two on this list that is remembered for having a promising season derailed down the stretch by injuries to key players. LaGarde was lost for the season and did not play in the title game, and both David and Ford played through recently sustained injuries.
9. 1999 Duke Blue Devils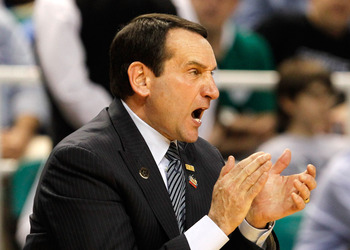 Streeter Lecka/Getty Images
1999 Duke boasts one of the more impressive regular seasons in college basketball history, entering the tournament with only one loss and an undefeated 16-0 record in the ACC. The veteran and young NBA talent was also remarkable; the team had five future lottery picks on the roster, ranging from No. 1 overall pick Elton Brand to freshman reserve Corey Maggette. Other than Trajan Langdon, though, it was a team that lacked experience for all of its talent.
Its loss to Connecticut in the title game was decided in the final minutes and hugely impacted by a critical traveling call against Langdon; without question, Duke barely missed one of the most impressive championship seasons in the sport's history.
The teams that rank above it here, however, possessed more experienced talent, and most accomplished their only slightly less impressive regular seasons against a stronger overall national field.
8. 1998 Kansas Jayhawks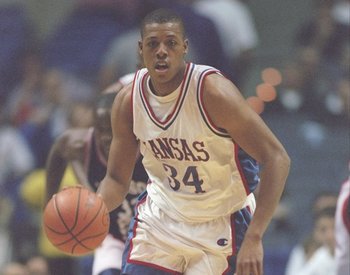 Stephen Dunn/Getty Images
The 1998 Kansas team checks in as the best team not to reach the Final Four, a mark of disappointment it bears with a wide consensus. Like several teams around them, the squad had a core of future NBA first round draft picks in Scot Pollard, Jacque Vaughn, Raef LaFrentz and NBA superstar Paul Pierce.
The team coasted through the regular season in both 1997 and 1998, losing only six games and two Big 12 games combined in the two seasons. In one of the bigger upsets of a No. 1 seed in the tournament's history, the Jayhawks lost to Rhode Island in the second round; the team's core players would leave for the NBA without reaching even a regional final.
Even having lost to inferior teams multiple times in the tournament, it is impossible to ignore the depth of talent and the size at the top of this team. I would have no doubt going with this experienced roster over most of the other teams on this list.
7. 1998 North Carolina Tar Heels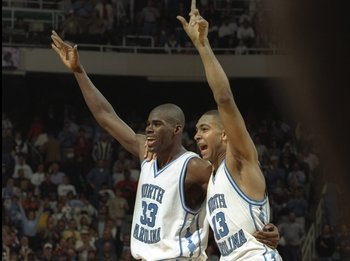 Doug Pensinger/Getty Images
1998 was a notably strong year for college basketball, and it places a second team in the top 10 of this list. Like Kansas and the national champion Kentucky team, North Carolina had a core of veteran future first-round draft picks, and the Tar Heels tandem of top five picks, Vince Carter and National Player of the Year Antawn Jamison, made them the most talented team of the three.
The Tar Heels finished the year 34-4, including a 13-3 record in a tough ACC and two of three from conference rival and fellow top seed Duke. A talented Utah team with three future NBA players itself in Keith Van Horn, Andre Miller and Michael Doleac derailed North Carolina's season before losing to Kentucky in the final.
This group of North Carolina players also included sharpshooting guard Shammond Williams and point guard Ed Cota, No. 3 all-time in the NCAA in career assists, and it joined a long line of impressive Carolina teams to follow a similar mold: it made the Final Four in both 1997 and 1998, but failed to complete its goal to win the tournament.
6. 1985 Georgetown Hoyas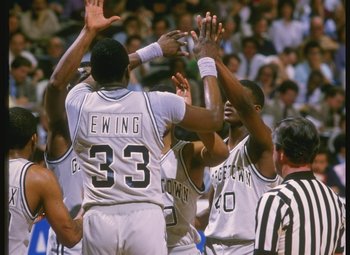 Getty Images/Getty Images
This is going to seem low for a team that is consistently rated my most as one of the best teams not to win a national title. They are without question among the most talented at the top, boasting National Player of the Year and No. 1 NBA draft pick Patrick Ewing along with fellow top five pick Reggie Williams. They were veteran and dominant, finishing the year 35-3, and as the top-ranked team in the nation that had won big with Ewing for four seasons, they were the overwhelming favorite.
However, they were not as deep with talent as most of the teams ranked ahead of them on this list. The Hoyas receive a pass by many for losing to one of the all-time great Cinderella stories in Villanova, which has always seemed odd to me. Like the Oklahoma team that began this list, our impression of Georgetown is shaken after their loss in the title game to a team to whom they had absolutely no business losing.
It is the job of a team the caliber of 1985 Georgetown to end historic Cinderella runs, and their failure exposed their flaw.
5. 2008 North Carolina Tar Heels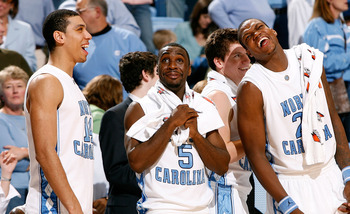 Kevin C. Cox/Getty Images
Like 1997 Kentucky, there will be those that scorn its placement on this list, since virtually the exact same team returned to win a national title the following season. But there are several compelling reasons for its inclusion.
As already mentioned, 2008 was a historically strong year for college basketball in which all four No. 1 seeds completed impressive regular seasons and validated them with trips to the Final Four. This Carolina team buried itself in a 40-12 hole against eventual champion Kansas before climbing nearly all of the way out of it with a remarkable barrage of offense—a three-pointer by Danny Green that rimmed out would have cut the lead to two.
In 2009, this team became one of the most dominant champions ever, and four of its starters, and its top reserve, currently play in the NBA: Green; National Player of the Year Tyler Hansbrough; future ACC Player of the Year Ty Lawson; Wayne Ellington; and Ed Davis.
This team came extremely close to going undefeated in the regular season. Its only two losses prior to losing to Kansas were a close game to Maryland, a game it led by four with two minutes left, and a game to Duke in which injured point guard Lawson did not play. Between this season and the 2009 title, Carolina had a more impressive regular season in 2008.
This was a very good basketball team, and as sweet as the 2009 title was for Carolina fans, winning in 2008 would have meant more against better competition.
4. 1983 Houston Cougars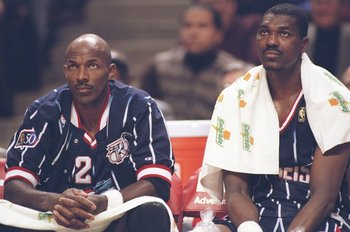 Brian Bahr/Getty Images
Unless Kevin Love and Russell Westbrook someday accomplish the feat for that 2008 UCLA team, Houston will remain the only team on this list with multiple future NBA Hall of Fame players in Hakeem Olajuwon and Clyde Drexler. Both are among the game's greatest ever, gold-medal winning members of the U.S. Olympic team and teammates on a Houston Rocket NBA title team.
The talent thus speaks for itself, and the Cougars backed it up with a 31-3 regular season that earned them the top spot in the rankings at the end of the season. In one of the more unlikely, and indeed flukish NCAA finals in history, Houston was defeated by Jim Valvano and N.C. State on a last-second tip-in after a desperation shot fell short.
Perhaps more than any other team on the list, this Houston team truly belonged with the champions. Though to the credit of the Wolfpack, they appear in the top five of this list twice as the giant-killer before proceeding to win the national title.
3. 1984 North Carolina Tar Heels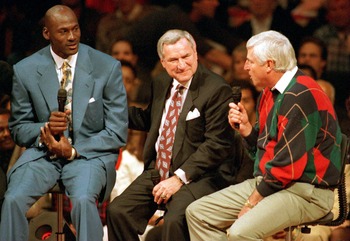 Jonathan Daniel/Getty Images
The 1984 Tar Heels were the second Carolina team to have a title-caliber squad derailed by injuries, when Kenny Smith went down with a broken wrist on a play similar to the one that injured Kendall Marshall in this season's tournament.
Because three of the team's key players—Michael Jordan, Sam Perkins and Matt Doherty—had won a national title two years earlier in 1982, and the remainder of the team's core never played in a Final Four, this team is occasionally forgotten as a great team that failed to win. It was also a team that bridged the transition from one group of Tar Heels to another, as Jordan, Perkins and Doherty left after 1984 and Smith, Brad Daugherty and Joe Wolf became the next group's core.
But at this intersection of two iterations of Carolina basketball was a truly great 1984 squad. Unlike in 1982, Jordan was not a freshman role player, but the National Player of the Year coming into his own as the greatest basketball player the world would ever see. Jordan would be the No. 3 pick in the NBA draft that summer, and Perkins was selected right after him at No. 4. Daugherty would be the No. 1 overall pick two seasons later, and Smith the No. 6 the year after that, giving this team four players drafted in the top six of their respective draft and another lottery pick in Wolf.
All of that talent led to a 28-3 regular season, including a 14-0 campaign in the ACC. Like Houston in 1983 and Georgetown in 1985, this Carolina team was the best in the country that season, but the middle part of a three-year run which wasn't enough in March.
2. 1974 UCLA Bruins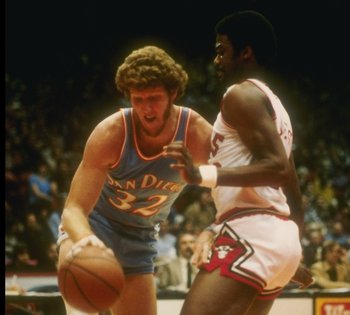 Stephen Dunn/Getty Images
The 1974 Bruins team retained most of the key players from UCLA's record-setting 88 consecutive regular season wins, and won the national title with 30-0 records in each of the previous two seasons. But in star player Bill Walton's final year, the team saw the streak come to a close and became one of the two UCLA teams in a 12-year span not to win the national title.
Nonetheless, this was one of college basketball's most dominant teams, led by Walton, three-time National Player of the Year and one of the sport's most dominant players. Moreover, their loss came to another of the era's great teams and another of its great players, eventual national champion N.C. State and David Thompson.
Even with no title in this season, their accomplishments in the previous two years show their strength as a powerhouse, and there would be little reason to bet against them in a matchup with the teams below them on this list.
1. 1991 UNLV Runnin' Rebels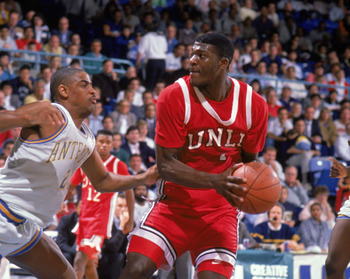 Ken Levine/Getty Images
The 1991 UNLV squad might still be the greatest team in college basketball history, period, even though they were upset by Duke in the national semifinal. The Runnin' Rebels entered the game undefeated and as the confident defending national champions. They had embarrassed Duke the previous year with a 30-point win in the national title game.
Much to their credit, the Blue Devils significantly altered college basketball history by defeating UNLV, depriving the program of its second straight championship on the way to its own set of back-to-back titles, its first.
But the team led by lottery picks Larry Johnson, Stacey Augmon and Greg Anthony was a force unparalleled in the sport's history, and the greatest of the teams that failed to win the national title.
Keep Reading