North Carolina Basketball: Tar Heels Will Struggle in 2012 After Losing Core 3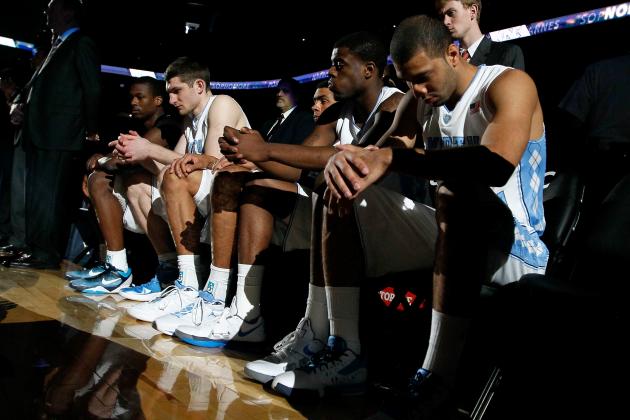 Kevin C. Cox/Getty Images

The North Carolina Tar Heels have announced that the the team's three core players—Harrison Barnes, John Henson and Kendall Marshall—will enter the 2012 NBA Draft. Alongside the core three entering the draft, Tar Heels will also see senior center Tyler Zeller depart.
On the bright side, James Michael McAdoo has decided to return to UNC.
Plenty of questions remain as the Tarheels enter their offseason. Will the fifth ranked recruiting class perform at a high enough level to keep North Carolina in the national spotlight? Will McAdoo be able to become the go to option offensively? Will Leslie McDonald and Dexter Strickland be able to recover from knee injuries and produce?
And of course, the most important question of all: Will UNC remain a perennial power house or struggle during a rebuilding year?
I will explain what these roster shakeups mean for North Carolina and why they will struggle in the 2012-2013 season.
Begin Slideshow

»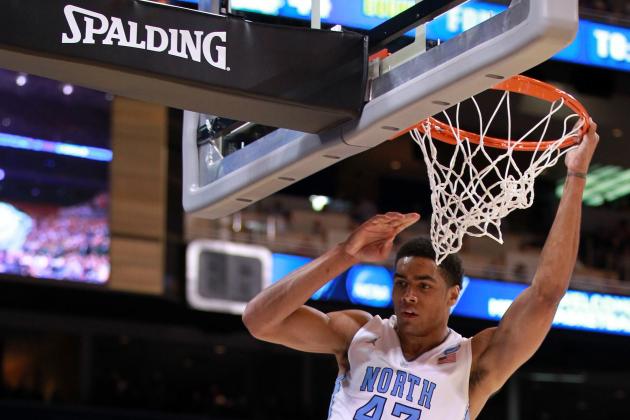 Andy Lyons/Getty Images

James Michael McAdoo will undoubtedly play a major role in North Carolina's rebuilding.
During the 2011-2012 season, freshman McAdoo averaged only 6.1 PPG and 3.9 RPG with 15.6 minutes played. Although he showed promise against Vermont and Kansas in the NCAA tournament, scoring 17 and 15 points in those games, the lack of contribution is a major worry for North Carolina fans.
The injuries to John Henson and Kendall Marshall left UNC struggling offensively, and McAdoo benefited by becoming a top option next to Tyler Zeller and Harrison Barnes.
A projected top 10 pick if he were to enter the draft, James Michael must work extremely hard over the offseason to take over as the leader of this team both defensively and offensively.
Though he has the talent to do so, it's a tall order to expect the sophomore to replace John Henson's blocking and rebounding as well as Tyler Zeller's scoring.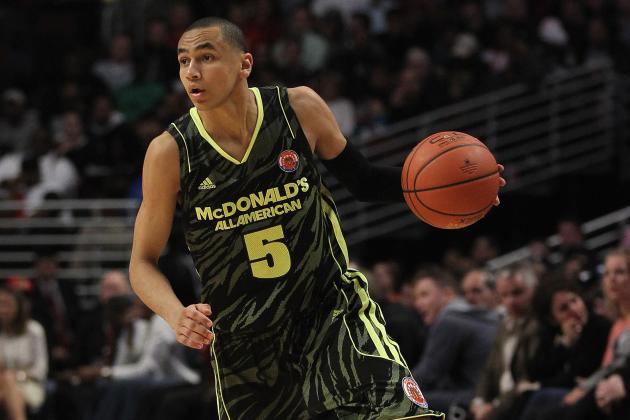 Jonathan Daniel/Getty Images

North Carolina quite possibly had the best point guard in the nation in Kendall Marshall. Replacing him will not be possible, even with the highly touted Marcus Paige.
This year Marshall set the ACC single season assists record and became a vital scorer during the final six games of the season before injuring his wrist.
Without questioning Marcus' talents, it's worth pointing out how young and inexperienced he is to assume a leadership position at one of the nation's top programs. Replacing Kendall Marshall is no mean feat, especially with such a young inexperienced team.
Although a very good point guard in high school, Marcus lacks the strength to create offense against larger players. Teams will surely attack the young player at the point, eliminating his ability to drive and create open looks like Marshall did so well.
When Kendall Marshall was absent from court, North Carolina struggled to create shots and drive to the basket. Marcus Paige will have to change that with much less talent on the court.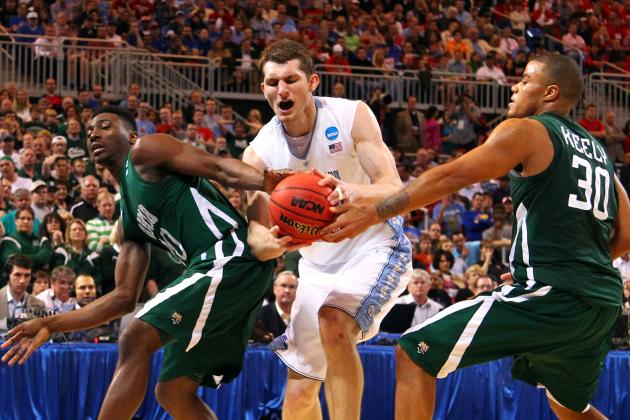 Dilip Vishwanat/Getty Images

For much of his time at North Carolina, Tyler Zeller was a serious threat on both the offensive and defensive ends of the court. The true seven foot center averaged 16.3 PPG and 9.6 RPG, as well as providing excellent defense.
From the looks of it, UNC will only have three centers on their roster.
Desmond Hubert, who is returning for his sophomore season, is only 6'9" and played an insignificant role in 2011. He played only very limited minutes and scored less than a point a game.
Joel James, the 6'10", 260 pound recruit, brings some offense to the table but has shown a tendency to play out of position and find himself in foul trouble.
Brice Johnson is North Carolina's most promising front court recruit, but he will lack the size and length it takes to bang down low right away. For being 6'9", Johnson has short arms and a narrow frame. His strength is running in transition, but UNC has plenty of that—they'd prefer some paint presence.
Outside of McAdoo, the Tar Heels will have a limited presence within the paint and will rely strictly on the shooting of inexperienced players, putting even more pressure on McAdoo to carry this team.
Because of this lack of size and scoring down low, North Carolina will be forced to play a smaller rotation and will struggle on the boards against larger teams.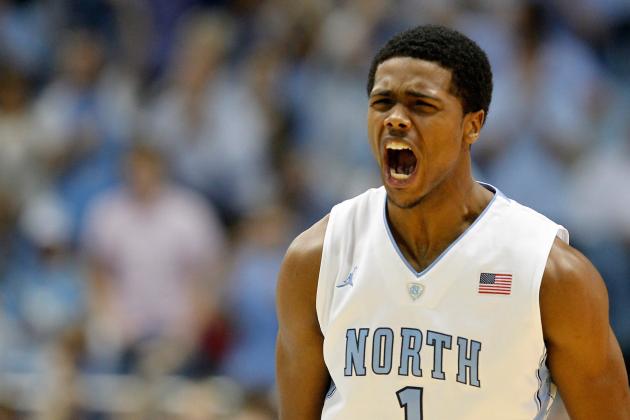 Streeter Lecka/Getty Images

One of the biggest questions entering the 2012-2013 season will be whether or not injuries have effected the guards of North Carolina.
Dexter Strickland tore a knee ligament in January, red-shirted Leslie McDonald had off-season reconstructive surgery on his knee just last year and recruit Marcus Paige recently fractured his foot.
With the Tar Heels' success largely depending on the shooting abilities and transition play of their guards, it's not an ideal situation by any means.
Although all three should be ready to practice with the team, it is unknown as to what the effects of the injuries will have, especially on Strickland who will be expected to lead with his experience and defensive quickness.
Andy Lyons/Getty Images

After cutting down the nets in 2009, the North Carolina Tar Heels lost their four best players. With little returning experience, and relying heavily on new recruits, the Tar Heels found themselves in the midst of a dismal season and missing the NCAA tournament.
As most Tar Heels fans will compare 2010 with 2006, and rightfully so, there was one difference—Tyler Hansborough emerged.
As good as James Michael McAdoo is, he does not possess the overpowering presence that Tyler did. 2012 is starting to look a lot like 2010.
What stood out in 2010 was the lack of cohesion, the effects of injuries, and a lack of leadership.
Losing four starters to the NBA draft will definitely throw the Tarheels leadership into question from the outset of the year. Three key players on the offensive end of the court will be coming off of serious injuries and the team will be relying on just one player, James Michael McAdoo, to be their fearless leader.
I do not expect UNC to miss the tournament again solely because of their recruiting class, but they will struggle to be the powerhouse team we see year in and year out.