NBA Draft 2012: Latest News on Early Entries, Who Will Stay and Who Will Go?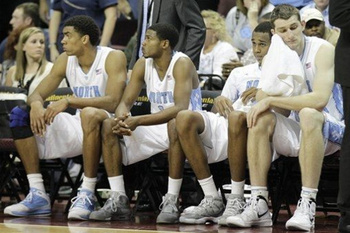 With the first major deadline for the 2012 NBA Draft approaching, the questions are mounting about college basketball's best players: will they stay or will they go?
The new NCAA rules pushing forward the deadline for early entrants to withdraw from the draft has created a lot of chatter, but for many players, we will still have to wait a few weeks for an answer.
While those players who have already declared for the draft have only until April 10 to remove their name and retain their college eligibility, all others who have not yet declared have until April 29 to make a final decision.
But that doesn't mean that all has been quiet on the college basketball front.
A number of key players have already made decisions—some more surprising than others—helping to ensure that the first few weeks leading up to the draft have been very interesting.
While most college fan bases are still holding their breath, there are a few schools who know for sure, one way or another, what their star player has decided.
Here are the most recent NBA draft decisions from early entries.
Trey Burke, Staying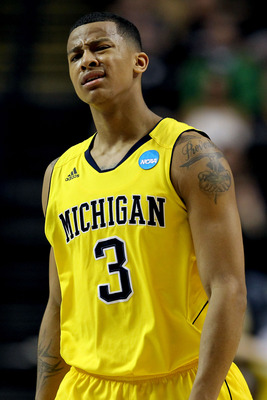 Jamie Squire/Getty Images
Trey Burke made Michigan Wolverines fans extremely happy a few days ago by voicing his intent to return to college for his sophomore season.
Burke leapt onto the scene as a freshman, averaging 14.8 points, 4.6 assists and 3.5 rebounds per game, leading the team in points and assists.
He quickly established himself as one of the best freshman in the country and, in a draft that is short on point guards, many expected him to take his game to the next level.
Fortunately for the Wolverine basketball team, Burke decided that another year spent honing his game and trying to take his team to the next level would be his best bet.
With Burke, Michigan should contend if not be a favorite for the Big Ten title. The team could even be a Final Four favorite.
Without him, though, the Wolverines could have found themselves in major rebuilding mode. The entire Michigan basketball team is breathing a sigh of relief.
James Michael McAdoo, Staying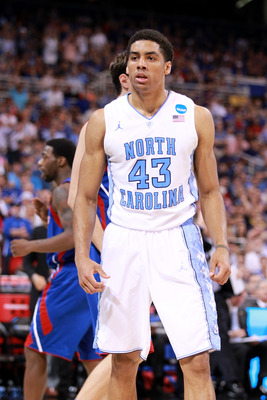 Andy Lyons/Getty Images
With almost all of the North Carolina Tar Heels' starting lineup leaving for the NBA, McAdoo was the biggest remaining question mark for Roy Williams and the team.
McAdoo answered his critics decisively, saying well before the deadline to withdraw his name that he would play college basketball for at least one more season.
McAdoo had a solid, if not spectacular, freshman season, averaging 6.1 points per game and 3.9 rebounds per game.
His numbers suffered playing behind Tyler Zeller and John Henson, but flashes of the incredibly versatile game he showed as a college recruit could still be seen.
One season at North Carolina without playing in the upperclassmen's shadow should allow McAdoo to show everyone, including NBA scouts, his real game. He will likely be one of the main focal points of the Tar Heels offense and will deliver.
Kenny Boynton, Staying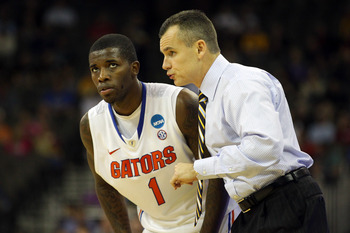 Doug Pensinger/Getty Images
It is hard to know if Kenny Boynton's stock will rise much higher than it is now, but the Florida Gators guard is willing to take a chance and return to school for his senior year.
Boynton is a crafty guard who is constantly plagued by questions about his height. At only 6'2", NBA scouts wonder what his true position is.
With another year in college and especially after the departure of teammate Erving Walker, Boynton might just be able to prove that he can be a steady NBA point guard.
If he can improve on his average of 2.5 assists per game and keep up his 16.3 points per game average, Boynton will have gone a long way towards answering those questions.
However, if Florida's team is not as skilled in 2013 as it was this year, Boynton's stock could take a hit simply because of a lack of exposure.
Freshman Bradley Beal has yet to make up his mind on whether or not to go pro, but if he does, Boynton will have a much larger load to carry.
C.J. McCollum, Staying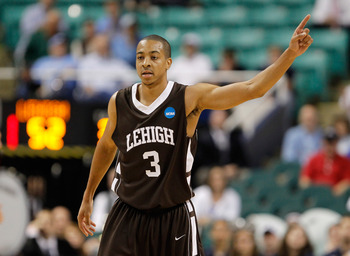 Streeter Lecka/Getty Images
The junior guard for the Lehigh Mountain Hawks made a national name for himself when he torched the Duke Blue Devils for 30 points, six rebounds and six assists in Lehigh's upset win in the NCAA Men's Basketball Tournament.
After the tournament, C.J. McCollum declared for the draft but did not hire an agent. Less than two weeks later, he withdrew his name and decided to come back to Lehigh for his senior season.
McCollum cited the fact that his family did not immediately need the riches an NBA paycheck would bring and that he simply wanted to graduate from college.
Whatever his reasons, Lehigh fans aren't complaining. McCollum is a talent that comes around once in a blue moon, especially to a Patriot League school. The longer he stays a Mountain Hawk, the better.
If McCollum can prove to NBA scouts that he can play point guard in college, his draft stock will likely rise even more.
Deshaun Thomas, Staying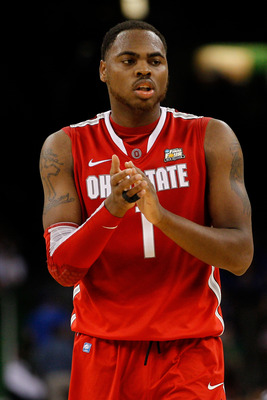 Chris Graythen/Getty Images
Deshaun Thomas arguably played better than Ohio State Buckeyes teammate Jared Sullinger this past season.
NBA insiders were convinced he was going to turn pro and if he had, Thomas would have been a sure first round pick.
But then he scored just nine points in the Buckeyes' season-ending loss to the Kansas Jayhawks and apparently rethought his decision.
Thomas will return to Ohio State for his junior season and hopes to build on his impressive sophomore campaign.
Thomas averaged 15.9 points and 5.4 rebounds per game and dominated contests for the Buckeyes when Sullinger was not playing his best. Given his production last season, Ohio State could once again be a top-10 team in the 2013 preseason.
Will Barton, Leaving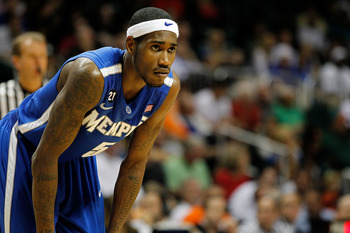 Mike Ehrmann/Getty Images
The Memphis Tigers' stud guard got lost in the Conference USA monotony last season, but Will Barton's talent should not escape the eyes of NBA scouts.
Barton averaged 18 points, eight rebounds and almost three assists per game as a sophomore and declared early on that he would forfeit his college eligibility and turn pro.
Barton is definitely ready for the NBA. He is freakishly athletic and has good basketball instincts, especially on the offensive end of the floor.
Memphis was supposed to be a top-10 team in 2012, but a few early setbacks doomed the Tigers. Without Barton, it does not look like Memphis will enter the polls quite as high in 2013.
While NBA scouts do think that Barton needs to add a bit more strength and improve his outside jump shot, another year of playing undermatched opponents in C-USA will likely not help Barton's stock.
Fab Melo, Leaving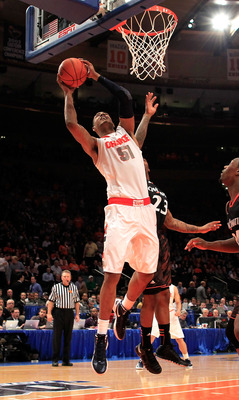 Chris Trotman/Getty Images
Honestly, this was probably the right move for Fab Melo.
When colleges begin questioning your eligibility, trick you into thinking you are reinstated, then declare you ineligible for the entire NCAA Men's Basketball Tournament, it might be time to call it a day.
And that is exactly what Melo did.
The sophomore declared for the draft after a sophomore season that saw him take bigger strides toward becoming the player everyone envisioned when he began his time at Syracuse.
Melo averaged 7.8 points, 5.8 rebounds and 2.9 blocks per game, transforming himself into a disruptive defensive presence who anchored the Orange's patented 2-3 zone. But he missed two stretches of games, the latter during the NCAA Tournament, after being declared ineligible by the school.
So who knows whether Melo would have been allowed to play for Syracuse again whether or not he left for the NBA. Melo made the choice that he had to, but one more year under Jim Boeheim's tutelage could have turned him into a star.
Austin Rivers, Leaving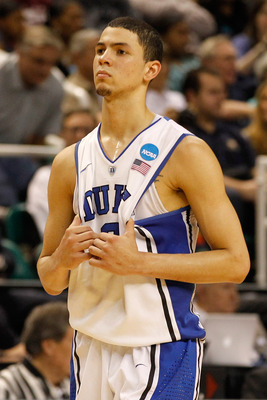 Streeter Lecka/Getty Images
Duke Blue Devils guard Austin Rivers did not exactly turn heads when he announced his decision to go pro. Rather, he made the decision expected of him from day one.
After a slightly uneven freshman season in which he never found a true position and was often plagued by poor decision-making, some Duke fans held out hope that Rivers would return for one more year of college to refine his game.
As it stands though, Rivers is still an almost-sure first round pick, albeit slightly lower on the draft board than scouts had him pegged coming out of high school.
He has a ridiculous crossover and a nice jump shot, but struggled to get his teammates involved, tended to make bad decisions on offense and was a liability on defense (remember C.J. McCollum Duke fans?).
But Rivers is still just 19. He has plenty of learning and growing to do and would apparently prefer to do so in the NBA while making millions of dollars. Can you blame him?
Royce White, Leaving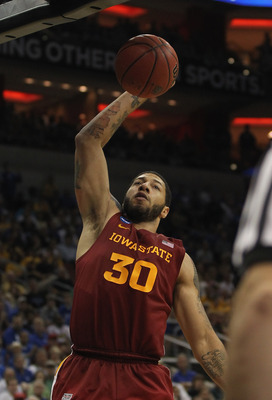 Jonathan Daniel/Getty Images
How much can a player really improve after leading his team in points, rebounds, assists, steals and blocks?
According to Royce White (and probably the rest of America), not that much. White declared for the NBA Draft shortly after his sophomore season ended.
Royce White has a completely unique skill set as he has the body of a power forward but the ball-handling skills of a point guard.
White often started the offense and controlled the ball for the Iowa State Cyclones, but could just as easily post up and score over bigger defenders.
If White can replicate his 13.4 points, 5 assists, 9.3 rebounds and 1.2 steals per game in the NBA, scouts will be beside themselves with joy.
The worry, however, is that White will be too big and slow to play guard and too small to play forward.
But White has made a career of proving people wrong so here's hoping that he can do it again.
North Carolina's Big Four, Leaving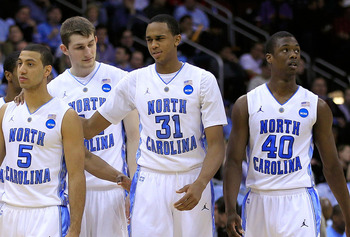 While it was not much of a surprise, I doubt North Carolina Tar Heels fans are exactly thrilled with the fact that four of their starters declared for the NBA Draft.
Harrison Barnes, John Henson, Kendall Marshall and Tyler Zeller all announced that they were leaving college to play professional basketball.
The Tar Heels are losing basically their entire team. Yes, their role players last year were extremely talented and it is certainly not as if the team will fall off the national map.
But to lose so many important players—especially ones like Zeller and Henson who had been with the team for so long—will be hard for North Carolina to cope with initially.
Barnes hurt his stock a bit by under-performing in his sophomore season while point guard Kendall Marshall improved his by sitting out for most of the NCAA Men's Basketball Tournament with a broken wrist.
Zeller had a great senior season, but scouts still question his toughness and strength. Henson has proved that he is an elite defender, but must improve his offensive skill set.
All four players have the potential to be successful NBA players. And while North Carolina fans will certainly miss them, I bet Roy Williams has a few tricks up his sleeve for next season.
Keep Reading