Anthony Davis and Michael Kidd-Gilchrist Reportedly Set to Join NBA Draft
April 6, 2012

Kevin C. Cox/Getty Images
The 2012 NBA Draft may be the best in years thanks to an infusion of talent that is about to get that much better with some Kentucky Wildcat champions going pro. 
Kentucky Sports Radio host Matt Jones reports on what he heard from ESPN's television feed. It seems Chad Ford has some information that we all are very interested to hear.
Chad Ford of ESPN reports sources say Anthony Davis, Michael Kidd-Gilchrist and Terrence Jones will declare for the NBA Draft soon

— Matt Jones (@KySportsRadio) April 6, 2012
It's a new day in college basketball, one in which heroes deliver but the briefest of championship moments. If there is one program that will survive this kind of mass exodus of talent, it's Kentucky.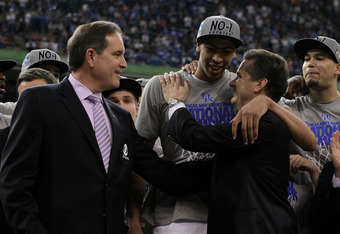 Jeff Gross/Getty Images
John Calipari will be tasked with filling in the gaps after some of the best players in the nation take their games to the next level. 
Anthony Davis and Michael Kidd-Gilchrist are one-and-done, but there is no question they are prepared for the bright lights and rugged play of the NBA. 
In fact, these two superstars may go No. 1 and No. 2 in the draft, respectively. 
Anthony Davis came to Kentucky and did no less than dominate an entire season. For scouts, the best part of Davis' game had to be his ability to improve, which he did in each and every game. 
By the time the Wildcats won the title, there was no questioning that the player who averaged 14 points, 10 rebounds and nearly five blocks per game was the best in the sport. 
Kidd-Gilchrist was already well thought of prior to the NCAA tournament, but his play during games that mattered has scouts itching to get their hands on him in the NBA. 
It's hard not to like a young talent that plays with passion on both ends of the court. 
Terrence Jones is no throw-in player, as his defensive hunger and length make him an intriguing prospect. 
He needs to add some polish to his offensive game, but is consistently considered to be a borderline lottery pick. 
John Calipari, you are now on the clock.