Jordan Brand Classic: 15 Prospects Guaranteed to Make an Immediate Impact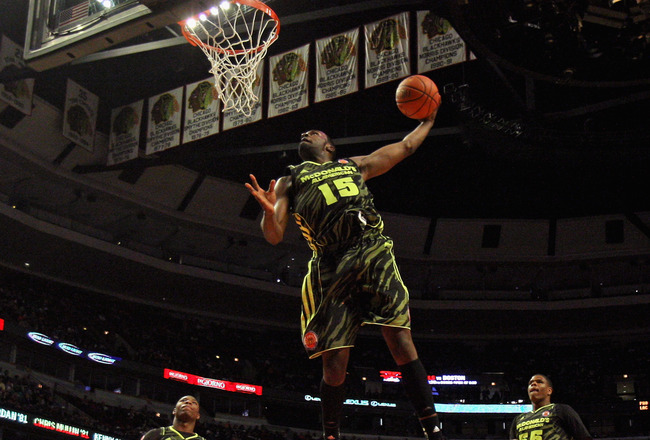 Jonathan Daniel/Getty Images
We will not get to see another college basketball game until November, so for now we will settle for showcases of the best high school talent that there is to offer.
On Saturday, Charlotte NC will host the Jordan Brand Classic, displaying 22 of the best prospects in the Class of 2012. The bottom line is to keep an eye on all of these players simply because all of them should be stars in Division I, and most will end up playing in the NBA.
Out of the 22, here are 15 that should make a big impact from day one of the 2012-13 season.
Kyle Anderson, St. Anthony H.S. (NJ)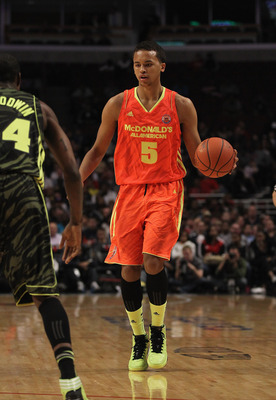 Jonathan Daniel/Getty Images
Kyle Anderson is listed as a small forward, but his name should never be nailed to a single position. He is a very unique player who, although he does seem most comfortable as a small forward, has the length to be a power forward and the perimeter skills to be a point guard.
In other words, with his size, passing ability and court vision, he looks like your ideal point-forward.
In order to be very successful at the next level, Anderson will need to put on some more muscle. Right now his 6'7" frame, 210 pound frame has led to some struggles when he needs to get physical in the post.
In the McDonald's All-American Game, Anderson's shooting was far from perfect, but the New Jersey native nearly posted a triple-double with 13 points, eight rebounds, and eight assists.
Anderson will play his college ball at UCLA next season, attempting to revive a once-great program that missed out on the NCAA tournament this past year.
Nerlens Noel, Tilton School (NH)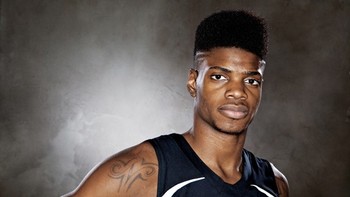 (Photo from espn.com)
Nerlens Noel, the No. 1 in the nation according to ESPNU, verbally committed to Kentucky yesterday.
At 6'10", Noel is one of the bigger players in the class of 2012. He is known for his shot-blocking, and his defensive skills have already led to comparisons to Kentucky's Anthony Davis, who will likely be the No. 1 pick in the upcoming NBA draft. In fact, some consider Noel an even better shot-blocker than Davis.
Offensively, he draws acclaim for his interior passing and jump hooks. But right now, Noel does not have a developed jump shot. If he fills out his offensive game, he could become an all-time great.
Shabazz Muhammad, Bishop Gorman H.S. (NV)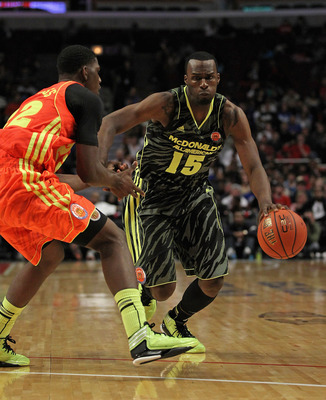 Jonathan Daniel/Getty Images
Shabazz Muhammad clocks in right after Noel as the No. 2 recruit, per ESPNU. Muhammad verbally committed to UCLA on Wednesday night.
The 6'6" guard/forward displayed his athleticism by winning the 2012 McDonald's All-American Slam Dunk Contest before putting up a game-high 21 points on 10-of-18 shooting to go along with six rebounds in the McDonald's All-American Game.
As talented as Muhammad is, he may be facing some eligibility issues. Jeff Goodman and Gary Parrish of CBS reported in late February that the NCAA contacted schools recruiting the prospect and "made them aware of financial dealings that could compromise Muhammad's amateur status."
During his senior season, Muhammad won Gatorade State Player of the Year in Nevada with his 30.2 points per game on 63.1 percent shooting from the field and 10.4 rebounds game.
If Muhammad is eligible to play, the Bruins could start the long process of rehabilitating the program with a jump start.
Isaiah Austin, Grace Prep (TX)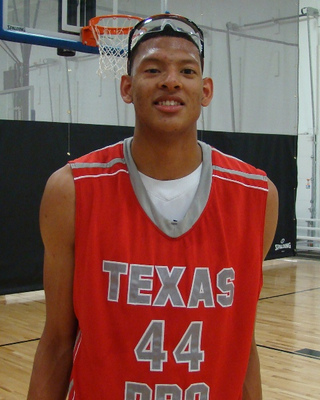 (Photo from Big10ball.com)
Isaiah Austin is one of two 7-footers playing in this game. (More on the other one later.)
Anybody with his height has an obvious advantage when playing basketball, but what makes Austin special is his ability to run the floor. Austin possesses great athleticism for someone his size. He has been called an over-sized small forward because of his ball handling skills and shooting ability.
In the McDonald's All-American Game, Austin posted 10 points, eight rebounds, and three blocks. The big fella also had a pair of assists.
Austin will attend Baylor for the 2012-13 season, and the Bears' front court will be one of the best around if Quincy Miller returns for another year of school.
Garry Harris, Hamilton Southeastern H.S. (IN)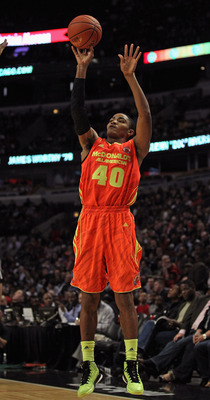 Jonathan Daniel/Getty Images
Garry Harris received offers from many top-tier programs, but the No. 2 shooting guard in the ESPNU Top 100 ultimately chose Michigan State over the likes of Indiana, Louisville, Purdue, and Kentucky.
Harris averaged 25.4 points per game, 7.6 rebounds per game, and 4.2 steals per game for Hamilton Southeastern and garnered Gatorade State Player of the Year in Indiana. He is known for attacking the rim and playing hard-nosed defense (which is good news for a Big Ten school like Michigan State), and he has a good jump shot although he does tend to be streaky.
During the McDonald's All-American Game, Harris struggled, scored just two points and pulling down five rebounds. In the Jordan Brand Classic, he will get a second opportunity to showcase his abilities on the national stage.
Rodney Purvis, Upper Room Christian Academy (NC)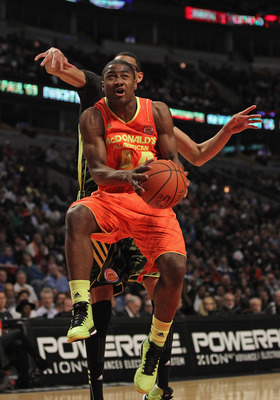 Jonathan Daniel/Getty Images
Rodney Purvis heads NC State's incredible recruiting class. In addition to Purvis, ranked No. 21 by ESPNU, the Wolfpack is bringing in another pair of top 100 recruits in T.J. Warren and Tyler Lewis. Right now, ESPN ranks Mark Gottfried's class No. 7 in the nation.
Purvis was recently named ESPNHS Fans' Choice Player of the Year after scoring 15 points on 7-of-14 shooting in the McDonald's All-American Game. This year, he averaged 26.1 points per game and 6.7 rebounds per game, winning Gatorade State Player of the Year in North Carolina.
Purvis possesses all the skills to be a national star, and with a little more work on his jump shot he can become one of the best in the nation.
Danuel House, Hightower H.S. (TX)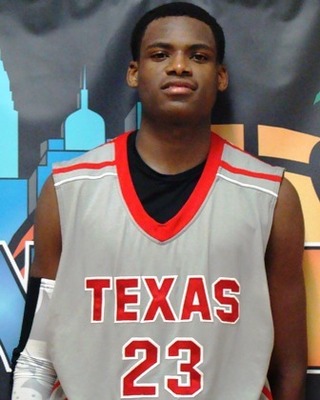 (Photo from ny2lasports.com)
Danuel House is not as highly ranked in the ESPNU Top 100 as most of the players on this list are, but he will have an immediate impact at the collegiate level nonetheless.
Instead of playing at a more nationally recognized school from one of the power conferences, House chose to go to University of Houston, just a half-hour drive away from his hometown of Sugar Land, TX. House turned down offers from Georgetown, Ohio State, Baylor, Kansas, and Texas.
House is extremely athletic and tends to get his way in transition. With his length, he is also a good defender who can get his hands into the passing lanes.
House joins Valentine Izundu and fellow ESPNU Top 100 recruit Danrad Knowles to make up Houston's best recruiting class in recent memory.
Kaleb Tarczewski, St. Mark's (MA)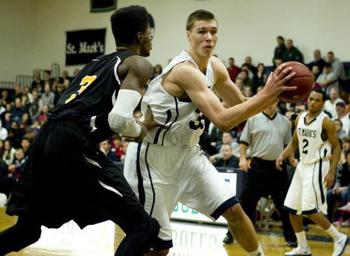 (Photo from boston.com)
And here is the second 7-footer to take part in the festivities this year.
Kaleb Tarczewski is already able to finish around the rim with both hands consistently, and his go-to move is a jump hook. He also has good hands that help him turn potentially busted plays into easy baskets in the paint.
On the defensive end, he is a solid shot-blocker thanks to his size and he is also an excellent rebounder.
The center leads Arizona's recruiting class, ranked No. 1 in the nation, along with three other members of the ESPNU Top 100 in Grant Jerrett, Brandon Ashley, and Gabe York.
Stevens Adams, Notre Dame Prep (MA)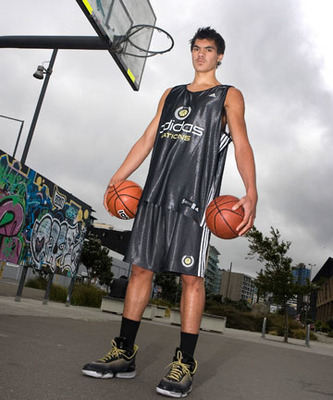 (Photo from nba-draft.com)
For the first time ever, a New Zealand native will play in the Jordan Brand Classic.
Steven Adams' big body and athleticism make him one of the best big men among this recruiting class. He already has a good reputation on the inside as a strong rebounder and shot-blocker. He has developed a good mid-range jumper, but his post game could still improve.
Adams has committed to Pittsburgh, and he will most likely start for the Panthers from day one alongside Talib Zanna.
An ESPN analyst compared Adams to former Ohio State center Greg Oden, and Jamie Dixon is in for a treat if this comparison is accurate. Let's just hope he is not as prone to injury.
Kris Dunn, New London H.S. (CT)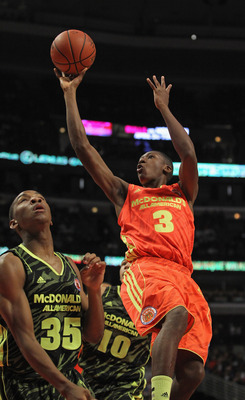 Jonathan Daniel/Getty Images
Kris Dunn is a combo-guard, meaning he can play either point or shooting guard. He has the handling and penetration skills of a point guard, but his smooth jumper means he can also play off the ball.
Right now, Dunn sometimes struggles with his decision making and ball control—in the McDonald's All-American Game he had four turnovers.
He could be a turnover liability next season, but with his talent you have take the bad with the good.
Dunn will go to Providence as a potential savior for Friar basketball. He may come off the bench behind Vincent Council, but he could also start in the backcourt alongside his veteran counterpart.
Anthony Bennett, Findlay Prep (NV)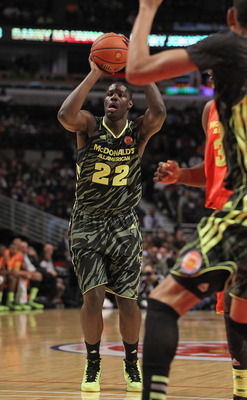 Jonathan Daniel/Getty Images
Anthony Bennett is one of the few top prospects that still has not committed to a school.
Currently, Bennett is ranked No. 7 in the ESPNU Top 100. He is a versatile player who can both knock down some jump shots and bulldoze his way to the basket. With his shooting ability, he can cause some major mismatches next season.
Bennett struggled in the McDonald's All-American Game a couple of weeks ago, scoring nine points on 3-of-7 shooting to go along with six rebounds.
Tony Parker, Miller Grove H.S. (GA)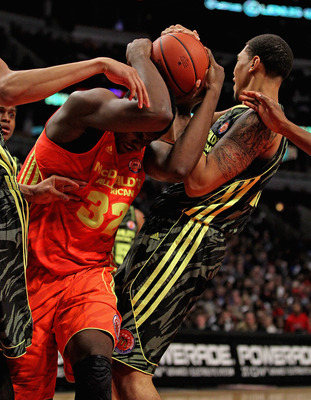 Jonathan Daniel/Getty Images
Tony Parker is the lowest-ranked recruit on this list at No. 26 in the ESPNU Top 100, but he has the potential to have just as great an impact as anyone else here.
Parker is a big-bodied center who already possesses great skills down low. He is able to face up and knock down short-range jump shots, and he also has a killer jump hook. With his size, he has the potential to also be an outstanding rebounder.
In the McDonald's All-American Game in March, Parker flirted with a double-double, posting 10 points and seven rebounds.
The 6'9" center is still undecided, and earlier this week he announced that he'll choose between UCLA, Duke, Kansas, Ohio State and Georgia.
Archie Goodwin, Sylvan Hills H.S. (AR), and Alex Poythress, Northeast H.S. (TN)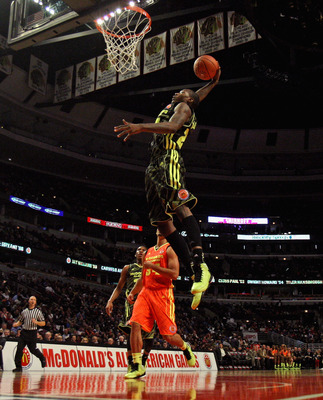 Jonathan Daniel/Getty Images
Archie Goodwin and Alex Poythress come as a pair. Both have already committed to Kentucky, and assuming that Anthony Davis, Michael Kidd-Gilchrist and Terrence Jones go pro as expected, they will be the stars for the Wildcats next year.
Both are versatile players who can play above the rim or step out and knock down some jump shots.
In the McDonald's All-American Game, Goodwin had 14 points and Poythress had 19 on 8-of-12 shooting.
Grant Jerrett, La Verne Lutheran (CA)
Jonathan Daniel/Getty Images
Grant Jerrett joins Tarczewski as part of Sean Miller's monster recruiting class at Arizona.
Jerrett already has great skills for a big man and will complement Tarczewski well in the front court. He has a great mid-range jumper but sometimes has trouble finishing around the basket. He is also known for his passing ability out of the post.
Jerrett only scored eight points in the McDonald's All-American Game, but he did his scoring efficiently, making 4-of-5 shots from the field.
Keep Reading