College Basketball Predictions: 10 Coaches Who May Be with a New Team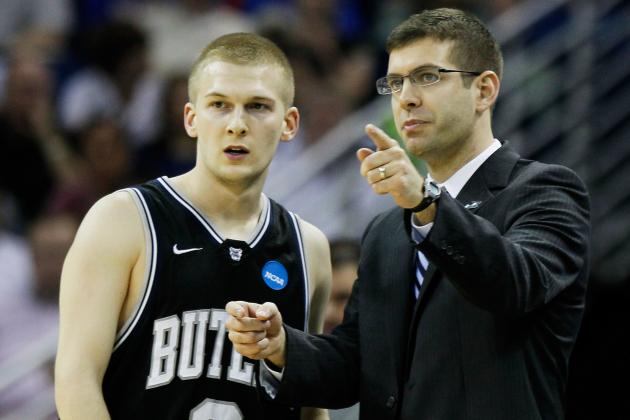 Kevin C. Cox/Getty Images

College basketball is a sport where teams can look drastically different year to year.
Between the one-and-done players who move on to pursue a professional career and transfers, it can be hard to keep up with the new faces on a team.
Due to this, college basketball coaches are given more breathing room than their NBA counterparts when their teams struggle.
However, coaches, much like players, can sometimes outgrow their surroundings and be tempted to move on to bigger and better things. Other times, it's the school that wishes to find a new coach when progress is stalled.
Either way, head coaches in college are no different than any other coach in any other sport. They are all after the top prize: the championship. In order to reach this, it might mean leaving a school where they have built a reputation and special relationships with players.
Let's take a look at 10 coaches who may be searching for greener pastures next season.
Begin Slideshow

»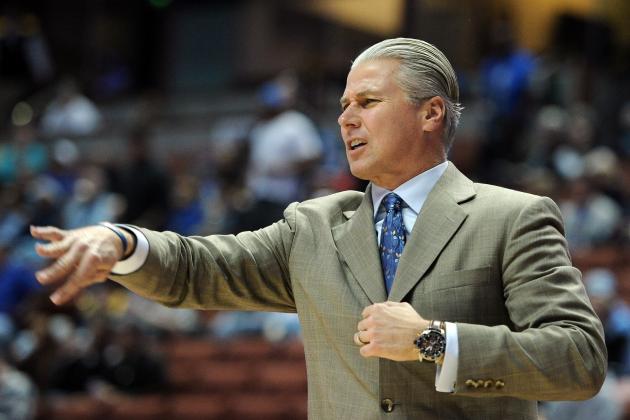 Harry How/Getty Images

Jim Les had a successful playing career in the NBA and even won a gold medal for the U.S. in 1984, but he may be in over his head in trying to bring life to the lowly UC-Davis Aggies.
After a moderately successful coaching run with Bradley (including a Cinderella run to the Sweet 16 in 2006), Les left for UC-Davis. In his first and only season, Les coached his team to a miserable 5-26 record in a generally weak Big West.
Even though it has only been one season, I believe the competitive spirit in Les may have him looking to coach a team with more recruiting power.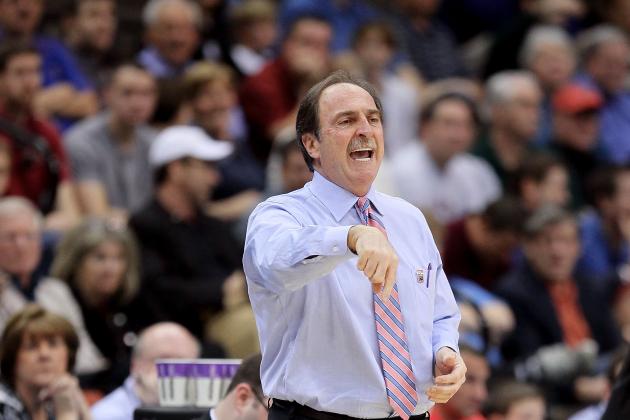 Andy Lyons/Getty Images

The longtime Penn coach took over the reigns at Temple after a pretty chaotic tenure under John Chaney.
On his way out, Chaney left Temple in a heap of controversy, from picking fights with John Calipari to intentionally having his players injure opponents.
Dunphy has done a great job, taking Temple to the NCAA Tournament in the past five seasons.
However, I do think that he has done almost all he can do at Temple. He could well be seeking employment at a big-name school with a little more of a reputation, giving him more to sell to potential recruits.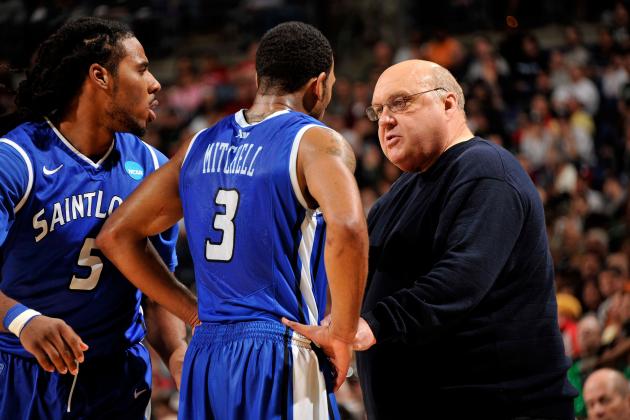 Jamie Sabau/Getty Images

The St. Louis Billikens made a splash this season with a victory against Memphis in the second round of the NCAA Tournament. They went on to give No. 1 seed Michigan State a scare in the Round of 32, narrowly losing 65-61.
Head coach Rick Majerus has been with St. Louis for five years and has had up-and-down seasons. This year was by far his best, however, as the Billikens made their first NCAA Tournament appearance under his command.
Majerus could well use this season as a springboard to another program where he has more long-term potential for success.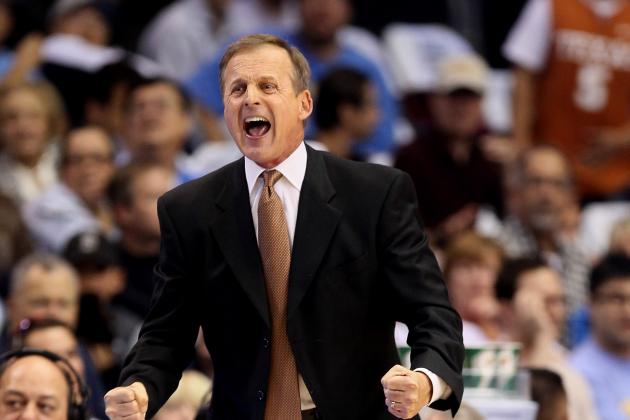 Stephen Dunn/Getty Images

Barnes is a three-time Big 12 Coach of the Year, but it may be time to say so long to the Longhorns.
He has coached Texas for 14 seasons and has never had fewer than 19 wins in a season. His teams have also made made the NCAA Tournament every year. Barnes' success in the regular season is unquestioned.
However, he still does not have a championship to show for all of his efforts. Unlike the other coaches before him on this list, Barnes may not be looking to move to a better program, but instead just may be looking for a change of scenery.
A fresh start could help him and motivate him to finally push his team to the top.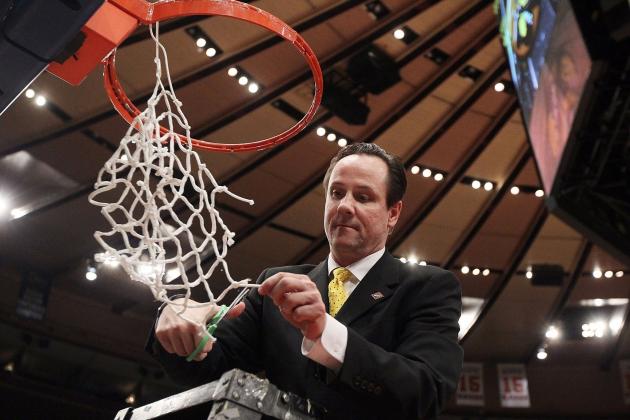 Jim McIsaac/Getty Images

The Shockers have been living up to their name.
Marshall took a struggling Wichita State program and turned it into NIT champions in 2011. He led the Shockers to the NCAA Tournament this season.
His success has carried over from his time at Winthrop, where he made the NCAA Tournament seven times in nine seasons.
Some may argue Wichita State is still in the beginning stages of finding success as a mid-major program, but I believe Marshall's resume could land him a job at a struggling program in a major conference.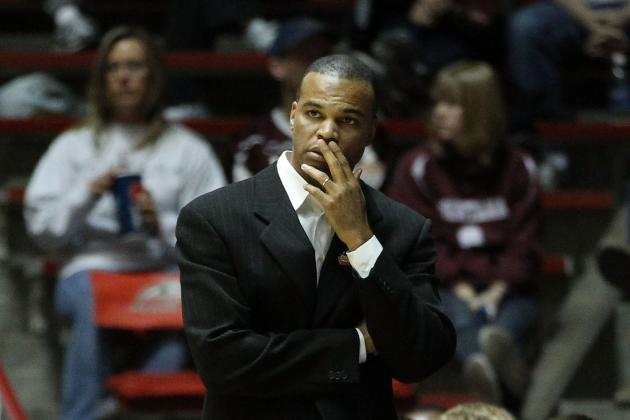 Christian Petersen/Getty Images

Amaker served as an assistant under Coach K at Duke and has become a fine head coach himself.
He led Seton Hall's run to the Sweet 16 in 2000, Michigan's NIT Championship in 2004 and Harvard's NCAA Tournament berth this season.
Another noteworthy accomplishment was his development of current NBA phenom Jeremy Lin.
However, his success at Harvard could be short-lived due to the university's policy on not distributing scholarships for athletics. This is a huge obstacle to building a legitimate basketball program at a school widely known for academics.
Amaker could look for a job at a mid-major, where at least he could offer recruits something other than a degree from a prestigious Ivy League university.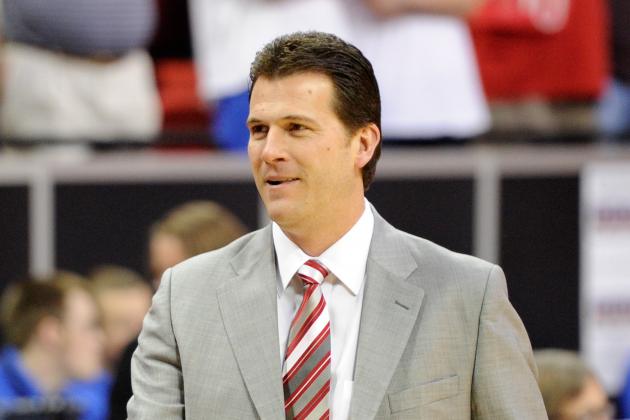 Ethan Miller/Getty Images

Alford has worked his way up the coaching ranks. From his start in Division III, Alford led Southwest Missouri State to the Sweet 16 in 1999 and New Mexico to the third round of the NCAA Tournament this season.
After his success in his final season with Southwest Missouri State, Alford was able to land a job at Iowa. He led the Hawkeyes to the tournament three times in eight seasons before leaving for New Mexico.
In five seasons, he has gone 126–46 with the Lobos and led them to a victory over Long Beach State in this year's tournament.
Alford clearly has no problem using a successful season to land a better job, so I think he may be sniffing around to see if he could take his talents elsewhere after New Mexico star Drew Gordon leaves next season.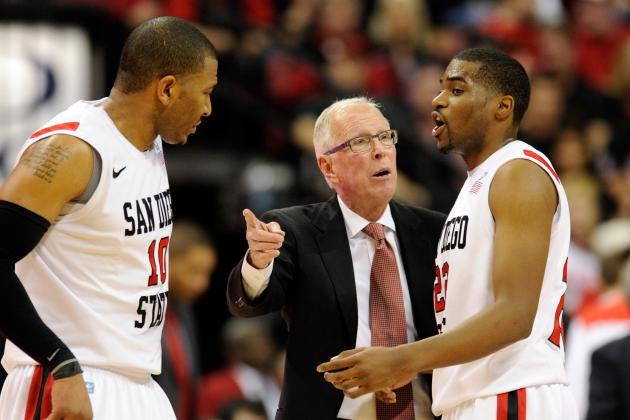 Ethan Miller/Getty Images

Fisher was the man in charge of the Fab Five era of Michigan basketball, an era that ended in a cloud of controversy.
He briefly coached as an assistant with the Sacramento Kings before accepting a job at San Diego State in 1999.
He ended a 15-year, NCAA Tournament drought and gave the Aztecs their first Mountain West title in 2002. Fisher also guided San Diego State to consecutive NCAA Tournament berths the past three seasons.
Fisher has re-established his reputation as a coach and now may garner interest from other top-level programs looking for coaches with championship experience. If the right offer comes along, I could see Fisher chasing an opportunity to cut down the net.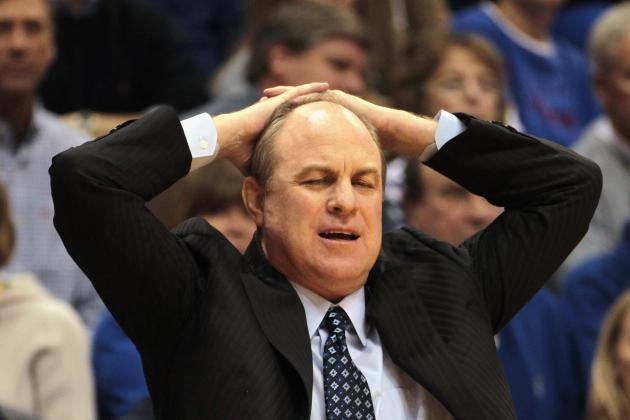 Jamie Squire/Getty Images

It's no secret that Howland has struggled to get a hold of his UCLA squad.
The recent article in Sports Illustrated documented the program's fall from the elite tier of college basketball and into a dysfunctional mess.
After making the Final Four in 2008, the Bruins haven't won an NCAA Tournament game and have only appeared in the tournament twice in the past five years.
Howland had some bad eggs on his team in those years, but his experience should have been enough to override them. Instead, he allowed misbehavior among his players and that led to several disappointing seasons.
Expect Howland to find a fresh start elsewhere on a team that he can manage.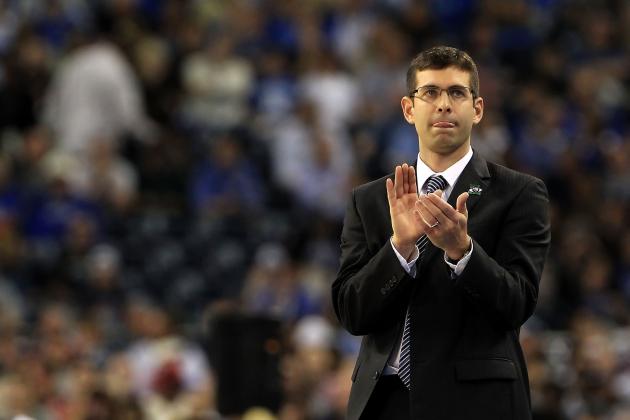 Streeter Lecka/Getty Images

The Butler Bulldogs were a relatively unknown mid-major program before Stevens led them to prominence in 2010.
The Bulldogs made it all the way to the NCAA Championship game before falling a Gordon Hayward half-court buzzer-beater short of winning it against Duke.
Their Cinderella story spilled into next season when they made it back to the championship game and fell to UConn in an ugly, low-scoring affair.
Stevens has done a great job of coaching this team, though the Bulldogs missed the tournament this year. This could be a sign that Stevens should jump ship now before the program continues to go south.
Does one bad season mean that Butler won't be relevant anymore? No. But Stevens could very well find work at a major conference with his near-championship runs fresh in mind.