Baylor vs. Notre Dame: Analysis and Reaction as Lady Bears Claim Women's Title
April 4, 2012

Doug Pensinger/Getty Images
For the first time in NCAA basketball history, a team has gone 40-0.
The honor belongs to the Baylor Lady Bears, who capped off a truly extraordinary season by dominating the Notre Dame Fighting Irish in the women's NCAA championship game by the final of 80-61.
The Irish were in the game early, as they played the Lady Bears tough and went into halftime trailing by just six. The second half, however, belonged entirely to the Lady Bears. Baylor scored at will and quickly put the game out of reach.
In the end, the Lady Bears had shot an even 50 percent from the floor, and they out-rebounded Notre Dame, 45-24. That, folks, is how you win basketball games.
Tweets of the Night
Richard Deitsch of Sports Illustrated let everyone know that Brittney Griner was having a ridiculous second half:
Brittney Griner update: 21 points, 11 rebounds, 4 blocks and 6 of 6 from the field in the second half. Baller.

— Richard Deitsch (@richarddeitsch) April 4, 2012
Graham Watson of Yahoo! Sports pointed out that it wasn't just Griner:
Soooooo... Baylor is shooting 73.7 percent this half. That'll win you a national title.

— Graham Watson (@Yahoo_Graham) April 4, 2012
Eric Stangel put a pretty great spin on Baylor's 40-0 record:
Congrats to Baylor for being #NCAAChamps... and for winning 33 more games than the Charlotte Bobcats

— Eric Stangel (@EricStangel) April 4, 2012
New Orleans Hornets guard Jarrett Jack is already campaigning for his team to draft Griner. No joke:
Forget anthony davis we might need to draft brittney griner, she is niiiiiiiiiicccccccccceeeeeee!!!!!!!!!!!!

— Jarrett Jack (@Jarrettjack03) April 4, 2012
Grades for Notre Dame's Key Players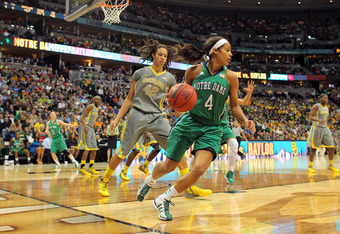 Justin Edmonds/Getty Images
Skylar Diggins: A-
Hey, don't look at Skylar Diggins. It's not her fault the Irish lost this game. She was fantastic.
All told, Diggins scored 20 points on 7-of-17 shooting, with three assists, two steals and not a single turnover. As she usually is, Diggins was very efficient. And for the most part, she got the better of her matchup against Odyssey Sims.
Natalie Novosel: F
Poor, poor Natalie Novosel. It can be amusing when players have bad games, but the last thing you want to see is somebody going 0-of-11 from the field in a championship game. There's nothing at all fun about that. 
Novosel was 5-of-8 from the free-throw line, but her inability to knock down shots is a major reason why Notre Dame shot just 35.5 percent from the field.
Devereaux Peters: D
Devereaux Peters had to take a seat after picking up two very early fouls, and that changed the landscape of this game before it even picked up steam. She ended up playing just 15 minutes all game and failed to make much of an impact.
Grades for Baylor's Key Players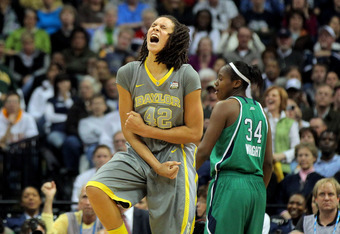 Justin Edmonds/Getty Images
Brittney Griner: A+
As expected, Brittney Griner dominated on Tuesday night. She finished with 26 points on 11-of-16 shooting, with 13 rebounds and five blocks.
Offensive efficiency and defensive dominance. That's Griner for you. She's remarkable.
Odyssey Sims: B-
At first glance, it looks like Odyssey Sims had a great game. She scored 19 points, grabbed seven rebounds and dished out four assists. What's not to like?
Sims could have done better than 6-of-16 from the field, for one. She also picked up five fouls. And as I noted above, she looked like the second-best point guard on the floor for much of the game.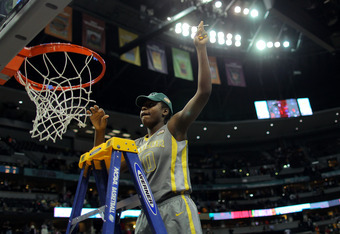 Justin Edmonds/Getty Images
Destiny Williams: A-
Griner owned the spotlight and Sims got plenty of attention, but Destiny Williams had a heck of a game on Tuesday night. She scored 12 points on 5-of-7 shooting, with six rebounds and a pair of assists. Of her six rebounds, four came on the offensive end of the floor.
Not a bad night at all.
Deciding Factor: Second-Half Dominance
We can break this game down from a million different angles, but let's keep it simple and focus on what Baylor did in the second half.
According to ESPN Stats and Information, the Lady Bears shot 63 percent from the field in the second half, and they had more than twice as many rebounds as the Fighting Irish.
This is why they outscored the Irish by 13 in the second half, at one time leading by 25 points.
Game MVP: Brittney Griner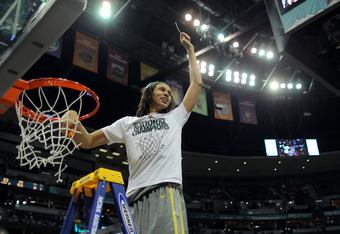 Justin Edmonds/Getty Images
Anybody want to argue this one?
[Crickets].
Didn't think so.
What's Next?
It's already been reported (see the Associated Press) that Griner will be coming back for another season in 2012-13, so the rest of the nation can look forward to dealing with her yet again next season.
So, despite the fact the 2011-12 season has barely gone cold, it's safe to say the Lady Bears are going to be favorites to repeat next season.