North Carolina Basketball: Roy Williams Faces Tough Rebuilding Job in 2012-13
April 3, 2012

Streeter Lecka/Getty Images
With the decisions of John Henson, Harrison Barnes and Kendall Marshall to leave the Carolina basketball program early for the NBA, the Tar Heels find themselves in a truly unfamiliar position.
This is of course not the first time Carolina endured a mass exodus of players to the NBA. It happened right at the end of the Dean Smith era when Rasheed Wallace, Jerry Stackhouse and Jeff McInnis decided to all leave early to make their fortunes in the league.
Further, it has already happened to Roy Williams twice since his return to Chapel Hill. First, after the 2005 national championship the Heels lost Rashad McCants, Sean May, Raymond Felton and Marvin Williams. Then, after winning another national championship in 2009 the Tar Heels lost Wayne Ellington, Ty Lawson and Ed Davis.
What is different about this season's losses is that when you add in the losses of the graduating seniors and the mission-bound Stilman White, the Heels roster is about to be decimated. Not only will they be without 80 percent of their starting lineup, they will lose 59 percent—or 10 of the 17 players on the roster—to start the season.
And that doesn't include James Michael McAdoo, who is still mulling his NBA prospects.
The major difference between those years and this year is the returning roster and the incoming recruits. When Wallace, Stackhouse and McInnis left, Antawn Jamison, Vince Carter and Ed Cota were on their way to Chapel Hill. When May, Felton, et al left, it opened the door for Tyler Hansbrough, and a year later Brandan Wright to step into starring roles.
This time it just feels different because the Heels look to return mostly guards and they don't exactly have a stacked recruiting class coming in next season. It feels like the team is really about to take a serious step backwards talent-wise, when all around the ACC, especially in the Triangle, the talent pool is becoming much deeper.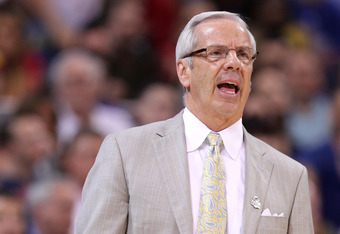 Andy Lyons/Getty Images
Roy Williams looks to be facing one of his stiffest coaching challenges next season as he tries to piece together a respectable roster made up of his returning players and a small class of incoming freshmen. If, and that is a very large IF, the returning Heels can take some giant strides forward, the team could turn out to be formidable.
There is talent returning, especially in the backcourt and the wings with Leslie McDonald and Dexter Strickland returning from injuries, and P.J. Hairston and Reggie Bullock remaining in the fold.
However, any slips along the way could see the Heels struggling to keep pace with their arch-rivals in Durham, a resurgent Wolfpack howling in Raleigh and the defending ACC champions down in Tallahassee.
Roy Williams is truly going to have to earn his pay in 2012-13 if the depleted Heels are to make any serious noise in the ACC.