CBI 2012 Results: Ashton Gibbs and Stars That Will Lead Pittsburgh to Title
March 30, 2012

Nick Laham/Getty Images
With the third and deciding game of the CBI tournament set to commence from the Petersen Events Center in Pittsburgh, Penn. on Friday night, it's tough to pick a winner as both the Pitt Panthers and Washington State Cougars have flexed their muscles during the tourney.
Thanks to the momentum it gained by winning Game 2 of the three-game championship series and the benefit of playing Game 3 at home, though, Pittsburgh looks like the smart bet to win. The Panthers were expected to be an NCAA Tournament team when the season started and although that didn't come to fruition, they're battle tested thanks to the Big East.
Here are three stars who will ultimately lead Pittsburgh to the CBI championship over Washington State on Friday.
Ashton Gibbs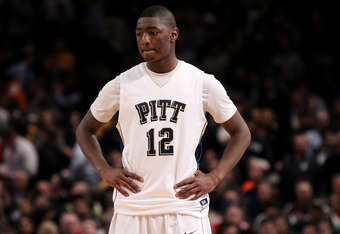 Jim McIsaac/Getty Images
The Panthers may have suffered this season from a lack of depth, but one legitimate stud who always came to play was senior guard Ashton Gibbs. The savvy veteran has been an important player for Pittsburgh for a long time and he became the go-to guy this season. Not only did he lead Pitt in scoring with 14.6 points per game, but he was the leading three-point shooter with 81 makes and the leading free-throw shooter at 85.5 percent.
While Gibbs didn't have a perfect season by any means, as evidenced by his field-goal percentage of 38 percent, he was one of the few players on the team who could be counted upon in key moments. With Friday's game being the final one of his collegiate career, there is no doubt that he will want to come through for the home crowd and deliver a CBI championship.
Tray Woodall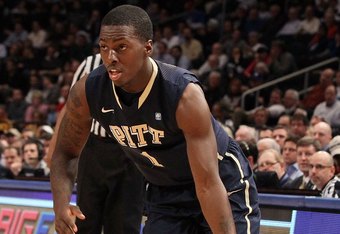 Jim McIsaac/Getty Images
There is no question that next season point guard Tray Woodall is going to be Pittsburgh's cornerstone player, as he will be the senior leader. Even though Gibbs outranks him slightly currently, his importance cannot be overstated. The diminutive junior point guard is the Panthers' spark plug, as he is second on the team in scoring with 11.5 points per game and first in helpers with over six per contest.
Woodall is going to have to be on top of his game on Friday, as the offense simply doesn't run efficiently when he isn't at his best. Not only is he a player who can create his own shots, but he puts each and every one of his teammates in positions to score as well, and that is where his true value lies. Provided he plays his game by penetrating into the lane and finding his teammates for open looks, the Panthers will take home the hardware.
Nasir Robinson
The Panthers really struggled due to the lack of an interior presence this season, as forward Khem Birch transferred to UNLV at midseason. However, senior forward Nasir Robinson has done his best to fill the void. He's a bit undersized for his role, as he is just 6'5", but that hasn't stopped him from banging around in the paint on both ends of the floor and doing his best to make up for what Pitt lost when Birch left.
Because of his skill set, Pittsburgh needs Robinson to step up on Friday. He is third on the team in scoring with 10.6 points per game and has become quite the efficient offensive player, shooting 54.5 percent from the field. He is also the team's leading rebounder with 6.6 boards per game. Robinson is precisely the type of gritty player that every successful team needs, and his energy is sure to inspire the rest of the team to compete.