NCAA Basketball Scores 2012: Role Players Who Must Come Up Big in Elite 8
March 24, 2012

Christian Petersen/Getty Images
While every team that has reached the Elite Eight received solid contributions from their star players and will need to continue to get that in order to advance to the Final Four, they need good supporting casts as well. As important as the stars are, it is often a role player that makes the defining play of a big game or turns in a performance to remember.
Every Elite Eight team has unheralded players in their lineup or coming off the bench that have the potential to do that, but it comes down to who will have the opportunity and who will come through. It's hard to imagine, but a player nobody knew a couple weeks ago could easily become a household name.
Here are three unsung role players who must step up in the Elite Eight.
Brady Heslip, Baylor
With all of the big-time athletes that the Baylor Bears have, it's easy to forget about guard Brady Heslip.
The junior college transfer has been an important player for the Bears during his first season in Waco as he is averaging over 10 points per game and leads the team in three-point shooting with 99 makes on the season. Even so, most of the accolades go to the likes of Perry Jones III, Pierre Jackson and Quincy Acy.
All of them will have to play well in the Elite Eight, but Heslip will be the player to watch.
Baylor is charged with the unenviable task of trying to take out the top-overall seed in the Kentucky Wildcats. Kentucky has lost just two games all season, and a big reason for that is their interior defense. Anthony Davis, Terrence Jones and Michael Kidd-Gilchrist form an impenetrable wall inside.
Heslip will be called upon to shoot plenty, and he'll need to make them.
Stilman White, North Carolina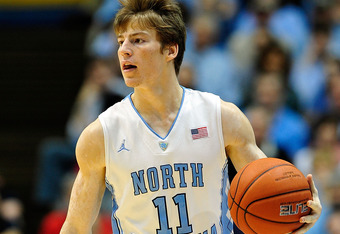 Grant Halverson/Getty Images
Everyone knew that the absence of point guard Kendall Marshall would hurt the North Carolina Tar Heels, but I'm not sure anyone realized that it would be as bad as it was.
It took overtime in order for UNC to dispatch of the feisty Ohio Bobcats in the Sweet 16, and the Tar Heels were lucky to win as their offense was in disarray without Marshall. Little-used freshman Stilman White played in his place and he simply couldn't measure up.
There was nobody on the floor to get the ball to Tyler Zeller, John Henson and Harrison Barnes in scoring position. White is going to have to learn fast, though, because Marshall is unlikely to play against Kansas.
Not only will White's playmaking have to be better, but playing good defense will be a must as Kansas point guard Tyshawn Taylor will try to take advantage of White's inexperience every chance he gets.
Rakeem Christmas, Syracuse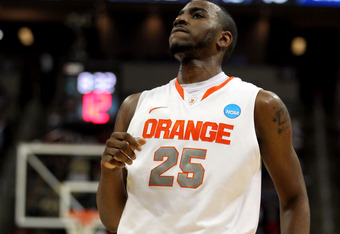 Gregory Shamus/Getty Images
With Fab Melo suspended for the NCAA tournament due to eligibility issues, the Syracuse Orange are very thin when it comes to interior players. Because they have so many good guards, they have been able to get away with it on the offensive end, and the zone defense has masked their deficiency on defense.
When Syracuse faces Ohio State in the Elite Eight, however, the Buckeyes won't be shy about trying to break that zone by feeding Jared Sullinger in the paint.
Sullinger is one of the most dominant big men in the game, and nobody is better at scoring in the low block. Sullinger would have been Melo's responsibility, but that will now sit largely with freshman forward Rakeem Christmas.
The youngster has started in Melo's place during the tourney, and while he hasn't been asked to do much, he'll be thrown into the fire here. Christmas will obviously get some help, but if Sullinger owns him, then the Buckeyes will be moving on.