Sweet 16 Scores: Struggling Stars Who Must Step Up After Rough Round of 16
March 24, 2012

Kevin C. Cox/Getty Images
With the Sweet 16 in the rear-view mirror, it's time to look ahead to the Elite Eight. While every team that has made it this far deserves to be there, some of them were lucky to advance last round. There are a few Elite Eight teams that won despite poor performances from their stars, but that won't fly in the Elite Eight.
Teams need the players that got them this far to step up, or else they're likely to be going home. While it's possible to survive a game here and there in which your star isn't at his best, doing it twice in a row is playing with fire.
Here are three studs who will need to turn things around in the Elite Eight after lame Sweet 16 performances.
Harrison Barnes, North Carolina
Sophomore forward Harrison Barnes is awfully lucky the North Carolina Tar Heels were able to overcome the scrappy Ohio Bobcats in overtime on Friday, because he would have been considered the goat had they lost.
With point guard Kendall Marshall out of the lineup, UNC struggled all game long and Barnes certainly didn't make things easy. The Tar Heels' leading scorer shot a miserable 18.8 percent from the field, including 2-of-9 from three-point range.
North Carolina had a huge advantage in the paint with Tyler Zeller and John Henson against Ohio's over-matched bigs, but Barnes insisted on continually wasting possessions with dumb shots. Not only will Barnes have to be much more selective against Kansas in the Elite Eight, but he'll need to find a way to get his teammates involved with Marshall likely to be out again. If he plays like he did in the Sweet 16, then UNC is toast.
William Buford, Ohio State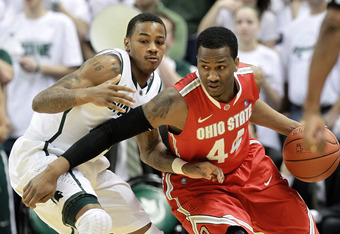 Leon Halip/Getty Images
A star-studded team like Ohio State can often manage when one of their big guns falters, but the Buckeyes' perimeter players will have to be banging on all cylinders against the Syracuse Orange in the Elite Eight. Forwards Deshaun Thomas and Jared Sullinger were excellent in Ohio State's Sweet 16 win over Cincinnati, but senior guard William Buford struggled in a big way as he scored a mere four points on 1-of-8 shooting from the field.
Buford has been a model of consistency for Ohio State over the years, as he has averaged an incredible 14.4 points per game in each of the past three seasons. He is also one of the team's best three-point shooters and that will be absolutely vital against Syracuse's zone defense. Wisconsin proved that the Orange are vulnerable against the three, and the Buckeyes need Buford to exploit that as well.
Tyshawn Taylor, Kansas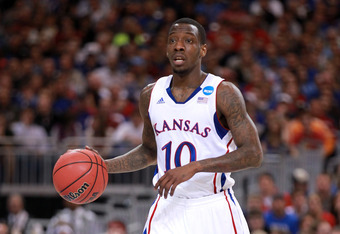 Andy Lyons/Getty Images
Forward Thomas Robinson may be the Kansas Jayhawks' most important player, but point guard Tyshawn Taylor isn't far behind. The senior has developed into an extremely important player on the team, as he is second in scoring with 16.6 points per game and first in assists with nearly five per contest. While Taylor managed five assists and 10 rebounds in Kansas' narrow win over NC State in the Sweet 16, his offensive game was atrocious.
Taylor netted just six points and shot an abysmal 14 percent from the floor, as he missed all six of his three-point attempts. Taylor is a solid shooter from range at 40 percent on the season, but he fell into the same trap as North Carolina's Harrison Barnes, as he settled for jump shots rather than getting to the rim or distributing.
Taylor will have to be far more aggressive in the Elite Eight against UNC, especially while operating against an inexperienced player like Stilman White.