NCAA Tournament 2012: 4 Things to Watch for in Kentucky vs. Indiana
March 23, 2012

Andy Lyons/Getty Images
Kentucky. Indiana. It's round two. 
Indiana was the team to hand coach John Caliapari and the Kentucky Wildcats their first loss back in December. Now Coach Cal and his super freshman get a chance for revenge with the winner moving on to the Elite Eight. 
A few key factors in this game will be critical to the success of each team, and the winner of the game will have to come out on top of these matchups. 
Kentucky's Anthony Davis vs Indiana's Cody Zeller
The Wildcat star center led the nation by a mile in blocked shots, averaging 4.6 per game this season.  Davis' length and dominance has been unparalleled by any player in college basketball this year. Simply put, no team has had an answer for him. 
However, Indiana has its own freshman, the 6'11" Cody Zeller, the younger brother of North Carolina's Tyler Zeller.  
The former Indiana "Mr. Basketball" has shined in his freshman season for the Hoosiers, leading the team in scoring (15.5 points per game) and rebounding (6.5 rebounds per game). Zeller will be guarding Anthony Davis. 
In the first meeting this season, Cody Zeller had a solid, albeit lackluster, showing with 11 points and seven boards. He'll have to be better if he wants to outshine Davis tonight in Atlanta. 
But if there is one player in this tournament who can hang with Davis under the basket and give him trouble on the boards, it's Zeller. It may be a tall order, but if Zeller can limit Davis' productivity, Indiana has a decent shot to pull another upset.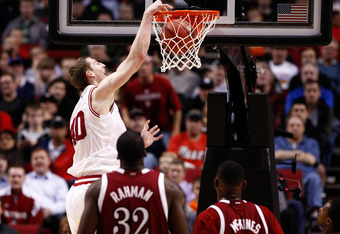 Jonathan Ferrey/Getty Images
Three Point Shooting 
If there's an edge that Indiana carries into this matchup, it's shooting the three.
Both of these teams are above average from beyond the arc, with Indiana shooting nearly 44% to Kentucky's 38%. And while these numbers don't show a staggering difference, Indiana is much more consistent with the three ball. 
While Doron Lamb is the only Wildcat starter that shoots above 40% from three-point range, the Hoosiers have two starters in Christian Watford and Jordan Hulls—plus three more bench players—that have shot over the 40% mark for the season. 
Kentucky runs its offense through Davis inside and uses guard penetration to set up high percentage shots, but if Indiana can knock down its threes, they'll already be ahead of the game. 
However, we shouldn't count Kentucky out in this category either, as the 'Cats have attempted 14 more threes than the Hoosiers on the season and are not shy about hoisting them up from downtown. If Kentucky can knock down their threes in addition to scoring in the paint, it could be a long game for Indiana. 
The three-ball was a big key to Indiana's success in their regular-season win over Kentucky this season as they shot 9-15 from behind the arc, while Kentucky was merely 2-7.  
Of course it was Christian Watford's three at the buzzer that won it for the Hoosiers, but that capped off what was already a great long range shooting effort for the game. Indiana will need that success to continue for a chance at an upset.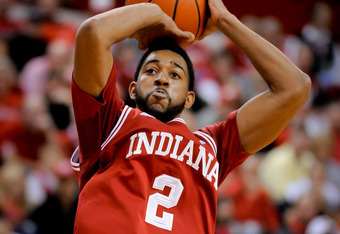 Eric Francis/Getty Images
Forcing Bad Shots 
Both of these schools depend highly on their offensive prowess, as Indiana and Kentucky rank 19th and 20th in scoring respectively, at just over 77 points per game. 
Going hand-in-hand with their scoring comes field-goal percentage as Indiana and Kentucky also rank ninth and 10th respectively, shooting 48.7% from the floor this year. 
The key here is obvious, but is easier said than done: stop the easy baskets. 
Both Indiana and Kentucky will have to focus on stopping their opponent from getting into a rhythm offensively, which will be tough to do given each team's ability to score.
Anthony Davis and Cody Zeller should limit easy baskets in the paint, but each team's entire roster will have to buckle down on defense to get an edge. 
Foul Trouble 
One of the main reasons Indiana was able to defeat Kentucky earlier this year was that they were able to get Anthony Davis in foul trouble early and put him on the bench. Tom Crean will have his Hoosiers attacking Davis early to try to put him back onto the pine. 
Having already bested Kentucky once this year, Indiana will likely look to the same strategies. 
However, John Calipari is no amateur. He knows what Indiana is going to try to do. He'll have Anthony Davis keep calm and try to avoid foul trouble, while challenging Cody Zeller on the other end. 
If either team is able to take the opponent's big man off the court, they will have a good shot at punching their ticket to the Elite Eight.