NCAA Tournament 2012: Cody Zeller and More Players Who'll Lead Upsets
March 23, 2012

Jed Jacobsohn/Getty Images
Tonight will be one of the most shocking nights during this year's NCAA tournament due to the upsets that will happen. 
The Indiana Hoosiers are one of those teams that have a great chance to pull off an upset that will shock the college basketball world, behind a great performance by Cody Zeller.  
However, Zeller isn't the only person who will have a big game. North Carolina State's Richard Howell will be a big reason why his team moves onto the Elite 8. 
Below is a closer look at the two standouts:
Cody Zeller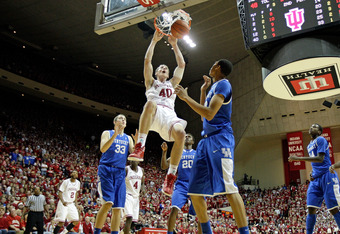 Andy Lyons/Getty Images
Zeller led the Hoosiers this year in scoring, rebounds and blocks. His stellar play led to Zeller earning The Big Ten Freshman Player of the Year award. However he was not a factor in their first game, only scoring 11 points and grabbing seven rebounds. 
This time around Kentucky will see a different player. That first game, Zeller was still figuring out the speed of the college game compared to high school. Against Kentucky, Zeller was not prepared for their talent level. 
Already in the NCAA tournament, Zeller has been a force for IU, scoring 30 points and grabbing 19 rebounds. 
Zeller is improving his game, as he had a tournament-high 16 points and 13 rebounds in IU's last contest against VCU. 
Tonight, Zeller will be the focal point for IU's offense and defense. He will be looked upon to shut down Kentucky's talented freshman forward, Anthony Davis. 
Richard Howell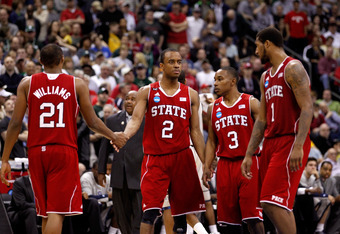 Rob Carr/Getty Images
Howell has put this North Carolina State team on his back through the Wolfpack's first two NCAA tournament games, leading the team in scoring with an average of 15.5 points per game. 
In their first game, Howell went nearly perfect from the floor, making 10 of his 12 field goals. In the third round, he did cool off against Georgetown only making two out of nine shots, resulting in just nine points. 
However, when he was held to those nine points, Howell found a way to be effective for NC State by grabbing a team-high nine rebounds and making five out of six free throws. 
Howell will have to be a force tonight against a good Kansas team that was lucky to get past Purdue during their last game, defeating the Boilermakers 63-60. Kansas could not stop a player similar to Howell in Purdue's Robbie Hummel. Hummel went off for 26 points on nine of 11 shooting against the Jayhawks' defense.