NCAA Bracket 2012: East Regional Guarantees to Take to the Bank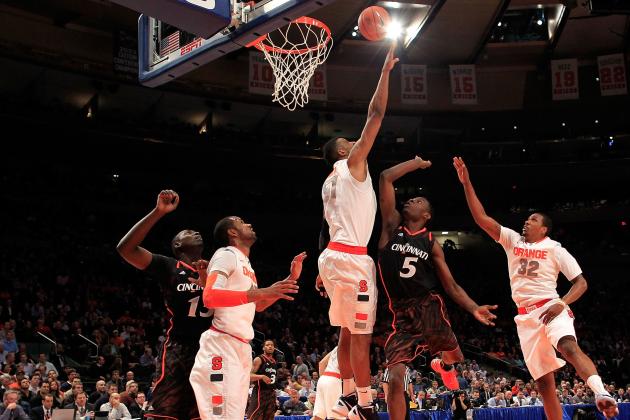 Chris Trotman/Getty Images
Suddenly "Fab-less," will Syracuse still be fabulous?
I've always looked at these grandiose, declarative proclamations with something of a skeptical eye.
"Who's writing these things, and why would they want to tell the world about their 'good thing?"
Wouldn't that potentially move the line against them?
Yet, here I am, about to tell you about next month's mortgage payment.
A last caveat before we start:
The people who make these numbers aren't in the habit of giving Christmas presents (or, since the next holiday up is St. Patrick's Day, anything then either).
That being said, I do think there are a couple of games where we might try and gain an edge.
Let's take a look:
Begin Slideshow

»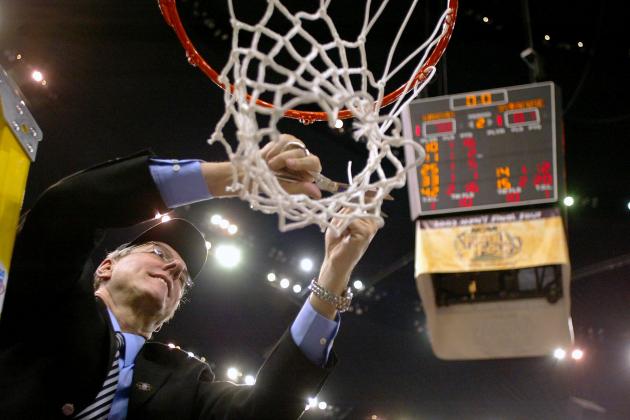 Craig Jones/Getty Images
Can Syracuse still cut down the nets in New Orleans without Melo? They won't miss him in the first round.
Line: Syracuse 15 147 NC Asheville
Here's what you need to know:
Whenever there's a strong consensus of what I'll choose to call "semi-knowledgeable" people thinking they've discovered a steal—they usually haven't.
The loss of Fab Melo has fans thinking Syracuse is headed for Davy Jones' locker.
As regards this game, the line never moved after Tuesday's announcement. The reason is he simply wasn't going to matter in this opening round game.
The UNC-Asheville Bulldogs represent the Big South Conference, where men are men and defense is non-existent.
The risk of laying points in a No.1 vs. No.16 game is always that the top seed mails in the victory.
But Bulldogs games often look like pick-up games in the park. UNC-Asheville soared to 80 or more points in half of their 18 conference games.
This is Syracuse, don't forget. While they may not be interested in overexerting themselves, this floor is going to be so wide open for most of the game the Orange could threaten 100.
Take Syracuse. And maybe a little 'Cuse and Over parlay.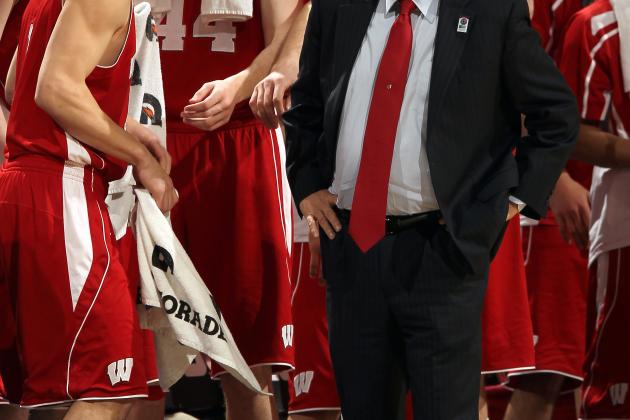 Jonathan Daniel/Getty Images
The ball changes hands fewer times in Bo Ryan-coached games than in any other Division 1 game.
Line: Wisconsin 9 118 Montana
It's hard to give many points with a team that ranks 345th of 345 teams in number of possessions a game.
I recognize that the Big Sky is not the Big Ten, and Montana (where men are men and elk are, well, you know the rest) has only played one game against top 50 competition (a win over my favorite darkhorse in the tournament, Long Beach State), but the Grizzlies have good size and shoot it well.
Plus, I have this nagging thought that the Big Ten may be this year's Big East as regards teams advancing.
Maybe not to the bank, but this one has the feel of a low 50's war.
Take Montana. And maybe pair it with a little Under.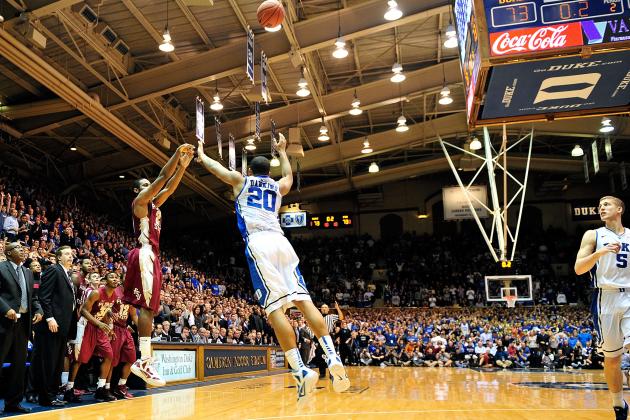 Grant Halverson/Getty Images
This Michael Snaer buzzer-beater at Duke figured to be the shot-of-the-year in the ACC. Less than two weeks later, Rivers did the same to Carolina.
Line: Florida State 6.5 130 St. Bonaventure
Everyone knows about the "wise guys."
They're an undefinable, non-specific group of bettors who supposedly discover a hot team, or hot game, and then bet the heck out of it, making mucho dinero in the process.
But has anyone ever kept track of the results?
Florida State is currently a wise guys' team. They own two victories each over the "Heathers" of the ACC, North Carolina and Duke.
Are they capable of beating anyone? Those results would appear to confirm that.
But, looking behind the curtain, the Seminoles appear to have made a deal with the devil.
All the necessary threes have gone down, there are two final minutes comebacks (against Virginia Tech and Virginia) that are one-in-a-thousand probabilities, and the last three victories in the ACC tournament all came against teams missing a key player for the game.
St. Bonaventure has someone who can become a household name if they can make it to the second week. Andrew Nicholson had a stat line in the Atlantic 10 title game against a solid Xavier team that requires a second look to make sure you saw it correctly: 26 points, 14 rebounds, eight blocks. For all the marbles, in the conference championship game.
This is the time of year a single player can ignite an entire team with a super-human performance.
Take St. Bonaventure.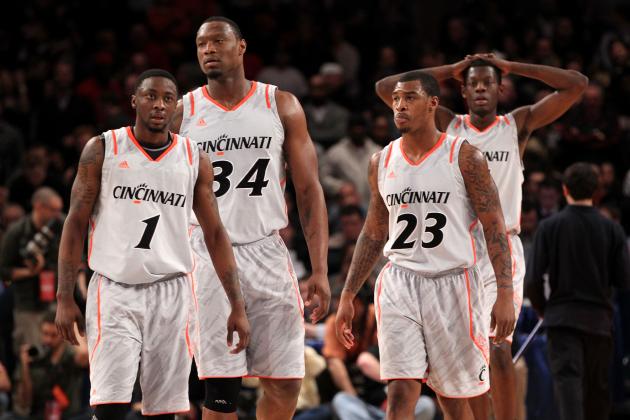 Michael Heiman/Getty Images
Can Cincinnati carry over their Big East tourney momentum to the Big Dance?
Line: Cinn 2.5 129 Tex
It strikes me that often when one of the major conferences gets a bid for one of its middle-of-the-pack teams that most people had on the bubble, it would have been better-served to go to a second or third-place mid-major team.
Add to that the fact that this line is the furthest from all the ranking and ratings systems' numbers of any game in the region.
Remember what I said earlier about gifts?
Take Cincinnati.
Line: Gonzaga 1 133 West Virginia
Here's one where the angle just may contribute to a win.
Everyone is pretty much in agreement that the team who got shafted worse by their placement in the tournament was the Zags.
A higher-seed traveling 2000+ miles to meet a team that cruised up I-79 in an hour?
And then they must face one Kevin Jones, a Mountaineer who averaged a 20-10 while playing in the Big East Conference !
But hey, look at the bright side guys. At least you get three hours back when you fly home!
Take West Virginia.
There ya have it fans. Good luck, and if we end up in the red, lose my number!