NIT 2012: Tony Wroten and Most Exciting Players You Must Watch
March 13, 2012

Stephen Dunn/Getty Images
This year's NIT has a lot of star power, and that alone should make any fan of college basketball watch the tournament, even if it doesn't have the allure of the "real" March Madness.
But these talented players are so good that even non-hardcore fans will want to pay attention. Again, the excitement won't really be there, but the talent and sheer play-making skills are far from lacking.
Here's a look at whom to pay attention to come NIT tournament time. 
Tony Wroten, Washington Huskies
He's 6'5" and 205 pounds. And he's a point guard.
Seriously.
Wroten can be erratic at times, and he's somewhere down near Ben Wallace in terms of ability to shoot the ball, but you won't find a more exciting player in college basketball.
The freshman, who plays with an absolute reckless abandon, is unstoppable at getting to the hoop and finishing with his left hand. If he doesn't finish, it's almost guaranteed at he'll grab his own rebound and put it back in. He's one of the best I've ever seen with the quick second jump.
His 2.3 offensive rebounds per game (!) are evidence of that. 
Throw in his terrific vision and ability to make electric passes, and the future NBA first-round pick is someone you don't want to miss.
Oh yeah, and the Huskies also have Terrence Ross, whom you also will want to watch.
John Shurna, Northwestern Wildcats
As the best scorer in Northwestern history, Shurna can score in a variety of ways.
Even though he's 6'9", 220 pounds, the senior can take smaller guys off the dribble and either take it to the hole or pull up from mid-range.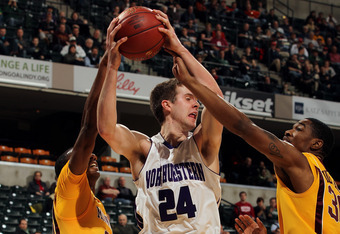 Jonathan Daniel/Getty Images
He can also knock down the long ball, as he's hitting almost three treys per contest.
Of course, he wouldn't be a big man if he couldn't play with his back to the basket, and he can do that as well. He's not a traditional post player, but Shurna has an array of crafty moves that allow him to get off the shot or get to the line (4.3 attempts per game).
His all-around game allows him to score 19.8 points per game to go along with 5.2 rebounds, 1.7 blocks and 1.2 steals. 
If you want explosive, look no further than Drew Crawford from the same team.
Herb Pope, Seton Hall Pirates
Pope is an absolute force in the post as his big body (6'8", 236 pounds) makes him a nuisance to deal with for opposing players.
The senior is averaging 15.2 points and 10.3 rebounds per game while also providing terrific defense for the pirates. He throws in 1.6 blocks and 1.0 steals to round out his normally full stat sheet.