March Madness 2012: Snubs and Surprises of NCAA Bracket
March 11, 2012

Chris Chambers/Getty Images
Selection Sunday is an emotional time for college basketball teams. While some react jubilantly to their position in their tournament, others are crushed as they sit on the outside looking in.
Like every season, there are some surprises with this year's bracket. A few undeserving teams snuck in, while some quality teams got robbed.
Here are the biggest snubs and surprises of the 2012 NCAA Tournament bracket.
Surprises
Iona Gaels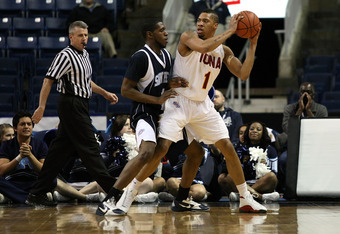 Chris Chambers/Getty Images
Iona is the highest-scoring team in the nation, but frankly, I'm shocked they made it into the tournament.
Their strength of schedule was terrible (163rd in nation) and they failed to win a game against the RPI Top 50. In their two opportunities against the RPI Top 50, they lost a close game to Purdue, then got spanked by Marshall.
The Gaels also failed to advance past the semifinals of the MAAC Conference Tournament, losing 85-75 to Fairfield, despite leading in the first half.
Iona's record of 25-7 is solid, and they can definitely put some points on the board. However, they weren't tournament-worthy this year.
Colorado State Rams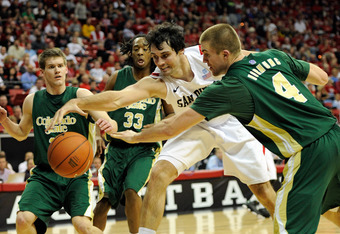 Ethan Miller/Getty Images
The Rams played a tough schedule in the Mountain West, but I didn't think they did enough to warrant a spot in the tournament.
They dropped six of their nine games against the RPI Top 50, including blowout losses against their two toughest non-conference opponents (Southern Miss, Duke).
They did have the fourth-strongest schedule in the country, but they went just 3-9 on the road and suffered a bad loss at home against Northern Iowa. The Rams are also one of the worst rebounding teams in college basketball, ranking 300th in the country.
Their inclusion in the tournament isn't as questionable as Iona's, but I think some more deserving teams got left out.
Snubs
Drexel Dragons
The Drexel Dragons should be absolutely furious that they got left out of the tourney.
Their schedule was pretty weak, but they finished 4-3 against the RPI Top 100. They had impressive road wins at Cleveland State and Old Dominion, and had won 19 games in a row before their three-point loss to VCU in the CAA championship game.
The selection committee favored Iona because of their non-conference schedule (43rd), but the Dragons were the more deserving team. Unfortunately, they got robbed.
Oral Roberts Golden Eagles
Like Drexel, I thought Oral Roberts was more deserving than Iona.
They went 1-1 against the RPI Top 50, losing a close game to Gonzaga before destroying a short-handed Xavier team on the road just three days later.
They also picked up strong wins against South Dakota State (RPI 52) and Akron (RPI 56). But like Iona, they failed to advance past the semifinals of their conference tournament, and that was ultimately their undoing.
However, I think they would have made some noise in the tournament this year, and they deserved to get in.