SEC Tournament 2012: Bold Predictions for Marquee Conference Tourney
March 8, 2012

Joe Robbins/Getty Images
The SEC doesn't reign supreme in college basketball like it does in football, but it is home to the nation's top-ranked team in Kentucky. The Wildcats are heavily favored to win the conference tournament after running through the regular season slate with just one loss.
Here are some bold predictions for the SEC tournament, which should provide a lot more intrigue than most people are anticipating.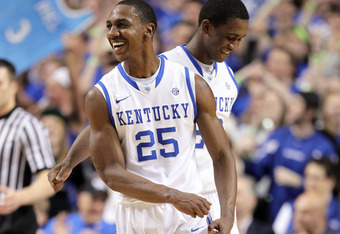 Andy Lyons/Getty Images
Kentucky Won't Win Title
Kentucky is being picked by virtually every television talking head to win the tournament, and it's easy to see why. The Wildcats didn't drop a single game during conference play and have the league's best player in Anthony Davis.
What will ultimately doom Kentucky, however, is the team's ultimate goal. They are obviously strong contenders for the national title and, when it gets to be March, it's impossible for teams in that position to maintain complete focus without thinking about what's to come.
The Wildcats are already locked into a No. 1 seed and therefore really don't have anything to prove. A team with more at stake will be able to catch them napping.
Alabama Will Make Deep Run
The Crimson Tide are the conference's most underrated team. They didn't receive a bye to the quarterfinals, so expectations are limited. That's usually a good thing, though, because it allows the team to play more freely.
Even though Alabama is safely in the NCAA field, a couple more wins should allow them to avoid the dreaded No. 8 seed vs. No. 9 seed matchup. Not only does that lead to a tough first-round opponent, but a victory results in having to face a top seed.
Since the Tide have three players who can go off at any time in JaMychal Green, Tony Mitchell and Trevor Releford, their offense is more dangerous than the stats would make it seem. Don't be surprised if they end up in the final.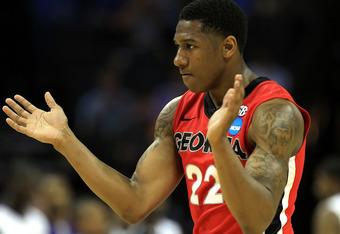 Streeter Lecka/Getty Images
Georgia Will Upset Mississippi State
Of the four first-round games, the one with the most upset potential is Georgia against Mississippi State. The first battle of the Bulldogs went to Georgia in overtime thanks to a big game from Kentavious Caldwell-Pope.
What it comes down to is Georgia provides a matchup problem for Mississippi State. It has three guards who can score and reliable defenders in the paint. Mississippi State heavily depends on forwards Arnett Moultrie and Renardo Sidney. They won't be as effective against Georgia.
To say it's been a disappointing season for Georgia would be an understatement. That said, a win in the conference tournament would at least give them one positive to look back on heading into next season.
Vanderbilt Cuts Down The Nets
Even though you don't hear much about Vanderbilt, the Commodores will be making a lot of noise in March. They have everything that's needed to make a run, not only in the SEC tournament but in the Big Dance as well.
John Jenkins and Jeffery Taylor give them two dominant scoring threats, so opposing defenses won't be able to key in on one player. Festus Ezeli plays terrific post defense. And Brad Tinsley is the glue guy who holds everything together.
If the Commodores can avoid the turnover issues which plagued them at points throughout the season, they'll emerge from New Orleans with a new trophy for the case back in Nashville. They should be able to do just that.