Big East Tournament 2012 Bracket: UConn Needs Minor Miracle to Punch NCAA Ticket
March 6, 2012

Elsa/Getty Images
The UConn Huskies have had a year to forget.
Between the incredibly inconsistent play, Jim Calhoun's suspension and his subsequent health issues…this is not how most expected the defending champ's season to play out.
At 18-12 with an 8-10 Big East mark and a RPI ranked 34th, all hope is not lost. But it sure isn't going to be easy. With a losing record in conference play, a 4-6 mark in their last 10 games and two loses to sub 150 RPI teams; there is a lot of work to be done, for the Huskies, at Madison Square Garden this week at the Big East tournament.  (Click here for full Big East bracket).
As the No. 9 seed, the work begins at high-noon on Tuesday against the No. 16 seeded DePaul Blue Demons. If they lose this game, it's NIT city.
Assuming UConn wins, they will be playing No. 8 seed West Virginia in an elimination match of sorts. The Mountaineers are also squarely on the bubble and the loser of this game can kiss their NCAA tournament ticket goodbye. The intensity and physicality level in this one is going to be a joy to watch.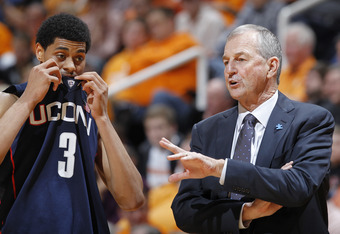 Joe Robbins/Getty Images
Considering they beat WVU once already, we'll give the defending conference tournament champs the benefit of the doubt to advance.
That would put them at 20-12…still not good enough for a bid. Without a signature win and such poor play down the stretch, they need to do more.
If the Huskies advance to Thursday, No. 1 seeded Syracuse is next up after they enjoy its double bye. The second-ranked team in the country is what ultimately stands in Connecticut's way.
If they beat the 'Orangemen, then their opportunity to repeat as championships is still alive.
While there will be a chance UConn gets in without beating Syracuse, they will surely be sweating out selection Sunday as one of the last four in or out.
The next three days are going to define UConn's season and it provides a chance to erase the utter sense of disappointment that has engulfed the program in 2012.