UNC vs. Duke: Saturday's Game Will Prove Tar Heels Are ACC's Top Seed
March 3, 2012

Streeter Lecka/Getty Images
Revenge is sweet, and that is exactly what the North Carolina Tar Heels will be looking to accomplish when they visit the Duke Blue Devils at Cameron Indoor Stadium this Sunday.
The last time these two teams played, the Blue Devils had the last laugh as they triumphed over the Tar Heels in Chapel Hill, in what was an epic 85-84 game.
In that game, Duke was ranked No. 9 in the country, while the Tar Heels were sitting at No. 5. This game is the same situation, but just flipped.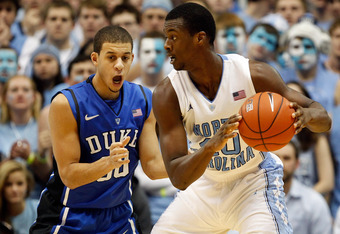 Streeter Lecka/Getty Images
The game will be on Duke's floor, and this time UNC is No. 6 and Duke is No. 3. And while it is hard to imagine the Blue Devils losing on their home floor, they have lost there twice this season in games against Florida State and Miami. This game against UNC has a lot more riding behind it, but the Tar Heels are also a much stronger team than FSU and Miami.
The one thing that the Tar Heels have going in their direction most is experience, as forward Harrison Barnes trumps Duke's freshman in Austin Rivers. 
Both players have had solid seasons thus far, but Rivers is definitely still much more raw. In a game with this magnitude, such as the ACC being on the line, the Tar Heels stand at an advantage.
The Tar Heels also have been scoring much higher this season, as they currently stand in second in the entire NCAA with 82.1 points per game. The Blue Devils are not shabby averaging 79 points, but it is quite clear when one looks at the Tar Heels' results that they can let it rain whenever they are on the floor.
Nothing will push this team more to win than the fact that they can avenge their home-court loss, and take back the respect that they lost at the hands of the Blue Devils in early February.
This game will likely be close every second of the game, as both teams are going to be looking to claim the ACC title and most likely a No. 1 seed in this year's tournament.
While the Blue Devils won the first battle, the Tar Heels will walk away with this one. All anyone can ask for now is a rematch in the tournament, so once and for all we can decide who has won the war.