College Basketball: 2011-2012 All Mid-Major Teams
Eric Francis/Getty Images

This was a good year for mid-majors. Although no mid-major teams advanced past the Sweet 16, the nation's top seven scorers all came from mid-major schools, and Iona's Scott Machado and Liberty's Jesse Sanders finished No. 1 and No. 3, respectively, in assists.
Here are the best mid-major players of 2011-12, in my opinion, organized into a first team, second team, third team, and freshman team. Anyone who did not play in the ACC, Big Ten, Big 12, Big East, SEC, Pac-12, C-USA, MWC, or A-10 was eligible.
Begin Slideshow

»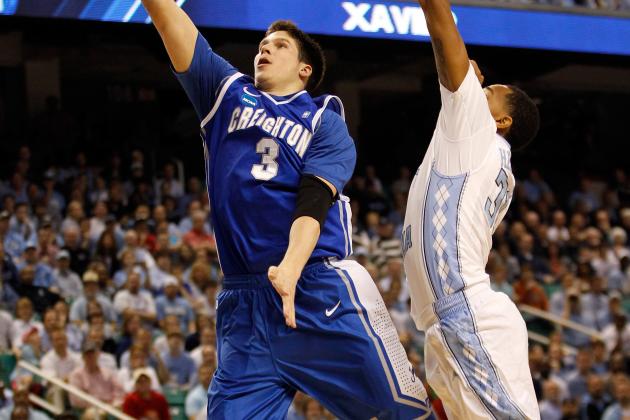 Streeter Lecka/Getty Images

Scott Machado, Iona
Machado made a splash on the college basketball scene as the nation's leader in assists with 9.9 per game. He posted double-doubles in each of his first six games, averaging 18.6 points per game and 12.2 assists per game during that stretch.
He cooled off just a little bit over the final three months of the season, but he still ended up posting a career-high 16 assists against Manhattan in January, and put together a triple-double against Marist, recording 10 points, 11 rebounds and 10 assists.


Nate Wolters, South Dakota State
Wolters was the only player in Division I this year to average 20 points per game, five rebounds per game, and five assists per game. He scored in double figures in every game this year, including nine games with 25 or more points.
Wolters led the Jackrabbits to their first-ever appearance in the NCAA tournament. Although his squad fell just short of a monster upset of Baylor, Wolters had a solid game with 19 points, four rebounds, and four assists.


Reggie Hamilton, Oakland
Hamilton managed to be a well-kept secret last year, despite averaging 17.6 points per game, because Keith Benson was receiving all the media attention. But this year, Hamilton was in the spotlight, leading the nation in scoring with 26.2 points per game.
He had a number of unreal performances. Most notable were his 41-point performance against Valparaiso, his 40-point outing against Western Illinois, and his 39-point game in the first round of the CIT against Bowling Green.


Damian Lillard, Weber State
Lillard led the nation in scoring for a large part of the season until Hamilton overtook him, but the junior is still being projected to be a lottery pick.
Lillard was one of the better guards in the country, averaging four assists per game in addition to his 24.5 points per game and 5.1 rebounds per game.
He was an explosive scorer throughout the year, reaching the 40-point plateau twice. Against San Jose State, he scored 41 points on 13-21 shooting, and in February, he notched 40 points on 13-18 shooting, including 6-8 from three-point range.


Doug McDermott, Creighton
McDermott was only a sophomore, yet he was the best all-around player at the mid-major level. He scored in double digits in every game this year. In the NCAA tournament, he averaged 18 points per game and 9.5 rebounds per game, leading his team to the round of 32.
McDermott will return to school for his junior year, and he will be a candidate for National Player of the Year in 2012-13.


Mid-Major Player of the Year—Doug McDermott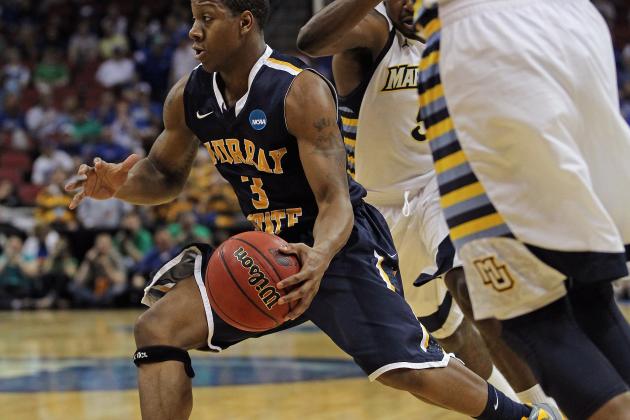 Jonathan Daniel/Getty Images

Casper Ware, Long Beach State
Ware was one of the better point guards in the country this year with 17.4 points per game and 3.4 assists per game. Against NCAA tournament teams and teams from power conferences, he averaged 18.8 points per game and 4.1 assists per game.

Isaiah Canaan, Murray State
Canaan put together a breakout season with 19 points per game and 3.7 assists per game while shooting 45.6 percent from beyond the arc. Canaan led the Murray State Racers to a 31-2 season and an appearance in the round of 32 at the NCAA tournament. Canaan will be back in school for his senior season.

C.J. McCollum, Lehigh
McCollum put together his third straight year with more than 600 points, upping his career total to 2,074 points. He dominated his competition throughout the year, averaging 21.9 points per game. In the NCAA tournament, he scored 30 points in a second round upset over No. 2 seed Duke.

Kyle O'Quinn, Norfolk State
O'Quinn and Norfolk State stumbled in conference play and ended up finishing in second place in the MEAC. Behind O'Quinn's efforts, the Spartans made a run in the conference tournament and ended up going to the Big Dance. Against all odds, Norfolk State, fueled by O'Quinn's 26 points and 14 rebounds, upset No. 2 Missouri.
This year, O'Quinn was one of the few players in Division I to averaged a double-double with 15.9 points per game and 10.4 rebounds per game.

T.J. Robinson, Long Beach State
Robinson accomplished a rare feat during the era of one-and-done players—he averaged a double-double for three straight seasons. His scoring numbers have actually gone down over the last three years, but he still averaged 12 points per game and 10.1 rebounds per game this season.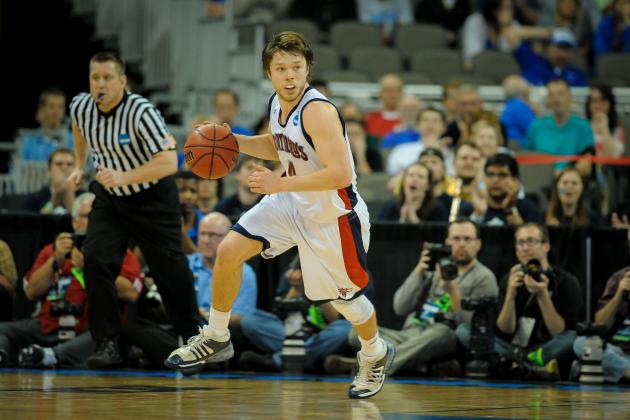 Eric Francis/Getty Images

Jesse Sanders, Liberty
Out of everyone at the mid-major level, Sanders had the best triple-double potential. He only posted one during the course of the season (14 points, 10 rebounds, 13 assists against High Point), but on many occasions, he fell just shy. He just needed two rebounds against Lehigh, two assists against Charleston Southern, one assist against Presbyterian, and one rebound against Coastal Carolina.
Still, he put up amazing numbers for the 2011-12 season with 12.5 points per game, 7.8 rebounds per game, and eight assists per game.

Matthew Dellavedova, St. Mary's
Dellavedova earned the 2012 WCC Player of the Year award with 15.6 points per game and 6.4 assists per game. This season, he led St. Mary's back to the NCAA tournament after a one-year hiatus.
The junior has continued to improve every season with the Gaels, and next year he will be one of the best point guards on any level of collegiate competition.

George Beamon, Manhattan
Beamon led the MAAC in scoring with 19 points per game this year, and scored in double figures in every game. He now has the second longest active streak of 10 or more points at 48 games, behind only John Jenkins of Vanderbilt.
This season, Beamon had a pair of 30-point outings against Canisius and Albany. Against the Great Danes, he dropped 34 points (on 13-19 shooting), 10 rebounds, and five assists.

Dominique Morrison, Oral Roberts
Morrison cooled off towards the end of the year, but still finished No. 5 in the Summit League in scoring with 20 points per game. In addition, he averaged 4.3 rebounds per game and shot 42.3 percent from beyond the arc.
His best overall performance of the year came against South Dakota State, when he scored 38 points on 11-15 shooting, including 5-of-8 on three-pointers, and 11-11 shooting from the foul line.


Mike Glover, Iona
Glover was one of the most dominant mid-major big men this year. He averaged 18.5 points per game and nine rebounds per game and looked like a man among boys against most of his competition.
The senior's best performance of the year was against Saint Joseph's when he scored 34 points and 15 rebounds.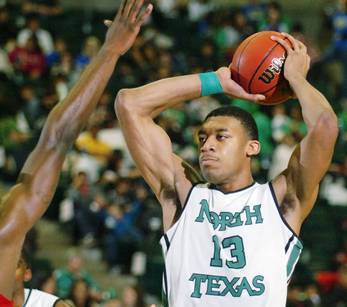 (David Minton/DRC)
Juan'ya Green, Niagara
Green stepped onto the court and immediately became a star for Niagara. With 17.7 points per game, he finished No. 3 in the MAAC in scoring and was named the best freshman in the conference.
Aside from scoring, he was a solid all-around player with 4.5 assists per game and 1.9 steals per game.


Kyle Vinales, Central Connecticut State
As great as Green was, Vinales won the freshman scoring title. Vinales scored 17.9 points per game this year, good for No. 3 in the NEC. He was also one of the nation's best free-throw shooters at 84.3 percent.
When Vinales matched up against Green in the second game of the season, he had 39 points on 15-23 shooting while the Niagara rookie was limited to 23.

Tahj Tate, Delaware State
It's hard to get publicity in the MEAC, but when you are a freshman scoring 16.1 points per game and throwing down dunks like this, your name is bound to break through at some point.
Tate was No. 5 in scoring in the MEAC this year and No. 1 in the conference among freshman. After struggling a little in November and December, he finished strong, knocking down 10 or more points in all but two games since New Year's.

Stephan Hicks, Cal State Northridge
Hicks was the best player on Cal State Northridge this year. The freshman was No. 7 in the Big West in scoring with 15.1 points per game and No. 3 in rebounding with 7.1 boards per game. He was also No. 5 in the conference in free-throw shooting at 81.3 percent.
His best game of the year was at Hawaii, where he scored 22 points and grabbed 17 rebounds.

Tony Mitchell, North Texas
Mitchell garnered Sun Belt Freshman of the Year honors after being one of the most dominant freshmen in the nation. He averaged a double-double with 14.7 points per game and 10.3 rebounds per game. In addition, he averaged three blocks per game, shot 56.7 percent from the field, and made 43.9 percent of his three-pointers.
If he returns to school for his sophomore season, he could make North Texas one of the better mid-majors in the country.

Mid-Major Freshman of the Year—Tony Mitchell