College Basketball: Great Teams Are a Thing of the Past
February 27, 2012

Andy Lyons/Getty Images
Kentucky should win the national title not because they are head and shoulders above all the other great teams in the country, but because they are the only great team in the country.
Thanks to the NBA friendly "one-and-done" rule and the ever increasing success of March Madness, college basketball is drifting into mediocrity.
The competition in this year's tournament is exhibit A.
Defending champion UConn currently sits ninth in the Big East and at one point lost four straight and seven of nine in conference play. However, in his latest "Bracketology" column, ESPN's Joe Lunardi predicted the team will be awarded a No. 10 seed as an at-large bid. Seton Hall, who sits one spot above the Huskies in the conference standings and lost six straight earlier in the season, will earn a No. 12 seed according to Lunardi. Both teams currently have losing conference records.
This watered-down play is not new to college basketball, but it seems to have amplified recently. Of the last five drafts, one-and-done players were taken No. 1 overall four times, most notably last season's MVP Derek Rose. This trend looks to continue this year with Kentucky freshman Anthony Davis perceived as the top pick.
Benefiting from this rule are the a select few underclassmen for whom millions of dollars are waiting if they forgo their collegian eligibility. For these talented few, the choice is simple. College will always be there. Lottery pick money won't.
The NBA has much to gain as well. The list of youngest players drafted since 2001, according to ESPN, includes Kevin Durant, Carmelo Anthony, Chris Bosh and Luol Deng.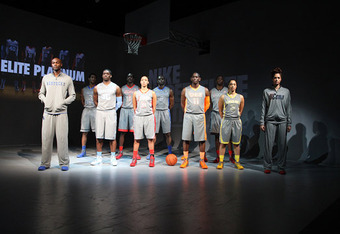 This, however, has left a gaping hole in college basketball, says Jay Bilas of ESPN.
"On the floor, while incoming players are better than ever, the current teams are not. Because top talent usually exits the game after a single season, modern teams lack the cohesion of their predecessors and the level of play is not as high as it used to be or should be."
College basketball enthusiasts lament the sport's downward spiral by glorifying the "student athlete" role these young men play, but that title has become increasingly blurred by the success of March Madness. In 2010, CBS and Time Warner joined together to sign a 14-year, $10.8 billion deal for the rights to broadcast the NCAA tournament. Fueling this exorbitant amount is the $613.8 million CBS earned in advertising revenue that same year.
On the court, Nike, Adidas and Under Armour are looking to capitalize on this increased popularity by making athletes into billboards with eye-grabbing, state of the art uniforms and shoes in conference games. Most recently, Nike outfitted nine schools with its new Hyper Elite Platinum jersey, establishing gray as the new universal school color. These new uniforms will of course make their way to university bookstores and apparel retailers, and later on video game likenesses and highlight DVDs.
The players, meanwhile, watch their talent and hard work earn fortunes for anyone but themselves.
While the "amateur" status of athletes are based on noble principals, ballooning revenues undermine these core values and place student athletes in a difficult position. When a player gets a glimpse at how much his performance on the court is worth, the obvious choice is to capitalize on his physical abilities that are fleeting and unpredictable, even if it's to the detriment of the team. The NCAA may bemoan this reality, but until it decides to share the money earned by these elite players this rise in mediocrity will continue and truly great teams will increasingly become a thing of the past.