No. 2 Bellarmine Downs No. 8 Northern Kentucky in Regular-Season D-II Finale
February 24, 2012

The No. 2 nationally ranked Division II Bellarmine University Knights traveled to the Bank of Kentucky Center and defeated the No. 8 Northern Kentucky University Norse on their home court, 86-75.
It was senior night for the Norse so guards Jon Van Hoose and Tony Rack, as well as center DeAndre Nealy and manager Danny Boehmker were honored in front of a crowd of 5,249.
"It's been a great four years and I just have to thank coach for the opportunity," Van Hoose said.
The Knights jumped out to a lead just 15 seconds into the game, with a good jumper from Keisten Jones. Jones ended the game with 14 points, three rebounds and two assists.
NKU answered with a dunk by DeAndre Nealy, tying up the game. Van Hoose gave NKU its only lead of the game, making one of two free throws.
Nealy and Van Hoose led the team in total points, each scoring 19. Van Hoose shot 15 of those from behind the arc.
Eshaunte "Bear" Jones wasn't far behind, with 18 total points. Jones also led the Norse in rebounds, with five. Jones started in place of an injured Rack.
Nealy was also successful defensively, getting three rebounds and one block. However, it wasn't enough to stop the consistent shooting from the Knights.
"We just weren't able to execute tonight, that's the bottom line," Van Hoose said.
The Norse couldn't find a solution to forward Luke Sprague.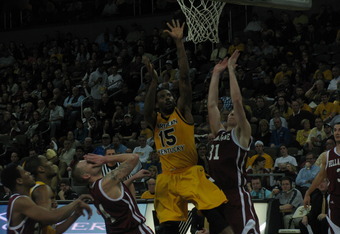 Sprague led Bellarmine in total points, with 28. Sprague also notched four rebounds for the defending national champion Knights.
Guard Chris Dowe played a big part in shutting down the Norse, with seven blocks, six of which came defensively. 
"They played well, as a team," head coach Dave Bezold said.
Heading into next week's Scheels GLVC Men's Basketball Tournament, the Knights improved to 24-2 overall and 16-2 in the Great Lakes Valley Conference.
The Norse are now 21-5 overall and 13-5 in the GLVC. Despite the loss, NKU has high hopes for its chances next week.
"We have all of the pieces to beat them and win the conference," Van Hoose said.
"We'll have to play a little better and see if we can knock 'em off," Bezold said.
Monica Fritsch is a correspondent for Bleacher Report. Unless otherwise noted, all quotes were obtained first-hand.