College Basketball's 10 Biggest Shockers of the Season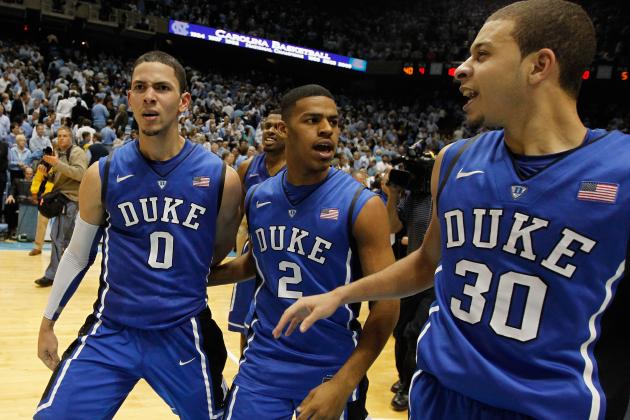 Streeter Lecka/Getty Images

From Christian Laettner's buzzer beater over the Kentucky Wildcats in 1992 to Austin Rivers' buzzer beater over the North Carolina Tarheels in 2012, college basketball has never taken a back seat to any sport when it comes to thrilling games and shockers.
What makes college basketball so great is there are always things that make you scratch your head, things that make you jump off your couch and things that provide just sheer entertainment. The greatest thing, though, are the events you never expect to happen—"shockers."
In the 2011-12 college basketball season, there have been buzzer beaters, teams playing way below and above their usual average, plenty of instances on Sports Centers not top 10 and just the overall gleam of the sport.
Here are the biggest shockers of the 2011-12 college basketball season.
Begin Slideshow

»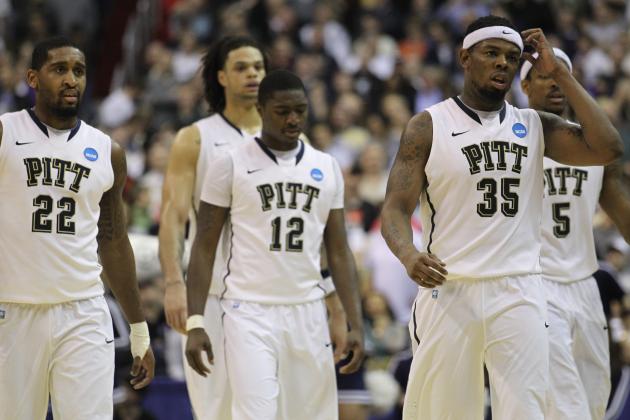 Nick Laham/Getty Images

Coming off a 28-6 season in the 2010-11 season and a Sweet 16 loss to Butler, the Pitt Panthers started the season strong at 11-1.
Everything fell apart from there.
A team America is used to seeing on top of arguably the best conference in college basketball, Pitt lost eight games in a row after their 11-1 start to the season.
It is to the confusion of many as to why Pitt is struggling so much this season. The loss of Brad Wanamaker was a significant blow to the Panthers, but not something they shouldn't have been able to fight through.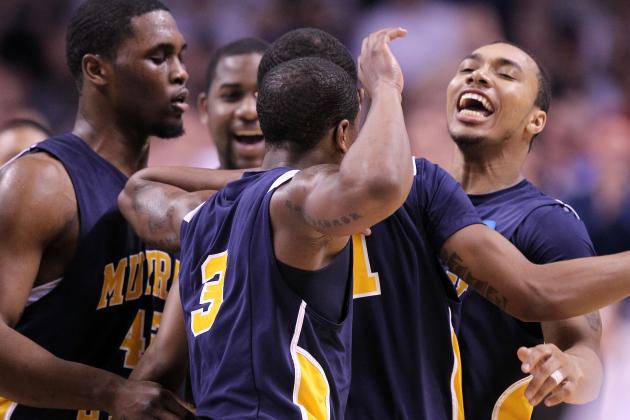 Jed Jacobsohn/Getty Images

One of the biggest stories of the season has been the high unexpected success of the Murray State Racers from the Ohio Valley Conference.
Murray State started the season a resounding 23-0, and many thought it was inevitable that the Racers would finish the season with a perfect record. That was of course until Tennessee State came along and handed the Racers their first loss of the season.
Now it is being debated whether or not the Racers will even make it to the NCAA tournament. It's crazy to think that a team that just had its first loss of the season literally five days ago may still not make the tournament. If you take a look at the Racers' schedule, though, you'll see why.
Murray State has a date with No. 16 St. Mary's this Saturday. It is imperative that Murray State wins that game to stay in the race (no pun intended) for a tournament bid.
Jonathan Daniel/Getty Images

In Ohio State's game versus Michigan State last Saturday evening, the Buckeyes looked as if they hadn't shot a basketball in five or six months.
The Buckeyes shot a season low 26 percent from the field (14-53). That's right, the same Buckeyes that had held a season average of 75.8 points per game made 14 baskets the entire night against the Spartans.
I want to give some credit to Michigan State here, because it's a notoriously good defensive team, but come on—48 points?
William Buford, the Buckeyes' best perimeter shooter, shot just 2-12 from the field. Jared Sullinger led the Buckeyes with 17 points, but he hit just five out of 15 shots.
I didn't catch this game, and when I saw the final score I had to do a double take and realize that Ohio State actually scored under 50 points.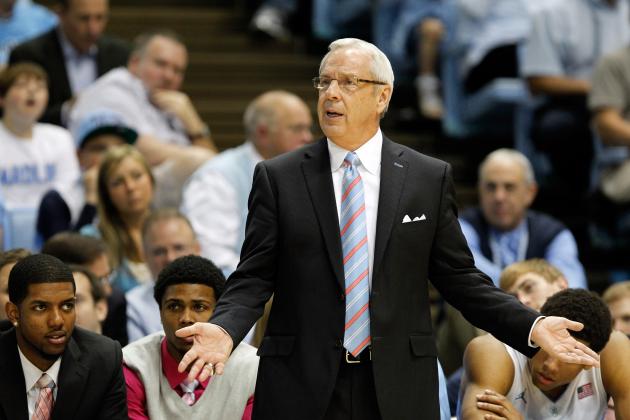 Streeter Lecka/Getty Images

In North Carolina's January 14 game against Florida State, it came in 15-2, having won nine in a row since its close 73-72 loss to Kentucky.
Who would've expected that Florida State would randomly lay into the Tarheels and beat them by 33 points?
I mean, where did that come from?
UNC only shot 37 percent from the field and just didn't look nearly as into the game as Florida State did.
Can we attribute this to Florida State playing excellent basketball at the time? Or to UNC for just going through the motions? Or a little of both?
Either way, this was an unexpected thrashing of a Top 10 team. I'm willing to bet if these two were to meet again, the result would be quite different.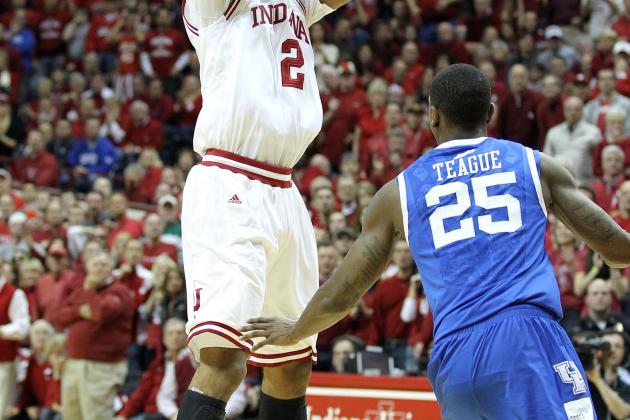 Andy Lyons/Getty Images

One of the most spectacular moments of this season was Christian Watford's three at the buzzer to hand Kentucky its only loss of the year thus far.
Tom Crean's Hoosiers were undefeated going into the game versus the top-ranked Wildcats, but still—nobody was giving Indiana a chance.
Well, it just so happens that this turned out to be one of the best games of the year, which was a bit of a surprise in and of itself. The biggest surprise? Indiana actually beating Kentucky.
Hoosier fans stormed the court in an absolute fury, and for good reason, as Indiana basketball hasn't been anything to write home about for a while.
This will go down as one of the best finishes in recent memory.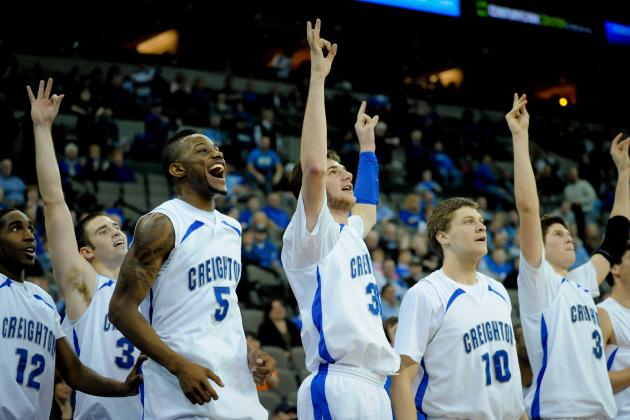 Eric Francis/Getty Images

The Creighton Blue Jays, another great story of this season, started 21-2 and looking primed for an appearance in the NCAA tournament.
The Blue Jays, though, have taken to a major slump in the last three games, with embarrassing losses to Northern Iowa, Evansville and a blowout loss to Wichita State.
Wichita State is a talented team, and cracked the top-25 this week, but for Creighton to get the hammer by 21 points by the hands of Wichita State, come on...
What surprises me is that a team that starts off with a 21-2 record starts out of nowhere playing like—for lack of a better word—crap.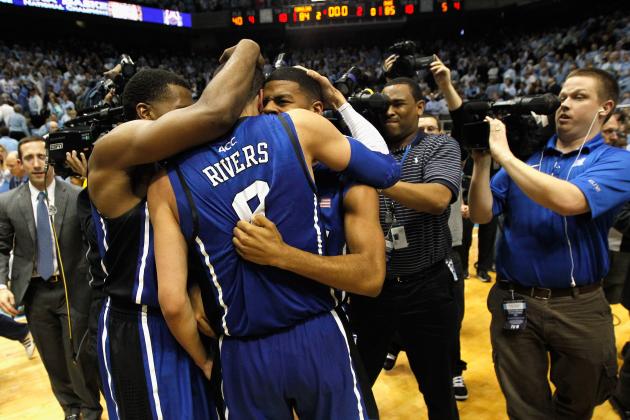 Streeter Lecka/Getty Images

This year's Duke/UNC game was another one for the story books.
A classic grudge match between two of the most storied college basketball programs in the nation, and what a game it was.
But when the game was on the line, who was guarding Duke's best player Austin Rivers?
Tyler Zeller...
Not only did Zeller miss a free throw that would have given the Tarheels an 85-82 lead over Duke with just seconds remaining, he went on to guard Duke's hottest player, Austin Rivers. Zeller gave Rivers all the space he needed to feel comfortable and didn't bother putting his hands up to rattle the streaky shooter.
Besides all of this, though, what was UNC's dominant force in the paint doing guarding Duke's premier shooter?
The Tarheels, and Zeller, could've easily prevented all of this. It all started with Zeller missing that free throw that would've secured a three point lead. You just knew that after he missed the shot, Duke was going to take advantage of it...and take advantage of it, they most certainly did.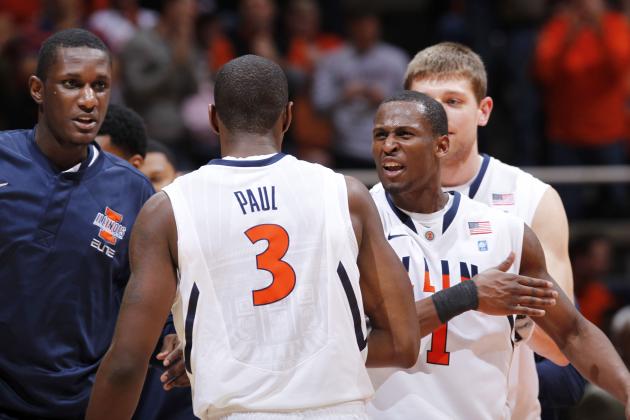 Joe Robbins/Getty Images

Not only did the Illini upset Ohio State on their home floor on January 10, their best player Brandon Paul lit the Buckeyes up for 43 points.
When's the last time Ohio State allowed a player to score that many points against them?
Not saying this is the biggest shock to ever happen in college basketball history, but for Paul to have the type of performance he did in front of his home fans and his parents was pretty epic.
The Buckeyes may be in the Top 10 in the nation this year, but they have shown some glaring vulnerabilities on more than one occasion.
One of those occasions is allowing a mid-tier Big 10 athlete scoring 40-plus points on you.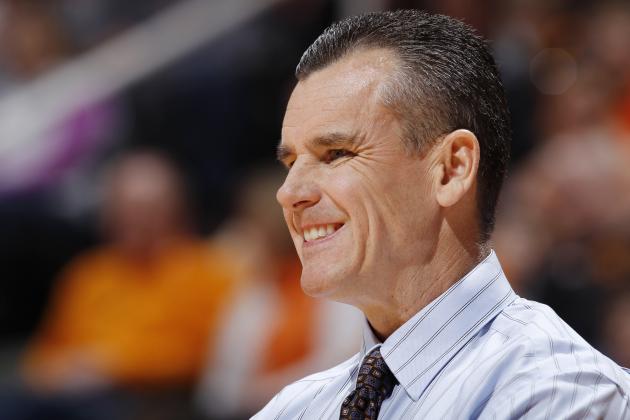 Joe Robbins/Getty Images

Tennessee just hasn't been Tennessee since they lost Bruce Pearl.
After an embarrassing showcase in last year's tournament after being drubbed by Michigan, the Vols are having quite a meager 13-12 season in 2012.
So, who would've thought that these hapless Volunteers could go into Gainesville and knock off the No. 7 Florida Gators?
Not me.
They did, though, and that is a huge victory for a struggling program right now. This is sugar coated for Tennessee as well, as it's made a bad mark on Florida's resume.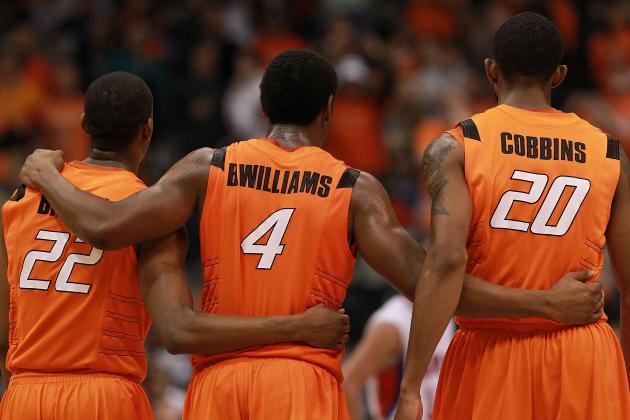 Ronald Martinez/Getty Images

On January 25, the second-ranked Tigers of Missouri came into Stillwater thinking they had a cake-walk game against a 10-10 Oklahoma State team—well, they were sadly mistaken.
Oklahoma State defeated No. 2 Missouri on their home floor, in a seven-point convincing fashion.
This was one of the biggest upsets of the entire year, and it certainly made a bad mark on the Tigers' resume.