No. 16 Northern Kentucky Defeats St. Joseph's, Scores Fourth Consecutive Win
February 12, 2012

The No. 16 Northern Kentucky University Norse defeated the St. Joseph's College Pumas, Saturday, in front of a crowd of 1742 for "Take A Kid To the Game Day."
The 85-72 defeat was a much closer game than the score indicated. The Norse trailed the Pumas until 16:20 in the first half, with a layup from Jon Van Hoose. However, the Pumas rallied and tied up the score at 10-10 off of a steal by Jade Anthrop. The Pumas even out-scored the Norse from the free-throw line, shooting at 88.9 percent to the Norse's 69.8 percent.
"In the first half, we played a lot of sloppy basketball." DeAndre Nealy said.  
The most recent meeting between NKU and SJC occurred on December 1, 2011, with NKU getting an 82-70 victory. NKU is now 19-4 overall and 11-4 in the Great Lakes Valley Conference. SJC is now 7-16 overall and 2-13 in the Great Lakes Valley Conference.
For the second game in a row, Ethan Faulkner scored a career-high 19 points for the Norse. Faulkner also notched five rebounds and an assist. Not far behind Faulkner is Puma guard, Dayvon Sloan, who scored 17 points and two rebounds for the Pumas.
Chad Jackson and Tony Rack also scored in double figures for NKU, each with 15 points. Jackson led NKU in rebounds, scoring seven boards and in steals, with three. Of Rack's 11 points in the first half alone, nine of them came from behind the arc.
Nealy contributed eight points, five rebounds and three blocks. He now has a total of 68 rejections for the season.
"At this point in the season, I'm playing good." Nealy said.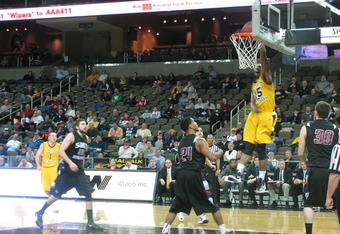 Recent Utah State University transfer, Antonio Bumpus, is adjusting well to playing for the Norse. Bumpus scored nine points, three rebounds and one assist in his Norse debut. Bumpus is a native of Columbus, OH and left Utah State University due to personal injuries and health problems within his immediate family, according to the Utah State website.
"I like it a lot." Bumpus said of his time thus far, playing for NKU.
The Norse will make its final road trip, to the Owensboro Sportscenter, to take on No. 7 Kentucky Wesleyan, Thursday night. In their most recent meeting, Kentucky Wesleyan defeated NKU 74-57.
Monica Fritsch is a correspondent for Bleacher Report. Unless otherwise noted, all quotes were obtained first-hand.