10 College Basketball Teams in a Midseason Free Fall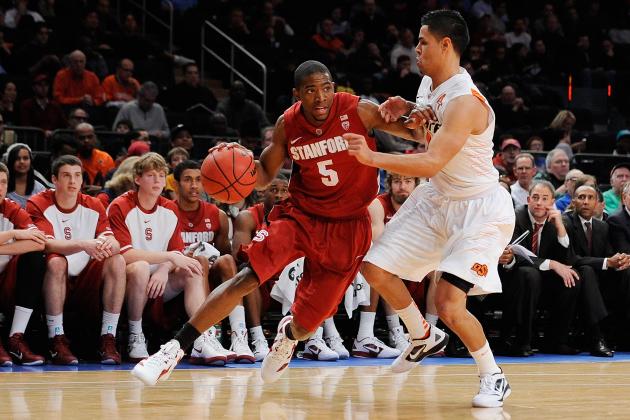 Patrick McDermott/Getty Images

As UConn demonstrated so aptly last year, a college basketball team can make up for many flaws by getting hot at the right point in the season. Conversely, though, an ill-timed losing streak can take a promising squad and keep it from getting a shot at a postseason run.
In a down year for the Pac-12, Johnny Dawkins' Stanford Cardinal looked like one of the conference's leading contenders for a spot in March Madness.
Those hopes are dwindling rapidly, however, thanks to a three-game losing streak that has dropped the Cardinal two games behind the league leaders with a month remaining on the schedule.
Herein lies a closer look at Stanford and nine other teams that are currently plummeting down the standings after strong starts in 2011-12.
Begin Slideshow

»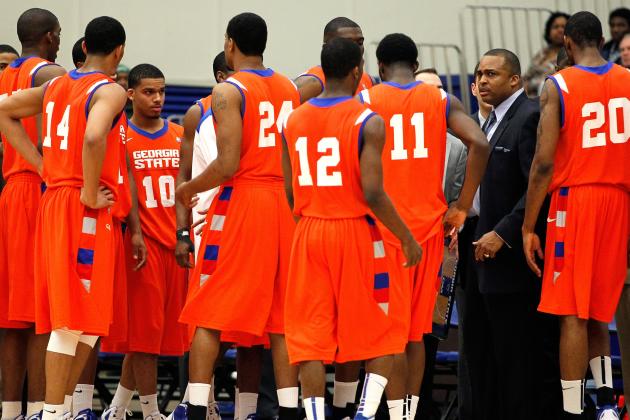 Kevin C. Cox/Getty Images

The Panthers got off to a terrific start in the competitive CAA, beating Drexel and Virginia Commonwealth early en route to a 5-1 conference record and a share of first place.
In the last two weeks, though, they've gone from "title contender" to "lucky if they make the NIT."
Georgia State has dropped four of five to fall four games behind conference-leading George Mason, a stretch that's also included rematch losses to the Dragons and Rams (both tied for second and very much in NCAA tournament contention).
Even if senior Jihad Ali (12.5 points a game) and the suddenly punch-less offense turn things around, there just aren't enough games left to give the Panthers a reasonable chance to get back into the scramble for the Colonial title.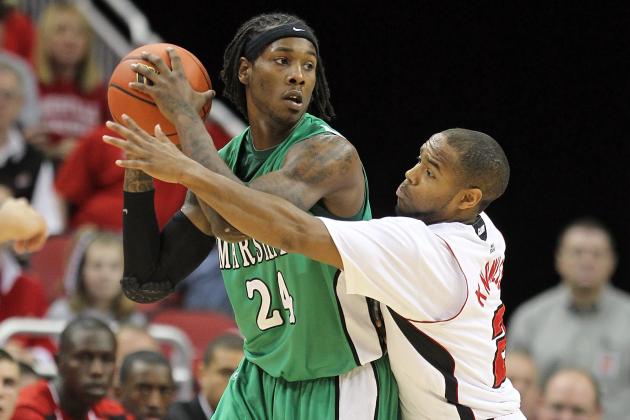 Andy Lyons/Getty Images

After taking advantage of a soft schedule in Conference USA play to grab the early lead in the standings, the Thundering Herd has been hit with a jarring reality check.
A 16-point home loss to West Virginia sparked a losing streak that's at four games and counting, leaving the team two games out of first place and—more tellingly—at a weak 13-8 mark overall.
As much as the backcourt tandem of DeAndre Kane and Damier Pitts (a combined 29.3 points and 8.1 assists a game) has contributed, Marshall doesn't quite have the tournament resume to earn an at-large bid without a convincing showing in C-USA.
Considering that they have only one more head-to-head shot at either of the co-leaders—a season-ending tilt with Southern Miss—the Thundering Herd will need a lot of wins and even more luck in the season's final month to do better than an NIT berth.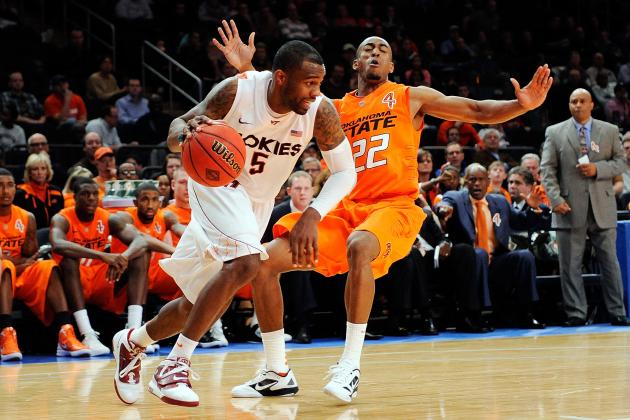 Patrick McDermott/Getty Images

Virginia Tech's preconference performance didn't make it look like a Top 25 team, to be sure, but it looked like a group that could hold its own.
With their three losses coming against respectable opponents like Syracuse, the Hokies looked poised to be a spoiler, at worst, in the ACC.
Instead, Seth Greenberg's team has lost six out of seven games since ACC play began and now sits a mere half-game out of last place in the conference.
Freshman rebounding machine Dorian Finney-Smith has stopped scoring, senior guard Dorenzo Hudson has stopped recording assists, and the Hokies will have to scramble just to stay above .500 for the year with four games remaining against ranked opponents.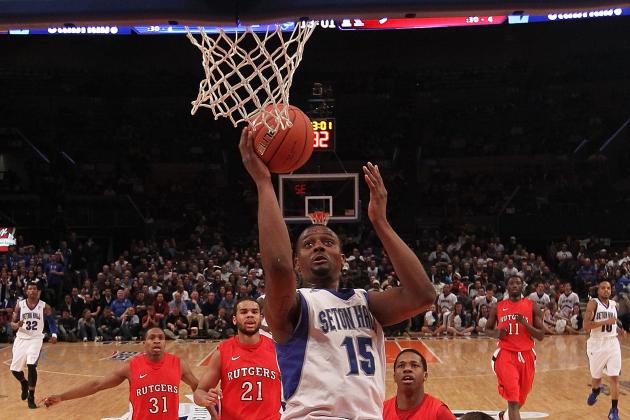 Nick Laham/Getty Images

Phenomenal performances by Herb Pope (15.9 points and 10.4 rebounds per game) and Jordan Theodore (16.1 points and seven assists a night) helped Seton Hall jump out to an uncharacteristic 4-1 start in Big East play.
That early success included an upset of then-No. 8 UConn, but it seems regrettably distant for the Pirates now.
Seton Hall's loss at Marquette last night was the team's fifth straight, all against conference foes.
At 15-7 overall, the Pirates still have an outside shot at an NCAA bid if they recover immediately, but with two more games left on the current road trip—a rematch with the Huskies and a visit to in-state rival Rutgers—that prospect looks like a thoroughly unlikely one.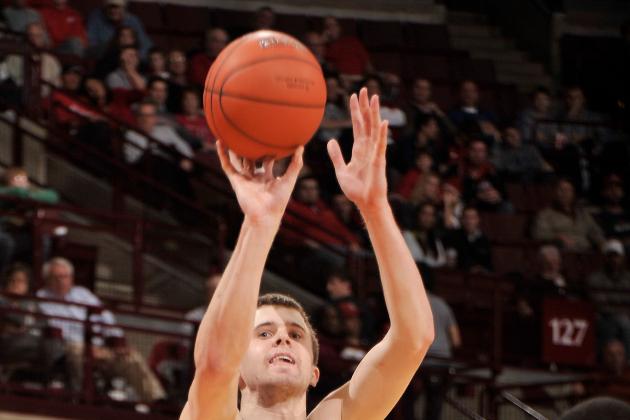 Jamie Sabau/Getty Images

It was all going so well for the Wildcats.
Northwestern was 11-3 after a New Year's Day win over Penn State, in a position to make a run at the first NCAA tournament berth in program history.
Instead, high-scoring senior John Shurna (19 points a game) will be lucky to finish his career in the NIT.
Northwestern has dropped five out of six to fall to 2-6 in conference play and still faces rematches with Ohio State, Michigan and Illinois before the year is out.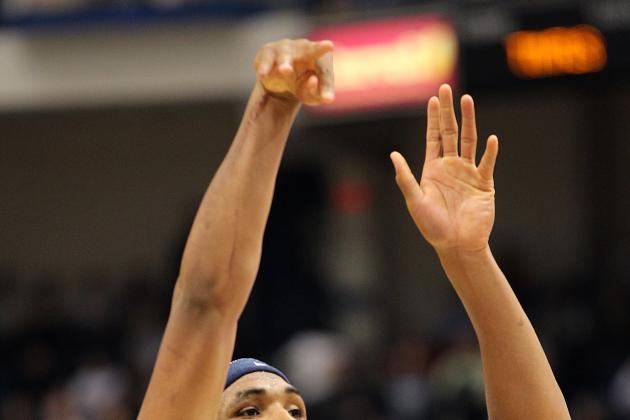 Jim Rogash/Getty Images

After a roller-coaster run in the early season, star forward Kevin Jones and WVU looked to have found its groove at last when the calendar flipped to 2012.
The Mountaineers took five out of their first six in the new year, including a 12-point upset of then-No. 9 Georgetown.
In the last week, though, all the progress the team had made is evaporating in an ill-deserved three-game losing streak.
Even if West Virginia hadn't been robbed by the refs in Syracuse, though, a blowout loss at St. John's (nobody's fault but WVU's own) would have put a serious dent in the team's already slim postseason hopes.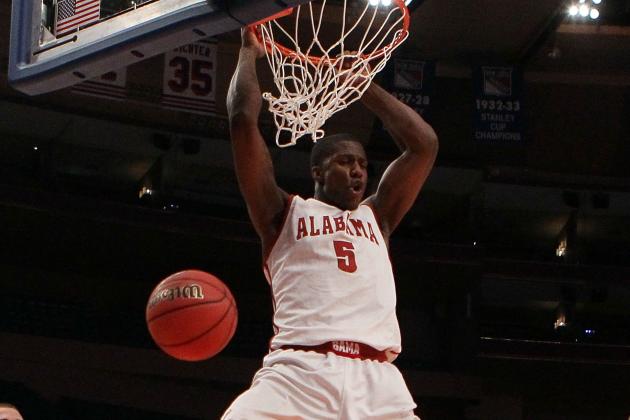 Jim McIsaac/Getty Images

"Streaky" has been the word of the season for Alabama, which went from a 7-0 start to dropping three of four to another five-game winning run.
Unfortunately for the Crimson Tide, the pendulum has swung back in the wrong direction for the last couple of weeks.
'Bama has dropped four out of five, including a disastrous road defeat at SEC cellar-dweller South Carolina and a loss at Vanderbilt in which then-leading scorer Tony Mitchell (now second at 13.1 points a game) was held without a point.
Even if a soft late schedule—two games apiece against Auburn and Ole Miss—helps get the Tide back on the right track, it's probably too late for this team to put together a case for an at-large bid.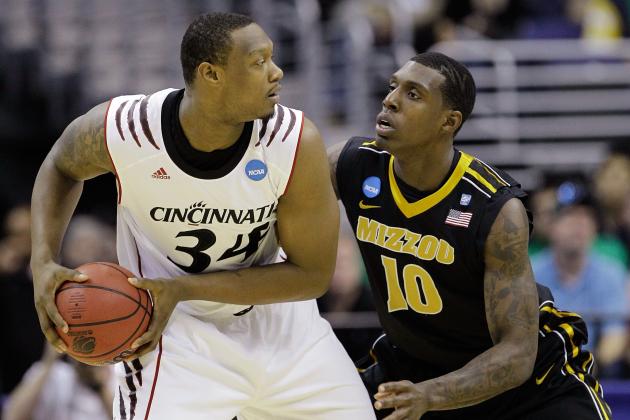 Rob Carr/Getty Images

An extraordinary streak of road success helped the Bearcats jump out to a 5-1 start in the Big East. Cincinnati took down three then-ranked teams (Pitt, Georgetown and UConn) on their home floors.
The magic couldn't last, however, and Cincinnati has now dropped three in a row to fall 3.5 games behind conference-leading Syracuse.
The latest, most bitter loss was a seven-point defeat at Rutgers that will leave Yancy Gates and company scrambling to salvage their NCAA tournament seed.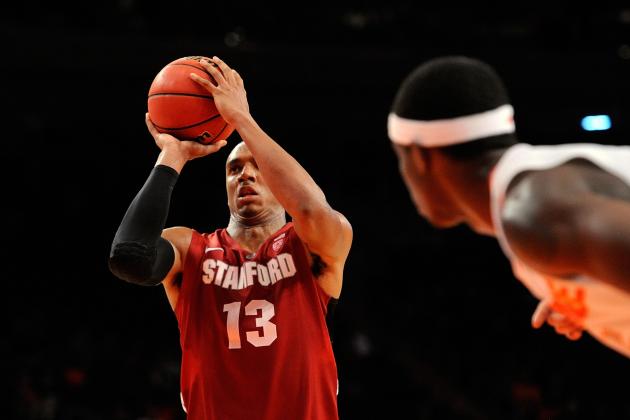 Patrick McDermott/Getty Images

Stanford had looked like the class of a weak Pac-12 during the preconference schedule, beating Oklahoma State and giving Syracuse a battle in the preseason NIT.
The Cardinal made a similar impression with a 5-1 start in conference, even if they did need four overtimes (!) to get past Oregon State in Corvallis.
All that hope is crumbling now, thanks to a three-game losing streak on the road featuring a loss to arch rival (and Pac-12 co-leader) Cal.
If PF Josh Owens (12.9 points, 6.4 boards a game) wants any shot at the NCAA tournament in his final collegiate season, he'll have to get this team back to the top of the conference standings, starting with a sweep of this weekend's series against Arizona State and Arizona in Palo Alto.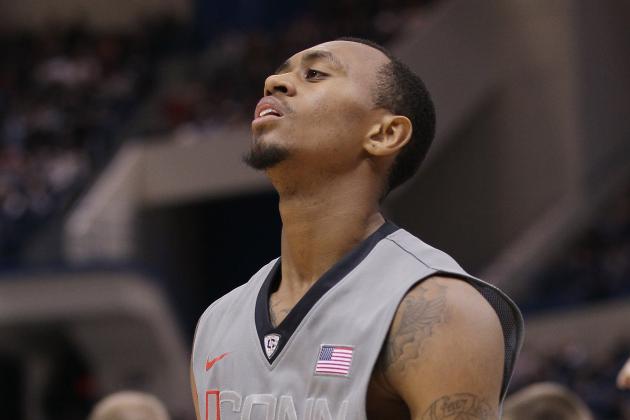 Elsa/Getty Images

After a solid 12-1 start to their season, UConn has been a completely different team since the turn of the new year.
The Huskies' current three-game losing streak (including losses in Storrs to Cincinnati and Notre Dame) is part of a larger 2-5 slide that's dropped them from the national rankings for the first time this year.
At 4-4 in the Big East and with half their remaining games against Top 25 foes, UConn will need another outstanding finish to earn any kind of respectable seed for March Madness.
Even with freshman Ryan Boatright back after battling eligibility questions, it's going to be an uphill battle for Jim Calhoun's squad.