College Basketball: Will These 15 Mid-Major Bubble Teams Make NCAA Tournament?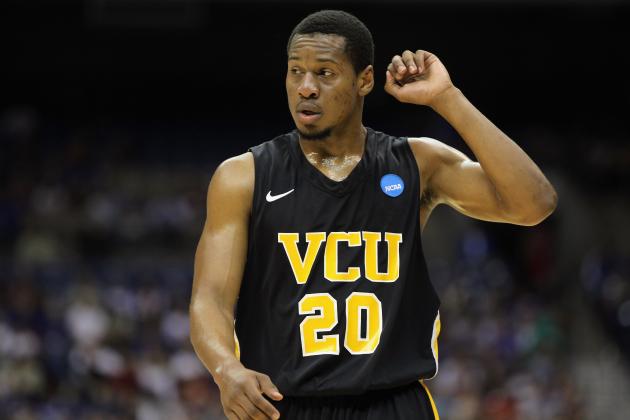 Jamie Squire/Getty Images

The recent March heroics of teams like Butler and Virginia Commonwealth have ensured that mid-major teams get major respect from the selection committee. With few elite opponents in conference play, though, it's still a tough road to the NCAA tournament for the teams that have to wait for at-large selections.
Just like last year, one such team is likely to be VCU, currently tied for second place in the CAA. The Rams lost a boatload of talent from their Final Four squad of a season ago, but sharpshooters like Bradford Burgess have them in the at-large conversation for the second year in a row.
Herein, a look at the at-large hopes of the Rams and 14 other tough mid-majors who find themselves trailing the leaders of their respective conferences.
Begin Slideshow

»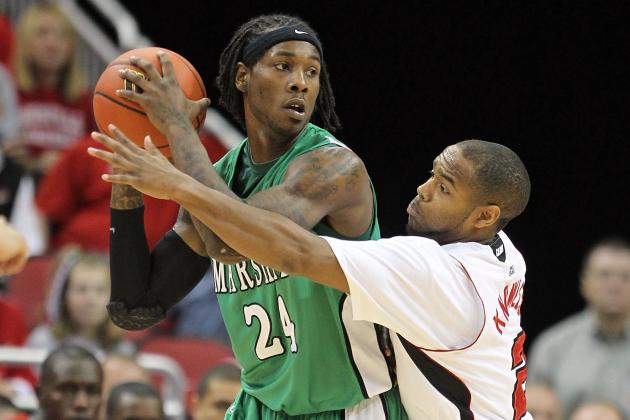 Andy Lyons/Getty Images

Saturday's loss to Southern Miss knocked the Thundering Herd out of first place in C-USA, but Marshall can still make a case for an at-large berth.
Wins over Belmont, Iona and Cincinnati will all help their cause, but a strong finish in conference play will be vital.
Junior forward Dennis Tinnon ranks ninth in the country in rebounding (10.8 per game), and SG DeAndre Kane is lighting it up with 16.1 points a night.
As long as that duo can keep the Thundering Herd near the top of the conference standings, this team has a good chance to sneak in as one of the last at-large squads.
Verdict: In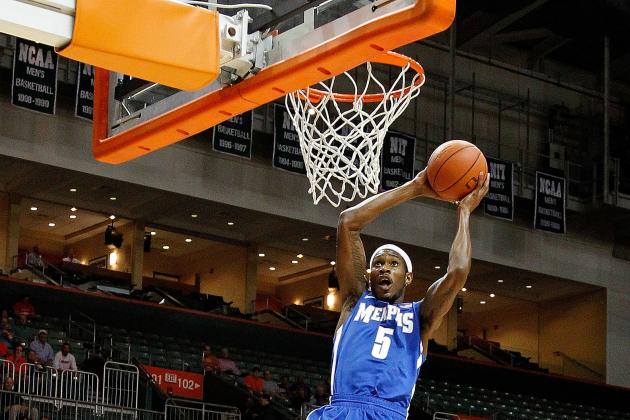 Mike Ehrmann/Getty Images

The Tigers' losses have come against some outstanding opponents—No. 10 Murray State and No. 12 Georgetown twice—but the losses are adding up.
After falling at Central Florida last week, Memphis trails the Golden Knights by a half-game in Conference USA and sits at a pedestrian 13-6 overall.
SG Will Barton has been so brilliant—18.5 points and 8.9 rebounds a game—that he could well carry Memphis to the conference crown by season's end.
Even if he doesn't, though, the Tigers probably won't need much more than 20 wins thanks to non-conference victories over Miami, Tennessee (twice) and Belmont.
Verdict: In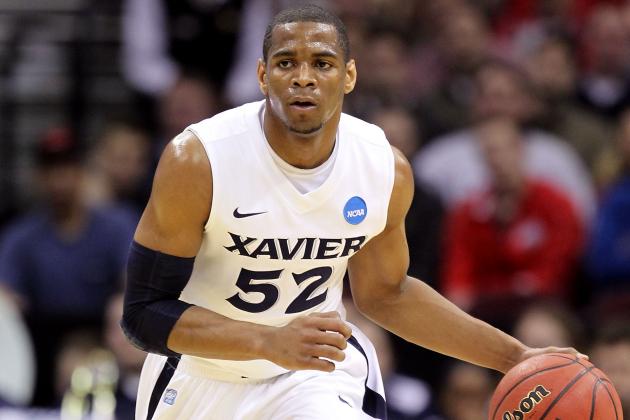 Andy Lyons/Getty Images

Xavier's season has been a two-part story: before and after the brawl that closed their win over Cincinnati in December. Before it, the Musketeers had won their first eight, beating the Bearcats along with Purdue and Vanderbilt.
Afterwards, they dropped five of six with losses to Hawaii and LaSalle, setting them up to be knocked out of first place on Saturday in Dayton (a blowout win for the Flyers).
Mark Lyons and Tu Holloway (32.3 points a game combined) are still one of the best backcourts around, but they need to keep Xavier winning in conference play in order to stay in the at-large picture.
Verdict: In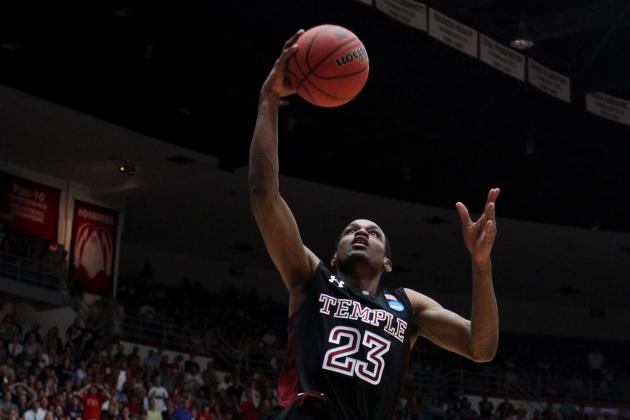 Christian Petersen/Getty Images

With big Michael Eric out with a knee injury, Temple has been riding its guards during a solid 13-5 start. Senior Ramone Moore and junior Khalif Wyatt are combining for 33.4 points a game, and Juan Fernandez is adding 4.1 assists a night.
The Owls have one monster signature win over Duke, plus victories over a couple of other at-large contenders in Wichita State and St. Louis.
With only one more shot at a leading tournament contender (home to Xavier on Feb. 11), though, Temple probably won't have the raw win total to overcome a soft conference schedule.
Verdict: Out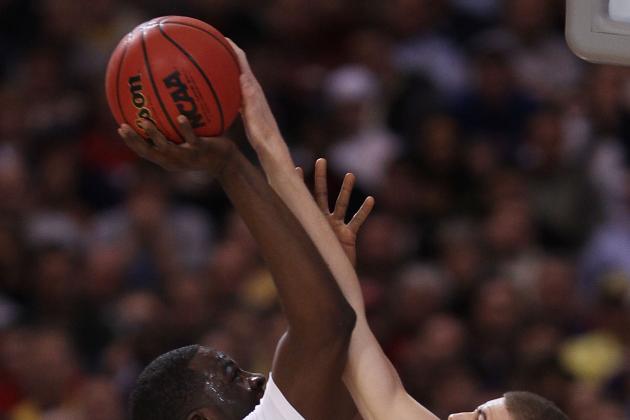 Elsa/Getty Images

Northern Iowa put in a strong showing in non-conference play, knocking off Old Dominion, Providence and Iowa State.
Unfortunately, they've been getting pummeled in the Missouri Valley, losing five games and counting with defeats at last-place Bradley and at home to Evansville.
Point forward Jake Koch (5.7 boards, 3.2 assists a game) has been impressive as a spiritual successor to Ali Farokhmanesh, and Anthony James is scoring 14.6 points a night to lead the squad.
Barring a major turnaround in the last nine conference games, though, this team is headed to the NIT, thanks to its MVC struggles.
Verdict: Out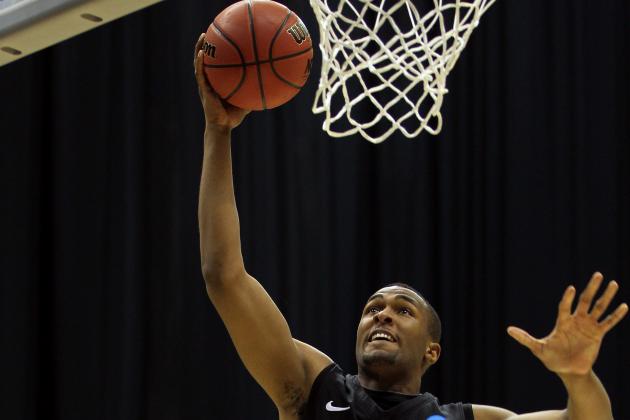 Jamie Squire/Getty Images

Last year's tournament darlings took their lumps early, dropping two of their first three to Seton Hall and Georgia Tech. They've recovered well, though, beating Richmond and South Florida before getting off to a 6-2 start in the deep CAA.
Bradford Burgess is the best of last year's holdover starters, scoring 13.6 points a game and providing invaluable rebounding in an otherwise small backcourt.
With sophomores D.J. Haley (7'0") and Juvonte Reddic (6'9") to handle the paint, the Rams will be a dangerous tournament foe again, provided they can manage the strong finish they'll need to earn an NCAA berth.
Verdict: In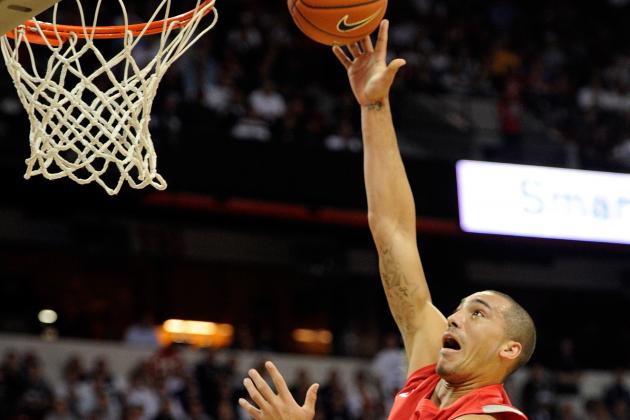 Ethan Miller/Getty Images

The Lobos' 15-4 record includes a solid performance against some other potential bubble teams, with wins over St. Louis, New Mexico State and Oklahoma State.
What it doesn't have is any kind of signature victory after back-to-back losses to ranked conference foes.
6'9" senior Drew Gordon is tied for 14th in the country in rebounding at 10.5 a night, and sophomore PG Kendall Williams runs a potent offense.
For all its potential, though, this team must beat either San Diego State or UNLV—and probably both—in the rematches in February to have any real shot at an at-large bid.
Verdict: Out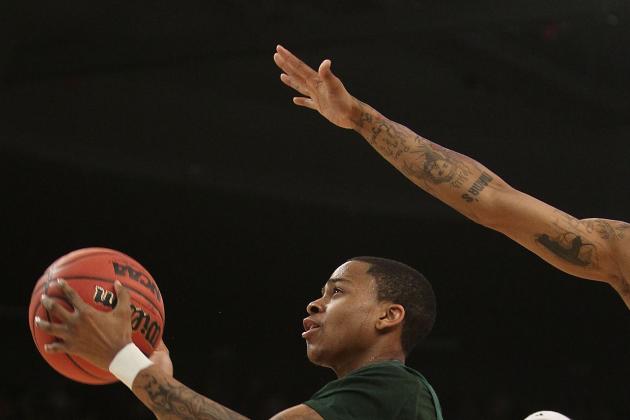 Elsa/Getty Images

5'11" D.J. Cooper, one of the best small guards in the country, has led Ohio to a 14-4 start this season.
Cooper's 14.3 points and 5.8 assists a night are team highs, and he's getting some help inside from 6'8" juniors Ivo Baltic and Reggie Keely (a combined 10.5 rebounds a night).
The Bobcats' win total is enviable, but the closest they've come to a signature victory has been road wins over Marshall and Northern Iowa.
Having whiffed on their lone shot at a surefire tournament team—a 59-54 loss at Louisville—Ohio won't be getting a chance at another in the actual tournament without winning the MAC title.
Verdict: Out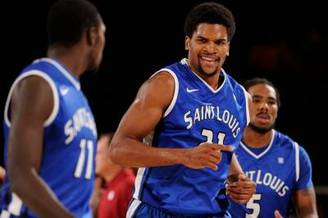 Rick Majerus' team got off to a fast start with wins over Washington and Oklahoma.
The Billikens have scuffled a bit since the end of December with losses to New Mexico and conference-leading Dayton, but they're still tied for the most overall wins in the A-10 with 15.
Senior Brian Conklin has been the leader with 14.5 points a game, but youngsters like sophomore Dwayne Evans (a team-high six rebounds a night) are doing their part.
They'll need to be at the top of their games for a brutal final stretch that includes a rematch with the Flyers, two games against Xavier and visits to UMass and St. Joe's.
Verdict: In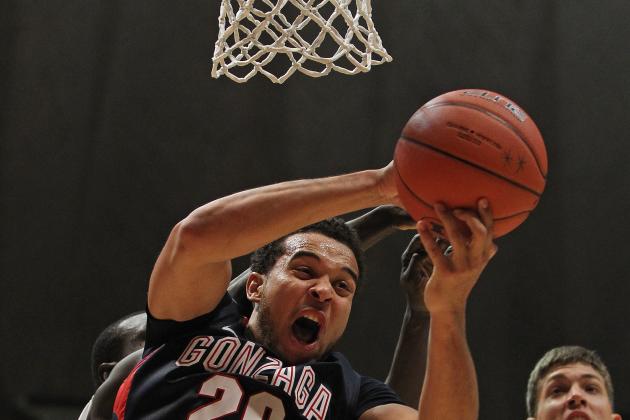 Jonathan Daniel/Getty Images

The Zags have often been able to count on the WCC's automatic bid to get them into March Madness, but this year they find themselves a game behind St. Mary's after getting run out of the gym by the Gaels in their first meeting.
Fortunately for the Bulldogs, strong frontcourt play from Elias Harris and Robert Sacre (24.4 points and 14.1 rebounds a game between them) has helped build a viable at-large resume.
Wins over Xavier, Oral Roberts, Notre Dame and Arizona will all carry some weight with the selection committee.
Gonzaga will be in the conference race right up to the end, and that should give them plenty of wins to make the NCAA tournament regardless of what happens in the WCC tourney.
Verdict: In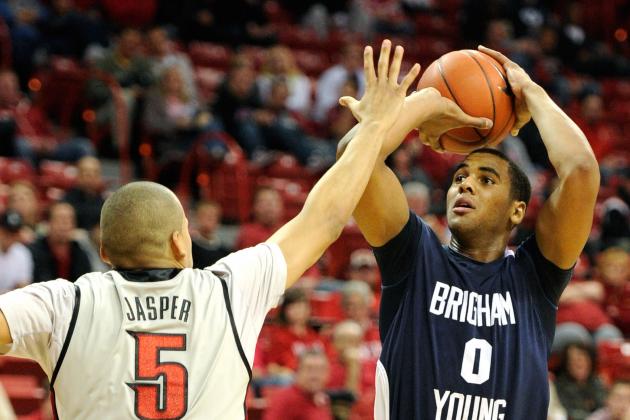 Ethan Miller/Getty Images

The departure of Jimmer Fredette dropped the Cougars off the national radar, but it didn't eliminate them as a prime mid-major contender.
In its first season in the West Coast Conference, BYU is again getting outstanding post play from Brandon Davies (who's finished serving last season's much-publicized suspension) and supplementing it with scoring from senior forward Noah Hartsock (17.3 points a night).
Non-conference victories over Nevada and Oregon will help, but BYU could really use a big win in conference play. They'll have their chances, facing St. Mary's on Saturday night and Gonzaga twice before the season is out.
Verdict: In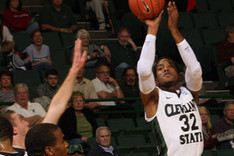 Although the Vikings are tied for the Horizon League lead, Valparaiso has the edge right now because they beat Cleveland State head-to-head a week ago.
Assuming the Crusaders hold on to that advantage, Cleveland State will still be in the running for an at-large bid after a strong 17-4 start.
The Vikings have been living off a harassing defense keyed by 6'4" senior D'Aundray Brown and his 2.6 steals per game (tied for ninth-best in the country).
With road wins over Vanderbilt and Kent State, Cleveland State isn't without quality victories, and a respectable conference tournament showing should get them over 25 wins and into the Big Dance.
Verdict: In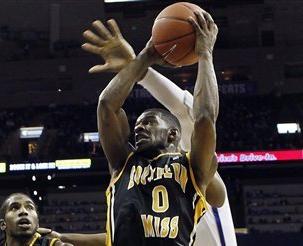 Southern Miss boasts a gaudy 17-3 record, but a loss at Memphis has them a half-game behind Conference USA leader Central Florida. Junior guard LaShay Page leads five Golden Eagles scoring in double figures on the year.
The bad news for USM is that it doesn't have a single quality win, with its best victories coming against New Mexico State (twice) and Ole Miss. Barring an extraordinary run in C-USA play, it's hard to imagine them earning an at-large bid this season.
Verdict: Out
Image from rivals.yahoo.com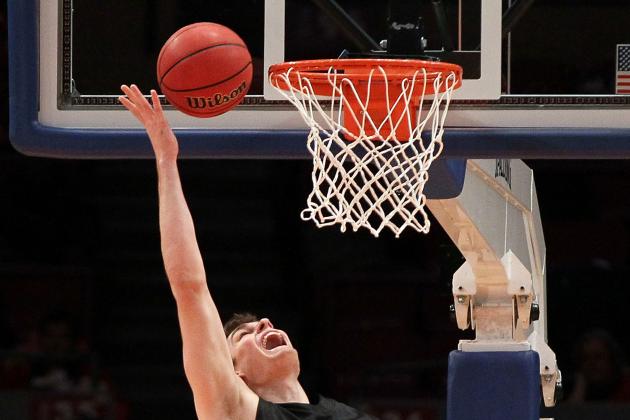 Jim McIsaac/Getty Images

Overshadowed by the breakout season of Doug McDermott and Creighton, defending NIT champion Wichita State is carving out its own foothold in second place in the MVC.
Seven-footer Garrett Stutz (12.4 points, 7.6 rebounds per game) has been a leader for a veteran squad whose only real weakness is the lack of a top-drawer ballhandler.
The Shockers' only real statement game out of conference was a victory over UNLV, but they're already 8-1 in a strong Missouri Valley.
Beating the mighty Blue Jays on Feb. 11 would ice a tournament berth, but even with a loss in that meeting, Wichita State will rack up too many wins for the selection committee to ignore.
Verdict: In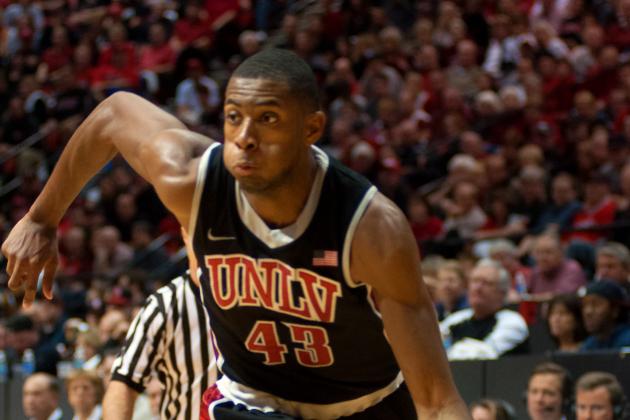 Kent Horner/Getty Images

A head-to-head loss against San Diego State has them tied for second in their own conference, but the No. 20 Rebels belong with the best mid-major squads in the country.
Their win over then-No. 1 North Carolina in the Las Vegas Invitational put them in the spotlight, but that's far from the only tournament credential for UNLV.
Dave Rice's team has also beaten Illinois on a neutral court and notched home wins over Cal and New Mexico.
With a high-efficiency offense that's eighth in the country in scoring (81.5 points a night) and third in assists (18.7 per game)—not to mention the nation's sixth-leading rebounder in Mike Moser and his 11.3 boards per contest—UNLV will be a tough out once it gets to March Madness.
Verdict: In